The Buzz on BuzzSumo and How to Use it in Your 2018 Strategy.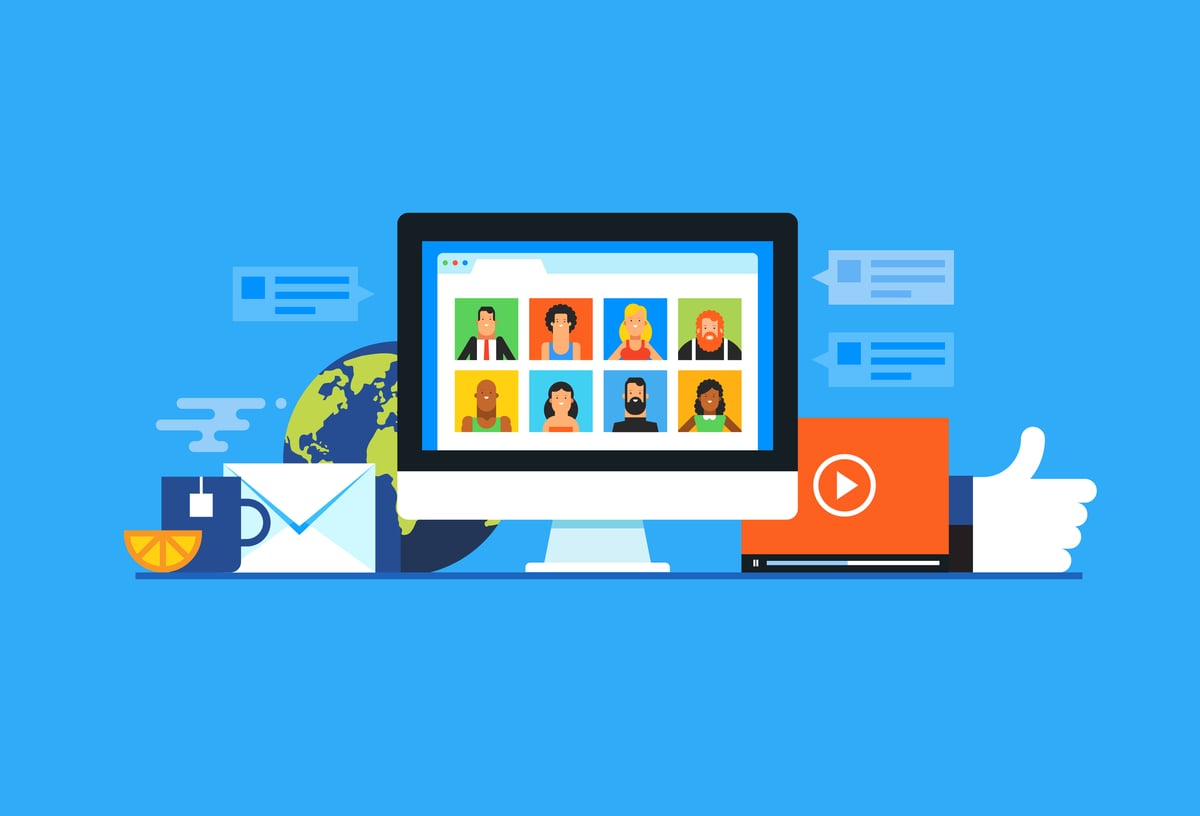 Alright, alright. I know - corny title but it caught your attention, didn't it?
And, now that I've got your eyeballs, it's time to talk about something that's going to help take your content marketing strategy from good to great: BuzzSumo.
Blogging works better when you write about topics your buyers care about.
For the modern-day marketer, it's essential that we understand just how we can strategically and effectively push our content through all of the clutter and in front of our target audience.
It's not easy and it's not always clear to see the best course of action so that's why it's crucial that we know of (and use) some of the best tools out there that can help us do just this. One of these tools is BuzzSumo.
So, BuzzSumo won't automatically make magic happen (what tool will? If you find one, let me know, ok?) but it does allow us to become smarter when it comes to what's working, what's not, and what influencers are involved.
In turn, we can take this information and create better, more engaging content moving forward. And who doesn't love that?
What is BuzzSumo?
Put simply, BuzzSumo is a tool that helps us work smarter to ensure we're putting out top content that resonates with our audience.
Through the ability to look back 12 months in time to figure out what topics were trending on social, who was sharing them, and even how our competitors content is performing from a 'viral' standpoint, we can gain the insights we need to make sure our content stands out and gets shared. We can also take a deep dive into our backlinks as well as those of our competitors to boost our site authority.
At this point, you might be thinking to yourself, "BuzzSumo sounds great but perhaps a little too good to be true. How does it work?"
4 Valuable Ways to Use BuzzSumo in Your Marketing Strategy Right Now

1. Find What's Getting Shared on Social Media
With the ability to look back in time, anywhere from a few weeks ago to months ago, and identify what has been shared on the most popular social media platforms (Facebook, Twitter, LinkedIn, Google+ and Pinterest) we don't have to guess about what we think might be shared most around certain seasons or time periods.For example, think about the most wonderful time of the year - the holidays and Christmas time.
As marketers, we can take a guess at what type of industry-focused content is being spread across the internet (cough cough best commercials with Santa in them cough cough) but with BuzzSumo, we don't have to assume.
With a simple search of the keyword "christmas," what we might not have known is that the most shared content on Facebook was actually a Carpool Karaoke session with Mariah but with BuzzSumo, we don't have to assume.

Sure, we likely don't have access to Mariah or James Corden for a viral video but perhaps we can create fun content around what the lyrics to popular Christmas songs would be if a digital marketer was a lyricist, or dissect why the video did so well from a marketing standpoint.
You can even do a deeper dive into trends with an advanced search, for example:
Exclude words or domains from a query
Search multiple words
Find an exact phrase
Search by URL or Domain: "Find big data on Mashable.com"
Refine Domain Searches by Topic
Search for multiple domains
Find content by author name: "author: Lee Odden - Mashable.com"
View links shared by Twitter user(s) These advanced abilities will help you really get into what you need to know (and what you ACTUALLY want to find) when it comes to what's happening on the web.
It also cuts out the clutter of search results that don't actually apply to what you're looking for and what you're doing. And we all know that when we can save a little time, we make sure to do it.
2. Find Influencers Who Can Share Your Message
So, it's not enough to just publish great content, cross your fingers, and hope for the best. Most of us have been in this industry long enough to have gone through the experience of publishing stellar content and expecting it to go crazy but finding that, in fact, it fell flat.
Now, that isn't necessarily a reflection of the content itself but rather, timing may have been off or it just wasn't picked up and shared by people with large enough networks to put it into the eyeballs of your target audience. That's why whenever an influencer or an industry expert is involved, there's a better chance that virality will actually happen.
Think about it this way - do you tend to trust self-serving content straight from a brand's Twitter channel or do you find it more believable when an industry expert retweets or shares an article showcasing the brand's value? Chances are you'll probably be more likely to read and share if an expert you admire is spreading the same message. That's precisely why BuzzSumo's ability to find influencers is so important.
When you click on the Influencers tab on the top of the platform, you can begin a search either based on what's in an influencer's profile OR by content that's shared around that topic.
This seemingly simple search can make a huge difference when you're trying to figure out who is talking about anything from SaaS and SEO to shoes, baseball, or politics - topics such as SEO, digital marketing trends, and more.
From here, you can see a list of influencers who are talking about the topics you care about/are creating content around it.
BuzzSumo provides insight into the influencers, articles published around that topic, average number of shares, and the overall total of shares.
This information is extremely valuable.
Imagine this scenario: you have a really great idea about an article around SEO trends for the past 5 years and how those insights can help you forecast what's to come in the next 5 years. Great topic and pretty interesting for the industry, right?
By identifying the top influencers interested in this topic, you can take several actions:
1. Do a direct outreach to them with a link to your piece of content and a quick message along the lines of, "Hey [name], I just wrote a blog post that you might enjoy based on your expertise. Let me know what you think: URL"
2. Contact a top influencer and ask if you can publish that content on their blog and, in turn, they can leverage your audience. Guest blogging opportunities can do a lot when it comes to reaching new audiences, gaining valuable backlinks, and more.
3. Reach out and ask for a quote that can you can include your piece, then encouraging them to share.
Reminder: Share what makes sense and what will be valuable for your audience - not just what an influencer might pick up. At the end of the day, you want to provide value to those who have raised their hand to get information from you. Don't let them down or alienate them just because you want to get a social share.
3. Evaluate Your Current Topics
Another way I like to use this search ability is to evaluate if people are talking about topics that I want to write about.
General marketing terms are usually spread all over the web and there's a good chance people are talking about SEO, for example, but what about if you have an idea for a timely article about Google Adwords and want to see if people have been talking about that in the last week or month?
If chatter is slow, you can either run with it so that there's a better chance people who are looking for content around this topic will see it OR you may decide to pass on that and create content that has a little bit more buzz around it.
Of course, creating content around what your audience will find valuable is top priority but if you're tossing around a few other ideas for your editorial calendar, it's not a bad idea to capitalize on current trends.
4. Analyze Data and Trends to Create High-Performing Content
Ahhh this is my favorite part of marketing - the analysis of data. I know that sounds a bit sarcastic but I truly mean it.
By reviewing metrics, we're able to see how we're tracking in regards to meeting our marketing objectives. With the right kind of dashboards and analytics access, we can quickly and easily see what areas need a little more love - organic traffic, social referrals, whatever.
Data, like Shakira's hips, don't lie.
And when it comes to BuzzSumo, they know that data and competitive analysis is in every marketer's toolbox.
One of the biggest advantages of using this tool is that, again, BuzzSumo scours the internet but this is extremely beneficial for us because we can see who is mentioning IMPACT Branding & Design across the web.
I can gain insight into:
Mentions today
Mentions in the last 7 days
Mentions in the last 30 days
And to take it a step further, you can see what was published, who/what relating to our brand was mentioned, the total shares of it (broken down my social channel) and how long ago it was shared.Sure, this helps so you can give yourself a pat on the back that you're (hopefully) getting some positive traction of your brand and employees online but even more, you can identify partnership opportunities.
If you find that a company in California shared a piece of your content to their audience, and it received some great social traction, and then discover through a little research that they're hosting an event on digital marketing, perhaps you can reach out to see if you can speak at the event, for example. BuzzSumo will help you identify your brand advocates and, in turn, allow you to amplify your message to new audiences.
Check this out - I just searched, "SEO Marketing" in the content analysis tool:
And that's just a small snapshot. If I scrolled down a bit more, I would've also gained insight into daily breakout (what's shared on Mondays vs Tuesdays), average shares by content length, most shared domains by network, and the top pieces of content for "SEO marketing."
This information is extremely valuable to us so we can see what type of content around this topic performs well (lists), where the content is shared the most (Twitter), and more.
Even more, from a competitive analysis standpoint, they make it easy for us to see how our content is stacking up against the competition as the tool gives us insight into the most shared content for a competitor's domain.
That's right - we can see what content formats they're using, what networks are giving them the most success, and from there we can infer what's working for them. This can directly impact our editorial calendar and through testing, we can see if our client's may also benefit from creating similar content that's stronger in keywords, etc. You can even set content alerts so that BuzzSumo let's you know when one of your competitors publishes a post, when a specific influencer published an article or even when a recently published article mentions a keyword you've been tracking.
With BuzzSumo, you can stay in the know and keep an eye on what's going on in the industry from a granular standpoint to an overall look at what the competition is doing.
So, is BuzzSumo Worth Investing in 2018?
Simply put - yes.
BuzzSumo really does give marketer's that extra edge they're looking for to ensure we're working as smartly as we can.
With direct insight into what's working for the competitors, an extra set of eyes on social media and what's trending there, comprehensive backlink and influencer insight, and reports that tie it all up together in a nice little bow, we can take these insights to identify the right strategy that will break through the digital clutter.
And when you break through the clutter, you're one step closer to generating more leads that convert to sales - who doesn't love that?
Published on November 24, 2017