The best royalty free music sites for marketers

Best Royalty Free Music Sites
PremiumBeat
Artlist
Hooksounds
AudioJungle
Pond5
With more marketers getting into video, it's important that we look at a vital part of the post production process: choosing music. Music can make the difference between a basic video and one that really inspires emotion in the viewer.
When it comes to business videos, it's important to use royalty free music. This is a type of music license that allows you, as the buyer, to pay for the music only once and then use it as much as - and for as long as - you want.
What is royalty free music?

Royalty free music is a type of license that allows you, as the buyer, to pay for the music only once and then use it as much as - and for as long as - you want.

When you purchase royalty free music, you pay a fixed price which grants you the right to use it regardless of the number of viewers or visitors to your site, and regardless of how long you use the music.
Why is it important to use royalty free music?
The most obvious answer is to make your videos/podcasts/projects sound professional. If you've ever watched any kind of movie without its background track, you'll know just how important music is to bring the visuals you've captured together.
Royalty free music also allows you to make money on places like YouTube, because when you buy this music, you're buying the rights to use it in certain conditions. The price you pay to purchase royalty free music is definitely worth it on a video that's going to get thousands of views.
While there are websites that offer music free of charge, my recommendation is that you spend money on music, because people notice if it sounds like your cousin used Garageband for the first time in his life. The tracks on even the cheapest sites are better than what you'll find on the free sites, and sometimes come with more perks.
Something to look out for if you're looking to do more than just web posting, is usage rights.
Some sites have limitations to where you can use the music, like this: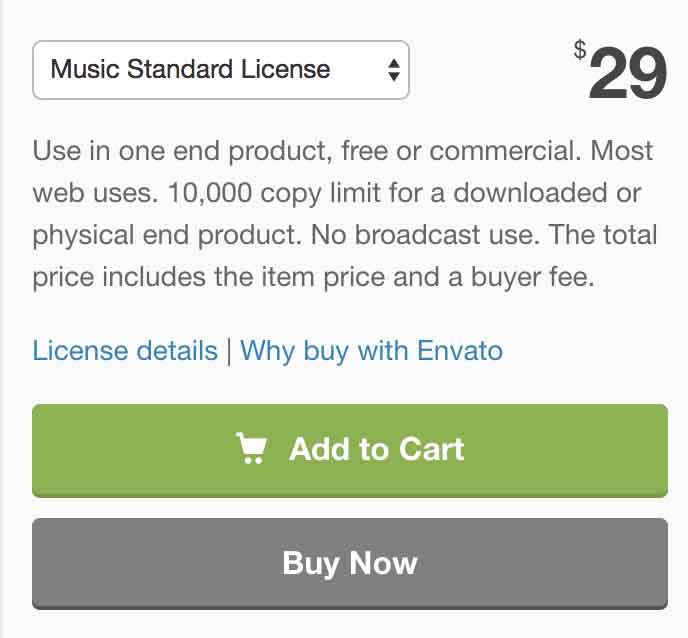 Almost all sites have this stipulation. With this track, you couldn't use it on broadcast TV (for example, in a commercial). It is possible to get that broadcast license, but it often costs extra.
Best royalty free music sites
There are a lot of sites that offer royalty free music - but which ones are worth your time and money?
As a video producer at IMPACT, I spent a lot of time (and money) sourcing royalty free music.
Here are my go-to sites:

This is my top choice for quality, quantity, and selection.
PremiumBeat offers an excellent selection with great sound quality. You get the option of downloading the full song, or looped tracks (all included with the purchase), which is nice if you need different lengths of the same video for different platforms.
The tracks are easy to sort, and the website has quick keyboard shortcuts to browse music easily.
I've heard PremiumBeat tracks on TV commercials and web videos alike, so when you purchase from this site, you can do so knowing you've got the pros' stamp of approval.
The only downside to PremiumBeat is the price. As of right now, there's no subscription option, so you have to pay per song.
With the standard license at $65, and the premium license (meaning that broadcast license I mentioned) at $199, it's a serious investment if you're only using the song for one video.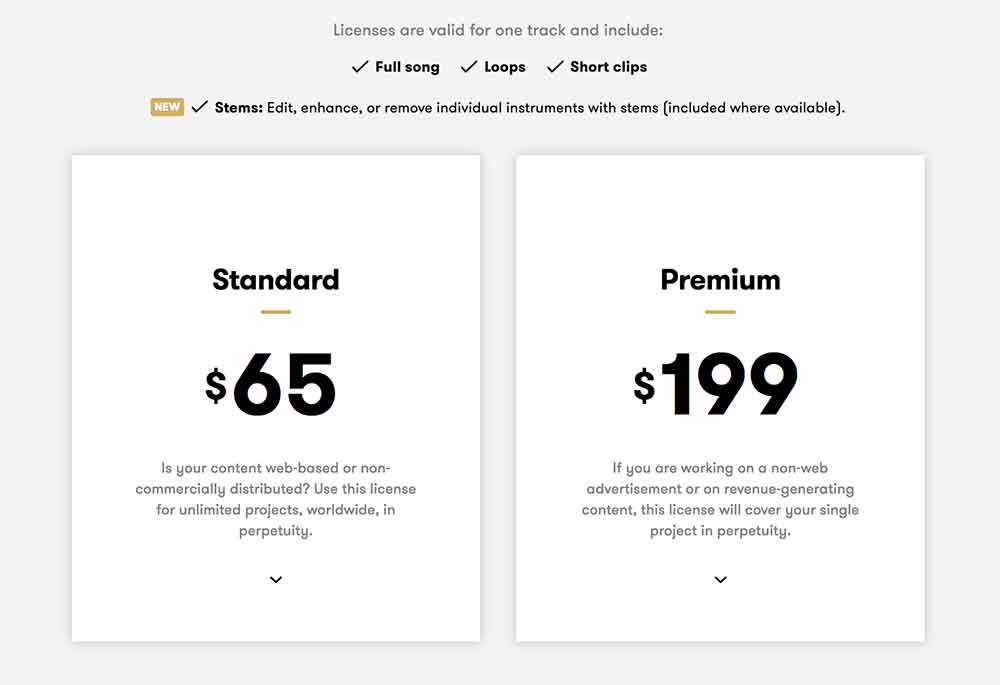 Whether you spend the money to purchase from PremiumBeat is a call only you can make and will depend upon the level of quality you want in your video as well as the expected ROI.

Artlist is where I get the majority of my music these days. It's definitely the top choice for me in terms of price and selection.
This one is subscription based. For a low price of $199/year or about $16/month, you get unlimited downloads, and they add new songs pretty regularly.
The quality of audio at Artlist is on par with more expensive sites, and some songs even have lyrics if you're looking for that for a video.
The downsides here are that I find the categories to be misleading and strange.
For example, some of the songs they classify as "upbeat" or "uplifting" aren't necessarily in line with what I've come to expect from other websites.
Once you get used to the way they categorize, though, it's manageable.
You also can't search for keywords that might be associated with whatever content you're making.
On PremiumBeat for example, if I search for "figure skating," they give me songs that have that kind of fluid dance feel to them. You can't search like that on Artlist.
Another downside is that it is a slower site, and takes longer to load some songs.
There also isn't always an option for shorter or longer looped tracks, and if there are, you have to search for them, rather than having them included in the download.
Editor's Note: This article feature was sponsored by Hooksounds.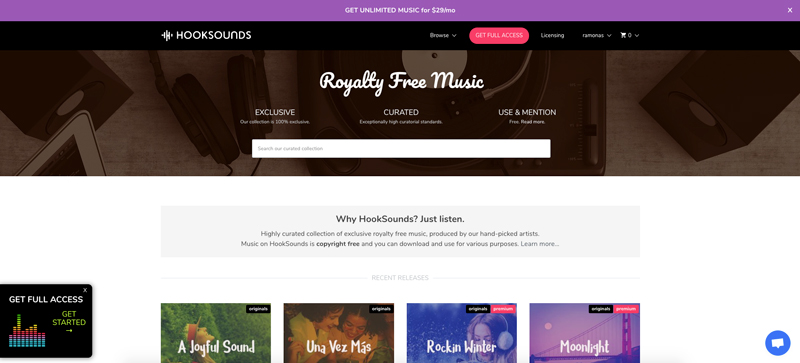 Like Artlist, Hooksounds is subscription-based service ($29/month for unlimited access) that also allows you to download single tracks for specific flat rates depending on your intended use.
The site's selection is modern and pretty diverse (including 17 categories like cinematic, electronic, corporate, and ukulele).
Considering they've been trusted by big, contemporary brands like Sony, Amazon, Uber, and Samsung, however, this should come as no surprise.
All of the tracks are copyright free and if you're looking for personal use (like a home video), you have the option of downloading select tracks free of cost with appropriate attribution.
This is the biggest differentiator and selling point for Hooksounds, but it's important to note that it isn't for anyone looking to monetize their videos or use them commercially.
The free plan is a great option for hobbyists and creators working on small projects. Then as you grow, you can upgrade into a paid plan that offers licensing for YouTube, Facebook, and other major hosting platforms.



AudioJungle has a range of different prices if you're not looking to spend much. Songs start from $1, but I have typically paid $15-25 per track.
You can also get a subscription for $16.50/month and get access to their stock photos, graphics, and more.
I've found that a lot of the tracks sound very similar in each genre. It's not top-notch composing, but it will do for background music, especially for the price.
In my experience, you have to go through a lot of bad songs to get a gem, so what you save in price, you pay for in time.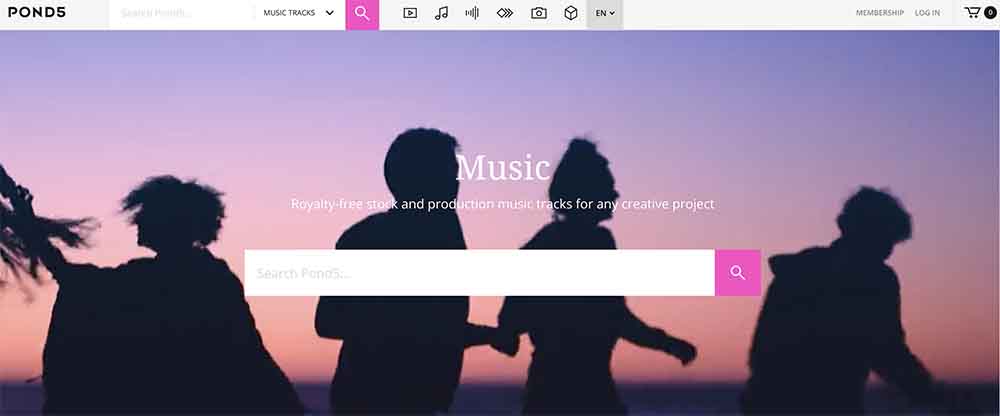 This is not one of my go-tos, but still has a good selection for the pricing.
Pond5 has a generous assortment of tracks, and you can sort by options like "movie trailer" or "fight scene" to find specifically what you're looking for.
It's similar to AudioJungle with the range of prices, but I've usually paid around $20 per track.
Also like AudioJungle, the tracks available on Pond5 are not the best quality. That being said, when you're paying less than $65, you may not be as worried about that.
A subscription is also available and includes their other stock items like graphics and footage.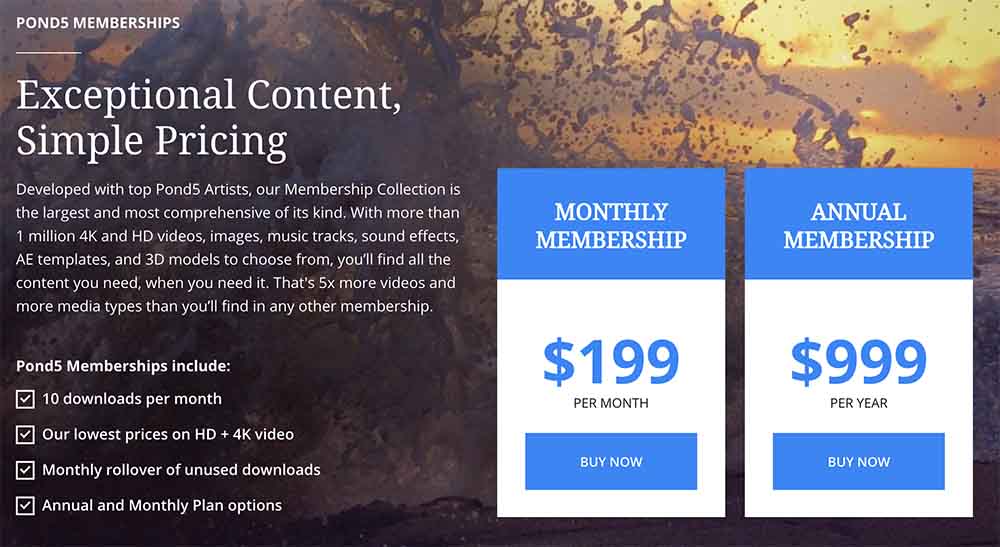 You get what you pay fo
People often take music for granted. In the ever-growing media market, we're saturated with options to choose from, and feel entitled to a lower price.
It's easy to forget that there are people behind these tracks who work hard and often have to give a lot of their percentage of sale to the website that is hosting the music for sale.
If you're going to put strategy, planning, and production behind your content, don't skip the step that'll bring it full circle. These sites can provide you with that final step to really wowing your audience with your production.
Free Assessment:
How does your inbound marketing measure up?
Take this free, 5-minute assessment and learn what you can start doing today to boost traffic, leads, and sales.
Get Started
Free Assessment:
How does your inbound marketing measure up?
Take this free, 5-minute assessment and learn what you can start doing today to boost traffic, leads, and sales.
Published on February 15, 2019