"Video or Written Content, or Video & Written Content?" with Zach Basner (Content Lab, Ep. 20)
So, as I mentioned at the start of this year, one of my resolutions is to become a more video-focused content creator.
That's right. After years of resisting and/or saying, "Yeah, video sounds like a great idea -- for you," I have warmed up to the idea of video.
I mean, I kind of had to, you know?
Video is proven to be one of the quickest ways to establish trust with your audience, as a marketer. And video for sales is an exceptionally powerful combination, because video helps sales reps close more deals faster.
But is video set to take over and replace written content, or is there a future where the written word and video can live together in harmony? And how the heck does someone with a ton of fear, but no equipment or experience, get started creating video for their own marketing and sales purposes?
I asked IMPACT Director of Video Training and Strategy Zach Basner to join me on this week's episode to answer those questions and more.
Enjoy!
Listen to the Episode
Resources We Discussed:
Example of an 80% Video
Context: Inbound Culture Workshops
Subscribe to the Content Lab Monthly Newsletter
Once a month, I'm going to send you an absurdly useful newsletter will tons of insights, tips, and tools for you to make your content amazing. It's that simple.
Here's what it looks like, so you know what shenanigans you're getting into with me: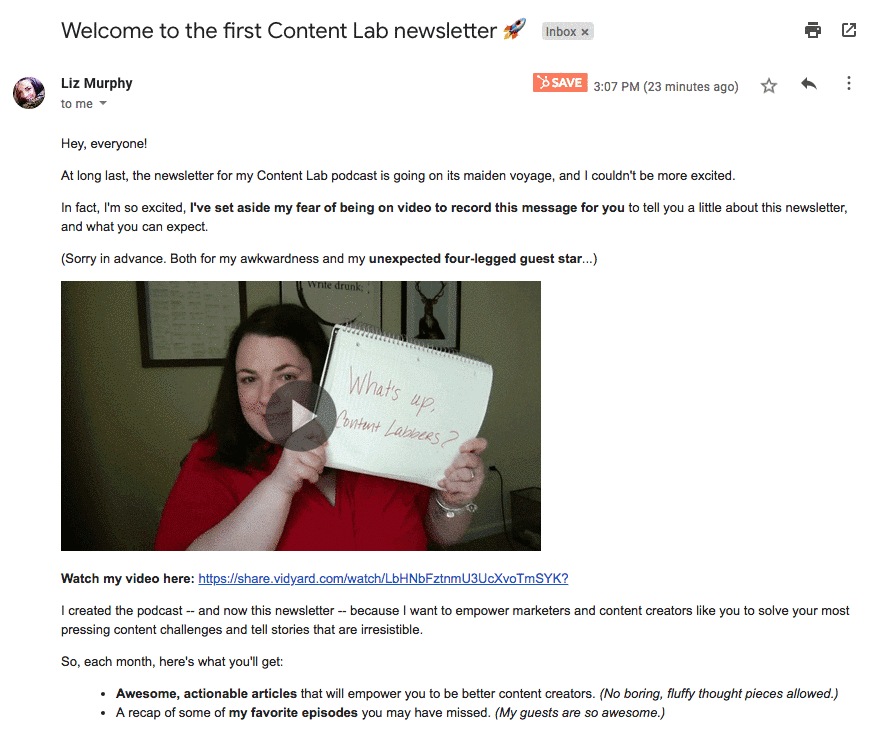 So, what are you waiting for? Go to this page and sign-up.
Connect with Content Lab
Okay, first, you've gotta subscribe to Content Lab on Apple Podcasts. That way you'll never miss an episode!
Or you can comment on this episode below! I'd love to hear from you.
Free Assessment:
How does your sales & marketing measure up?
Take this free, 5-minute assessment and learn what you can start doing today to boost traffic, leads, and sales.