Creating videos for small businesses can be hard; Vimeo wants to change that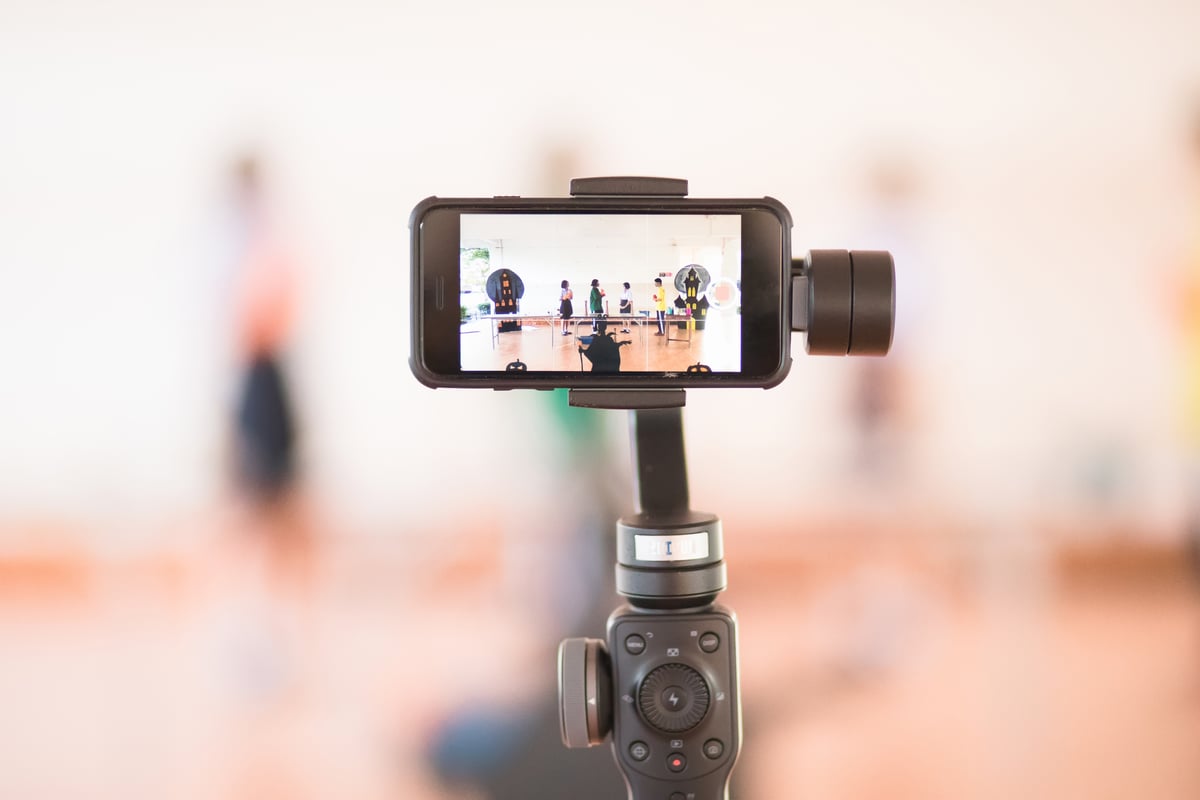 When I am not wearing my IMPACT hat, I run a side venture called The Ocean Rx — a seasonal standup paddleboard yoga studio that I operate on the lake behind my house.
Every year, I get inundated with prospective students inquiring about how skill level plays into taking a class on fresh water.
Even though I have quite a few photos on my website, it's my short video that gets the most traction — and ultimately what helps a prospect feel comfortable taking the plunge (pun intended) into my yoga on water classes.
The video exemplifies The Ocean Rx's vibe and how fun SUP yoga can be — regardless of your level of experience. No matter how much I blog about it, there's no way to truly illustrate what my class is like, unless you see it in action.
That's why when I heard that video platform Vimeo had created an app called Vimeo Create that allows small businesses to create professional videos on social sites, I was elated and intrigued.
Ironically, in 2019, Vimeo acquired Magisto the online video editing app that I used to create the videos that are on my website today.
Vimeo Create in action
Vimeo's intent was to produce "an easy to use app for businesses to create impactful videos in minutes."
After trying the app out for myself, I can confidently say they've succeeded in their mission!
Once I downloaded the free app, I created an account from my Gmail account and did a free week trial of their $50/month membership.
Because the user interface is almost identical to Magisto — the app I had used in the past — I found it quite easy to navigate.
After picking the type of video I wanted to create, I selected music (I chose one of their licensed options that matched the tone I was trying to set), applied a cool filter, selected the video length and uploaded my own photographs and video.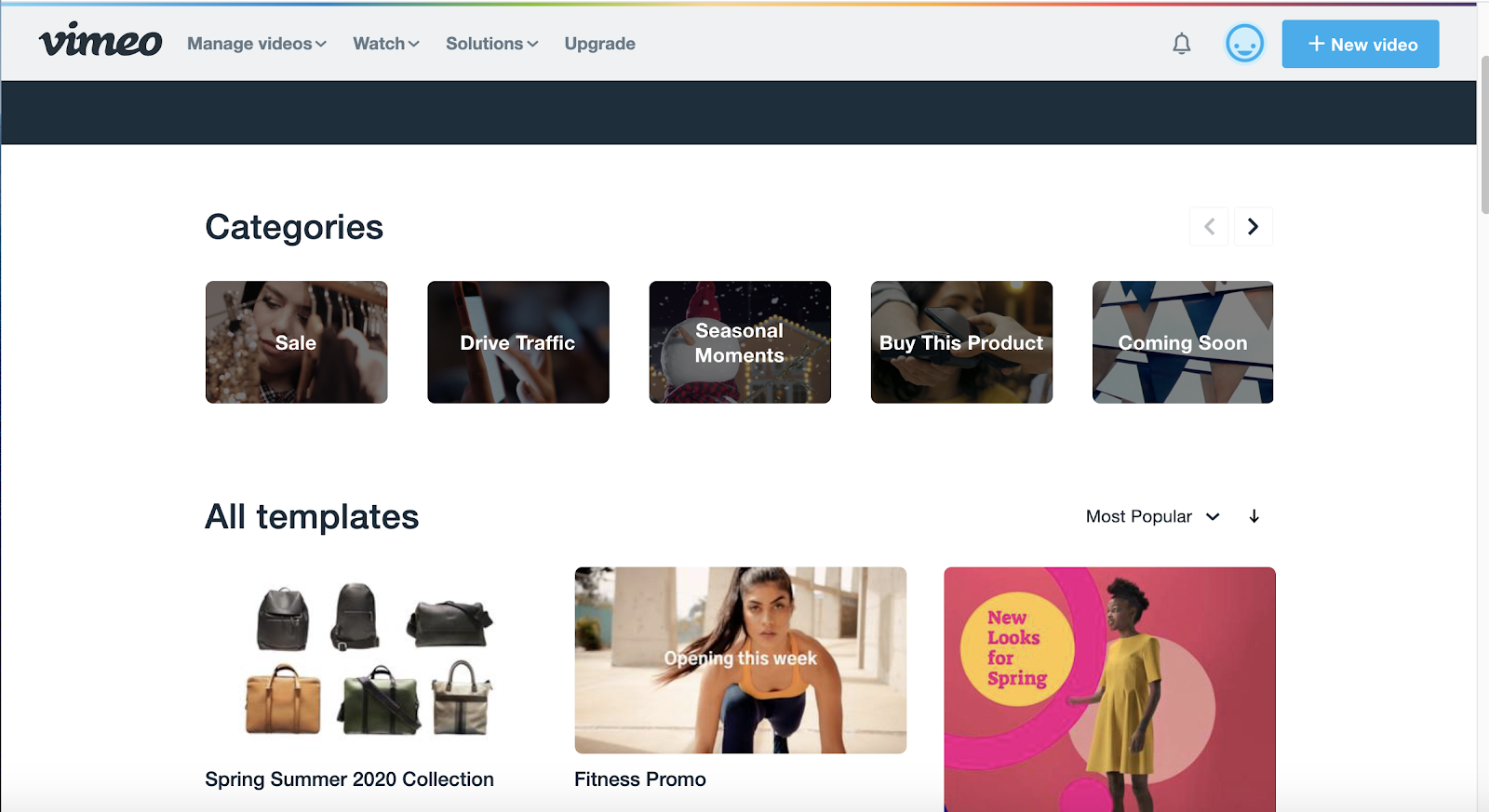 They actually have great stock options to choose from, but to tell my business's story, my own content was necessary.
Next, I added a text overlay and I finally uploaded my logo.
After everything uploaded, Vimeo Create notified me via email that my preview video was ready to review.
I was very impressed with how it harmoniously tied videos with the beat of a song, and zoomed in on areas at just the right time, but most importantly, I was able to go scene by scene and make slight tweaks if something seemed off.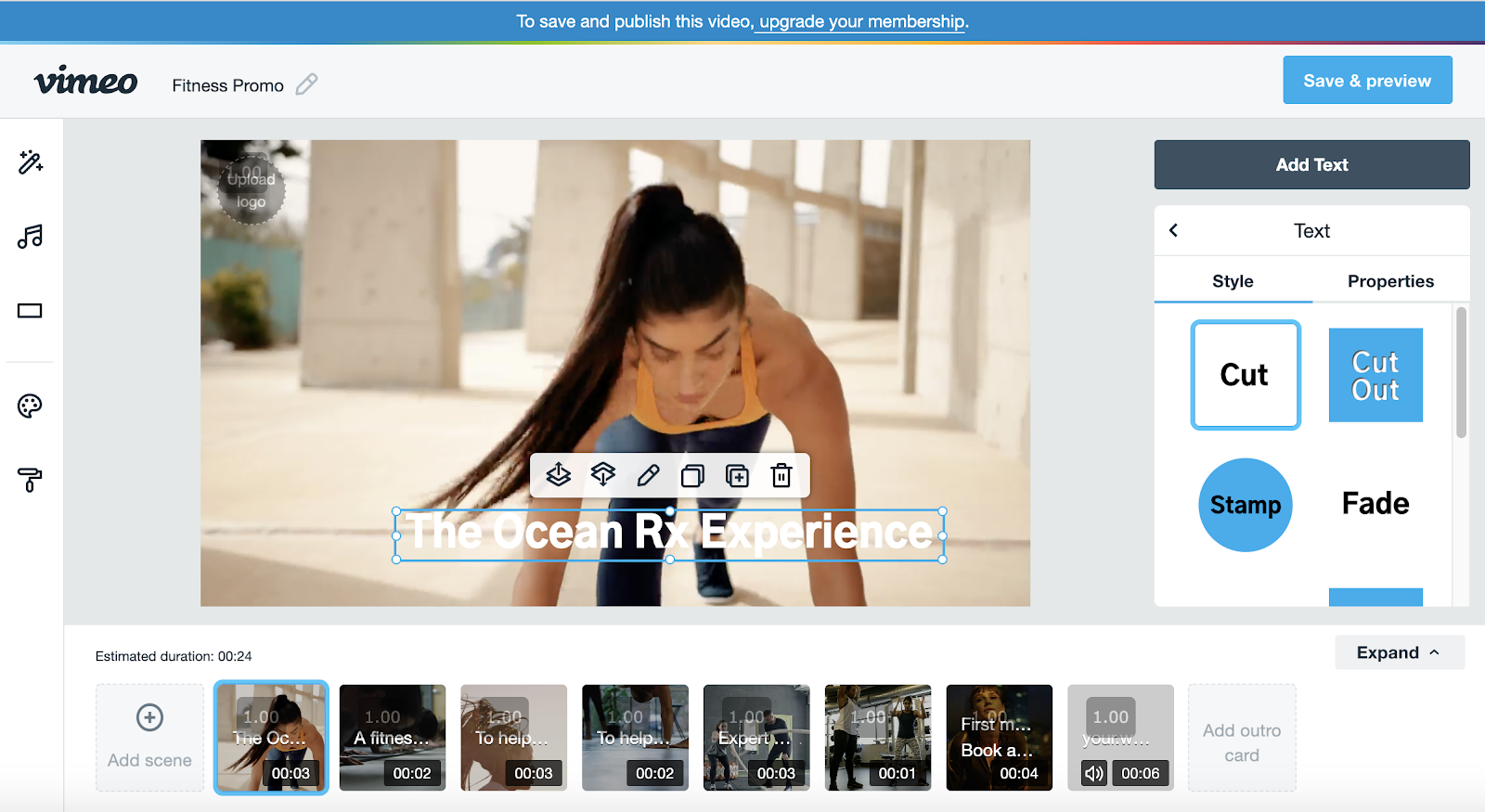 There wasn't much heavy lifting involved in determining which video clip or photograph went where. Vimeo Create did the work for me.
What I liked most about the app is its custom video templates. You can select from categories such as business announcements, or traffic or sales focused videos.
Overall, creating a social media-worthy story that boosts your brand and offering in less than ten minutes could not be easier for someone who doesn't have innate videographer skills.
Why you need to be creating videos in 2020
As you've probably noticed, over the past 10 years, the way people buy has evolved. As we increasingly rely on search engines and a great digital experience when we make purchasing decisions, we expect businesses to keep up with the trends. This includes video.
In 2020, 80% of consumer internet traffic is expected to be video content, which is an extremely drastic change in only the last several years.
Many consumers, in both B2B and B2C markets, prefer to educate themselves with unbiased video content instead of written content.
They will actually abandon one business if it means that they can educate themselves through a competitor's experience that is more engaging, unbiased, and trust-building.
For these reasons, small businesses have to create videos to stay competitive.
Whether this means doing your own videos or outsourcing to a professional, videos that engage prospects and showcase your brand are crucial to success.
Cost and downfalls of a outsourcing to a video professional
When I am speaking to prospective clients about investing in video content on their site, I often hear a common trend preventing small businesses from producing a large amount of quality videos.
It usually boils down to three factors: skill, time, and budget.
In a statement about the launch of Vimeo Create, CEO Anjali Sud, said: "Vimeo Create levels the playing field. It's a radically simple tool that shortens the distance from idea to execution, so more businesses can have a successful video strategy."
Included in the app are commercially licensed songs, stock photos, and other content that is available at no additional cost.
But to add branding styling assets, calls to action and, most importantly, save and download your video, the user is prompted to upgrade the subscription to a paid monthly fee ranging from $20 per month for Pro to $50 for Business.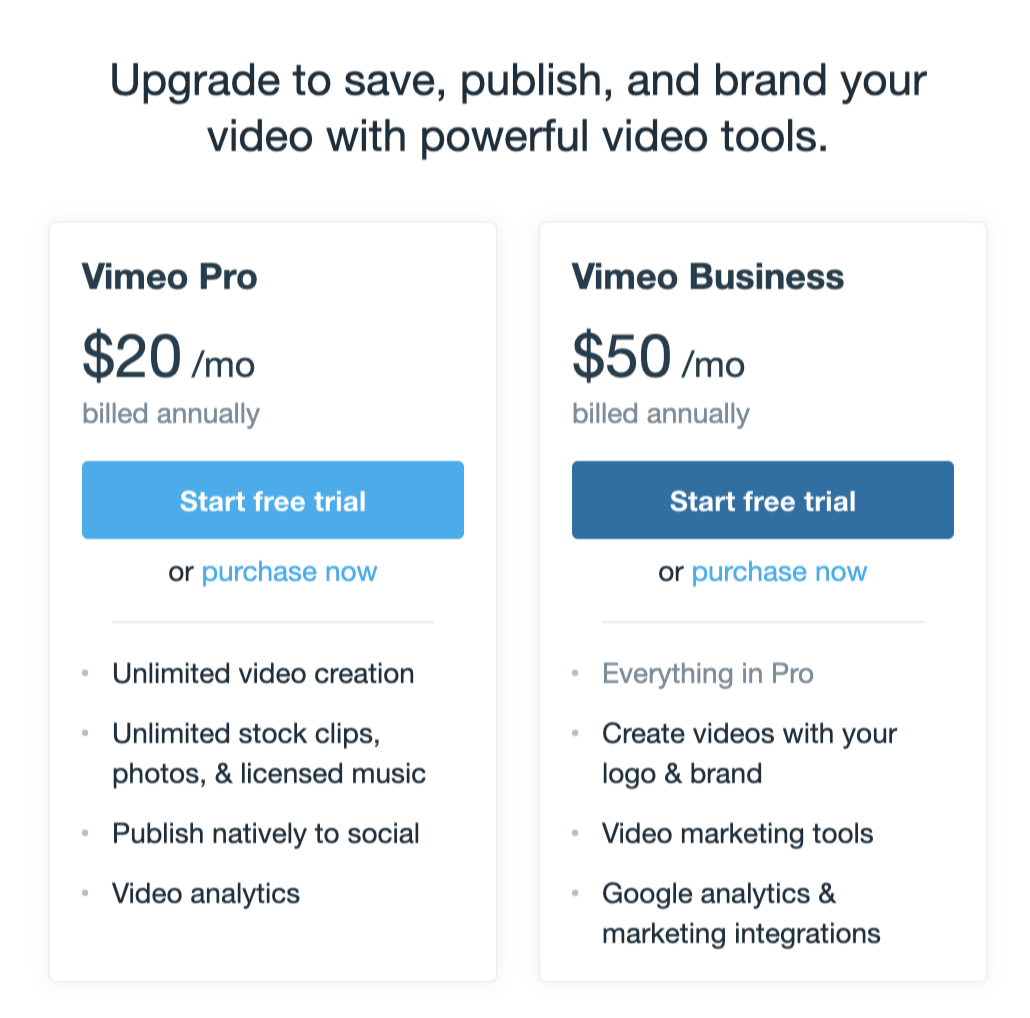 Source: Vimeo
This means for just $50 per month, a small business is able to produce branded and strategic sales and marketing videos without the help of a videographer.
While IMPACT advocates for companies to hire videographers, at times this is not realistic.
What's more, if you look on social media, you'll notice small business content for ads match the platform. They aren't overly produced and match user generated content.
People expect authenticity from small businesses — and this authenticity builds trust.
You break down a wall when you show the realness of your product or service versus something more "stocky"or overly produced.
When you have your own video tool and are able to get the day to day behind the scenes action rather than scheduling a shoot, you show the true stories behind your brand.
Catching that raw moment is powerful.
Why this app is a necessity for small businesses
Small businesses need to weigh each new cost carefully, but the relatively small expense associated with Vimeo Create will likely prove a smart investment.
Because video is so important to marketing and sales, not producing video is actually the more costly option.
While this new app is not going to match the high-production value that an enterprise company might expect, you will be able to produce authentic, good quality content that will stay true to your brand and meet your prospects where they are, building trust and relationships along the way.
With an easy interface and smooth user experience, Vimeo Create is certainly worth checking out.
There is no longer an excuse for avoiding video. If time, budget, or skill were your obstacles and roadblocks before, know that you no longer have to be a video expert to produce stellar, quality videos for your business.
Free Assessment:
How does your sales & marketing measure up?
Take this free, 5-minute assessment and learn what you can start doing today to boost traffic, leads, and sales.