Subscribe
Join 40,000+ sales and marketing pros who receive our weekly newsletter.
Get the most relevant, actionable digital sales and marketing insights you need to make smarter decisions faster... all in under five minutes.
Thanks, stay tuned for our upcoming edition.
"How to Handle Feedback You Don't Agree With" (Creator's Block, Ep. 57)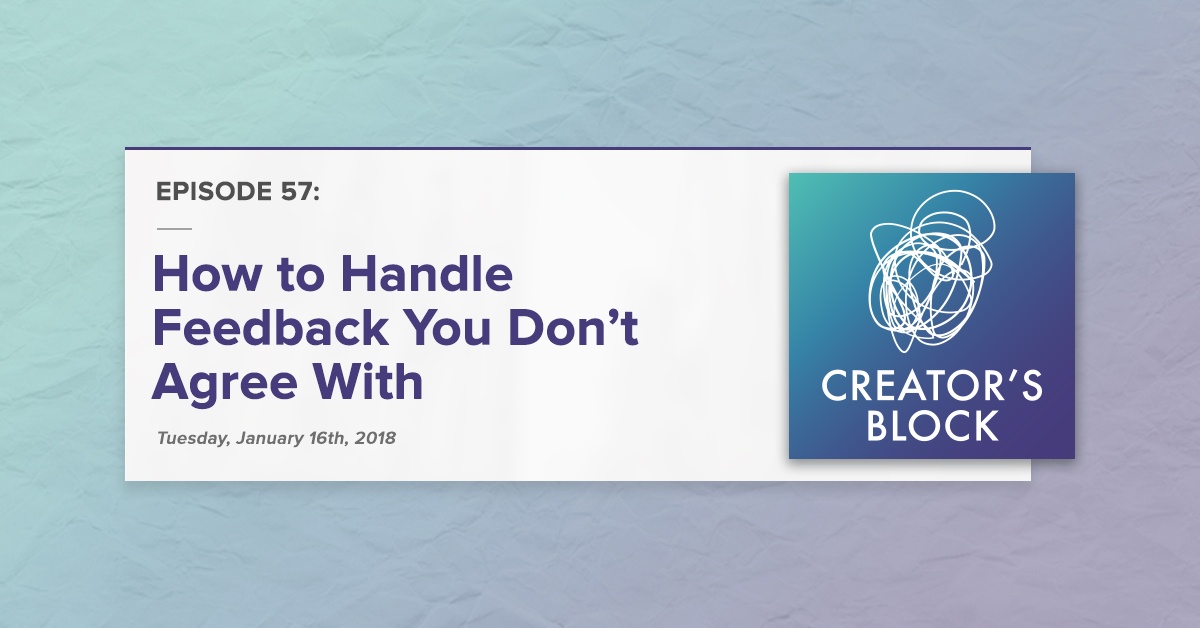 I know we've talked about the art of giving and receiving feedback on Creator's Block. But this week, we wanted to address something specific we've touched upon in previous episodes -- how to handle negative feedback from clients that we don't agree with.
Since it's a significant feedback challenge on its own right, we would always say, "Hey, let's talk about this on a different episode."
Well, today is that day. This is that "different episode."
Whether we're talking about the first mockup of a website page, an initial draft of an infographic design, or a rough draft of a blog post, we've all been there.
We anticipate that our work will be positively received -- or at least we'll get a, "Yeah, we're moving in the right direction!" -- and are instead met with pushback.

"Eh. It's okay? Maybe make the logo bigger. Make the font color 'pop' more, because I don't like the colors. I don't know what's wrong with the copy, but it doesn't feel right. I just don't like the direction you took."
Most of the time, we take this kind of constructive feedback in stride.
We know creating to fulfill the vision of others requires collaboration, back and forth, and the humble understanding that always takes the input of many to get a creative agency project across the finish line.
There are occasions, however, where -- not out of ego, but due to experience or sometimes simply our creative gut instinct -- we don't agree with the feedback we receive from clients.
There's an art form to how you handle situations like these, since (a) you can't blow up a client relationship just because you think a client might be wrong, and (b) there are those occasions where you'll realize later -- after a client has pushed you to do something different -- that they were right.
(Or, at the very least, they had a valid point that pushed you create something bigger and better._
It's a balancing act that we think not only creatives can relate to, but anyone in a client-facing position.
Enjoy!
Listen to the Episode
What We Talked About
How do we react when the client is "wrong" in their feedback?
When do we push back, and when do we go with their feedback?
How do content projects differ from design projects in the client feedback equation?
How do we keep our egos in check as creative professionals who need to help others achieve their goals?
How do you push back when you only have your gut to rely on, instead of having data at your fingertips to support your response?
What does the process really look like when we know we need to check our ego and try something new outside of our comfort zone? And how do we grow from that?
What's the difference between a difficult client and a challenging client? Or is there no such thing as a difficult client?
Our takes on what you should always do -- and never do -- when handling difficult feedback scenarios with clients.
Resources We Discussed
We Want to Hear from You!
First, subscribe to Creator's Block on Apple Podcasts. Second, have a question or an idea for a future episode of the podcast? Let us know!
Or, you can leave us a comment below! Until next week...
Free: Assessment
Does your website build trust with buyers and bring in revenue?
Take this free 6 question assessment and learn how your website can start living up to its potential.