4 Great Buyer Persona Examples (+Free Template)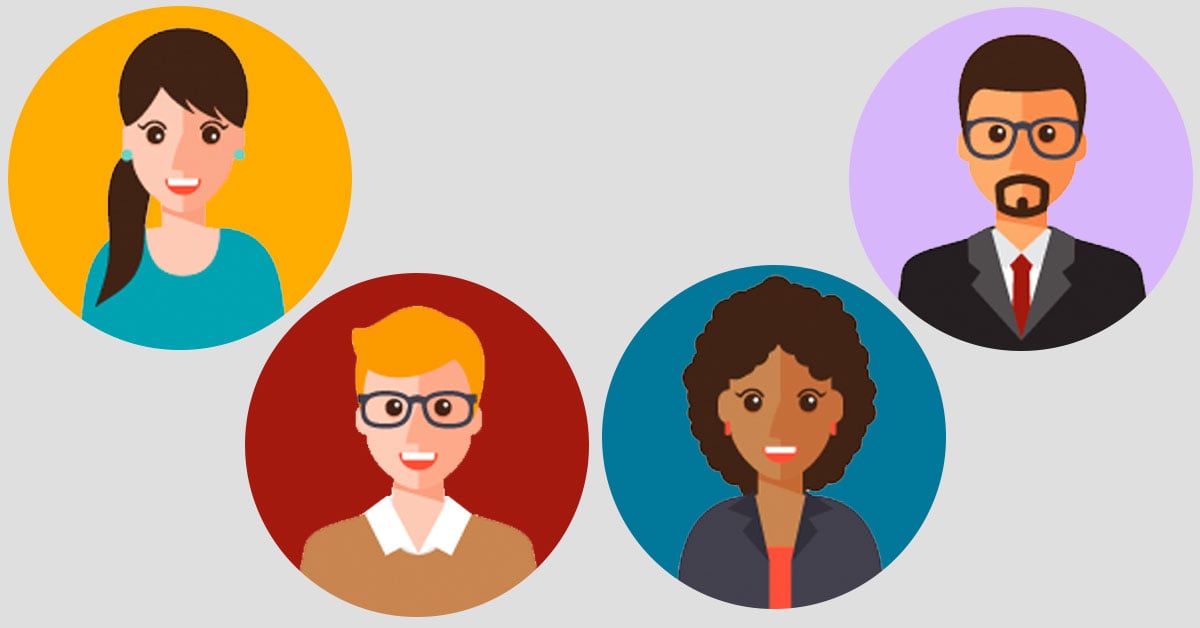 If you are reading this article, chances are you have at least heard of a buyer persona.
You may be fresh on the marketing scene or in the process of starting a company, but I suspect you have at least heard someone mention a buyer persona or been told you need to develop some for your business.
On the rare chance that you're not familiar with buyer personas, let me break it down for you real quick…
Buyer personas, developed using real answers from real buyers (and validated by thorough research), are used to help business owners navigate the landscape of their ideal customer.
These fictional characters are not merely a description of your buyer, but rather they are a collection of valuable insights into your buyers that you can use to help get to know your audience, improve your marketing strategies and create better content.
Any inbound marketer will tell you that every single business needs personas for their marketing efforts to be successful, however, even if they do have them in place, I'd bet many are not documenting them effectively.
Personas can come in all different shapes and sizes.
My goal here is to show you a few examples of really great personas to help you learn how to it do right for your organization.
By looking at what other businesses have built, you will be able to decide what format might be best for you and your company, determine what information makes the most sense for you to include, and get ideas on how to organize all the information you uncover.
Oh, and hopefully you will realize that buyer personas are not as scary as they seem.
B2C Buyer Personas Examples
Let's start by looking at a few business-to-customer (B2C) buyer personas examples.
In these cases, the companies are selling directly to the customer - an individual who is using their own money and discretion to make a purchasing decision.
Unlike business-to-business (B2B) personas, when developing B2C personas, you likely do not need to gather as much information about their work roles and responsibilities.
Instead, you can focus more on who the person is in their day-to-day life, and how they make buying decisions.
1. Rachel, The Stay-at-home Mom
In the example below, from propertyconnect.me, you see that it does not take a lot of words to convey what is important to Rachel.
In the few short blubs outlined here, you can quickly and easily gather that she is short on time, on a budget, and in need of a simple solution, fast.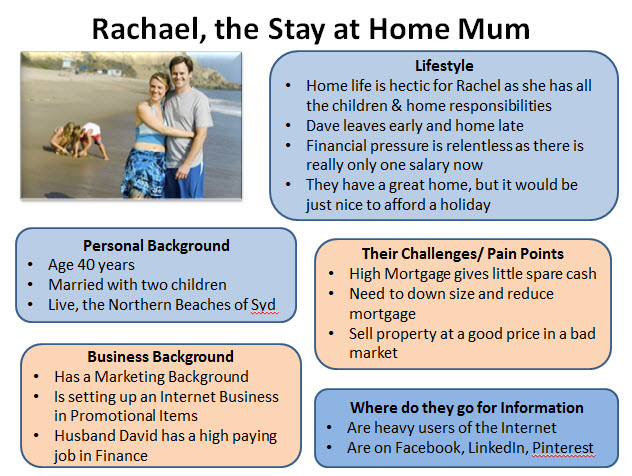 What I like about this format is that it's simple, clean, and all on one page -- yet still does its job.
When developing your buyer personas, capturing insights like their personal background, lifestyle, and challenges/pain points will allow you to really get a sense of what the persona needs and wants when looking for your product or solution.
Another thing that struck me about this example is the use of a really great lifestyle photo. Without even reading the copy on the page, I can see that Rachel is a young married woman, with small children.
Using photos as part of your buyer personas provides a way for you (and your team) to visualize your prospect and remember who you are speaking to when writing marketing copy, selecting blog topics, and/or developing campaigns.
This is a great buyer persona example in my opinion because the bullet points make the data easy to read and remember, the separate sections allow you to quickly find insight without a ton of reading, and the one-page format keeps everything concise..
2. Student Sarah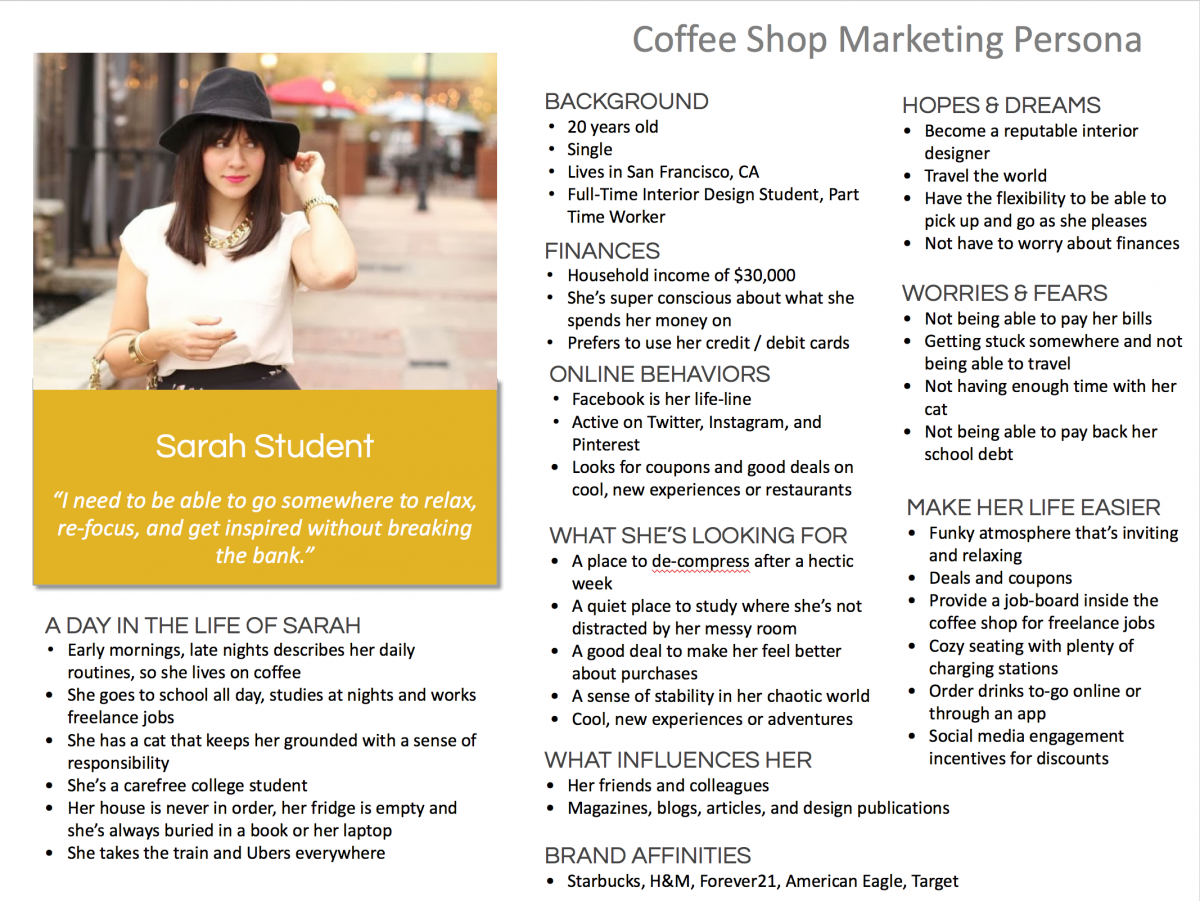 This next example by Iron Springs Design and is significantly more detailed than the first.
This is a great example of digging deep and doing the research to fully understand your customers.
It's another one-page design using bullets, but this one is jam-packed with important details into Sarah's life.
It covers her background and needs as well as her fears, worries, hopes, and dreams. It even discusses her influences and brand affinities.
Including the details mentioned above provides a deeper insight to who "Sarah" is and what she might be thinking about throughout her buying process.
As a marketer, knowing and understanding these details can lead to some creative and out-of-the-box campaign ideas.
In addition to a more detailed approach, this persona format also includes a quote describing the persona's pain points.
Pulling the words of an actual customer into the persona is a great way to humanize it and also remind you what is most important to that target audience.
It also gives you specific words that you know will resonate with your audience.
During your research and buyer persona development phase, I suggest recording your interviews with customers so that you have material to go back and possibly pull from for including a quote in your final persona.
B2B Buyer Persona Examples
As I mentioned above, business-to-business personas require a slightly different approach.
With B2B personas, you are typically targeting either the decision makers themselves or those who influence decision makers.
This person may or may not be spending their own money and may or may not have to answer to others.
2. The Technical Decision Maker
The example below from Referral Saasquatch combines a lot of valuable information not only about the decision maker, but also about who and what influences their choices.
When doing your persona research and interviews, asking key questions to uncover this type of information can be helpful for developing your campaigns in the future.
In addition to the format of this persona being different from the B2C examples, the information is outlines is also different.
They both include basic demographic information, a photo of the persona and their pain points, however, this persona goes into more detail about their attitude, how they are viewed by others and their preference on content format.
While this persona also follows the one-page format, there is something about the two-column grid layout that is less appealing to me. The two examples above feel more human and less research driven to me.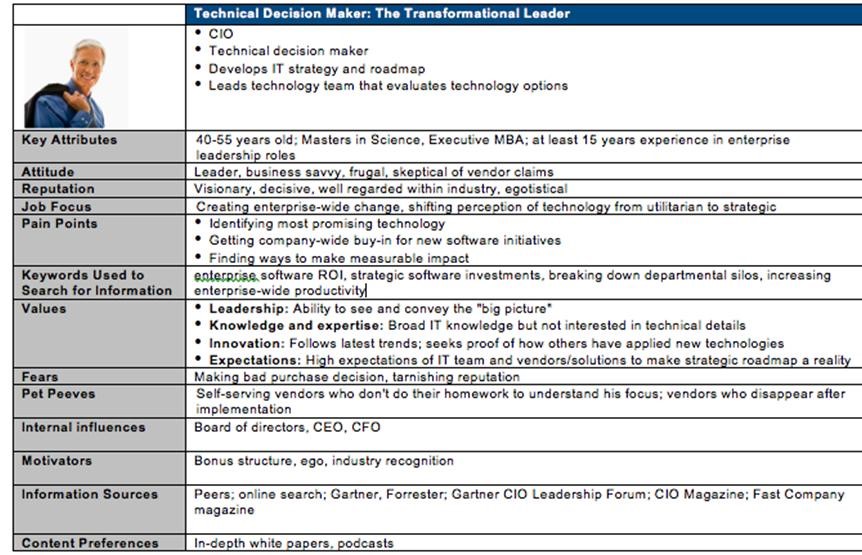 4. Director Diane
Last, but not least, we have Director Diane, a B2B persona from Buffer.
This persona uses my favorite format where all the details form a "web" around the persona's image. It's detailed, well-rounded in the information it provides and it's laid out in that optimal one-page presentation.
At a quick glance, you can learn everything you need to know about Diane Director. You can see what a "day in the life" is like for her, the problems she runs into within her role, her goals, and aspirations, the experience she's seeking when looking for products and services, and more.
Another thing I really like about this format and the data it presents is that it's using a mix of bulleted statements, as well as quotes from Diane herself.
As we discussed above, having real insight and feedback from actual customers or taking the time to develop first-person statements from them will humanize your personas and help your team when it comes to messaging and brainstorming campaign ideas.
Creating Your Own Buyer Personas
As you can see there are lots of creative ways to organize your buyer personas as well as several options for what type of data to include for both B2C and B2B companies.
Pick and choose the components, format and data points that will work best for your company and do as much research as you can. We've found that starting with the right questions and investing the time to dig deep yields the best results.
Download our FREE buyer persona template, get your team together and dive in!
I won't tell you that persona development is easy, but I will tell you that taking the time to do the proper research, interview your customers, and develop formal documents will pay off for you ten-fold.
Once your personas are developed, you and your team will be enabled to better understand your audience, create the right content for every stage of the value journey canvas, identify effective influencer or guest blogging opportunities, and develop better overall marketing strategies.
To get started building your persona, download our free buyer persona template. It will walk you through persona development step-by-step.
Free Assessment:
How does your sales & marketing measure up?
Take this free, 5-minute assessment and learn what you can start doing today to boost traffic, leads, and sales.