Make captioning your videos a breeze with QuiCC [IMPACT Toolbox Dec 2019]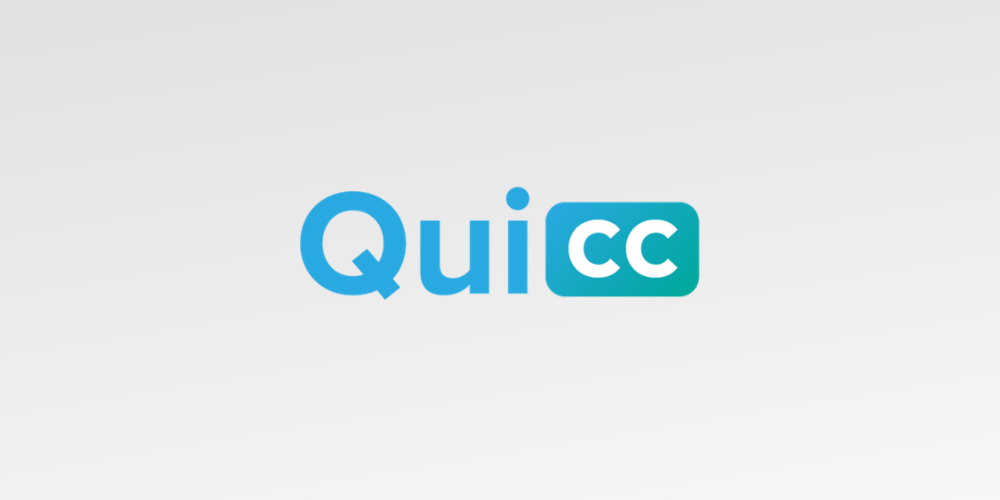 Video captions are a tricky thing.
It's not that they're hard to do; they just tend to be tedious, and tedious things almost never get done.
When something comes along that can automate and speed up tedious processes, I'm always on board to give them a try.
So, today, we're going to look at QuiCC, an automated captioning tool for your videos.

This article is part of our IMPACT Toolbox series
With IMPACT Toolbox, we discuss all of the latest (and sometimes underrated) sales and marketing tools that you need to try. We make recommendations by category, helping you figure out what tool is best for your situation, and introduce you to tools you may not hear of otherwise.
Have questions about a marketing tool? Want to know whether or not we've reviewed it? Reach out to @morganandrewv on Twitter and we'll see how we can help.

What is QuiCC?
QuiCC is an automated video captioning tool.
You upload a video, and its caption engine will transcribe the video with about 91% accuracy.
From there, the tool provides an easy interface to make final edits before burning captions into your video and letting you download the final version.
Why do you have to burn it? My poor videos…
Open vs closed captions
Burning in captions (also called open captions) essentially just adds the captions permanently to your video, as opposed to being able to toggle them via the video player (closed captions).
Burning captions has a few pros and cons.
Pros:
You can style the captions to help them match your brand
No matter what platform they are uploaded to, your videos will always have captions available
Cons:
Captions can't be controlled by the video player
Open captions are not fully accessible, although they cover most cases
Toggled or closed captions require uploading a SubRip file (or SRT file .srt) with your video (which QuiCC can provide as well), but you generally wouldn't want to use both (as the player captions would cover the open captions).
A SRT file accompanies your video (or audio) and provides additional information to the media player so it can display closed captions, as well as allow the video content to be searched and even allow users to jump to a certain point in the video based on the transcript.
If you need this, QuiCC allows you to download the SRT file in addition to the video with open captions. So, whatever your use-case, QuiCC has you covered.
You can technically create an SRT file yourself (it's just a text file with a certain format), but as someone who has done this from scratch, I would highly advise otherwise.
Why do I even need captions?
Most importantly, accessibility.
Captions make your video accessible to those who are deaf or hard of hearing, and assist non-native speakers to understand the video.
Depending on the type of captions, they can also assist with your SEO and make it possible to search the content within the video.
Besides those who need captions to experience your videos, a growing percentage of people like to use video captions to improve their watching experience.
They may be watching without sound on (like most social platforms with autoplay and sound off), so captions are a necessity to get your message across. In fact, a recent survey found that 92% of U.S. consumers watch videos with the sound off on mobile.
And sometimes captions can be helpful even with sound on to improve retention.
Overall, providing captions opens up numerous options for your audience to consume your videos.
Using QuiCC to edit transcriptions
One of the benefits of QuiCC is the slick interface in which you edit your transcription and it's relatively self-explanatory.
Once you upload a video (like any file you'd upload to the browser) it takes a moment to transcribe and show as available to edit.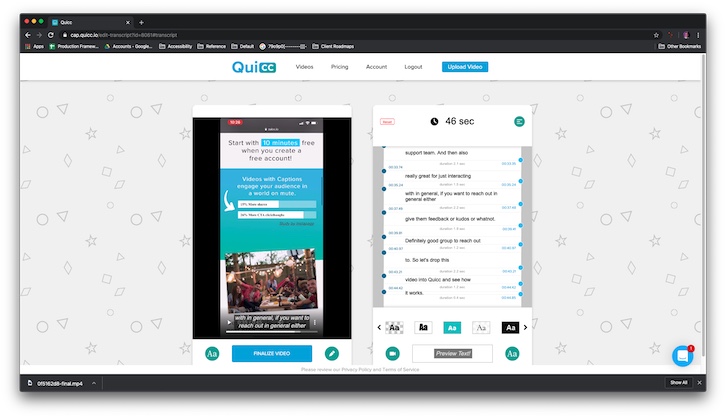 Once it's ready, you enter the editing interface, with your video on one side and the transcription on the other.
As you watch the video or jump between areas of the transcription, the other side quickly syncs to keep you aligned.
I found this very helpful as I could quickly pull out words to update (QuiCC highlights "umms" and words it may not have gotten right) and the video synced to that location so I could verify what I actually said.
After that, you can edit how the captions actually look in the video, with a number of font options, backgrounds, and text shadows to match your brand or stand out in that particular video.
Here's the final captioned video, screen recorded on my iPhone and then captioned in QuiCC.
The video itself is less than a minute, and between uploading and editing it in QuiCC, it took maybe 5-10 minutes total to have burned in captions with the option to download an SRT file.
Ideal use cases for QuiCC
The best use-case for QuiCC is for social media videos. Those are generally the videos that you want to burn captions into as most major social media platforms have auto-playing videos with muted audio.
And if you add branded captions it will help your videos stand out and make them more likely to be watched.
QuiCC is popular with social media personalities, such as Brian Fanzo. It's quick and easy to use, and the interface favors vertical videos (or portrait-style).
Mariah Soto, IMPACT's lead videographer, hadn't dabbled in transcriptions or captions much prior to using QuiCC.
It's an area that can be a bit monotonous, but QuiCC is now an option in her toolbox to handle those scenarios.
"When someone needs a video transcribed, it's no longer this whole other step," she commented.
Mariah was also impressed with QuiCC's in-app support, as she was able to get quick feedback from the QuiCC team while she was transcribing a video.
If you need to continue editing your video in something like Adobe Premiere Pro, you can bring the SRT file produced by QuiCC to get your final polished video there as well.
QuiCC alternatives
The only drawback I've found so far is that QuiCC tends to be focused more on mobile and particularly portrait-style videos.
That's not to say that landscape videos can't be transcribed, or that you can't use the generated SRT file, but you may not enjoy the experience quite as much since your video won't be taking the best advantage of the interface.
That being said, I do expect better support for landscape (or at least a different layout configuration) to be on the radar for QuiCC.
So I wouldn't let it turn you away, but be prepared that it may not be an ideal editing experience for landscape or long videos currently.
Plus, since longer videos will take more time to edit (even just to verify the captions are correct), you may be better off using a transcription service like Rev.
Another alternative is Descript, which doesn't do burned in captions but is also automatic, has a great interface, and produces the additional files you need for accessible captioning.
Get more out of your videos with QuiCC's captioning technology
Captions are a must these days. So, if you're doing any kind of regular videos, especially if you share them a lot on social media, I would recommend giving QuiCC a try. They're going to treat you really well, and be sure to tell Jason and the team at QuiCC hello from IMPACT!
Did you find this review useful? Let us know if you've used QuiCC or an alternative in IMPACT Elite! And if you have any lingering questions, let us know and we'll see if we can help you figure out the best option for you.
Free Assessment:
How does your sales & marketing measure up?
Take this free, 5-minute assessment and learn what you can start doing today to boost traffic, leads, and sales.