5 quick changes to kickstart your inclusive marketing in 2021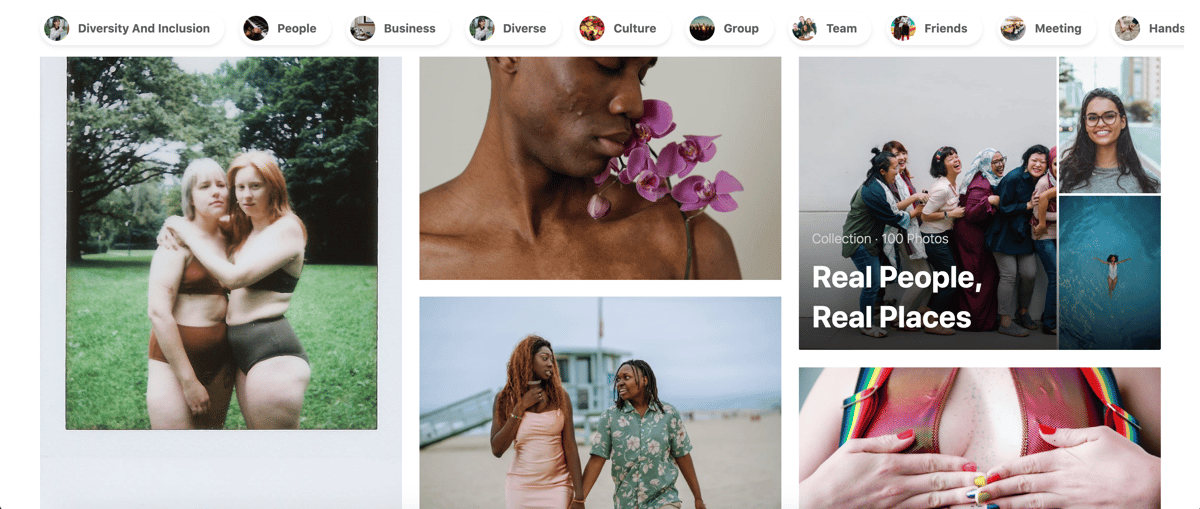 Listen, I get it.
Hearing the words "diversity and inclusion" makes a lot of people uncomfortable. It's like hearing "we need to talk" from a significant other or your mother using your full name after seeing your report card.
It can feel like we're setting the stage for an awkward conversation no one wants to have; a conversation about things we've been taught are "political" or impolite to address, and sometimes we are — but I want you to forget all that for a few minutes.
From a business perspective, diversity and inclusion isn't just a human resources initiative or social to-do. It's something that can grow your audience of potential customers and, ultimately, grow your profits when done well in your marketing.
And we're not just talking about race or skin color here.
Diversity and inclusion in marketing are about questioning the assumptions you make about who uses your product or service and how they use it. That means speaking to more walks of life in your messaging and media including age groups, educational backgrounds, sexual orientations, genders, socio-economic classes, physical or mental capabilities, and religions among other things.
In 2019, the Heat Test Report found that while one out of four people lives with a disability, only 1% of ads represent them and 90% of ads don't include people of lower socioeconomic backgrounds. Meanwhile, Think With Google found 66% of African Americans, and 53% of Latinx Americans feel their ethnicity is portrayed stereotypically in advertisements.
With 61% of Americans saying they find diversity in advertising important, this is a huge opportunity for smart marketers who want to stay relevant — and it doesn't have to be scary.
Here are five baby steps you can take relatively quickly to kickstart your inclusive marketing initiatives and start resonating with new buyers in 2021.
1. Update the stock photos and videos on your website
As a rule, you should always aim to use real, original photography on your website, but I know that's not always realistic. Heck, even the best of us use stock photos when we're in a bind.
That being said, your photos are one of the easiest ways to start visually being more inclusive with your marketing.
The next time you're looking for a stock photo for your blog article featured image, website hero, or even B-roll for a video, make an extra effort to seek out relevant options with individuals from underrepresented groups.
While most prominent stock photo resources are overwhelmingly white, male, heterosexual, cisgender, and able-bodied, they've shown great progress in 2020, especially if you search group-specific keywords.
Just take a look at this quick search of the word "marriage" on Shutterstock. The majority still highlights heterosexual couples, but you will now find more variety in the mix:
Meanwhile a quick search of "same sex marriage" brings up over 15,000 results:
Similarly, check out the results for "working on a computer." As quickly as the second row, we're met with options featuring people from different racial backgrounds and work environments.
And if we get more granular with "working on a computer asian," over 270,000 results come up.
So, the options are out there! You can also try looking to diverse stock photo resources like:
While not "more" diverse and inclusive than most prominent stock photo resources, they can be used to fill in the gaps those may not.
2. Add variety to your social proof
Social proof exists to show potential customers that you walk the walk; that you will actually deliver on the promises you make and have experience solving problems like theirs.
So, diversifying the testimonials, case studies, and reviews you highlight can show an even wider audience that you have seen success with their unique needs.
In 2021, showcase customers or clients of different racial, religious, or cultural backgrounds; businesses of different sizes or from different industries; or unique uses of your product or service.
Having a more inclusive library of happy customers in this way will help you appeal to more buyers and show you're not just a one-trick pony.
One of my favorite examples comes from Apple's 2014 "Your Verse" campaign. In this series of customer stories, the tech giant highlighted great uses of their iPad. One that particularly caught my eye featured Bollywood choreographer, Feroz Khan.

This story not only positioned the product in a glamorous light and showed off many of its features and specs, it also highlighted an underrepresented group to Western audiences and a unique professional use-case.

(Note: You can also get creative with the examples you share in your articles, like I just did. ;) )
3. Add video and audio to your content mix
Inclusion isn't just about what meets the eye. Many consumers have invisible differentiators such a learning or visual disabilities that can change the way they experience or react to your marketing. Take this into account!
Preparing for these needs can help a whole new audience feel understood and welcomed by your brand and also make engaging with your brand or website more delightful.
To cater to them, consider adding video or audio to your content mix. This could mean releasing videos on YouTube, embedding them into your blog articles, launching a podcast, or even recording someone reading your articles.
No matter what route you choose, you'll be giving individuals from these groups a way to still consume and enjoy your content while many of your competitors are likely ignoring them.
Social Media Examiner does a great job of this. You'd be hard-pressed not to find an article on their site that doesn't include a least video of the content and, on occasion, include an audio recording of someone reading the article:
4. Invest in website accessibility
On a related note, invest in making your website more accessible.
Simply put, this means making changes to ensure that everyone who visits your website has a good user experience and can easily complete the actions they need to, including those with auditory or visual disabilities or impairments.
A few years ago, Beyonce was sued when a fan with visual impairments was unable to purchase tickets to a concert on the singer's website because it lacked image alt text and accessible menus among other things. The financial risks and reputation repercussions were vast, making big headlines.
I don't know about your business, but I don't think many have the money to burn that Beyonce does so it's better to plan ahead. Accessibility can be a very technical and involved process, but some small steps you can take to get started in 2021 include:
Adding image alt text
Avoiding poor contrasting colors
Using large and crisp text
Avoiding flashing animation
5. Offer content or support in other languages
Is your product or service available worldwide? If so, making your website available in multiple languages can help make it significantly easier for people to navigate, consume content, and even make a purchase.
In an increasingly diverse world, this is a smart move even if you only do business domestically. Let's say, for example, you sell a product that is available exclusively in the United States.
A domestic shopper could still arrive on your site ready to buy, but leave without making a purchase because they feel more confident communicating in their first language of French, Spanish, Hindi, etc. In fact, In 2014, CSA Research found 75% prefer to buy products in their native language.
If your website is only available in English, you could be losing out on thousands of sales purely because people don't know how to take the action they wanted to.
Now, this, like accessibility, isn't necessarily a quick endeavor, but you can start in chunks.
Dive into your user data and see what international countries your visitors are coming from, what languages they speak, and perhaps their cultural backgrounds. Zero in on perhaps the two or three most common languages and offer translations of your most important pages (i.e. homepage, product page, etc.)
If you have a web developer at your disposal and the budget, Google Translate also offers a Translation API that can be added to your website's code to automatically translate your website in other countries. This tool is trusted by brands as big as Bloomberg and take the busy work out of expanding your audience.
Come together in 2021
While it's yet to be seen how long COVID-19 will continue to keep us socially distant in 2021, one place we can all still come together is our marketing.
Use these tips above to start laying the foundation for a more diverse and inclusive marketing strategy and you'll be better equipped to start welcoming a whole new customer base with open arms.
Free Assessment:
How does your sales & marketing measure up?
Take this free, 5-minute assessment and learn what you can start doing today to boost traffic, leads, and sales.