Inclusive marketing: Why modern buyers demand to see themselves in your brand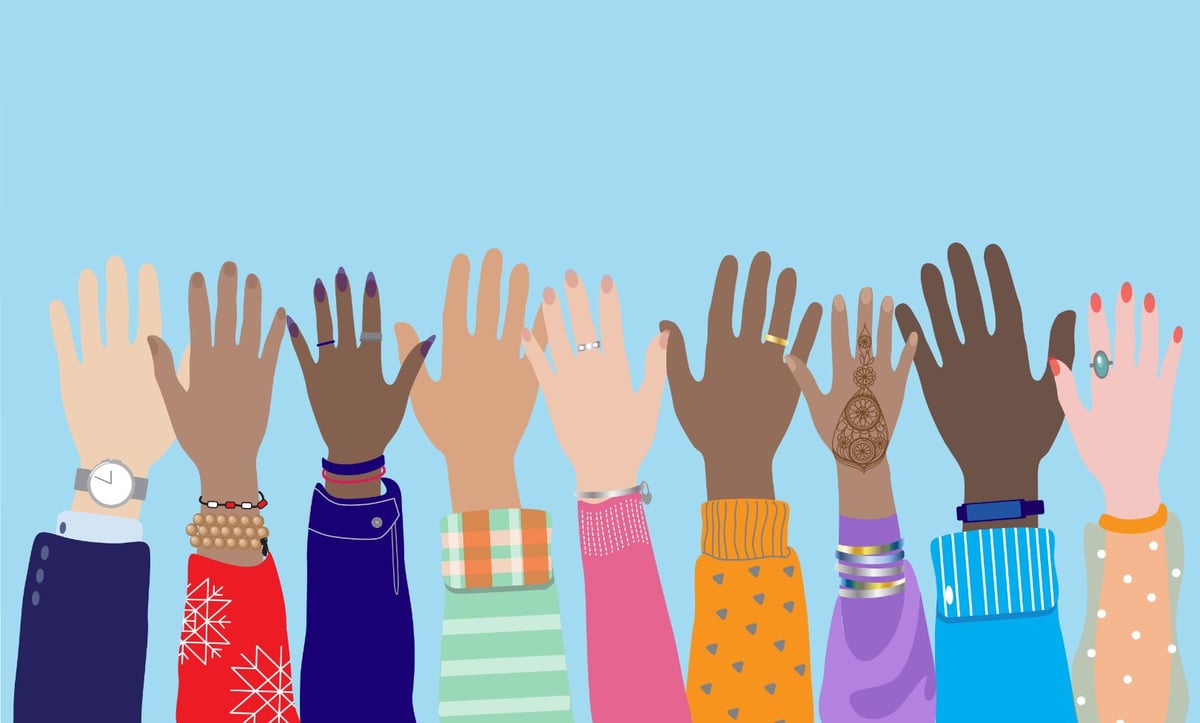 "It's pretty telling that any time I saw a brown person on TV, I acted like I'd won the lottery. Like I was seeing a rare extinct animal in the wild …"
Few remarks have struck me as hard as this one written by actress and activist Diane Guerrero in American Like Me, a collection of essays compiled by fellow actress America Ferrera.
Growing up, like many first-generation American minorities, I very rarely saw people who looked or lived like me in my day-to-day life, let alone in the media.
So when it did happen, I flipped. In my 20s, I began seeing people such as Mindy Kaling, Hasan Minhaj, and Dr. Sanjay Gupta (or Dharmesh Shah, Reshma Saujani, and Neil Patel in the professional world) come into the limelight.
All of these individuals have worked for their mainstream praise, but initially, for me, it was their faces and stories — faces and stories like my own — that caught my attention and made me listen.
I saw myself and my values in them. I felt understood. We had a shared perspective and I wanted to hear what they had to say. I wanted to support them, follow their social media accounts, watch their shows, buy their books, and overall see what they'd do next — and this is not unusual.
In 2019, Google found 69% of Black consumers were more likely to purchase from a brand that is positively reflecting their race/ethnicity in advertising. Similarly, 71% of LGBTQ+ consumers were more likely to interact with an online ad that authentically represented their sexual orientation.
As audiences become less homogenous, especially in Western markets, they want to see themselves and their lifestyles reflected in the products they buy. They want to be seen, heard, and represented by these brands.
🔎 Related: 23 eye-opening inclusive marketing statistics that prove its power for 2021
This is one of the many reasons inclusive marketing is so important for any modern business that wants to grow.
Inclusive marketing is a reflection of a shifting marketplace
Inclusive marketing is not a trend, nor is it just a buzzword.
In fact, believe it or not, it's really nothing new at its core. For ages, marketers have known that if you're trying to reach a particular group, you need to use images and words that appeal to that group. Know what they like and give it to them.
Inclusive marketing is merely an extension of this.
As They Ask, You Answer has taught us, the modern buyer is changing, and not just in how they shop and research purchases.
The global marketplace is also becoming increasingly diverse, and inclusive marketing includes more groups. Inclusive marketing works to reach a larger audience of potential buyers by looking past preconceived notions of gender, age, race, income, sexuality, language, location, and religion (among other things) to highlight common pain points and experiences and make sales.
Inclusive marketing challenges rigid ideas of who a brand's buyers are and how their product is used to cast a wider net — one that may include demographics they may have never considered before.
One of my favorite ways to explain this idea is with a hypothetical cosmetics company:
Imagine a cosmetics brand that has always assumed only young women buy its products. In an inclusive effort, this company may create a campaign featuring an older gentleman who uses their makeup to moonlight as Gene Simmons in a Kiss cover band after his 9-to-5.
Unexpected? Oh, most definitely. But inaccurate? Not necessarily.
🔎 Related: 15 stunning inclusive marketing examples to inspire you in 2021
Why inclusive marketing?
Let's consider another (perhaps more relatable) scenario:
Say you sell software for small business owners. Small business owners can come from any and all backgrounds. Would it be smart to assume that your buyers are all of the same race, gender, or age group and design your marketing around this belief? Heck no.
Making narrow assumptions or generalizations about the demographics your buyers fall into could hurt your marketing and business overall. Embracing inclusive marketing, however, would unveil several benefits to you.
Appealing to a wider audience
The most obvious benefit of inclusive marketing is the fact that you'll be appealing to a wider potential audience of buyers.
Multicultural consumers make up almost 40% of the U.S. population, according to PQ Media, and as you start speaking to more demographics with your marketing and messaging, you'll be making a play to reach them in a way you may not have previously.
Catering to modern buyers
In addition to appealing to underrepresented groups, recent studies show that modern buyers in general not only want to see more diversity in marketing and advertising but consider it as a positive when making purchasing decisions.
More specifically, 64% of consumers surveyed in 2019 said they took some sort of action after seeing an ad they considered to be diverse or inclusive. These numbers are only rising as Gen Z gains more market power, but more on that shortly.
🎓 IMPACT+ Course: Digital Sales & Marketing Framework for Today's Modern Buyer
Greater potential profit
This likely goes without saying, but a bigger audience means more potential buyers, which means more potential profit. Inclusive marketing helps you open your business up to markets it may not have been reaching before and the profit potential can be immense.
Future-proofing
Today, even the youngest members of Gen Z are entering their early 20s. That means they are on the verge of making up a large portion of your buyers.
With 85% of today's consumers saying they'll only consider a brand if they trust it, and 70% of Gen Z consumers being more trusting of brands that represent diversity in ads, inclusive marketing is the next logical move for any strategy aimed at long-term success.
When you embrace inclusive marketing today, as an early adopter, you will be better poised to not only attract but maintain future buyers than you would be entering the game in the final inning.
How to get started with inclusive marketing
Inclusive marketing is no small initiative. It's more than simply checking a box by using a stock photo showing a variety of faces. It's an ongoing effort that involves your messaging, visuals, and user experience, among other things.
Here are five foundational tips to help you get started:
1. Think beyond race
Diversity, equity, and inclusion (DEI) isn't just about skin color. It spans a number of traits, all of which you should consider when re-evaluating your product and marketing for a wider audience.
Things to consider include:
Race
Ethnicity
Age
Gender
Sexual Orientation
Language
Nationality
Education
Income
Beliefs/Faith
Upbringing
All of these things can affect how someone may perceive and use your product, or, when you're using the They Ask, You Answer framework, the questions they ask and how they phrase them.
2. Use diverse visuals
While showing people from all walks of life shouldn't be your only inclusive marketing effort, it is an important one. Review your website for opportunities to include a video or image from someone in an underserved community to help new groups see themselves in your brand.
Although in most instances you want to use real, original photography like that used by IMPACT client Applied Educational Systems (AES) below, you can also explore diverse stock photo resources to help you fill the gaps.
3. Invest in website accessibility and inclusive UX
One piece of inclusion that often gets overlooked is a company's website. Work with your team to make sure your website is accessible for potential buyers with hearing or vision impairments, and that your user experience keeps different demographics in mind.
For example, ask for a prospect's preferred gender pronouns on forms and offer support/content in a variety of languages. You can find more specifics on how to make your website more accessible and inclusive in these articles:
4. Focus on universal stories and steer clear of stereotypes
One of the things that makes many brands wary of tackling diverse and inclusive marketing is navigating the sensitive waters of bias and stereotype, and understandably so.
You can steer clear of using stereotypes when putting together marketing materials by focusing on telling universal stories that discuss pain points and experiences that anyone using your product or service would have regardless of their background.
Shaping your content around what we call The Big 5 is a great place to get started.
5. Diversify your team
I know this one isn't easy, but I'd be remiss if I didn't mention it. At the end of the day, the most effective way to build a strong inclusive marketing strategy is to bring on talent from more diverse backgrounds to help you understand and speak from a wider variety of perspectives.
As we've discussed in the past, "If your team represents a wide range of backgrounds and experiences, you'll have more perspectives and ideas readily at your disposal. You'll be able to account for them when crafting your stories, messaging, and campaigns."
Sixteen members of the Forbes Technology Council share their tips on how to diversify your talent pool in this article.
Great examples of inclusive marketing
So what does great inclusive marketing look like? With so many facets, great inclusive marketing can come in many different shapes.
It can be as big as a national campaign or as simple as using diverse imagery, a window display, or discussing DEI as it pertains to your business in content like IMPACT client Presbyterian Senior Living has done.
IMPACT client Presbyterian Senior Living has started creating content around DEI topics and how they impact their services.
Many other brands, such as Gillette, Essie, and Phillips are leading the way with smart inclusive marketing campaigns. Check out 15 impressive examples here.
Removing the modifier
If I can leave you with one lesson, let it be that inclusive marketing is no flash in the pan, trendy strategy. It is a critical, strategic shift businesses need to make if they want to stay relevant with changing audiences and grow in the years to come.
The modern buyer doesn't look or act like they did in the past, and as more businesses begin to recognize this in their marketing and organizations overall, inclusivity will just be an inherent piece of what we do. Use the information and tips above to start the work today and to help begin removing the modifier.
Diversity is just one way your modern buyer is changing (and will continue to). To learn more about how buyers have changed, check out the free IMPACT+ course "Digital Sales & Marketing Framework for Today's Modern Buyer" with our own Marcus Sheridan.
Free Assessment:
How does your sales & marketing measure up?
Take this free, 5-minute assessment and learn what you can start doing today to boost traffic, leads, and sales.