9 Black and minority marketing and sales thought leaders you should be following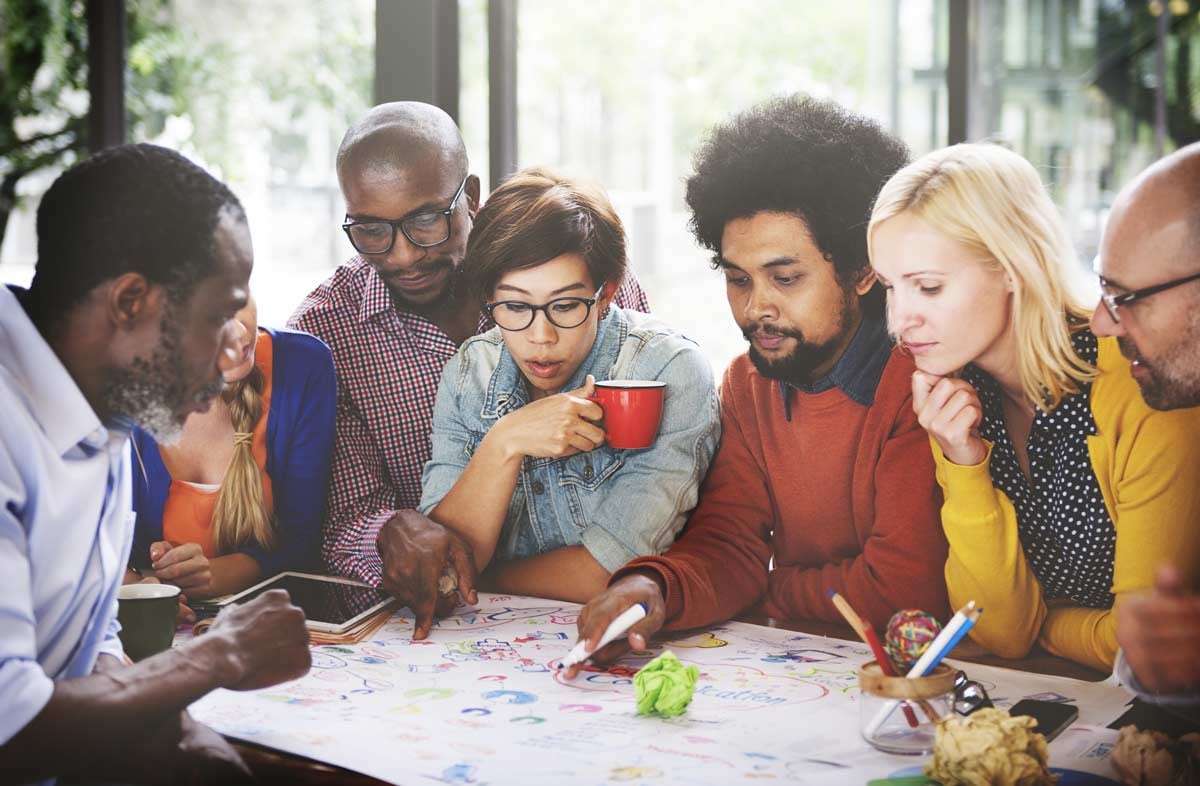 In my junior year of college, I glanced at my tuition bill to see I received a "marketing minority scholarship."
And I found it hilarious.
It was an ongoing joke in my heavily South Asian peer group that no "brown kids" majored in marketing — it was just too creative and impractical — but it wasn't until I started working full-time that I realized just how homogenous the industry really is in the United States.
Even this year, nearly a decade later, Marketing Week's annual Career and Salary Survey found that an overwhelming 88% of marketers identify as white, with just 5% identifying as Asian, 4% as mixed race, and 2% as Black. Now, roughly 60.9% identify as female, but even that number drops as we looked at more senior roles.
We live in an increasingly global market, where the internet puts your marketing in front of people from all corners of the map. And that's not even to mention the changing face of buyers in North America.
Experts predict that by 2044, groups formerly seen as "minorities" in the United States are going to (collectively) reach majority status.
That means they will be a larger percentage of decision-makers in organizations and an even larger part of the consumer market.
So, as I told myself as a nervous young marketing grad, in today and tomorrow's marketplace, diversity isn't just a nice-to-have; it's a competitive advantage.
In 2017, Harvard Business Review reported that companies that were found to be more diverse are 70% more likely to capture new markets, and it's only logical.
If your team represents a wide range of backgrounds and experiences — whether they be based on education, gender, race, sexuality, religion, social class, or otherwise — you'll have more perspectives and ideas readily at your disposal.
You'll be able to account for them when crafting your stories, messaging, and campaigns.
As brands and marketers, you need to understand and cater to your evolving audience. What better way than bringing that knowledge in house?
Building a more diverse team takes time and effort, but that doesn't mean you can't start opening your eyes to new expert perspectives and insights in the meantime.
Below is a list of nine highly accomplished and innovative Black and minority marketers, sales experts, and entrepreneurs you should be following in 2020.
1. Ramon Ray
, speaker and author
Ramon Ray is a highly sought after global keynote speaker, event host, and author of The Celebrity CEO and The Facebook Guide to Small Business Marketing.
He's also an entrepreneur who started four companies (and sold two of them), so his knowledge is vast, deep, and proven.
The high-energy leader shares his insights on marketing, technology, mindset, startups, and more via Instagram, Facebook, Twitter, YouTube, and his podcast, Smart Hustle, but he can also be seen speaking at events like IMPACT's upcoming Digital Sales & Marketing World.
2. Bozoma Saint John
, speaker, former chief brand officer of Uber, and head of global consumer marketing at Apple
Bozoma Saint John's resume is one that blows me away.
The daughter of an immigrant father from Ghana, Bozoma graduated from Wesleyan University and went on to scale the corporate ladder in ways many of us can only dream.
She went from account executive positions to serving as the head of music and entertainment marketing at Pepsi, head of global consumer marketing at Apple Music and iTunes, and chief brand officer of Uber in the last decade alone. Now, she is the CMO at Endeavor working with brands like Miss Universe, PBR, and UFC, and she shows no sign of slowing down.
Bozoma shares her adventures as well as inspiration and insights on branding and business via Twitter and Instagram.
3. Dharmesh Shah
, co-founder and CTO at HubSpot
Now, this name probably needs no introduction.
With a background in computer science and IT, Dharmesh is a self-declared "professional geek."
He is most widely known as the co-founder and CTO of HubSpot and an angel investor, but, in recent years he has also become renowned for his keynotes (like the one he delivered at IMPACT Live 2018) and his poignant and personal perspectives on company culture and diversity.
Dharmesh's thoughts on everything business and mindset are some of my favorites to read in my free time. He discusses even the most complex topics in a human, easy to understand way, incorporating personal stories and humor.
You can follow them on the OnStartups blog as well as Twitter and LinkedIn.
4. Sean Gardner
, marketer, author, and speaker
A Forbes Social Media Power Influencer, A.I. specialist, digital marketer, keynote speaker, author, and world traveler, Sean Gardner shares a variety of valuable insights for an aspiring entrepreneur.
Having worked with big brands like Apple, Microsoft, Marriot Hotels, Ford Motor Company, Ogilvy & Mather, World Vision, and The Huffington Post, Sean's Twitter and LinkedIn are jam-packed with business knowledge, reflections on current events, and travel photos that will keep you thinking and engaged.
I first learned about Ross Simmonds after a former IMPACT teammate saw him speak at Wistiafest in 2017 and came back wowed.
Ross is a passionate digital marketing strategist and entrepreneur who enjoys educating on a wide range of topics including how to use content marketing, social media, and digital channels to achieve business goals, remote work, technology, and storytelling.
Find him on LinkedIn, Twitter, or YouTube today.
6. Eliana Murilo
, head of multicultural marketing at Google
Honored as one of Forbes 30 Under 30 in 2017, Eliana Murilo is the founder of multicultural marketing at Google and has spearheaded a number of initiatives designed to reach more diverse audiences and businesses to increase their access to technology, education, and digital content creation.
She also works as CMO of Tequila Alquimia, her family's organic tequila company, making her expertise and interests diverse and interesting.
Across her social media, especially Instagram and Twitter, Eliana shares views on strategy, social causes, art, and food.
7. Donald Kelly

,
CEO of The Sales Evangelist
Founder and chief of The Sales Evangelist, LLC, Donald Kelly is a sales coach, consultant trainer, and podcast host of over a decade who proudly traces his sales pedigree back to a roadside stand in Jamaica owned by his parents.
Sales is "in his DNA" as he puts it, and he strives to teach sellers and entrepreneurs how to find more ideal customers, build strong value, close more deals, and make sales fun again in everything he does.
You can follow Donald's podcast on all major platforms and also catch him speaking at IMPACT's Virtual Selling Summit on June 23rd.
8. Salma Jafri
, video marketing specialist, YouTube coach, and speaker
Based in Karachi, Pakistan, Salma Jafri is a renowned speaker and digital marketing expert who has graced the stage at HubSpot and dozens of other industry events.
Focusing on video marketing and social media, Salma shares clever and effective insights to grow your business online on all of the major social platforms, but Twitter and Instagram are especially engaging.
9. Goldie Chan
, speaker and LinkedIn influencer
Goldie Chan is a global keynote speaker, social strategist, and top LinkedIn video creator who has been called the "Oprah of LinkedIn" by the Huffington Post.
Her series #DailyGoldie is considered the longest-running LinkedIn show on the platform (earning over 7 million views). On it she shares insights on social media, personal branding, and storytelling.
Before her LinkedIn fame, Goldie also ran digital strategy at Legendary Entertainment (Nerdist, Geek & Sundry, Amy Poehler's Smart Girls) and sat on the board of directors at Producer's Guild of America (NW).
LinkedIn is definitely the most effective way to hear from Goldie, but you can also connect with on her blog, Instagram, and Twitter.
Diversify to grow
Marketing may not be the most diverse industry at this time, but we cannot let that hold it (or your organization) back.
The nine thought leaders above are just a small selection of the multi-talented and accomplished minority minds who can start helping you expand your perspectives and cater to a wider audience today.

Who else should we be following? Let us know in IMPACT Elite.
Free Assessment:
How does your sales & marketing measure up?
Take this free, 5-minute assessment and learn what you can start doing today to boost traffic, leads, and sales.