11 stunning inclusive marketing examples to inspire you in 2021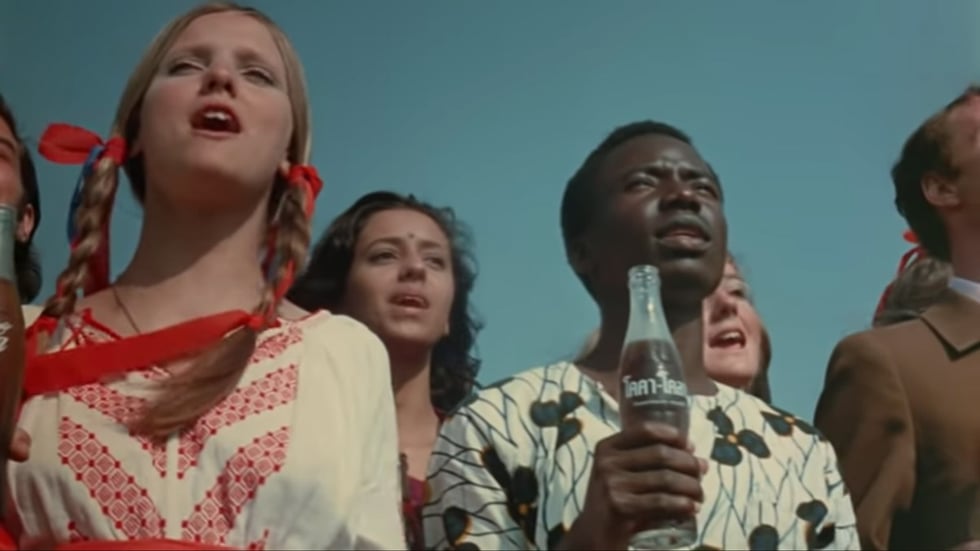 Associate Director of Content, Strategized Initiatives That Increased IMPACT's Website Traffic From ~45K to ~400K
November 19th, 2020 min read
Great inclusive marketing examples
Burger King's Impossible Whopper
Etsy's Gift Like You Mean it
Savage X Fenty
Gillette
Neutrogena
The White Collection Bridal Boutique
Amazon Prime's "Lion Mane"
Essie
Pampers' "Stinky Booty Duty"
Curology
Google Pixel's "The Picture Perfect Life"
In 1971, Coca-Cola did something huge.
It spent $250,000 ($1.6 million today) to put 65 people on a hilltop in Manziana, Italy, and bought them a Coke. What resulted was one of the most iconic commercials and marketing campaigns of all-time:
It was so groundbreaking, the company received over 100,000 letters from people praising the commercial — think of how many tweets that would be today — and, with radio stations flooded with calls requesting the "I'd Like to Buy The World a Coke" song, a pop version was produced (earning $80,000 in royalties).
Even decades later, the commercial has been remade numerous times and given a nod in the series finale of Mad Men. It has earned a place in global culture, but why exactly?
Well, many point to the fact that it is one of the earliest examples of diverse and inclusive marketing.
"It was us saying [Coca-Cola] could be a little social catalyst, that [it] can bring people together, [to] talk things over," reflected co-creator of the commercial Bill Backer when asked about the ad's global impact.
Released as much of the United States was growing tired of the Vietnam War and division, the commercial showed people of all shapes, colors, and ethnicities singing about coming together over a Coke.
It was a message of unity and joy, and even more significantly, it was an ad that buyers all around the world could literally see themselves in.
This is the power of inclusive and diverse marketing.
And, with a 2019 report conducted by Adobe showing 61% of Americans find diversity in advertising important and The Heat Test finding 69% of brands with representative ads saw an average stock gain of 44% last year, it's something every marketer should be taken seriously in 2021.
So, what is inclusive marketing?
Diverse and inclusive marketing is marketing that aims to speak to a larger audience of potential buyers by looking past preconceived notions of gender, age, race, income, sexuality, language, and religion (among other things) in regards to the products being sold.
It targets individuals from all walks of life, by seeking commonalities outside of these social labels.
Take a makeup brand that has always assumed only young women buy its products. In an inclusive effort, it may create a video featuring an older gentleman who moonlights as Gene Simmons in a Kiss cover band after his nine-to-five.
Unexpected? Most definitely, but inaccurate? Not necessarily.
Diverse and inclusive marketing forces you to throw everything you assume about your audience out the door and think deeper into why and how your product may be used.
Typically, this involves using more diverse imagery, messaging, and even tactics, but this can take many different forms. To help you start brainstorming how your brand and marketing can be more diverse, I've compiled 11 stunning examples of inclusive marketing done right.
Great examples of inclusive and diverse marketing
1. Burger King: Impossible Whopper
When you think of "diverse and inclusive," you likely think of race, right? Well, that's what many get wrong about DEI (diversity, equity, and inclusion).
Diversity is about so much more than that. In fact, in this example, it's about dietary restrictions. Introducing the Impossible Whopper, Burger King aims to draw in vegetarian, vegan, and non-beef eating consumers that may have never sought them out previously.
With the rise of plant-based diets and preferences, this is a smart pivot by Burger King that lets the public know they're not just for meat lovers.
2. Etsy: Gift Like You Mean It
"When it feels like the world doesn't get you, a gift from Etsy can make you feel seen."
Etsy is a go-to for many seeking custom or unique gifts you may not find in store (including yours truly), and this line from this ad's description simply but powerfully explains why.
In this example, the e-commerce platform brilliantly touches upon a major pain point for many people — feeling excluded for having an uncommon name — and showcases how Etsy offers a solution.
In another piece from the campaign, Etsy showcases a relatable scenario of a couple spending the holidays together for the first time and the discomfort that can ensue. In the end, it is a custom gift from the Etsy platform that made the visiting partner feel welcome.
What's so grounding here? Etsy told this story with a same-sex couple and the gift may not be one they could have found from many other vendors.
3. Savage x Fenty Show
After receiving backlash in recent years because of its "unhealthy" beauty standards, Victoria's Secret bid farewell to its annual fashion show this year and out of its ashes rose Rihanna's body-inclusive Savage x Fenty fashion show on Amazon Prime.
Unlike its predecessor, Savage showcased models of all different body types, genders, and racial backgrounds. This is a strategic move continued from the brand's use of curvy in-store mannequins that has been highly praised by consumers. (Similar to Nike.)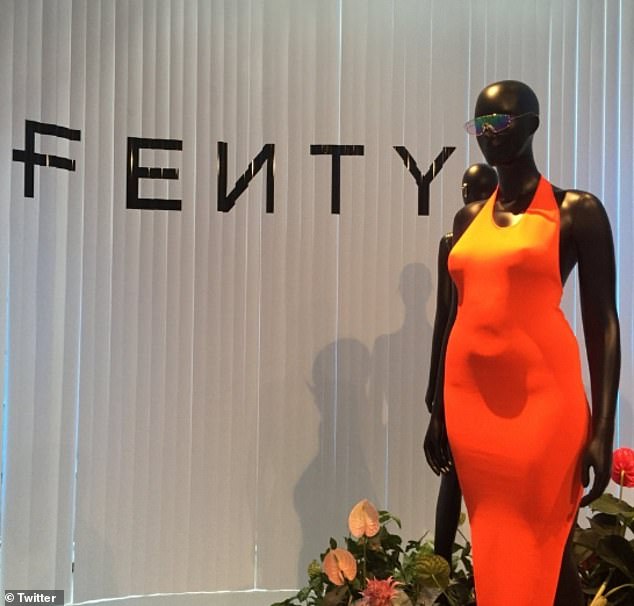 (Source)
Savage x Fenty's body and racial inclusivity reaches out to an audience that may have previously felt alienated by the lingerie industry and because of it, the brand has an estimated annual revenue of $150 million.
4. Gillette
Shaving for the first time is a right of passage for many men. In this touching ad, Gillette walks through this shared experience through the eyes of a trans, male teen and his father.
Similar to the hypothetical example, I gave you earlier, in this story, Gillette ignores traditional assumptions about its buyers and welcomes a new, engaged audience that other brands may be ignoring.
5. Neutrogena
Now, this is a particular favorite of mine.
For those of you not familiar with it, Holi is the Hindu/Indian festival of color celebrating the arrival of spring. Celebrations usually involve playful fights with colored powder that, while beautiful, can take days to fully clean off from your skin and hair.
Holi celebrations and "fun runs" inspired by the holiday have become increasingly popular in the western world. In this simple Instagram post, Neutrogena recognizes this and reaches out to this audience by positioning its makeup remover wipes as a solution to this pain point: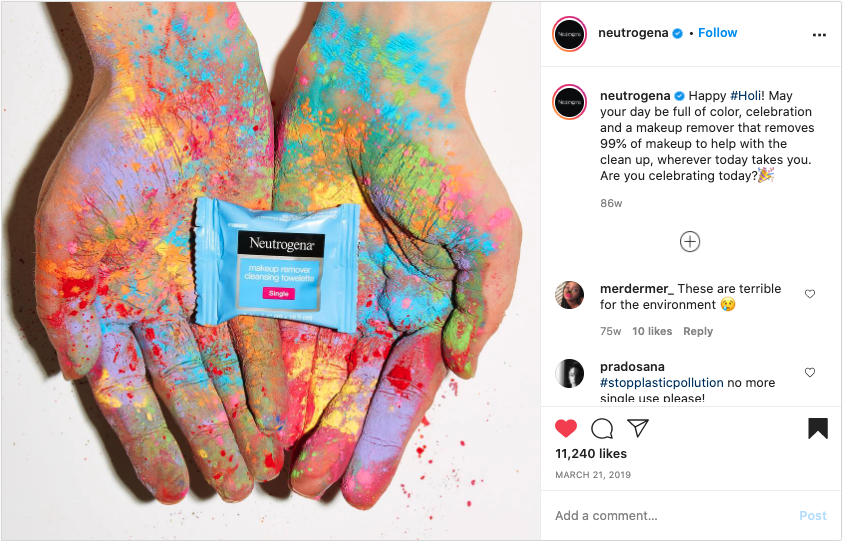 My only qualm here is that I would've appreciated seeing an Indian or South Asian model used to acknowledge the roots of the occasion.
6. The White Collection Bridal Boutique
In 2019, The White Collection Bridal Boutique in Portishead, England caught eyes by showcasing one of its dresses on a mannequin in a wheelchair in its window display.
With nearly 40 million people living with a disability in the United States alone, seeing a bride in a wheelchair is nothing uncommon, but it's rarely something we see shown in marketing and advertising. So, locals and global media took notice:
7. Amazon Prime: "Lion Mane"
You likely remember this adorable Amazon ad from a few years ago.
A young couple realizes their baby is frightened by their pet dog, leaving both them and the pup saddened. Thinking quickly, the father turns to Amazon and has a faux lion's mane delivered to their home to disguise their dog as the stuffed lion their baby loves, and they all live happily ever after.
What you may not know is that this ad is originally from Japan. The commercial showcases a story and experience that can transcend all backgrounds, but with a Japanese family. It's subtle but effective and unifying.
8. Essie
If you haven't noticed, beauty brands are definitely leading the way when it comes to diversity and inclusion, and I've got another one for you.
Last year, nail polish brand Essie made history by naming Queer Eye star, Jonathon Van Ness (known affectionately as JVN) as its first male ambassador.
"For me, polish has always been a form of self-expression," shared JVN on Instagram, and a growing number of men agree.
With this move, Essie not only targets buyers from the LGBTQ+ audience but from the greater male audience as well, which typically goes unacknowledged by nail polish brands.
9. Pampers: "Stinky Booty Duty"
Speaking of smashing gender stereotypes, in this example, Pampers keeps the effort going.
In this playful ad, music artists John Legend and Adam Levine are shown changing the diapers of their real-life children, only to be joined in a song about the struggles by a diverse group of fathers, all cuddling their own little ones.
The commercial aims to reach young modern dads and male caregivers who know that diaper duty isn't just a concern for women.
10. Curology
Next up, we have skincare brand Curology.
In this user-generated video, Curology shows a real-life customer going through their skincare routine including the product. The customer is shown removing their makeup, applying Curology, then showing the improvement in their acne over time.
What makes this special? The customer is a young male in an industry that usually focuses on young women. Men can and do struggle with acne and skincare just like women and this ad lets them know that this product is for them as well.
11. Google Pixel: "The Picture Perfect Life"
Last, but not least, we have an emotional ad by Google.
In this commercial, we are introduced to a diverse group of Google Pixel users and shown a few photos and videos they took with their phones. We are given a glimpse into their seemingly happy, everyday lives.
Then, we learn that each of these individuals has experienced suicidal thoughts and sought help.
Not only did this ad extend an understanding hand to a segment of buyers who may have similar thoughts, but it shed light on a greater social health crisis.
Tell old stories, with a new twist
If there are two lessons you take from each of these ads, make them these:
Tell universal stories
Challenge the assumptions you make about your audience
All of these ads work because they focus on experiences and pain points that buyers of the products can relate to regardless of their race, gender, age, and so on, but bring representation to new audiences. They make underrepresented groups feel welcome and understood by the brands.
Like the diverse faces on the hilltop enjoying the taste of a Coke, customers likely get the same value from your brand no matter what their background is, so make your marketing reflect that. At the end of the day, not only will diverse and inclusive marketing help your audience grow, but your potential bottom line as well.
Want to learn more about digital sales and marketing?
Master digital sales and marketing when you join IMPACT+ for FREE. Gain instant access to exclusive courses and keynotes taught by Marcus Sheridan, Brian Halligan, Liz Moorehead, Ann Handley, David Cancel, Carina Duffy, Zach Basner, and more.
Access hundreds of FREE courses and keynotes