Subscribe
Join 40,000+ sales and marketing pros who receive our weekly newsletter.
Get the most relevant, actionable digital sales and marketing insights you need to make smarter decisions faster... all in under five minutes.
Thanks, stay tuned for our upcoming edition.
Inclusive marketing: 8 brilliant examples of family and home life inclusivity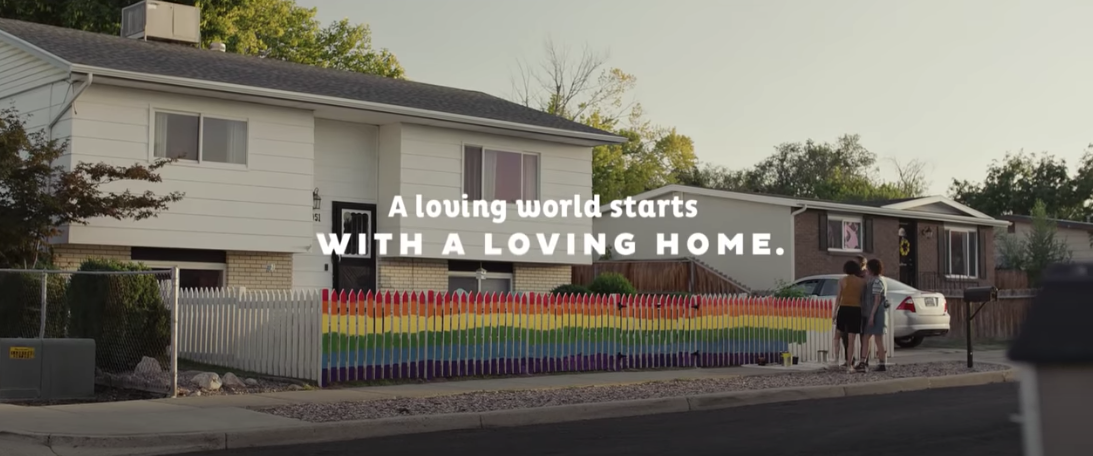 What does a family look like?
For years, the media didn't really stray very far away from the white, nuclear families of the 1950s era television shows. There was a white mom, a white dad, a kid or two and, mostly likely, a dog, all having blandly entertaining antics in an upper-middle-class neighborhood.
Mom, dad, and kiddo having some mild fun in the 1960s on the Dick Van Dyke Show — or is that the set of WandaVision? (via GIPHY)
For the most part, this general formula kept up for decades, even as the face of the American family drastically changed.
And, as we all know from, well, life, change is hard. It's especially difficult for the "masses" to accept anything different from what's "always been." But TV can help.
Case in point: My experience. I was a single mom in the early 2000s, living with my young son in a Chicago suburb that is known for being exceptionally socially progressive.
While you wouldn't think that divorce would be stigmatized in this century (after all, we're not living in Mad Men times), I carried the heavy burden of receiving comments on a regular basis about the family I had made with my son not being "normal."
The comments must have been bubbling down to my son as well. While I'll never know what was actually said to him, I'll never forget his little four-year-old face watching Arthur and seeing the main character's friend, Buster, a child of divorce, explain how he lived with only his mom.
"See, Mommy," he said, smiling up at me, "we're not the only ones."
At that moment, I realized how isolated he must have felt — feeling like he was different from everyone else because he didn't see other people in school or on TV who had the same family life he had.
Once I wiped the tears off my face, I grabbed the remote and set the DVR to record Arthur (yeah, I DVR'd it — this was "back in the day"). We saved some of those episodes for years.
That kind of inclusivity has staying power.
But while television programming slowly started to reflect the reality and unique qualities of the American family, marketing and advertising evolved at a slightly slower pace.
Fortunately, over the past several years, with marketing inclusivity gaining strength, advertisers have upped their game in including a more diverse and representative image of individuals and families.
And it's paying off.
Why inclusivity matters in marketing
Recent surveys showed that 61% of Americans felt diversity in advertising was important and that such advertising has a direct effect on their buying decisions.
Major brands are taking notice, aiming inclusive advertising and marketing directly where it hits home, literally.
For those who have built or come from unique households, seeing reflections of themselves in mainstream culture is key to not only being represented but to feeling like they belong. This relatively new inclusivity in advertising, then, is crucially important in not only truthfully mirroring what modern culture looks like, but in capturing and maintaining loyal brand ambassadors.
Here are eight brands that have captured what a family looks like and, by doing so, have stood up to internet bullies, fought for change, furthered their brand, and gained consumer loyalty along the way.
1. Cheerios: Are Cheerios Good for Your Heart? (2013)
This 2013 commercial featuring a biracial family caused so much "controversy" (internet trolls bombarded social media with racist comments) that General Mills first turned off the comments on its YouTube page, then removed the commercial from the site altogether.
The commercial stayed on the TV networks, however, and General Mills doubled down in its 2014 Super Bowl ad, featuring the same family (and one of the best negotiations I've ever seen!).
What was the original controversy all about? It was solely about race.
The spot is brilliantly simple, with three regular people living their lives on what seems to be a lazy day. It carried no message other than the health benefits of the cereal, but by depicting the changing look of the American family, it opened the door for a wave of inclusivity in advertising.
Later in 2014, Cheerios went even further, launching a campaign in the Canadian market called "The Cheerios Effect." In one of their videos, they profile a gay couple who adopted a little girl, telling the story of how they met and their journey to become dads.
While fringe groups heavily protested Cherrios' inclusive campaigns, media critics lauded the move:
Great advertising holds up a mirror to who we are and where we're going. We see it in TV, we see it in movies, and advertising is still very late to the game. My challenge to advertisers out there – get with where the country is going.
2. Airbnb: Don't go to LA. Live there. (2016)
Airbnb's commercial featuring two moms and their kids vacationing in southern California certainly wasn't the first or the last ad to be LGBTQ+ inclusive, but this is a great example of how inclusive advertising helps show us what a family can look like.
While the ads like Honey Maid and OREO have created (keep scrolling) are more obvious about the inclusive statement they're making, marketing like Airbnb's makes a subtle statement with representation alone.
That's what makes this so powerful. The ad doesn't need to draw special attention to the type of family depicted. By not saying anything, Airbnb is telling us that this family is no different than any other. The simplicity is what makes it work.
3. Phillips: Wellingtons put the Wellness in WFH (2020)
It wouldn't be a 2020 holiday ad if it didn't mention how, well, weird that year was.
This Phillips ad reinvents "'Twas the Night Before Christmas" by highlighting 2020 through the actions of the Wellingtons, an affluent family of four with father, dad, and their two kids.
The ad mentions that Father Wellington enjoyed an espresso machine, while Dad Wellington got an electric toothbrush (yeah, Dad needs to talk to Santa about that).
The ad makes the same subtle cues as the Airbnb spot above, in that Phillips is simply showing life as any family.
The ad pulls the boredom and monotony of life during the pandemic to the forefront, allowing us all to find common ground with the Wellingtons. Our family may or may not look exactly like theirs, but most of us can relate to needing a few new toys to spice up quarantine life.
With this, Phillips makes us all part of the Wellington family, regardless of what our own family looks like.
4. Ritz: Where There's Love, There's Family (2020)
Ritz's 2020 holiday ad went all-in on inclusivity and the idea of family. Scenes flash between a gay man who's been ostracized by his mother, a Latinx family separated by quarantine, and a single mom and daughter in a homeless shelter. The message is that "traditional" families aren't the only families out there (or that the traditional family has changed significantly) and some even include others who aren't blood, but feel closer than relatives.
It tells us everyone, regardless of what their holiday looks like, can connect over something, in this case, Ritz.
5. Angel Soft: Morning Routine (2019)
Inclusive ads in recent years tend to more commonly feature interracial and LGBTQ+ themes, while those with special needs appear much less frequently.
In its "Morning Routine" ad, Angel Soft shows a mom helping her two children, the younger of which has Down Syndrome, get ready to go to school. This is a glimpse into the mundane routine any family might share — brushing teeth, fixing hair, a friendly "mom reminder" to check-in at the end of the day — but comes with the subtle shout out to children or families impacted by Down Syndrome who rarely see themselves reflected in advertising.
6. Wells Fargo: We'll Go Far (2018)
This commercial featuring two moms-to-be learning sign language in advance of adopting a deaf daughter is one of my favorites in this list, not only because of the inclusive nature of the couple but because the deaf community is so rarely represented in media.
And that these moms are learning in advance how to say, "I'm so proud of you" — sob! With this, Wells Fargo is showing its support of all families — no matter what or how unique their dreams are.
7. OREO: Proud Parent (2020)
OREO caught me in my tracks with this one, as it tells the story of Amy and Jen, a same-sex couple, traveling home so Jen can introduce Amy to her parents. Jen's dad is reluctant to open up, and she looks on regretfully as he openly embraces her brother-in-law while staying distant from her.
This ad is long enough to show sincere caring between the couple and get everyone rooting for them — so much so that I found myself actually worried that Jen's dad might not accept them. In the end, the dad reaches out to the women in his own supportive way, and we're left to reconcile that one commercial elicited so many feelings.
The ad is subtle in its promotion of the product but does it well.
At one point, Amy and Jen are watching a video clip of a very young Jen eating OREOs with her dad. Not only does this show the longevity of the brand and connect the characters to one another, but it connects us to them, thinking of our own history with the cookie.
The ad was part of OREO's #ProudParent campaign and ran in October 2020 to celebrate LGBTQ+ history month in partnership with PFLAG National. Special edition rainbow Oreos were even made available through a social media contest.
Brian K. Bond, Executive Director of PFLAG National, explained the core of the campaign:
"Having a supportive, affirming family—and committed allies—is crucial for the health and wellbeing of lesbian, gay, bisexual, transgender, and queer (LGBTQ+) people. We are grateful for our partnership with OREO, and for OREO's commitment to our shared vision of a diverse and inclusive world, made better by loving, proud parents and allies."
8. Honey Maid: This Is Wholesome (2014)
Honey Maid's 2014 "This Is Wholesome" campaign was built to show that while the modern family has changed over the years, what makes these families wholesome hasn't changed at all.
Like with the Cheerios ad from the year before it, the launch commercial in this campaign drew hate mail, so much so that the brand hired artists who arranged the mail into a sculpture that spelled out "LOVE." The creation of that artwork and the impetus behind it became the campaign's third ad.
The #NotBroken ad is the second in the series and starts out with a mom saying, "I didn't ever want Issac to feel weird or awkward or that his family was different than everybody else's." The two-minute documentary follows Issac and his two families that were created out of a divorce (and, yeah, I cry every time I watch it).
Honey Maid's attribution of "wholesome" to families who might be considered "different" or "broken" is a breath of fresh air. Not only did this campaign seek to educate, but it also profiled the brand as the authority on what is, in fact, wholesome.
Relate to your audience
Representing your true audience doesn't just make you inclusive, it's good for business.
As a content trainer, I urge my clients to put themselves in their readers' places and to show that they understand what they are going through. Your audience isn't a faceless mass of people who click on buttons and fill out forms. And they aren't all the same. They are different people with very real concerns, very real lives outside of work, and very real families. Treat them as such.
Show your customers that you understand that not everyone thinks, looks, and lives the same.
When you do this — when you show others that you recognize them — you show them that they matter and that your brand cares about them.
"At first, I didn't think there were a lot of families like ours," Issac, the boy from the Honey Maid ad, says, "but then I realized that we weren't that different."
Had an ad like Honey Maid's been around when my son was little, he might not have felt so different. And still, I think because of him being able to identify that someone on TV had the same worries he did, he felt a little more secure.
Remember what I said about staying power? Here's that same "little boy" who couldn't help but pay homage to his favorite show many years later:
Truly connecting with an audience can clearly make a lasting impression.
Free Assessment:
How does your sales & marketing measure up?
Take this free, 5-minute assessment and learn what you can start doing today to boost traffic, leads, and sales.