Verizon Sells Tumblr to WordPress Owner for Under $3 Million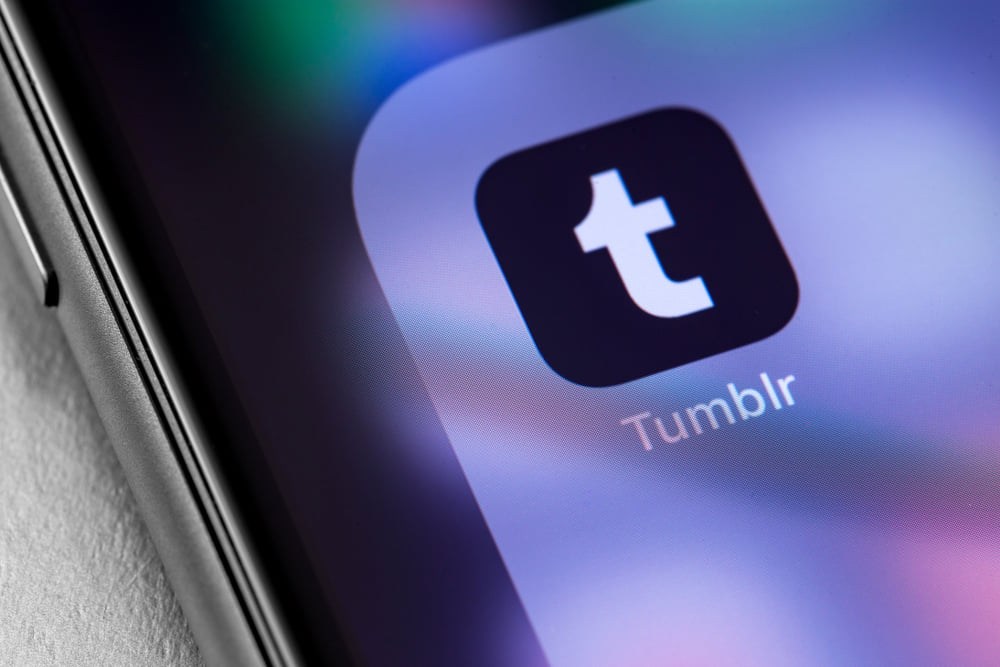 Tumblr, a social media platform that has been popular since the early 2010s, was recently purchased for a measly $3 million. Verizon sold Tumblr to Automattic, the owner of the popular blogging and website platform WordPress. As it turns out, this deal was actually closer to $2 million than the $3 million first reported.
How did a once extremely popular social media tool fall to such a bargain-basement price? Let's take a look into the past few years of Tumblr history.
The rise of Tumblr
In 2013, Tumblr was in its prime and was purchased by Yahoo! for a whopping $1.1 billion! The Tumblr community was still extremely active at this point, even though other platforms like Snapchat and Instagram were on the rise.
When Yahoo purchased Tumblr, CEO Marissa Mayer had promised not to "screw it up." Boy did they drop the ball on that one.
The fall of Tumblr
Over the next few years, Tumblr began to suffer financially as it struggled to get a better understanding of how the community was actually using the platform.
Leadership decided to bring in advertisers to increase revenue, but that plan did not go over well. Not only were users upset about seeing the ads, the ad content did an awful job of resonating with the younger user demographic.
According to Vox, Yahoo then decided to write off the Tumblr purchase as a $230 million loss and noted that the actual loss could be almost the entire $1 billion.
Fast forward to last December when Yahoo announced that it would place a ban on all adult content posted to the site. Apparently, Tumblr had become a place for the LGBTQ community to post openly. The announcement came after the content guidelines from the Apple Store mandated that all adult content be removed from Tumblr.
This ban posed a dilemma for many users.
Tumblr was seen by the LGBTQ community as a place of sexual expression and a place to connect with others who needed an outlet to express themselves. With Yahoo placing a ban on all adult content, a huge part of the Tumblr community chose to boycott the platform.
After the acquisition was announced, Automattic's CEO Matt Mullenweg told Journal that they have no intention of lifting the ban and that the site will be used as a "complementary" site to WordPress. Mullenweg said, "It's just fun. We're not going to change any of that."
How are Tumblr users reacting?
As a site that generates a ton of pop culture memes, the community reacted in the way they know best: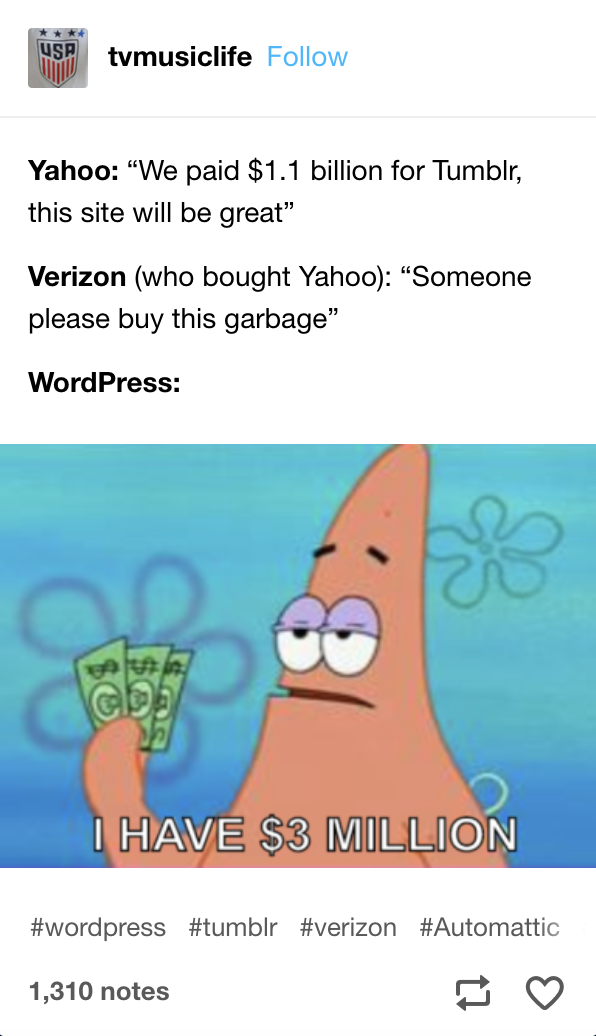 Why does this matter to us?
If you are currently blogging using WordPress, the changes in ownership may be helpful to you because there is much each platform can learn from each other.
Wordpress is known for being one of the world's most popular blogging platforms, while Tumblr is known for its close-knit community and an interactive timeline that displays content that is focused around your interests. Tumblr also features Recommended for You, Trending, and Staff Picks categories to customize the content you see.
If you aren't familiar with how Tumblr works, it also offers many different options on what to include in your post that is unique to the platform. Here is what you can add:
Text
Photos
Quotes
Links
Chat
Audio
Video
Anil Dash, current CEO of Glitch and former employee of WordPress competitor LiveJournal, told Vox:
"Social media moves so fast that talking about 'blogs' feels like 100 years ago, even though their heyday was barely more than a decade ago. And though the community signifiers are very different, both WordPress and Tumblr come from an era where people might have a site on their own domain, and share their own thoughts, and could possibly even develop their own audience without even having a presence on Instagram, which didn't even exist when they started."
Many users and tech experts believe that Tumblr can only go up from here and that the platform can possibly see some new updates and improvements.
It will be interesting to see any changes made to each platform based on what WordPress learns from Tumblr's user data, and if future efforts to open the platform to marketers are in the works.
In any case, changes to the social media landscape affect us all — and an acquisition that demonstrates vastly deflated value reminds us of how transient social media hegemony truly is.
Free Assessment:
How does your sales & marketing measure up?
Take this free, 5-minute assessment and learn what you can start doing today to boost traffic, leads, and sales.