Remote work: 11 tips for staying productive and positive when working from home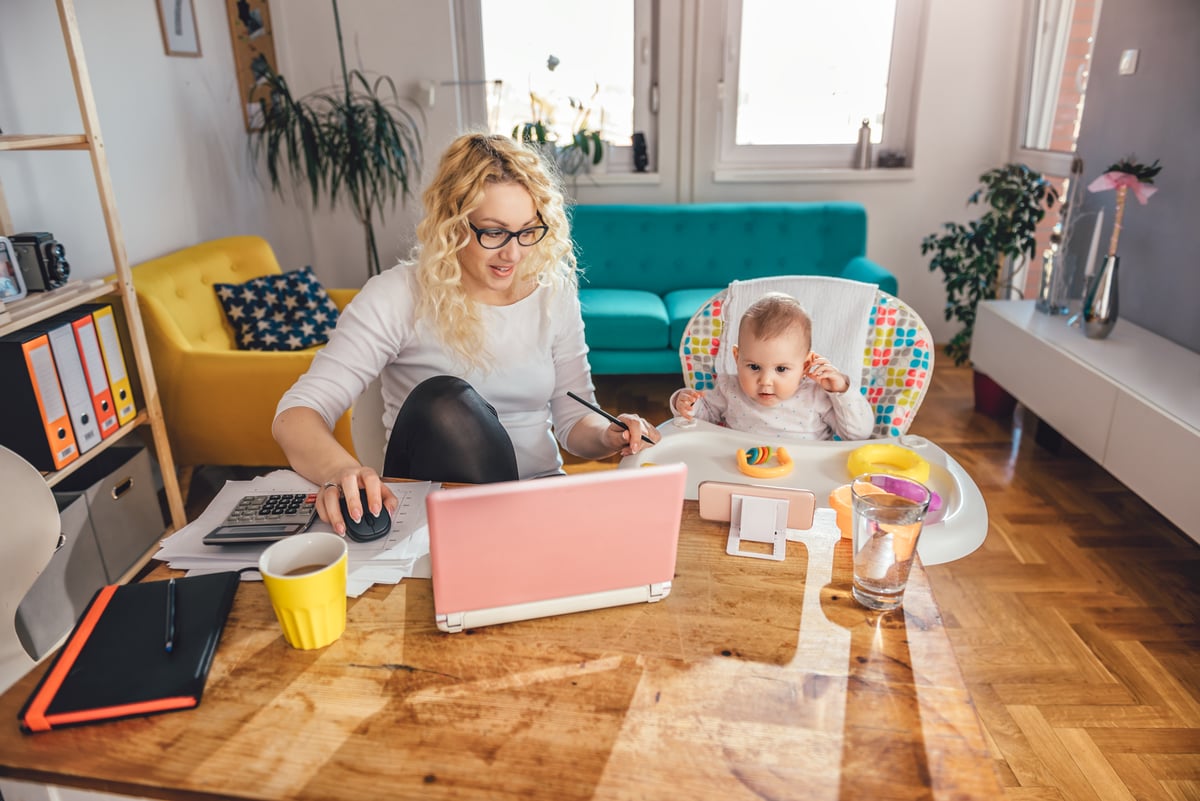 Working from home is a daily occurrence for me.
I have been doing it for the last five years and, truth be told, I am actually more productive at home than in office, so I wouldn't have it any other way.
(I tend to be a social butterfly in large office settings.)
That's why with the onset of coronavirus (COVID-19) and social distancing in the last week, I didn't really feel the impact (pun intended) of remote work.
With over 50% of IMPACT's team remote already, this change in office setting didn't affect much of our team's routine. If anything it helped affirm and enhance something we've already been practicing for years.
But I know this may not be the same for everyone.
🔎 Related: All of our coronavirus strategic insights and guidance
A friend of mine who works for a well-known bank is working from home for the first time ever. Not only does she feel isolated, but she isn't sure how to go about her day. Her company wasn't set up to do her job remotely, but it doesn't mean it can't be.
Whether you are working from home for the first time, do it a few days a week or, like me, you've been 100% remote for years, this article is for you.
I polled our team for tips and tricks for staying productive, embracing community, and keeping your sanity when working from home, especially considering the current business climate we are facing.
Here's what some of my fabulous coworkers had to say.
1. Set time limits
"Create a space for work and work from the sofa only during lighter tasks.
But also, reserve time in your day for the fun stuff (walks, meals, etc) and the not-so-fun stuff, like checking the news, doing laundry. By setting a timer, you'll know when to get back to work and get away from the headlines." - Jen Barrell


2. Transform your at-home space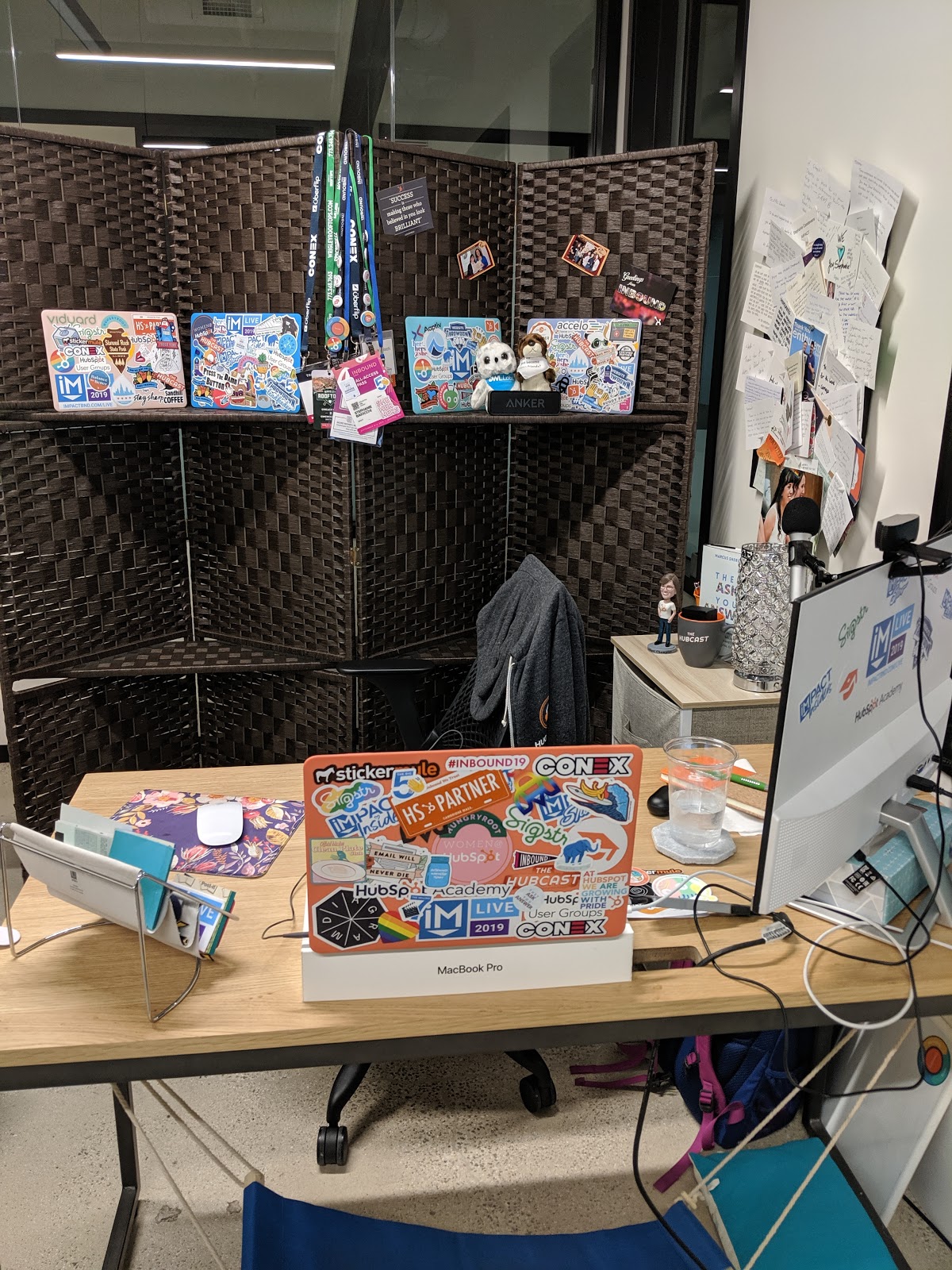 Stephanie's downtown Chicago office space
"I live in Chicago and traditionally work from a space downtown, but right now, I am working from my dining room!
One of my temporary work from home solutions is to invest in a cheap photography backdrop stand and a black backdrop which cost me just under $40!
It makes all the difference not just in recording videos and meeting with my team, but also it takes away a lot of the distraction of what's happening behind me." - Stephanie Baiocchi
Watch this video of Stephanie where she reveals her behind the scenes secret workspace. Then check out the links she provided below to recreate the same space she did for under $50!
3. Use background noise and find natural light
"I do well with always having some form of audio on, whether music, the news on the radio (just not these days) or apps like Noisli.
I set up my desk so I'm near natural light as much as possible and so I can look out the window. If anything, I need to force myself to get away from my computer at more regular interval breaks.
My phone sometimes needs to literally be kept in another room so I'm not tempted or distracted." - Jolie Higazi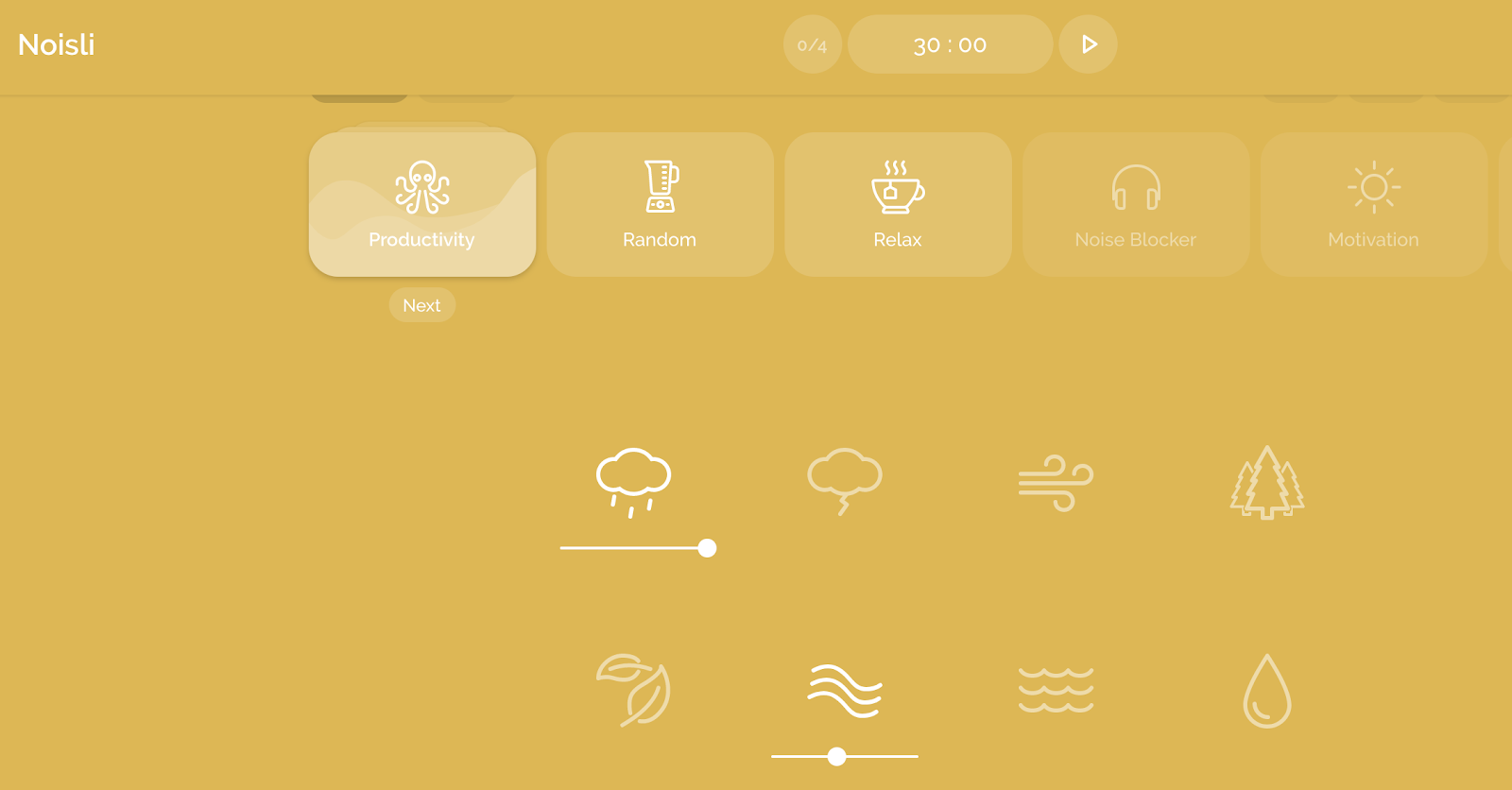 Source: Noisli


4. Create a kids-free zone (Is there even such a thing? haha)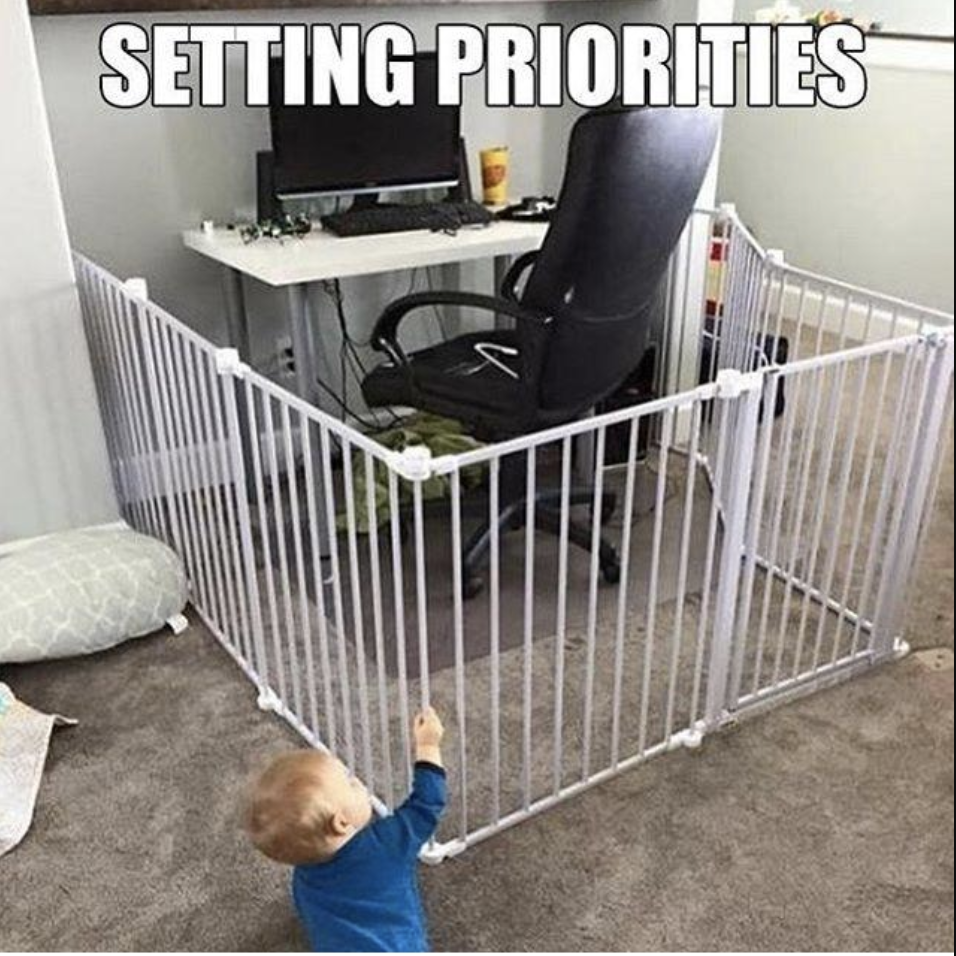 Source: Unknown
"If you have kids at home, talk with them about the rules of your office. For me, the kids know that, if dad's door is shut, not to try and open it, knock on it, yell through it, or wiggle their fingers through the crack at the bottom.
But kids are kids, and they will forget/break rules occasionally; so get a lock for your office door and a rubber mallet in case anyone wants to challenge you to a game of whack-a-finger." - Kevin Phillips


5. Remember kids will be kids
"For me, working with the kids at home is more about how I interact with them, or more specifically, the noise they make.
So instead of letting the noise — Star Wars sounds, YouTube shows, crashing, etc. — cause anxiety or frustration to arise, I just remind myself that it's just sound being heard. [It's not a distraction or something to get worked up about; it's just a sound.]
If I'm on a call, I make sure everyone knows I've got the kids home, but I just roll with it. Kids make noise, and that's all it is…
I've found trying to control them or expecting that a 10-year-old and a 6-year-old can remain quiet all day is only going to cause me to suffer, so I've just accepted the new normal of more sound being present." - Chris Duprey

* * *
"Success to me right now is just making it through the day. I'm home with my 4-year-old and while a day care option is available to me a few days per week, the doctor has recommended against it.
My husband has a business that requires him to work out of the home and that business is still operating so we can continue to employ people. As a result, it's just me and my kiddo and he's home with me, 24/7.
I'm doing my best to be as effective as possible, while making him feel safe and loved.
As I type this, he's watching The Addams Family movie and he's due to ask me what time lunch is another five times within the next hour. I don't have a door that I can close to my office and I don't have family who can come help.
The silver lining here is, while it's inconvenient, I'm mostly an internal-facing employee so it's not disrupting client work and I do have flexibility to wake-up early or stay up late and do the work I need to get done." - Melanie Collins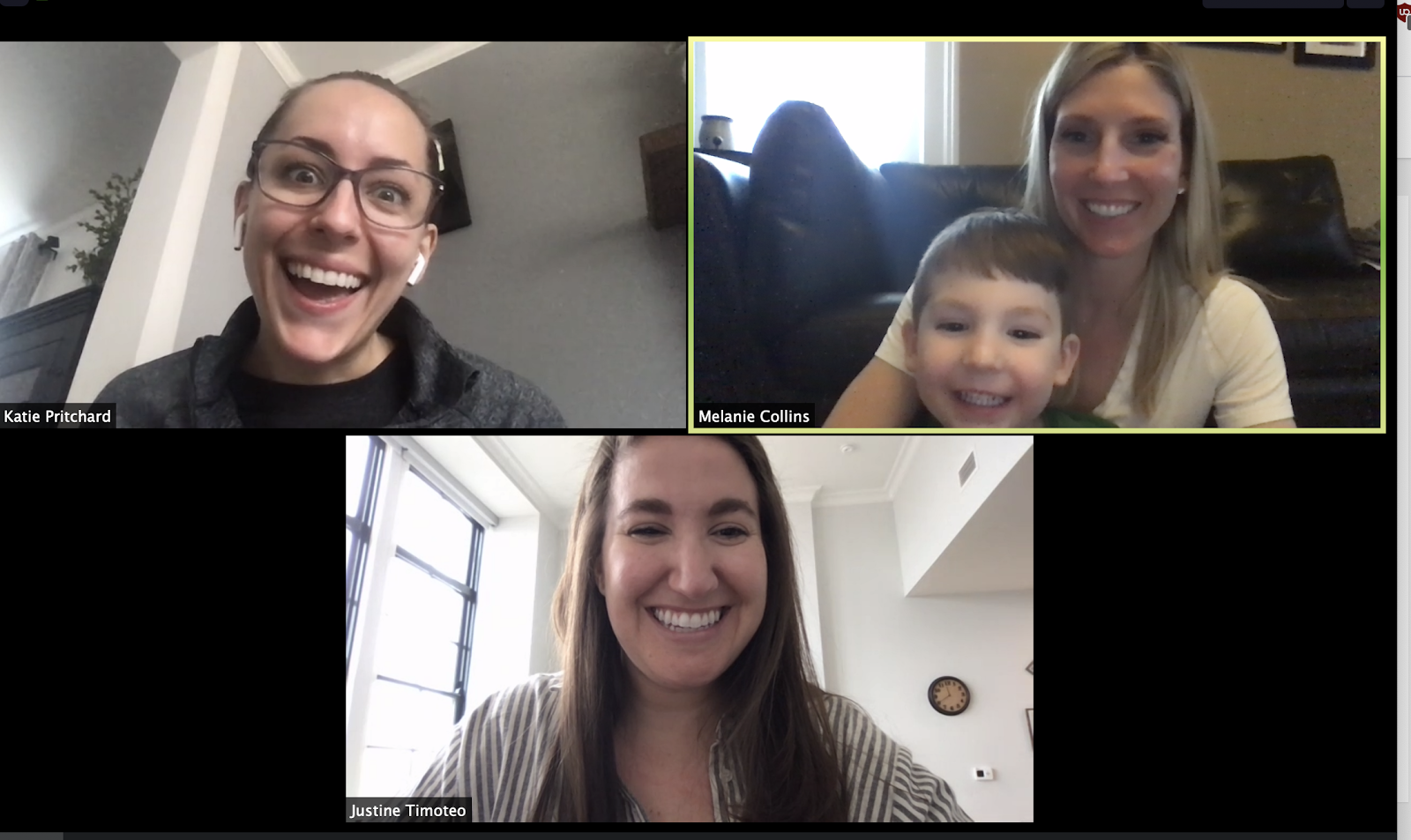 Melanie, her son, Quinn, Katie (top left), and Justine meeting over Zoom


6. Get moving
"My best tip is to get away from your desk and out of the house! Make an intentional effort to walk away from your laptop for 15 minutes. Maybe take a walk around the block or go get the mail? Anything to clear your head and stretch your legs!" - Jess Palmeri
* * *
"I do random sets of five or 10 pushups when I'm in a funk and can't think. That's a perk of being at home versus in an office; people would be giving me some crazy looks if they saw how often I end up doing that! Also looking forward to incorporating a standing desk set up for myself this year! Exciting!" - Jolie Higazi
* * *
"Once a week, my colleague, Myriah and I do a 30-minute streaming workout class. I'll admit there are days where my calendar is jam-packed and I try to weasel my way out of it (and Myriah the same), but we try our best to hold each other accountable to dedicating 30 minutes to movement.
Myriah is on PST and I am on EST so every week we have a recurring 30 minutes on our calendar that work best for both of us and our schedules.
We use Zoom conferencing as a company, so I stream the workout class and then I share my screen and audio for Myriah. There is something about seeing Myriah on the corner of my screen that keeps me from checking my phone or email. She is keeping me virtually accountable.
Take a peek at Myriah and I in action below:
We change up the workout of the day based on our mood:
7. Get help with caring for pets
"Like with kids, boundaries at home can be tough if you're a dog owner. When I leave my home office to grab lunch in my kitchen, my chocolate lab is staring at me with his puppy dog eyes and a tennis ball. I feel immense amounts of guilt. However, just because I am home, doesn't mean I can always walk my dog.
That's why I have fallen in love with the dog walking app Wag!
When I am heads down with work and my pup Nocci is stuck inside all day, this helps me make sure he is still taken care of. I've actually gotten to be such good friends with some of Nocci's dog walkers, that instead of just a walk, they take Nocci down the street to play catch at the beach!
Don't get me wrong, I would much rather be going for a walk myself and saving cash, but sometimes, my schedule doesn't permit. This is the best solution for me and to keep his barking at a minimum when I am on calls." - Genna Lepore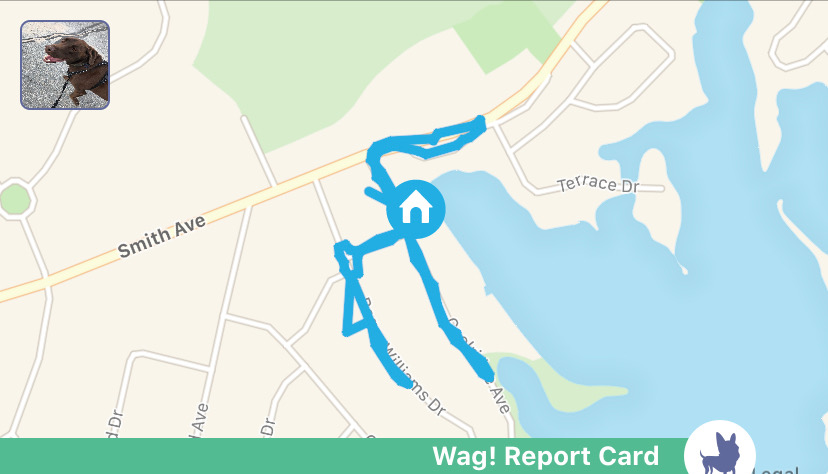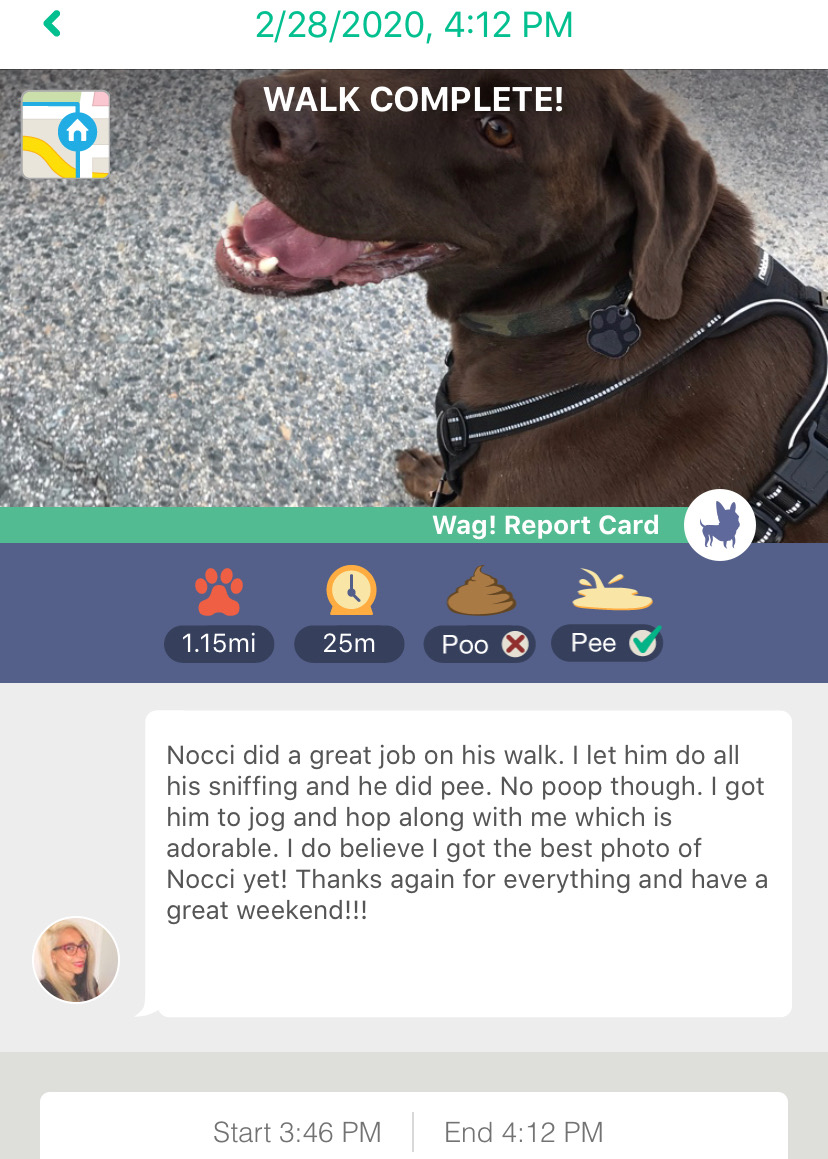 Wag!'s report card and updates on Nocci's walking route


8. Stick to a non-negotiable routine
"Boundaries can be tough when working from home and I've found myself unintentionally working much later than I need to.
The best thing I've learned to do is set a time not to stop working but to DO something (i.e. take the dog for a walk, cook dinner, play a video game). This gives you an objective reason to close your laptop and start the life part of work/life balance." - Marcella Jalbert
* * *
"[I have three rules for myself]:
[Be] up no later than seven in the morning
Get outside every day, usually for a walk, yoga or meet up with a friend
No wine before five in the evening!" - Melissa Prickett
* * *
"Have clear anchors in your day that are important for YOU to function / work / concentrate. So, making sure you exercise, get spiritual and mental breaks, as well as fun and family time in.
An example of this might be:
Seven am: Drop off kids or if you don't have kids (or they're home like they likely are in the current state),, go for a walk/gym/walk the dog.
At noon: take a walk, do yoga, call a friend, read a book. In my case, it would be prayer time.
Late afternoon: Meal prep and eat dinner properly.
Understand the ebbs and flow of the time you have to do your most important work and when your energy is at peak.
I don't follow a typical 9-5 work day. Really, it's a collective of "bursts" of work that add up to an 8-hour work day.
Also, get ready for work! Shower and get dressed.Not in a wedding dress or a suit, (Ha!) but wear real business casual clothes to help you feel ready for work. For me, it's picking out a nice scarf. :)
Physical boundaries are key too. Separate personal versus. business devices, areas, etc. If you don't have that luxury, create work space habits. For example, I don't bring my work computer to the kitchen when I prepare a meal.." - Gemi Hartojo

* * *
"The key is to create hard boundaries between work and home:
Design your schedule to suit your life (9-5 not required)
Have a laptop/tablet that's only for work
Create a space that's only for working
Have a clear start time and finish time" - Chris Marr

* * *
"I've been working from home for three years now and here are my top two tips for creating a successful work environment:
Act like you're going into the office: If you're used to waking up at a certain time, stick to it. Whether that means working out, showering, etc.
Over-communciate with your significant other what your schedule is and when you can talk… then go to work! " - David Little
Watch David's tips for success when working from home - maybe for the first time - and how to communicate with your significant other about boundaries.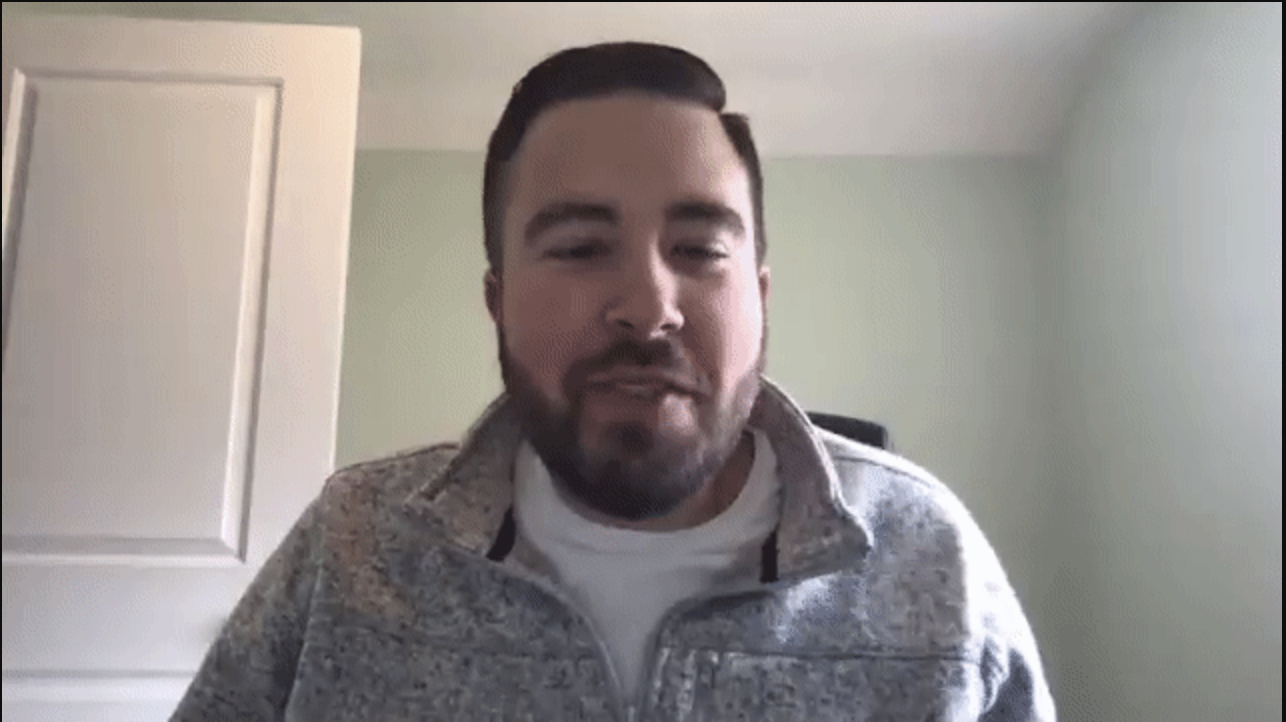 9. Drink lots of water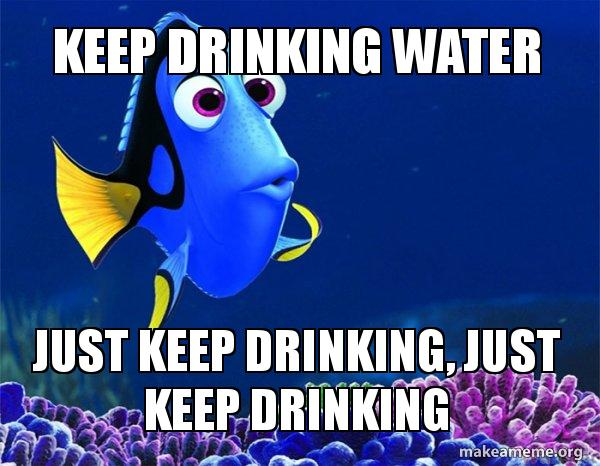 Source: Unknown
"Drinking a lot of water helps because then I need to get up more to go to the bathroom! Hah, it's true. And my dog also alerts me when it's been more than a couple hours because she'll be wanting to go on a walk, so that helps." - Jolie Higazi
* * *
"I drink at least 80 oz of water a day for two reasons: 1) It gets me up to use the bathroom upstairs and 2) it keeps my tech headaches at bay.
Some of my friends use Hidrate Spark which is a water bottle that reminds you to drink and tracks your water consumption, but I personally have a water cooler from Poland Springs at home delivery that I refill all day everyday." - Genna Lepore


10. Embrace virtual face-to-face interactions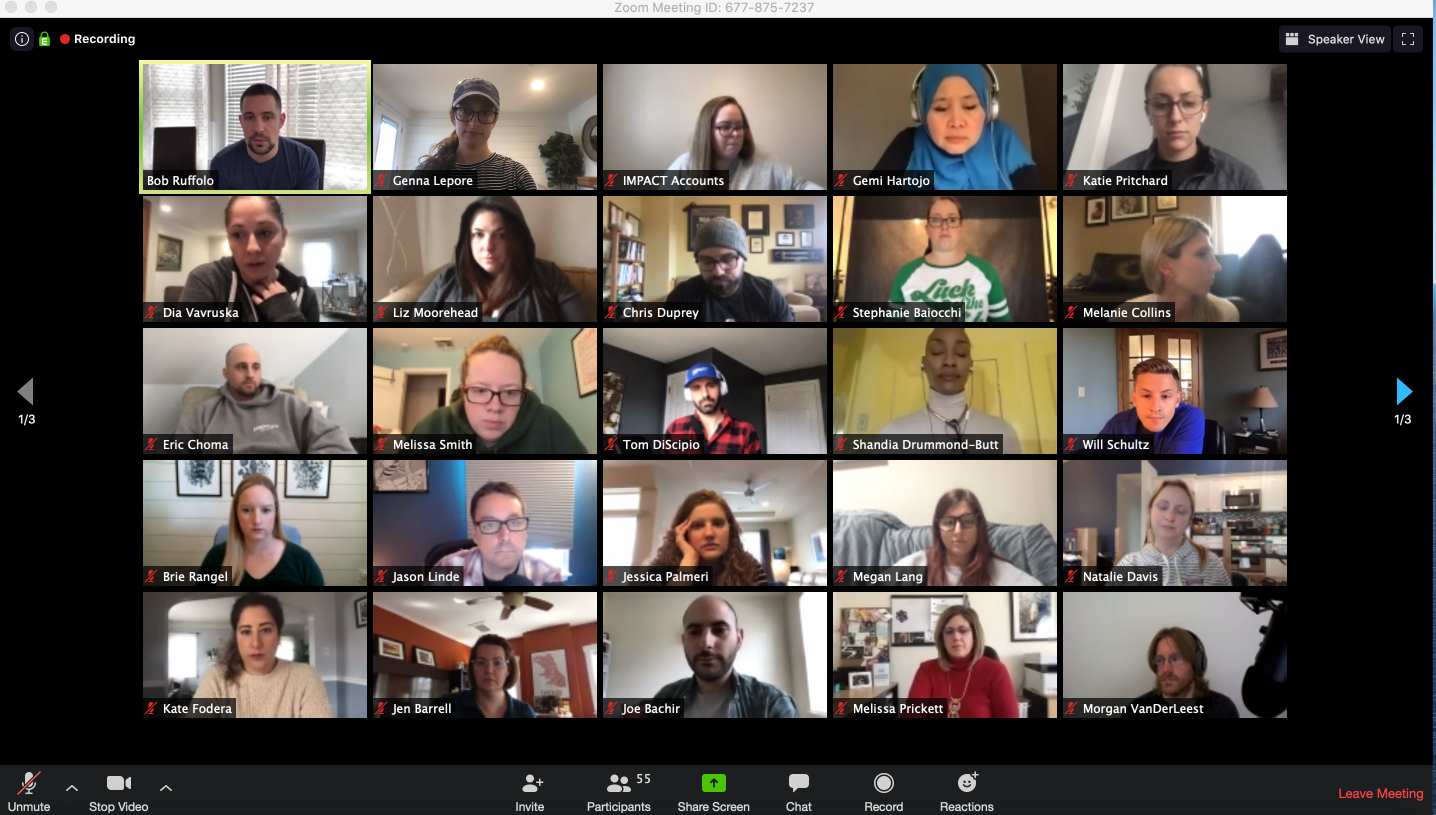 The way IMPACT meets virtually during our weekly All-Hands meeting
"As the person in charge of the remote experience for our whole team, I can say without a doubt that the most important thing we ever did to make remote work successful was to embrace video calls.

If you aren't using video on most or all of your calls, you're missing an easy opportunity to build more personal connections with your teammates, clients, and anyone else you interact with. Sometimes, when I'm working from home myself, it genuinely feels like I'm in the same room with the people on video. By seeing each other, we're able to communicate more efficiently with body language and expressions.
I personally find that it puts all callers at the same "level" when you're all called into video individually, as opposed to being the one remote voice trying to chime in.
Once you start using video regularly you'll see what I mean, and you'll likely wonder why it took you so long to fully embrace it in the first place." - Natalie Davis


* * *
"At any time, no matter what, if you work remotely, seeing other people's faces is key to survival.
Working remotely the last couple years has made me realize how important virtual communication is.
Face-to-face interaction and seeing someone's facial expressions, seeing them emote in different ways is really important. If you don't have it, you tend to feel alone.
Even if you aren't leaving your house, if you can see another human being and make a personal connection, it goes a really long way. At a time like this, when stress levels are much higher, it's especially important to get that human-to-human connection.
Slack and text messages are good, but really what you need is face-to-face, whether it's Zoom, FaceTime, Skype. You need to see another person's face multiple times per day, every day to stay sane." - Marc Amigone


* * *
"Use video when you can to share quick observations rather than typing everything out. This also gives your coworkers a chance to see your face."- Jen Barrell


11. Connect with your local community (even if at a safe distance)
"... [When working remote]give yourself something to help you know when you're working versus when you're not.
Find ways to get out of the house and connect with other people (at a safe distance now) in your community. Find networking groups, a local gym/class, or activity to get you out and connecting with other people. [This will keep yourself occupied and fulfilled.]" - Jordan Benjamin of HubSpot


* * *
"Every now and then I do a co-working day with other IMPACTers that live in town and that's always fun! [It's great to see some teammates face-to-face when possible.] " - Jolie Higazi
Check out our IMPACT team embracing the locality of their at home office and meeting in person: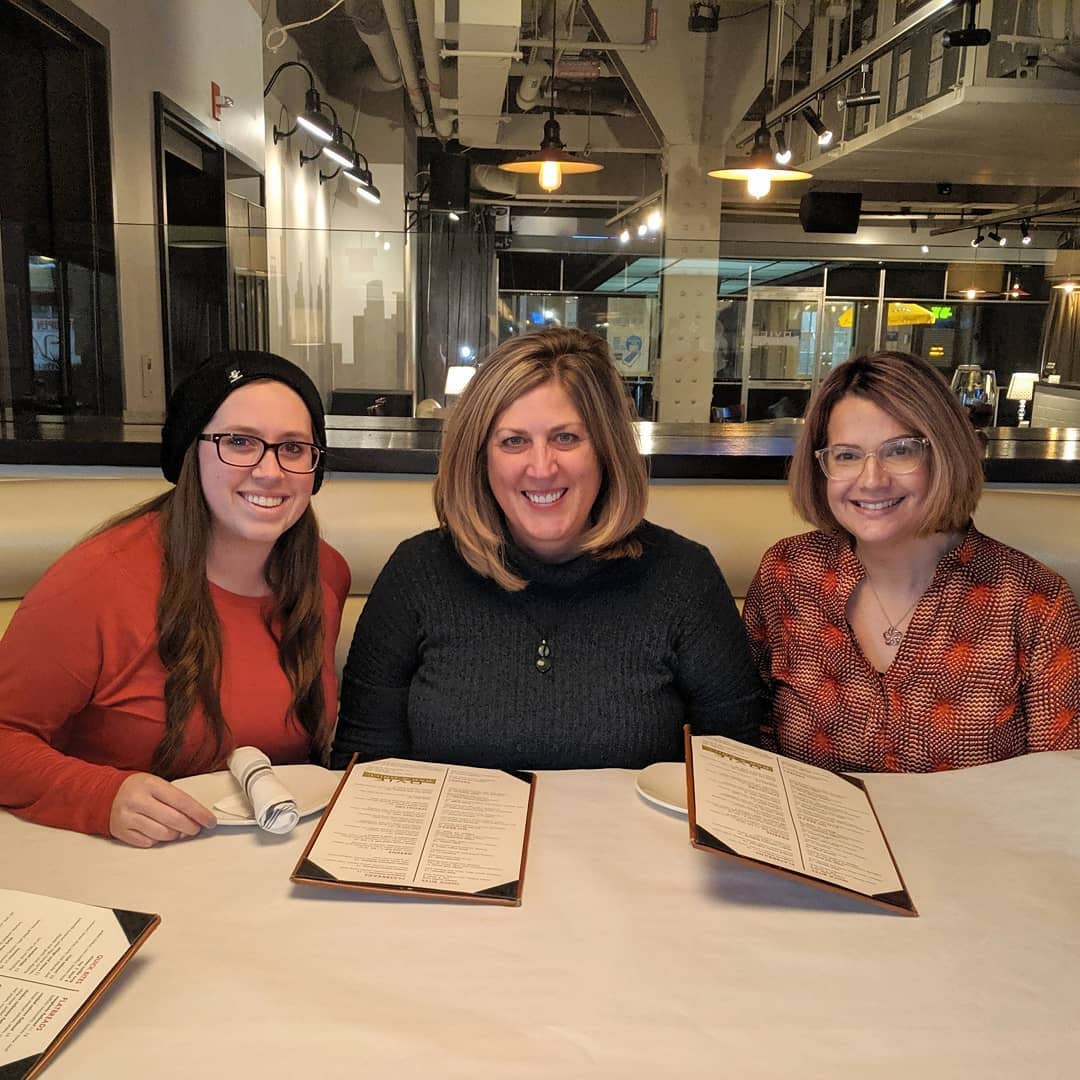 Stephanie, Melissa and Jen unite in Chicago, IL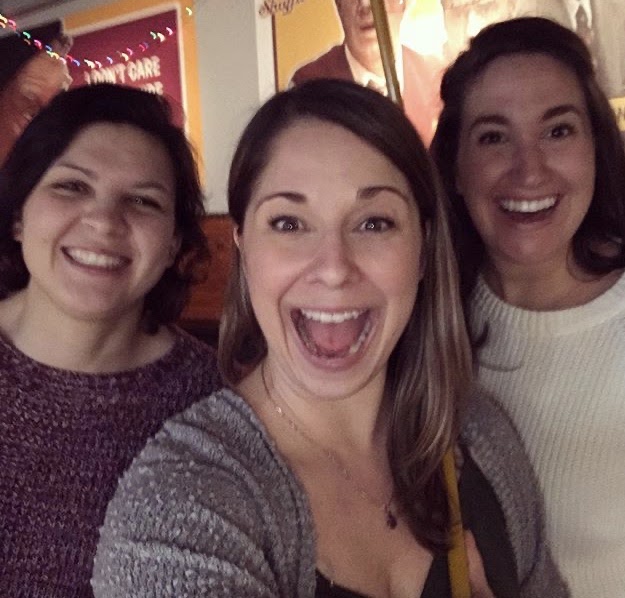 Jolie, Dia and Justine unite in Cleveland, OH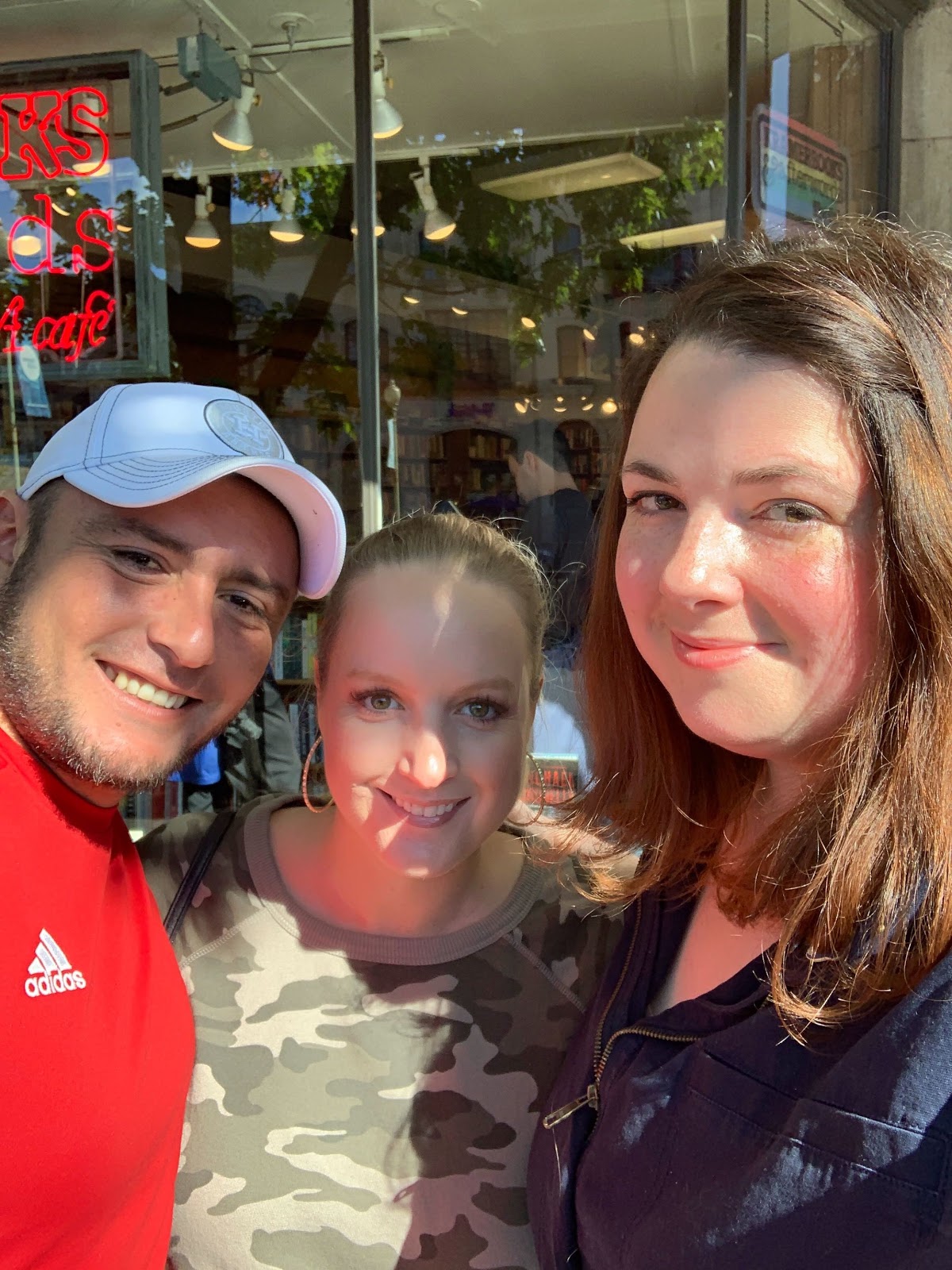 Brie and Brie's husband, Daniel, and Liz in Washington, DC
Find what works for you
We're living in uncertain times and we know that adding a change in work environment doesn't help.
But that doesn't mean you can't make the best of what you've got and still find a routine (or #QuaRoutine) that works for you.
Embrace this time to get creative and think outside the box — both with your office space and your business!
Perhaps you download the app, Krisp, that cancels background noise; or you stream Cosmic Kids Yoga to keep your kids entertained while you finish that email.
You go all in and order a standing desk (or a desk), a second monitor, or even a yoga ball chair to get comfortable.
Whatever you need to do to stay productive and positive when working from home on your own, do it.
As far as engaging your coworkers and keeping human contact, if your company isn't proactively embracing the remote life, rise above and be a pioneer.
Be the catalyst for change.
Our team for instance, has begun hosting virtual happy hours, interactive group games, coffee chats, mindfulness sessions, and even acts of kindness (an acts of kindness group where people are selected to do a kind act for another employee) as a way to remain positive and energized virtually.
There are so many ways to create an environment for you to thrive at-home and still feel like you're part of a community.
The possibilities are endless. Here's to finding a rhythm that works for you and your unique situation.
Free Assessment:
How does your sales & marketing measure up?
Take this free, 5-minute assessment and learn what you can start doing today to boost traffic, leads, and sales.