12 Tips for Improving Team Communication in Every Workplace [Infographic]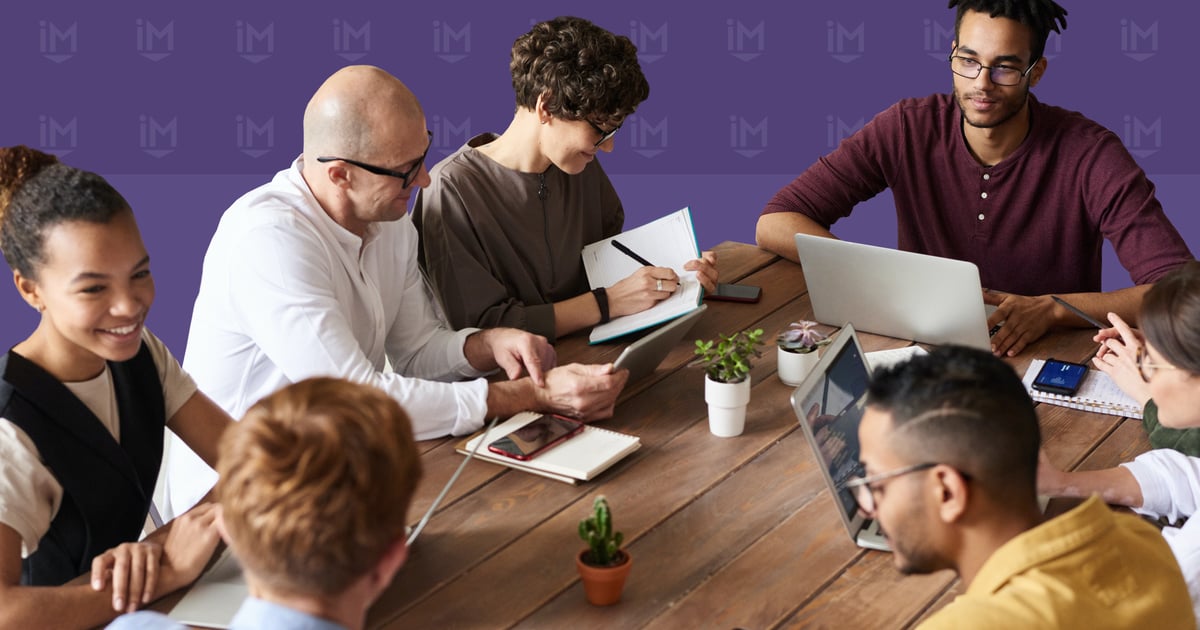 Effective communication can avoid a lot of hardship.
Just think about some of society's most beloved stories.
Take Shakespeare's Romeo and Juliet, for instance. Perhaps if Juliet let Romeo in on her "clever" scheme through a conversation or even a message before faking her death, the couple could have avoided their tragic end.
In 1992's Home Alone 2: Lost in New York, maybe Kevin would've reunited sooner if his parents shared where they were staying in Florida.
Maybe Danny and Sandy could have avoided their clash in 1978's Grease, if Danny was more true to himself with his friends — or the love birds exchanged contact information before the summer ended.
There is no question of how important clear, effective communication is in our day-to-day lives in maintaining healthy relationships with our partners, friends, and family — but it is just as important in the workplace.
Unfortunately, in an increasingly virtual work environment, maintaining good communication isn't always easy.
Thankfully at IMPACT, we have been collaborating across time zones and demographics for many years, so we've learned a thing or two about what it takes to improve communication with our team and clients.
Below, we'll dive into some of those lessons, including:
Why communication is so important in the workplace
12 tips for improving your team communication
Why is communication so important in the workplace?
"I do all of the work and they get all of the praise."
"I am working too much for the amount I am paid."
"It's easier to do everything myself."
"The client just doesn't understand."
Have you heard anyone make these statements before? Have you made them yourself? These are common workplace soundbites that indicate a breakdown in effective communication.
We hear them when people don't know how to fully express what they are feeling or don't feel like they have the ability to communicate with leadership.
These circumstances can lead to employees feeling undervalued, low employee morale, and overall lower performance. In fact, research shows 86% of employees attribute any company failure to poor communication.
Some can turn this all around.
Communication is truly effective when it delivers its message in a way that allows the listener to feel valued and heard. This makes listening and observing just as important as speaking.
The benefits of great workplace communication are profound including:
Better collaboration
Increased productivity
Better problem-solving
Improved customer experience
Better employee engagement and relationships
Not only does it create a happier, healthier work environment overall, but company bottom lines also tend to improve. With all of this in mind, let's walk through a dozen tips to help you improve team communication at your organization.
How to improve team communication

1. Make use of video
Many things, including the COVID-19 pandemic, have dramatically transformed the way we work. For instance, remote or hybrid working is more popular than ever.
When you and your teammates can't be in the same room, video is the next best thing.
Video and virtual meetings let you hear each other's voices and see faces and mannerisms to give you more emotional context than you would have with just text or audio alone. It helps you feel like you've met the person even if you've never met face-to-face.
Plus, with its dynamic, multi-sensory elements, research shows video makes information faster to digest and easier to remember.
Zoom, Vidyard, or GoogleMeet are popular tools that you can use to start bringing video into your organization for free.
Where can you start?
Require all participants to turn cameras on for all remote meetings
Use video for asynchronous feedback and announcements
Use video for training and employee onboarding
2. Create and maintain a regular meeting cadence
Have a set meeting schedule to ensure teams are connecting on a regular basis. This gives everyone dedicated, focused time to get and give feedback, communicate issues, and simply check in on a personal level.
These meetings might include a weekly 1-1 between employees and their managers, a monthly all-hands with everyone in the organization (depending on your size), and a skip-level meeting with employees and an executive.
3. Assume positive intent
Conflicts and disagreements are bound to happen.
When going into any conversation with your team, assume that the other party or parties are acting with the best intentions in mind. Doing this will help you avoid being defensive during the discussion and help you stay open-minded.
On a similar note…
4. Ask questions
While assuming good intentions, make sure to stay curious. Ask questions to dig deeper into unclear situations and seek to understand rather than jump to conclusions.
Sometimes things aren't as they appear. Asking questions helps you get to the bottom of situations or challenges and better understand what needs to occur to resolve them.
5. Create a hub for shared documents
When it comes to asynchronous communication, make use of an online hub or wiki. Hubs are excellent tools for housing shared documents and resources so everyone on your team can access them on demand.
This also makes it easier for individuals to pull up the resources so they are in front of them during conversations or even after hours.
Basecamp, Google Drive, and Confluence are all great options for creating collaborative hubs for your team.
6. Send a monthly newsletter
A newsletter is a simple but efficient way to update employees simultaneously on multiple recent developments that may not require much explanation. Newsletter content might include information about new hires, small organizational changes, or upcoming events.
Your newsletter can be in the form of a printed bulletin, a blog post, an email, or even a video, depending on your team's preferences.
7. Create a Slack channel
The best internal communication happens informally, peer-to-peer. Teams can use Slack for real-time, instant messaging, to send files, or even just catch up with their teammates.
With its use of gifs and emojis and tons of integrations, Slack is easy to use and helps make work communication feel more human.
8. Capitalize on mobile
People are constantly on the go. Making sure your team can still listen or chime in even if they aren't at their desk is a must for enabling and maintaining good communication.
With that in mind, make use of tools and software that have great mobile apps and experiences, such as Zoom or Slack.
9. Create collaborative spaces
If you have an office, arrange your space and furniture to encourage collaboration and communication.
This may look like an open format with desks facing each other, creating comfortable breakout rooms where groups can meet away from others, or simply having a space where people can gather for lunch.
10. Encourage bottom-up communication
At most organizations, communication typically happens from the top down, meaning the executive team shares only necessary information with their teams and deliberation of greater topics includes little to no input from employees.
Bottom-up communication promotes greater transparency. It allows individuals outside of leadership to contribute their ideas and opinions and have them discussed openly as big decisions are being made.
This also allows team members to bring challenges or wins to leadership's attention that they may not have been aware of.
Your team can encourage bottom-up communication by making sure feedback is solicited during meetings or in surveys on a regular basis. Google Forms or SurveyMonkey are two user-friendly options for doing this.
11. Celebrate wins and good news
Did someone close a big deal? Did an employee get engaged or buy a house?
Celebrate these wins and accomplishments with your team at large to foster a deeper connection and to show everyone that they are valued as an individual.
12. Bond outside of work
Speaking of fostering a deeper connection, set time and budget aside for spending time together outside of work. As great as technology is, nothing beats being able to meet your teammates face-to-face to share a handshake or a meal.
This gathering could simply be a lunch, happy hour, or even a fun team-building activity. The important thing is to take time to get to know each other outside of your professional roles and beyond a screen.
Bring humanity to all your communication
All in all, the best way to improve communication is to build trust and you do this by being human. Be open, honest, and vulnerable with your team.
Bring your authentic self to every meeting and let them in on your true feelings about situations and issues that arise.
In most full-time situations, you spend roughly 25% of your week with those you work with. To make those hours positive, productive, and frankly, fun, you need to truly understand each other's personalities, concerns, interests, and priorities.
Using the tips in this article will help.
Want to learn more about using video to hold more effective meetings with your team? Check out our "Leading Effective Meetings with Your Marketing Team" course in IMPACT+!
Free Assessment:
How does your sales & marketing measure up?
Take this free, 5-minute assessment and learn what you can start doing today to boost traffic, leads, and sales.