Content marketing in uncertain times: trends and facts to know in the ongoing pandemic [infographic]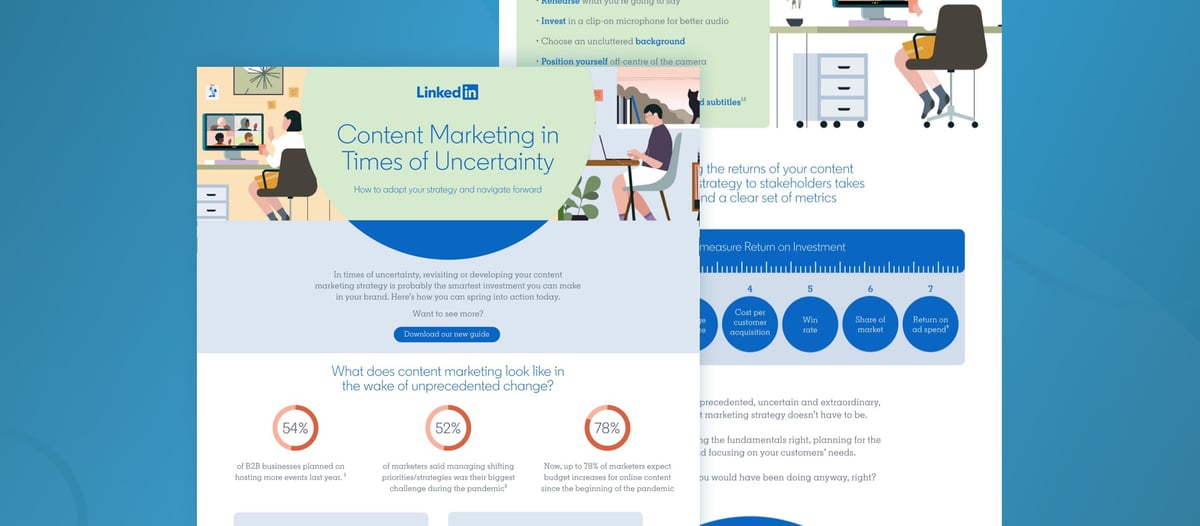 At its core, content marketing is all about creating valuable content that addresses the needs and wants of your customers.
That seems simple enough right?
Most of you probably already know that and are already familiar with the needs and wants of your customers. Some of you have also probably spent countless hours putting together the perfect content marketing strategy for your company.
The only problem is, what do you do when the needs and wants of your buyers both unexpectedly and drastically change?
The COVID-19 pandemic has forced many companies to tackle this question head on.
With the disruption of our everyday lives, hospital systems being pushed to the limit, and dealing with the effects of a major economic slowdown, our needs and wants as buyers have never been more different, and marketers have had to adapt.
In times like this, revisiting or developing your content marketing strategy is one of the most effective investments a company can make.
In an effort to help marketers navigate the ins and outs of content marketing during uncertain times Linkedin Content Marketers Grace MacDonald and Jane Fleming have put together the following infographic loaded with some really helpful insight and advice.
Here are some of my favorites:
Social media usage has increased considerably
With more people now working from home (and frankly being stuck at home) than ever before, we're seeing a sizable increase in social media usage. In fact, social media use worldwide has increased 21% since the beginning of the pandemic.
That means if your content marketing strategy didn't include social media before, it absolutely should now. Taking advantage of the increase in social media usage can be a powerful way for companies to expand the reach of their blog posts and other valuable content, drive traffic, and actually engage.
And don't forget that also includes your video content. People are also consuming more video content than ever before. YouTube has reported a 500% increase in views for videos with the terms "at home" or "#withme."
People want different things from brands
While some companies may be seeing a drop in sales due to the pandemic that doesn't mean audiences have dropped their expectations of what they expect from a brand. However, those expectations have shifted.
According to the infographic, in times of crisis more than eight out of ten people want brands to:
Act as a reliable news source
Use social media channels to facilitate a sense of community and offer social support
Educate their audience
Keeping these expectations in mind, companies should consider creating content that focuses on providing their customers with help, building trust, and contributing to your prospects recovery — not selling.
Providing value to your prospects and customers during a time of need is something that can drive brand awareness, encourage loyalty, and keep them around until they are more enabled and ready to buy.
But consumers don't think brands should stop advertising
One question that a lot of marketers have been asking themselves throughout the pandemic is "Should we even be advertising right now?"
Looking at what people want from brands above, it appears that the simple answer is yes, yes you should. However, when asked, only 8% of consumers said that they think brands should stop advertising during the crisis.
Of course that comes with the caveat of making sure that your marketing campaigns and ads are speaking to people's current needs, but it is encouraging.
I recommend performing a content audit on your existing content to make sure it's hitting that empathetic tone people are looking for and make any necessary changes if it's not. Additionally, when it comes to ads, there are five style of ads seem to be performing well in today's context:
Established brand characters (think Jake from

State Farm

or the

Geico

Gecko)
Repeated or familiar scenarios (for example,

AT&T

consistently sets their ads inside on their retail stores)
Ads set in the past
Ads celebrating human connections and showing self-awareness
Ads with strong connection to place and community
On the other end of the spectrum, there are also certain styles of ads you should avoid for the time being. These five styles of ads are less effective in today's current setting:
The direct "hard sell" ad focused on price or promotion
Ads focusing on things over people
Ads that pander to vanity or self-image
Ads reliant on words and rhythm
Aggressive, competitive, or performance-focused ads
It's all about listening to your audience's needs
Remember, while times might be unprecedented and uncertain, your content marketing doesn't need to be. Weathering these storms is all about listening to your audience's needs, making the necessary adjustments to your content, and making sure you're helping customers through these tough times.
These are the times where a brand can truly shine and show its customers that you value and care about them.
For the full breakdown of content marketing in times of uncertainty check out the full infographic below:

Free Assessment:
How does your sales & marketing measure up?
Take this free, 5-minute assessment and learn what you can start doing today to boost traffic, leads, and sales.