5 tips for maintaining team solidarity while working remote [Infographic]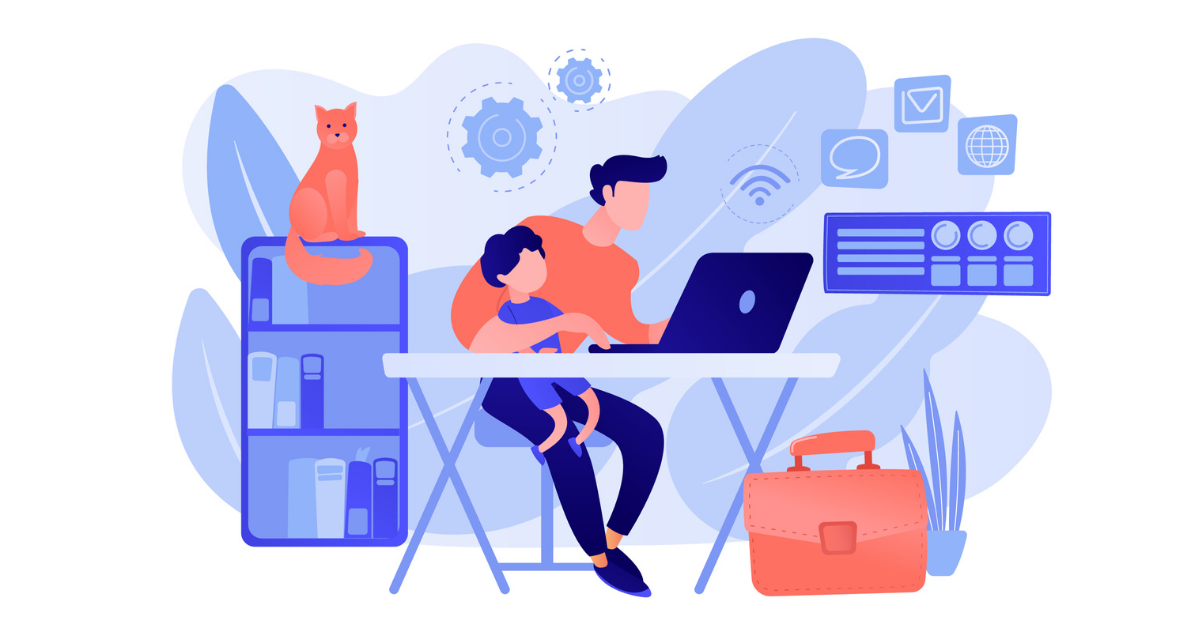 While working from home can have its perks, it's important to ensure you're still managing and maintaining solidarity for your team as many of us continue to be remote in 2021.
COVID-19 aside, statistics show the number of people working remotely has grown over the last decade. This allows employees to adapt a more flexible work schedule, which is one of the highest-ranked benefits for millennials and boomers alike. It's giving many people more time to spend with their families, workout, or pick up that new hobby they've been wanting to try for years.
However, working from home can also have some negative effects. Being isolated at home from social interactions with coworkers can leave many of your employees feeling a sense of loneliness. It can even take a psychological toll.
For many people, their coworkers are more than just people they work around. Coworkers are friends we typically spend the most time with.
The unplanned watercooler chats are gone. So are the lunches. This makes it harder for coworkers to interact with team members from different departments. And, there's often no one to help you step away from work for the day.
Not only does working from home disrupt our routines, but it can also disrupt our coping mechanisms, as well as the thoughts and behaviors we use to deal with stress. Ultimately, this can cause a drop in productivity.
How can you combat this? How can you effectively manage remote teams while maintaining solidarity?
Let's take a deeper look into a few key areas Villanova University explores in the infographic below that can help your company maintain team solidarity while working remotely.
1. Develop a strong communication strategy
Technology is your biggest asset when managing a remote workforce. Despite not being in the same building or office, you can use various communication tools to bring everyone together.
If you haven't already, you'll want to utilize video conferencing software like Zoom, Hangouts, or Microsoft Teams to have face-to-face meetings.
Video calls are as close as we can get to being in the same room as someone when working remote. Not only can you tell if someone is present in a call, but you can better gauge their reactions to what you're talking to them about.
Despite the fact that most if not all of us are continuing to work from home, it's important to remember that we're all in this together and using video conferencing tools can help us feel closer to each other.
2. Set clear expectations
Use technology to also help set clear expectations and keep everyone on the same page in terms of what's happening across your company.
If you don't already have a documented one-page strategic plan, you should make one and post it where everyone can easily find it.
Remotely, you can use tools like Align or Metronome to share this, as well as define and track quarterly company, department, and individual goals. Having something like this that can be accessed easily by anyone, anywhere, gives everyone the resources they need to be on the same page.
3. Schedule regular check-ins with your employees
Your company's leadership team and managers should be regularly checking in with their team members.
Whether you're meeting with them on a quarterly or monthly basis, having an open line of communication is key. These check-ins are great for identifying areas of improvement, where there might be confusion around their role or the direction the company is going, and highlighting where they're excelling.
You can also use these meetings to see how they're doing. How are they feeling? Where are they mentally?
Some of your team members may still be adjusting to working from home full-time. Prior to COVID-19, the idea of working from home felt freeing or even created opportunities for more productivity. Almost a year later, and long term, the isolation of working from home could actually reduce productivity and potentially cause team members to question whether they belong.
Everyone on your team will have different challenges they're facing; whether they're juggling work and parenting, or now working alongside their significant other. While your check-ins may primarily focus on how they're doing in their role, it's also important to ask them how they're doing.
The next time someone arrives late to a meeting or seems distracted, have empathy and check in with how they're doing. As we continue to work from home, you'll need to be intentional about creating and building relationships with our team members.
Show empathy and offer support where it's needed.
Also, consider implementing daily and weekly department huddles to help team members stay accountable. These are great meetings for everyone to identify what's on their plate and their top priorities for the day.
4. Guard against overworking and burnout
One of the biggest challenges when working from home is being able to set boundaries between work and home, and not burning out.
Overworking unfortunately is something that can easily happen when you're home is your office.
Unlike at the office where there might be set hours, lunch breaks, and overall structure, that might not be the case at home. Your work is always only a few steps away, making it easier for you to start work early and work well past your office hours. You might even find yourself working through lunch.
It's important for your team members to identify a routine that will prevent them from continuously working long hours or even working on the weekends.
As a company, develop a flexible work policy to help team members make the most of their time outside of the traditional nine to five workday. This can be essential for working parents, who may need to shift around their day.
But you can also encourage virtual team lunches or breaks so that everyone can still feel connected and catch up on things outside of work.
5. Make sure everyone has a dedicated workspace
When you're working from home one or two days out of the week, it can seem easy to work from your couch or kitchen table.
Now that everyone is working remote full-time, not having a dedicated desk can make it harder for you to mentally separate yourself from work at the end of the day. Not to mention, if you don't have a dedicated space, you can be very disorganized. Your laptop and any other work materials may be scattered all over your living spaces — forcing you to continuously pick up and move your stuff between different rooms and areas of your home.
Having a dedicated space that you can call "your office" will allow you to associate that space or room with work and help make you more productive.
As many companies adjusted to working from home, there have been companies who provided their employees with a stipend for building out their home office. While this may seem like a huge expense for some, allowances for perks can create a deeper connection between employers and their team promoting culture, values, employee engagement, as well as trust.
It also reiterates to the team that you want to enable them to do their best work.
Building a stronger team while working remotely
Building connections outside of work is important and it's never been more so than when working remotely.
As mentioned above, working from home can be isolating and lonely for many. Especially those who thrive on interactions with other people.
Like your team would get together after work while they were in the office, consider organizing hangouts while remote. Whether that's a weekly or monthly happy hour, or a team-building event to help bring people together outside of work, these gatherings can make teams still feel connected.
Consider creating non-work related Slack channels, giving people a space to connect on mutual interests such as the latest TV show they've been binge-watching or what they've been doing with their families and pets.
Little efforts like these can go a long way.
While many companies and employees are still adjusting to working remote, there appears to be a light at the end of the tunnel. Maintaining the solidarity of your team, especially in what we hope is the final stretch of working remote, can ultimately create a stronger and more connected team.
Be sure to check out Villanova University's infographic below to take a look at how else your company can manage and maintain team solidarity.

Free Assessment:
How does your sales & marketing measure up?
Take this free, 5-minute assessment and learn what you can start doing today to boost traffic, leads, and sales.