Subscribe
Join 40,000+ sales and marketing pros who receive our weekly newsletter.
Get the most relevant, actionable digital sales and marketing insights you need to make smarter decisions faster... all in under five minutes.
Thanks, stay tuned for our upcoming edition.
The top 10 social media trends for brand survival in 2021 [Infographic]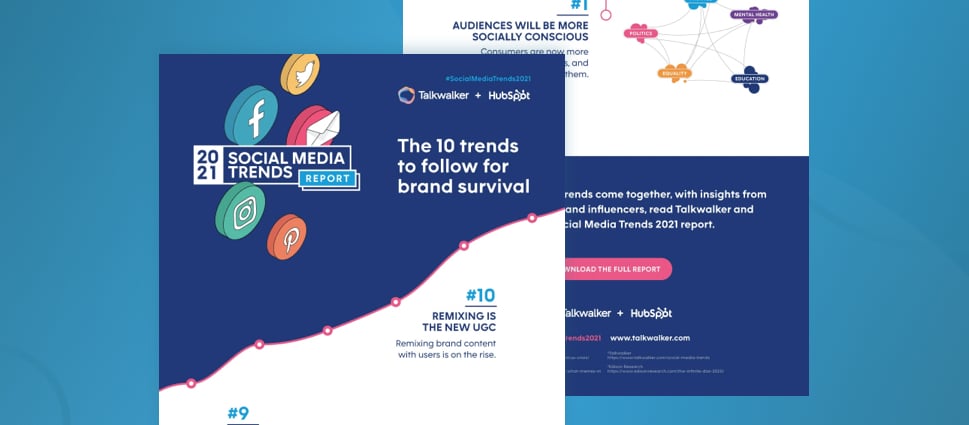 As 2020 slowly comes to a close, there's one thing I can say for sure...
I spent a ton of time on social media this past year. (Seriously, I'm almost ashamed to look at the screen time report on my phone.) The only solace I have in admitting that is that I know I'm not the only one.
As more and more countries implemented stay-at-home orders due to the COVID-19 pandemic, Statistica reported a 21% increase in monthly social media usage. And, of course, that's not too surprising.
For many of us, social media is how we've kept in touch with our loved ones, stayed up-to-date on the latest news coverage, or just simply distracted ourselves during those days when the cabin fever was a little too much.
Now, as we start to move into 2021 and we continue to deal with the effects of COVID-19, many companies are wondering what social media trends they can expect to see over the next year and what will be the best way to engage with their audiences.
To give some insight into what we can expect, the team from Talkwalker partnered with HubSpot to interview 70 social media experts on their thoughts and predictions. They've compiled an extensive report as well as a beautifully designed infographic with the key highlights below.
Some of the most notable takeaways include:
Memes will continue to grow in popularity
Memes have become one of the most frequently shared formats on social media. According to Talk the Trend, 55% of 13-35 year-olds send memes every week and 30% send them every day.
As we move into 2021, expect to see this trend continue to grow in popularity and evolve. Memes have become a quick and effective way for brands to show some personality and interact with their audiences.
BarkBox, a monthly subscription box of toys and treats for your dog, frequently uses memes to connect with their audience.
$25 for something $25 for something
for me for my dog pic.twitter.com/zQu7U4C9Ut

— BarkBox (@barkbox) September 20, 2019
In the example above, they're able to make a joke about a struggle that many pet owners relate to. Memes like this show your audience that you understand them which makes them feel more connected to you, and, in turn, trust you more.
When it comes to using memes in your social media marketing:
Share user-generated memes to help build a stronger brand connection and encourage others to create branded content.
Make sure you fully understand the meaning behind the memes you're sharing and that there are no negative connotations associated with them.
Messaging will be focused around the 4 Cs of coronavirus content
There's no question that COVID-19 completely changed the way businesses interact with their customers.
As people adjusted to the "new normal" their needs and wants also changed and businesses were forced to pivot to be able to meet those new needs. Even if the pandemic is resolved in 2021, these changes are still likely to linger throughout the year.
Keeping that in mind, companies will need to continue to be mindful of these changes and focus their social media messaging around the 4 Cs of coronavirus content: community, contactless, cleanliness, and compassion.
People currently aren't as concerned about products or services as they are with how safe it is to do business with you or how well you understand or care about their current circumstances.
For example, in a clever marketing campaign to align with health official's recommendations to limit how often you touch your face, KFC suspended their famous "finger lickin' good" slogan.
The company began blurring out the slogan on billboards and removing it from social media posts. This simple change showed loyal KFC customers that the brand is in tune with what's happening in the world and cares about their well being and safety.
LEGO is another great example of a company using its social media platform to focus on community and cleanliness during the pandemic.
Remember to wash your hands like our LEGO Minifigure friend here! 😊

Thanks to our colleague Stuart Harris for the pic 📸#LetsBuildTogether pic.twitter.com/dxc68U22XR

— LEGO (@LEGO_Group) April 23, 2020
This tweet does a powerful job of encouraging cleanliness amongst a younger demographic while also showing off the brand's fun and friendly personality.
Conversational marketing will change its tone
Conversational marketing is nothing new. For years, companies have been seeing a lot of success using tools like chatbots and social messaging to start conversations and engage with customers. The big difference in 2021 will be the tone of those conversations.
In the past, these conversations were more geared towards simply driving prospects towards making a purchase but the way prospects shop has changed.
People want to do business with brands they connect with; brands that feel human and that they can trust. Prospects are also looking to learn more information about a product before making a purchase.
That means that companies' conversational marketing tactics need to shift towards educating prospects and slowly nurturing them towards converting rather than going in for the hard sell.
"Brands need to be more human on social media, inviting the world to your dinner table for a meaningful and engaging conversation. You are your fan's greatest fans and need to embody that no matter what social media channel you live on. Emote, respond, recognize, relate, be engaging. We're not robots." says Aaron Kaufman of Square Enix.
The rise of "nostalgia marketing"
It's been a tough year for many so it's only natural that people are getting sentimental and looking back to the "good ol' days" as a source of comfort. (I know I've personally been streaming old episodes of the Rugrats and Hey Arnold since the pandemic began.)
According to Talkwalker's 2021 Social Media Trends Report, since March "mentions of keywords related to nostalgia or remembering the past shot up 88%." That's a ton of people looking to reconnect with the past!
In the upcoming year, expect more brands to create social media campaigns that tap into this nostalgia factor.
"After 2020, we need to remind our community, how precious a world full of freedom was. With some nostalgia marketing, we can create fun campaigns and look back to the good old days." says Aji Aditra Perdana of Home Credit Indonesia.
Something as simple as a "#throwbackthursday" post can garner a lot of engagement and help inject a little personality into any brand.
What is this called? Wrong answers only. #ThrowbackThursday pic.twitter.com/qzYvP1WGY1

— Alexa (@alexa99) December 3, 2020
Take a look at this tweet from Amazon's Alexa, for example. They created a fun but simple post referencing back to one of everyone's favorite (and most frustrating) 90's childhood toys as a way to connect with their audience. People associate strong positive emotions with nostalgia so tapping into that can help connect those positive emotions with your brand.
To see the rest of the social media trends industry experts recommend keeping an eye on in 2021, check out the full infographic below. If you're looking for a full breakdown of each trend I also recommend downloading the free 2021 Social Media Trends Report.

Free Assessment:
How does your sales & marketing measure up?
Take this free, 5-minute assessment and learn what you can start doing today to boost traffic, leads, and sales.