Subscribe
Join 40,000+ sales and marketing pros who receive our weekly newsletter.
Get the most relevant, actionable digital sales and marketing insights you need to make smarter decisions faster... all in under five minutes.
Thanks, stay tuned for our upcoming edition.
How To Build an Effective Instagram Video Marketing Strategy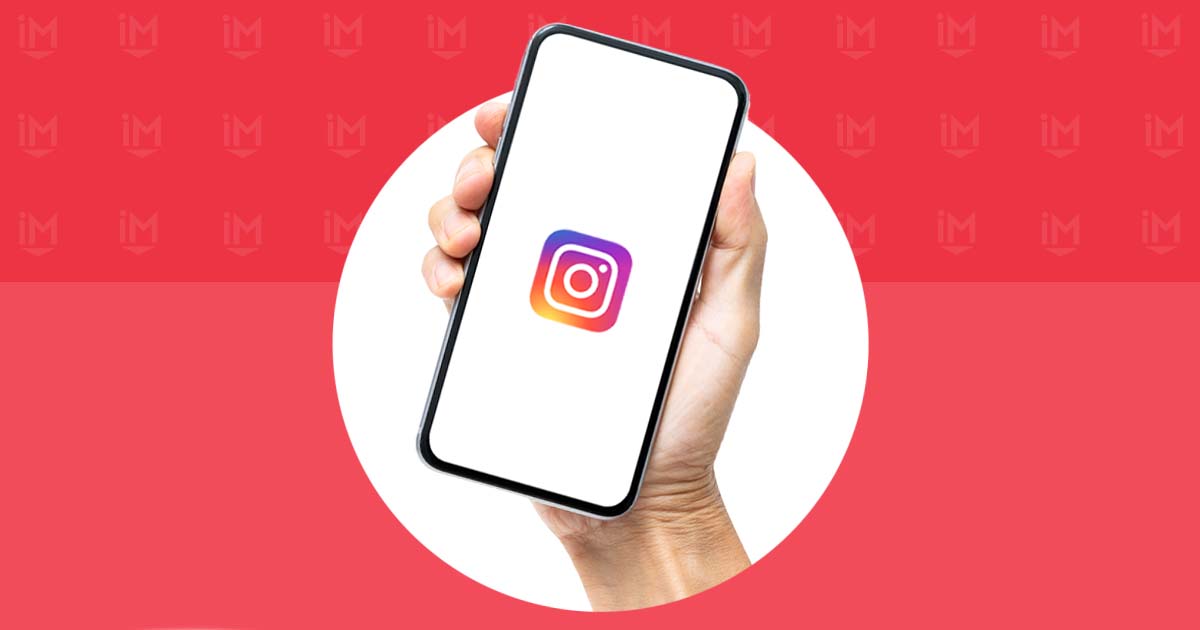 A few months back, I pulled out my phone and fumbled trying to attach it to the ring light on the desk in my apartment.
I pressed record and started practicing my lines out loud, stopping and restarting as I tripped on my words, despite having my talking points glowing on a laptop screen just beyond the phone.
I was nervous. I critiqued everything — from what I was saying to how I was saying it and my facial expressions. I wanted to get it right. This was my "big" Instagram Reel debut, and to my surprise, it was for professional purposes.
Instagram Reels and Instagram video marketing, in general, have become a substantial part of our social media marketing strategy here at IMPACT, as they have for many in the past few years. But like you, it's something we are also actively learning and fine-tuning every day.
You may be a bit intimidated by the thought of an Instagram video marketing strategy. Perhaps you've been using Instagram professionally and personally already, but with the platform head Adam Mosseri revealing Instagram would be "doubling down on [its] focus on video" in 2022, you may now find yourself wondering how you can adapt.
In this article, I will share what we've learned to help you better shape and build an effective Instagram video marketing strategy, including:
Why Instagram video marketing is worth your time
How to start building your Instagram video strategy
What an effective Instagram video strategy includes
Best practices for Instagram video marketing (including Instagram Stories and Instagram Reels)
Let's start from the top.
Why Instagram video?
As of January 2022, there were roughly one billion Instagram users in the world and 200 million of them check out at least one business profile each day. Those numbers alone should make all marketers and business people's ears perk up.
The reach of the social media platform — paired with the targeting abilities and data made available by parent company Facebook — make Instagram a platform that inbound marketers can't ignore when trying to reach a new or existing audience.
And put simply: Instagram is putting video content first.
Instagram has been vocal about emphasizing video, particularly its newest video feature, Instagram Reels. And it's no wonder — 91% of active users watch videos on the platform every week.
Video adds new dimensions to any message. Rather than just a static image or text, video content uses sound and motion to further enhance your delivery and is scientifically proven to make information easier to process and remember.
So, get ready for your close-up.
Expand your brand's storytelling experience by using video to capture funny team moments, walk people through your office, highlight how a product works, share a customer story, create a tutorial, host an interview, or answer audience questions.
The rest of this article will dive into how.
How to start building your Instagram video marketing strategy
Building a strategy without much experience is always nerve-wracking, especially when it comes to a medium that is new to everyone like Instagram video and Instagram Reels.
Without much information to go off of, we suggest starting slowly with some tips in mind.
Start with what you have
While Instagram and most social media platforms and audiences favor original content, when you're just getting started, it's smart to start by repurposing existing content for video posts.
Consider taking your existing video content (i.e. YouTube videos, podcasts, webinar or event recordings, videos covering common concerns from your blog), and cutting them into one-minute bite-sized pieces.
This way you can start posting fairly quickly to see what your audience responds to. Post and sit back. Watch what happens and ask yourself what topics are getting the most likes, comments, shares, and saves.
Looking at these engagement metrics will help you understand what your audience wants to see from you on the platform and can help inspire your plan for original content in the future.
Evaluate competitor accounts
What are your competitors doing with Instagram videos?
While experimenting and monitoring the performance of your repurposed video content, you can also research what your competitors are posting and getting high engagement with. Take note of what hashtags they are using and even what music or features and how viewers are responding.
All of these insights will help you further understand what works and doesn't work with your potential buyers so you can shape your strategy.
Look into relevant hashtags
Another great place to look to start building your strategy for Instagram videos is relevant industry hashtags. Like analyzing your competitors, doing this will help you see what kind of content is already being created targeting your audience and what's catching their attention.
Our friends at Hootsuite have a brilliant comprehensive guide that can help you find the right hashtags for your business.
See what's trending in Reels and TikTok
When building your Instagram video marketing strategy, also take some time to broadly explore Reels and even TikTok to see what's trending.
Using trending sounds, filters, and styles of posts can help you grab your audience's eye and also use algorithms to your advantage. (But of course, you also want to make sure that the trend is something that is on-brand and can be adapted without straying from what your audience expects from you.)
Frequently, trends will start on TikTok before moving onto Reels, so you can get ahead of the game by saying apprised to what's popular there first.
Now that you know how to start building your initial strategy for Instagram videos, what exactly should that strategy include?
What should your Instagram video strategy include?
Initial goals and metrics
Like any marketing initiative, it's difficult to know what actions to take unless you know what you are trying to achieve. That's where goals come in.
While you may not fully know what you want to accomplish with a newer medium like Instagram video, you should, at a minimum, set numerical engagement goals to help you evaluate and compare performance between your different pieces of content.
Some popular Instagram video metrics to set goals around include:

Views: How many users watched your video for at least three seconds.
Likes: How many users liked your video.
Comments: How many users commented on your video.
Profile visits: How many users visited your profile after seeing your post.
Saves: How many users saved your video to their Instagram collections.
Messages: How many times your video was sent to others through messages.
Follows: How many followers you got from that video.
Reach: How many users your video was shown to.
Impressions: How many times users saw the post.
We suggest you start with impressions.
Impressions as defined by HubSpot are "a measure of the number of times your post appears on screen. This number does not take into account unique users, so if your post or ad is viewed by the same person multiple times, it will count as multiple impressions on Instagram."
The higher this number is, the more opportunity you have to people engaged through comments, stickers, saves, etc.
With this in mind, you could say you have a goal of: "X number of impressions per video." If a video gets X impressions, you can assume it's likely favored, and anything less is unfavored.
If you don't have benchmarks to go off of, however, you may be setting this number arbitrarily. So, you may want to consider either basing your goals off a competitor of a similar size and following or simply using your first few months to experiment with content, track its performance, and set realistic benchmarks for the future based on that.
A publishing schedule
Like any social media strategy, you don't want to post your Instagram videos at random times. You want to post when your audience is most active and likely to watch and engage. If you've been on Instagram for some time, you can estimate these times based off the information provided in the Insights section of your account.
If you haven't, use this time to determine a schedule you and your team can commit to. The key in any publishing schedule is consistency. Instagram likes to see that users are active and posting on a consistent basis, which signals to them that you are a regular presence on the chronological newsfeed.
Over time, tools like Sprout Social can also help you determine the best times to post.
Content that provides true value
While "value" will vary from audience to audience, it usually comes down to two buckets: education or entertainment. Enterntainment can take many forms, but the criteria for educational content is fairly universal.
In our experience, valuable educational content is rooted in answering the questions buyers have about your product, service, or industry.
This is at the heart of the They Ask, You Answer methodology. If you can address the concerns in your buyers' heads (especially those your competitors avoid addressing) you stand out as a trustworthy resource.
Plus, new research from Conductor has found that consumers are a whopping 131% more likely to buy from a brand immediately after they consume early-stage, educational content. Customers want to be empowered to make their own informed purchase decisions, and the brands that help them do that are often rewarded.
But what questions are people asking exactly? What should you be answering with your video content?
The best way to find out is by talking to your salespeople and front-line team members to learn what buyers are asking about, but there are five crucial content areas no matter your industry or business.
We call them The Big 5:
Cost: How much your solution costs (factors, considerations, what defines value, etc.).
Problems: The negatives about, or issues with, your solution (that buyers tend to ask about).
Comparisons: How your product or solution compares to other options.
Reviews: Honest and unbiased opinions and observations about your product, solution, etc.
Best: What the best solutions available are.
When these topic are addressed thoroughly, your brand becomes trusted by your audience. In turn, people are more likely to follow and buy from your business.
Plans for each format of Instagram video
Instagram video content ranges from stories and reels to long-form and even live video. A strong strategy includes a mix of all of these, depending on what your audience responds to and how your brand can use them. Here's a quick overview of the four formats of Instagram video:
Instagram video
Instagram video refers to standard in-feed or in-grid videos on the social media platform.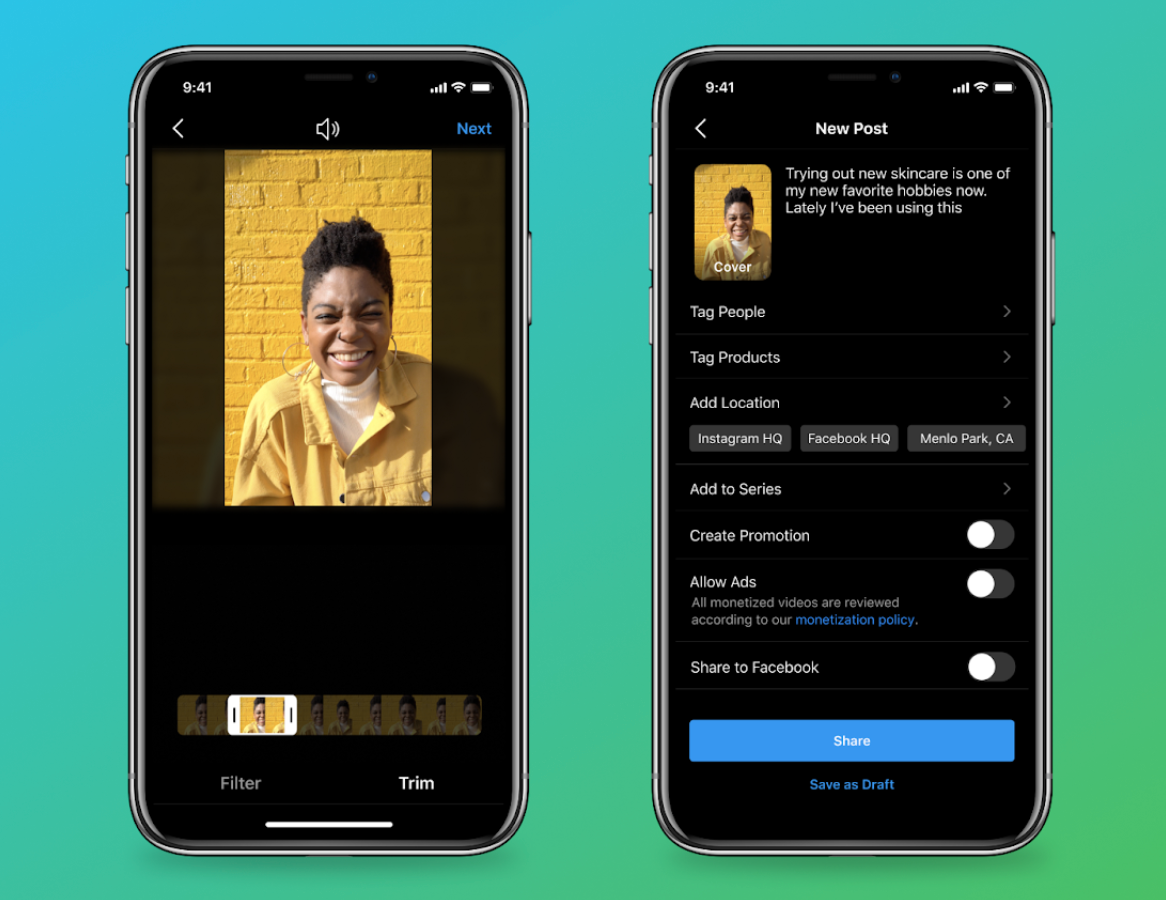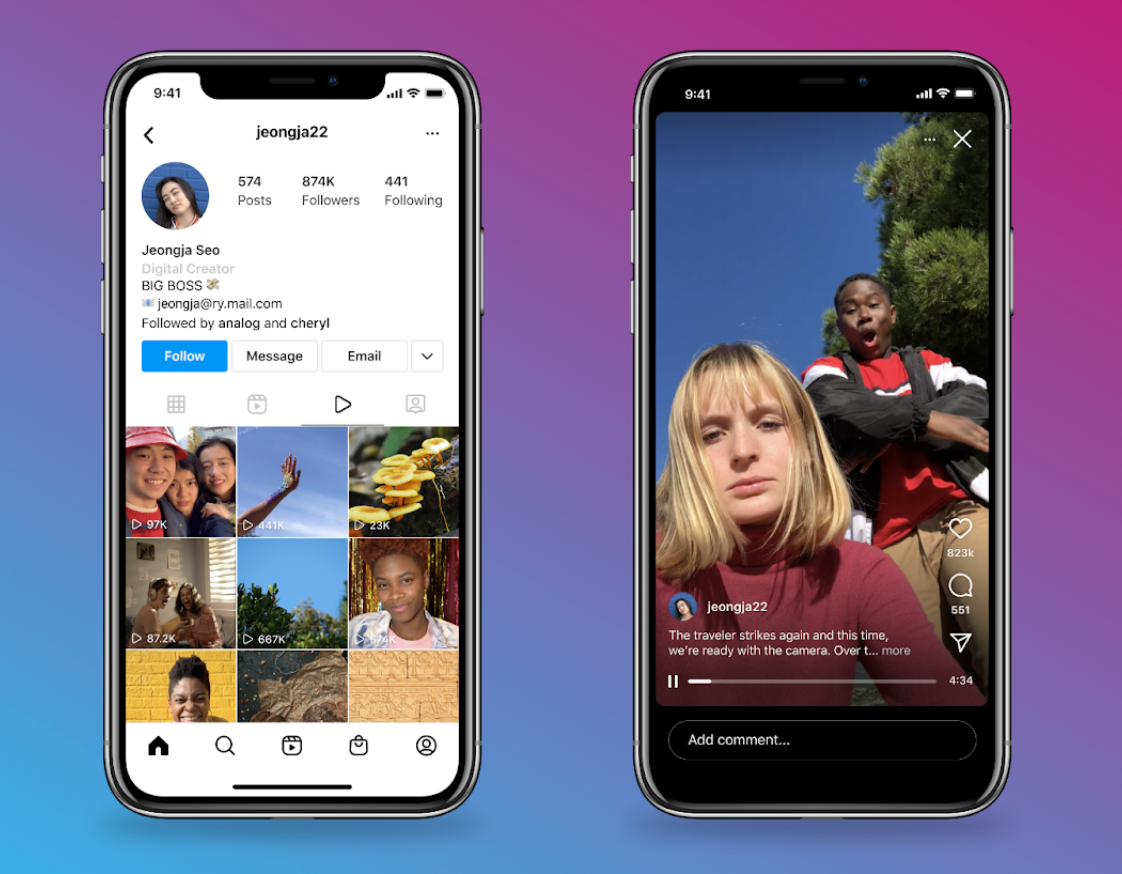 Image Source: Instagram
These can be up to 60 minutes long and, like an image post, can include a filter, location, caption, as well as user and location tags. Once posted, people can engage with these videos through likes, comments, and sharing in Stories and direct messages.
Instagram Stories
Originally introduced as a Snapchat competitor, Instagram Stories are 15-second videos that can be accessed by clicking on your user profile picture, and they disappear after 24 hours. Once again, stories can include filters, music, location and user tags like image posts, but also a host of add-ons called "stickers" that allow for enhanced engagement.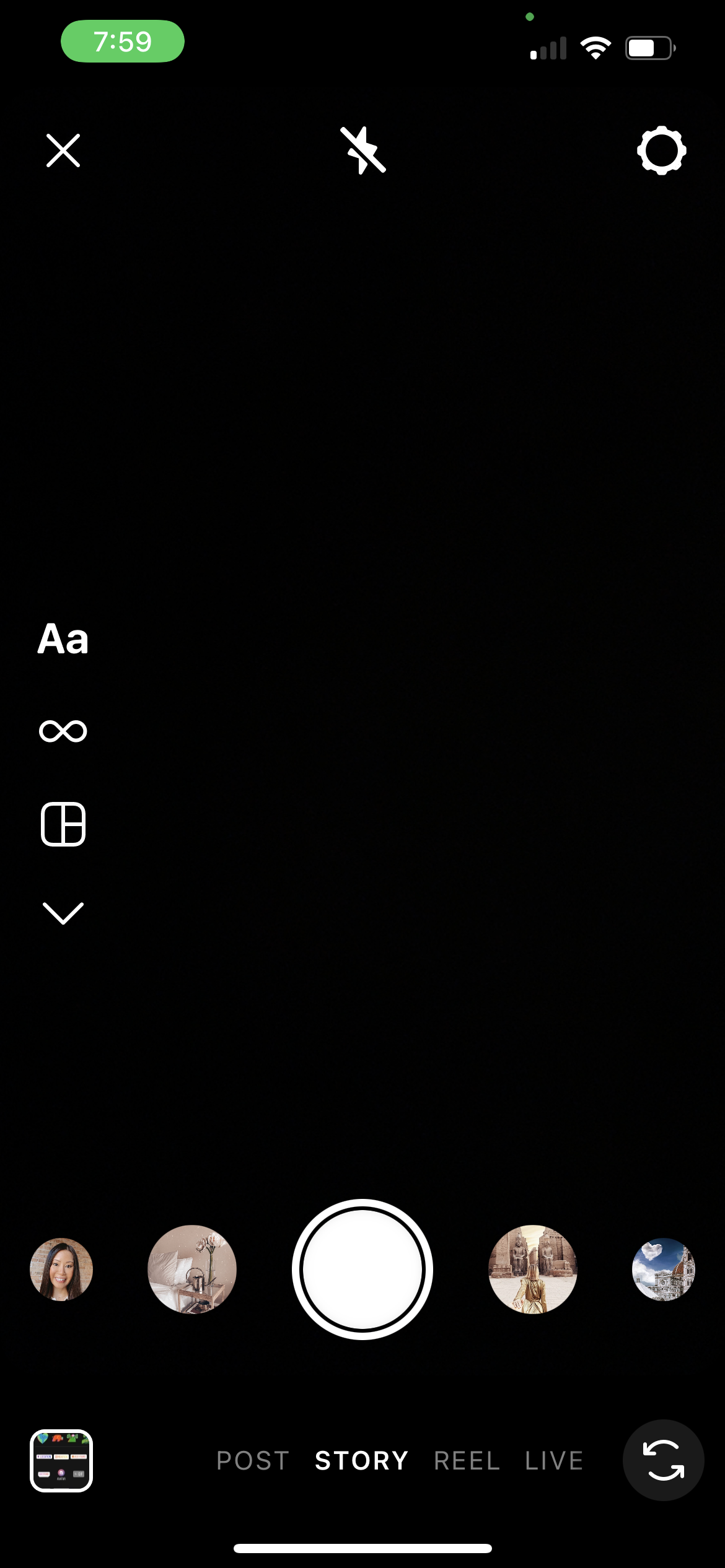 As a business, stories should be particularly intriguing considering 50% of Instagrammers report having visited a website to buy a product/service as a result of seeing it in stories.
It's also important to note stories that have expired can later be saved to the Highlights section of a person's profile.
Instagram Live
Instagram Live is exactly what it sounds like — live streams from users in the app. Live streams can last up to four hours and can be hosted by one or two accounts.
When an account goes live, it appears at the front of the stories bar with a Live icon. Once finished, Instagram Live videos can be saved to your profile or your device.
Instagram Reels
Lastly, we have Instagram Reels. Inspired by TikTok, reels are 15-60 second clips that you can upload from your device or create in-app with Instagram's camera, timed text, AR filters, green screen mode, timer and speed controls, and sound from the audio library.

Reels, like standard photo and video posts, can include a video description, location and user tags, collaborators, and hashtags. Reels also have their own tab on user profiles and their own explore tab in the Instagram app.
Third-party tools and tech
While Instagram is a free app that you can access and manually publish to from almost any device (desktop publishing is still in the works), many brands can benefit from investing in a third-party tool for two main reasons:
To schedule posts ahead of time
To publish across several platforms at once
These publishing and scheduling abilities are critical in being able to plan and scale your social media content strategy and Instagram video is no different.
Sprout Social, Hootsuite, and even HubSpot can all help you schedule photos, carousels, in-grid videos, and even stories for Instagram, however, it's important to note you can't currently schedule reels in advance on any of these tools.
In addition to scheduling, these tools can also help you track performance metrics and monitor hashtags and mentions.
Plan for lead generation and nurturing
Followers, likes, and comments are great, but Instagram video watchers who turn into leads or customers are better. That's why it's so important for your video strategy to include a plan for driving traffic back to your website and generating leads.
Perhaps that means directing people to the link in your bio that goes to a landing page, or including a link in your story that goes to your pricing page, or even a shoppable tag that lets them buy your product without even leaving the platform.
Whatever it is, it's important to identify a specific next step to your videos so you can help people viewers along the journey towards making a purchase.
Tips and best practices for Instagram video
Use captions
First and foremost, use captions on all of your Instagram videos whether they be Reels, Stories, or in-feed.
Not only will this make your content more accessible, but 92% percent of U.S. consumers view videos with the sound off on mobile. In fact, 80% of consumers are more likely to watch an entire video when captions are available.
Optimize for the right specs
Nothing is more distracting than a video that isn't optimized for the platform it's hosted on.
Whether it's on Instagram or otherwise, ignoring the technical specifications of your host platform can lead to poor sound and video quality or even parts of your video getting visually stretched or cut off.
For specific details on the dimensions, video length, file size, etc. keep an eye on Sprout Social's "always up to date" list.
Go live!
According to AdEspresso.com, "live video is more appealing to brand audiences: 80% would rather watch live video from a brand than read a blog, and 82% prefer live video from a brand to social posts."
Thankfully, Instagram enables you to go live on your story easily from a mobile device or using a third-party tool.
When you do, not only do your followers get an instant notification of the broadcast, but you'll also be able to engage in real-time with those who watch through comments and even invite them to appear in the stream with you with their camera.
Going live on Instagram gives you the opportunity to further humanize your brand, build a personal connection with your audience, and overall build trust. Live videos also can be saved to your profile in a highlight later on.
In the example, independent beauty brand Live Tinted's founder and CEO Deepica Mutyala uses Instagram Live to introduce their community to a new product, address questions they've been receiving about it, and invite a skincare specialist to speak in more detail.
They also make smart strategic use of the in-stream product link.
Optimize your description and thumbnail
When posting a video to your Instagram feed or as a Reel, make sure to write an optimized description to go along with it.
This is your opportunity to detail what your video is about, include a call-to-action or next step for what the viewer should do next, and also include relevant hashtags to help you get found by interested audiences.
Using emojis is highly recommended to grab eyes (In fact, "Instagram posts that include emojis receive 17% more likes and comments than posts that do not include emojis."), but links in descriptions do not work.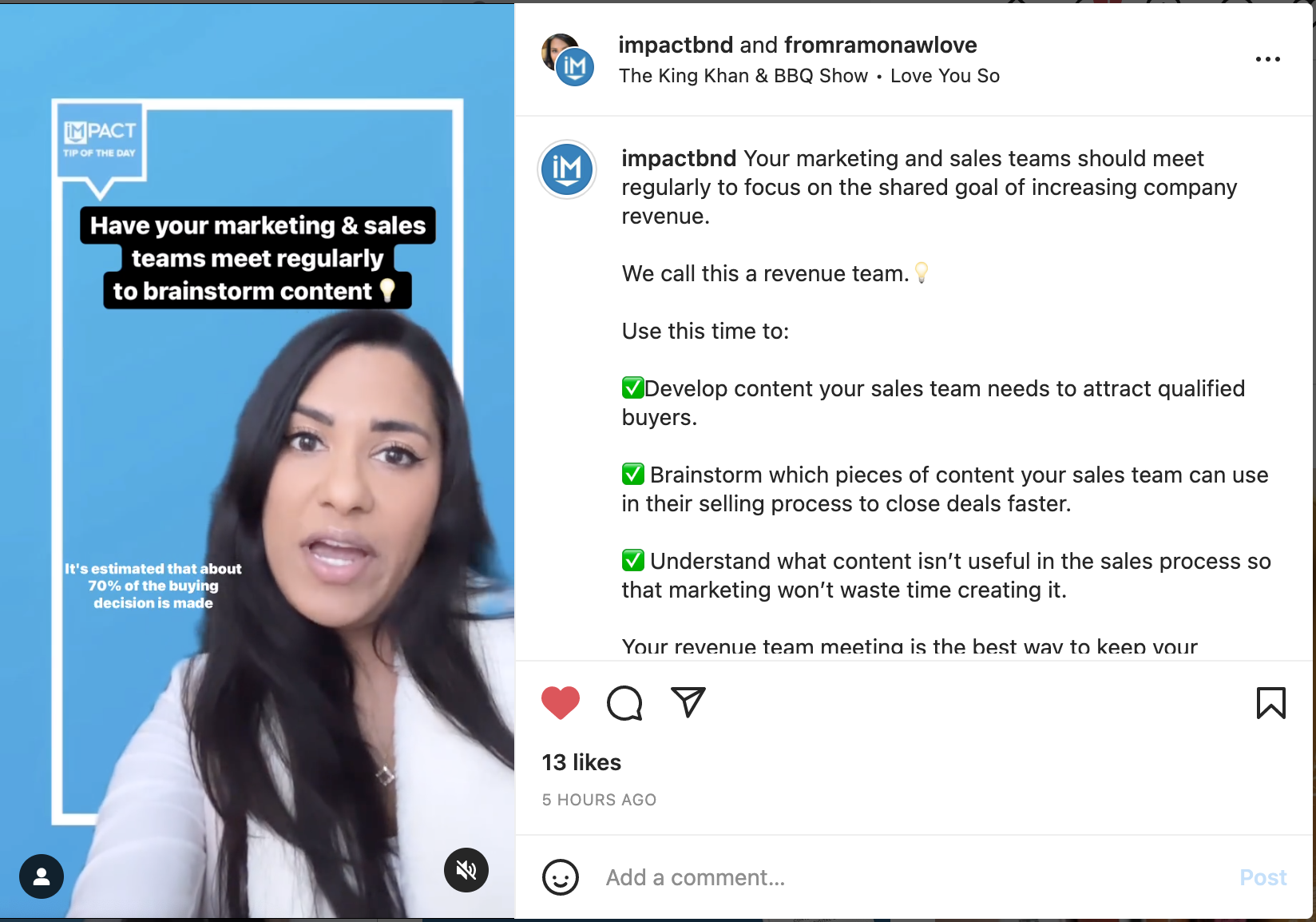 Example of a Reel with a detailed caption by IMPACT
Similar to your description, make sure to choose a compelling thumbnail for your videos. Instagram enables you to choose a frame from the video at hand to display, or you can upload a custom thumbnail.
What makes a good thumbnail? While there are several best practices, it's generally best to go with an image of a person with an exaggerated expression and show a short, bold headline that grabs the eye.
Tips and best practices for Instagram Stories
With 500 million people using them every day, and 58% of people saying stories have piqued their interest in a brand or product, Instagram Stories are especially valuable for boosting engagement. Actually creating an Instagram Story is a process in itself, but below are some tips for getting the most out of your stories.
Use stickers and tags
One of the biggest perks of Instagram Stories is the number of "stickers" available to engage your audience.
For example, you can use poll and quiz stickers to seek your audience's opinion on different topics, while questions actually enable you to elicit longer, more detailed and personalized responses.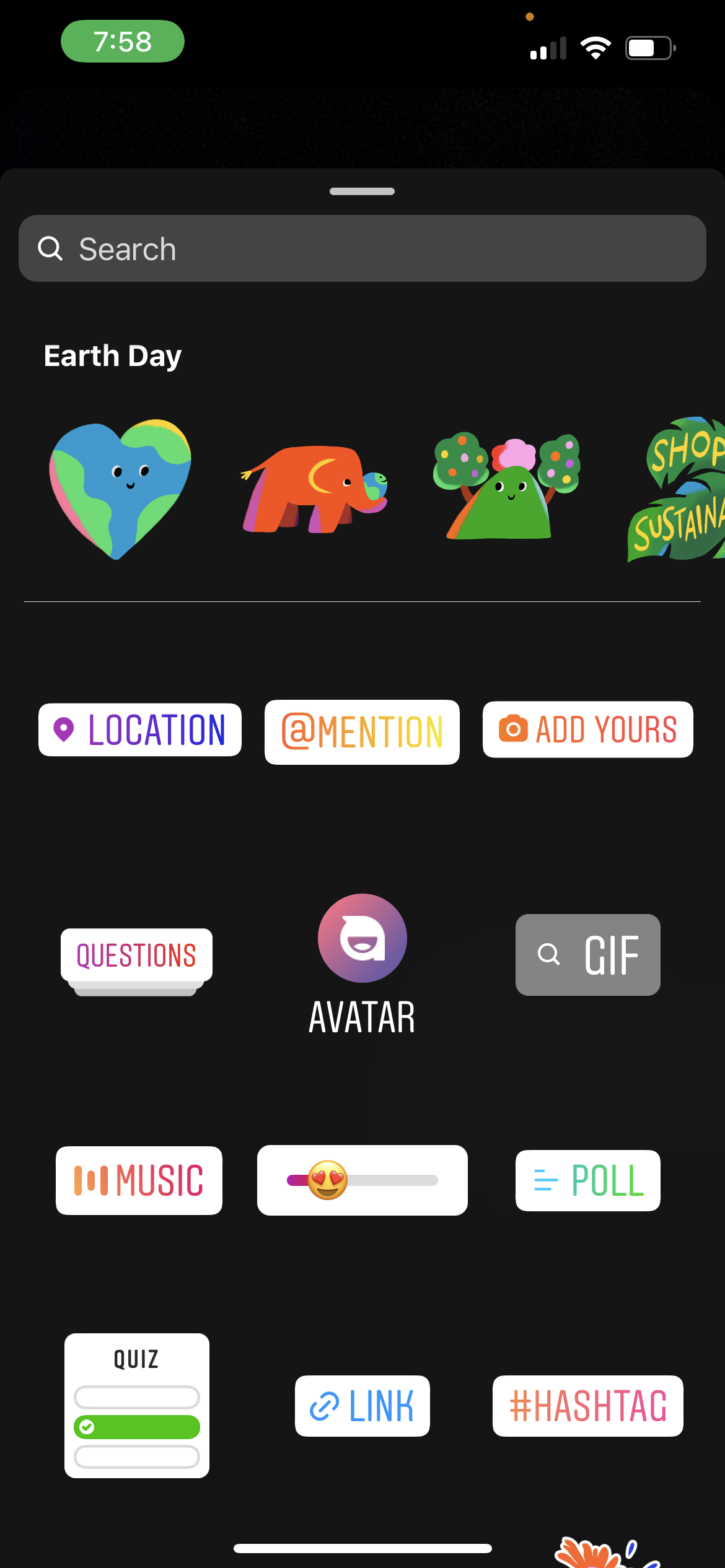 Some of the stickers available in Instagram
Similarly, tagging other users your video features or mentions (using the "@" or "Mention" sticker) will notify the user of your content and also give them the opportunity to repost it to their stories.
Other stickers brands may find valuable include:

Location: To tag where the video takes place
GIFs: To add visual effects to your video
Music: To add a variety of songs and sounds on top of your video. Instagram has found that

80% of Stories

with voice-over or music drive better lower funnel results than those without sound.
Hashtag: To highlight a single hashtag prominently
Donation: To link to a Facebook or Instagram fundraiser
Countdown: To build anticipation of an event and allow followers to get reminded (i.e. a product launch)
Food orders: To order food from your restaurant (if relevant)
Support small business: To tag and visit a small business' Instagram profile
Link out
Instagram recently rolled out the ability to add links in stories to every user. Use this to your advantage by linking to a relevant page on your website or offering the next step via a link. This is an easy but effective way to drive referral traffic and possibly even leads from your videos.
Use 'Highlights' strategically
Though they only last for 24 hours initially, the life of your story content can be extended by being added to a highlight at the top of your profile. Instagram Growth Coach Dan Thomas suggests businesses focus on creating highlights that deliver three key things: leads, sales, and social proof.
Leads: In your leads highlight, you will include stories that showcased and linked to lead generation opportunities. For example, posts linking to offer landing pages.
Sales: In this highlight, you include information focused on closing the sale. This may include posts about specific products or services, discount codes, consultation pages, etc.
Social proof: In this highlight, feature testimonials and reviews from happy customers. The best way to do this is with user-generated content or reposts of user stories you have been mentioned in. This shows potential new buyers you can deliver on your promises and help ease doubts.
Best practices for Instagram Reels
Share to your story
When you post a new reel, boost its initial exposure and engagement by sharing it in your story. Since stories sit a the top of the Instagram app interface, this will help bring it more immediately to the attention of your followers and ideally boost views and engagement.
Work with and tag collaborators
Recently, Instagram added a "collaboration" field to posts users put on their grids. Similar to tagging a user in a photo or video, this feature allows you to designate another user or brand a "collaborator" on a post (video, reel, or photo).
How is this different from a normal tag? Rather than showing up on the separate "tagged" tab on your profile, collaborations will show up in your main grid and show cumulative likes from followers and users on both accounts.
In this example, Netflixisajoke collaborates with actor Will Arnett for a post promoting the upcoming series, Murderville.
This feature is a wonderful way to get exposed to a new relevant audience, build awareness, and boost engagement.
Use a trending sound
As we mentioned earlier, using trending sounds, filters, and styles of posts can help you stay relevant and resonate with your audience. When you do this, your reel will also appear on the feed for that specific audio clip, exposing it to a new audience.
Mastering Instagram video marketing strategies
Now, if this seemed like a lot to know, well, it is. The fact is Instagram video has evolved since it was first introduced to the platform in 2013 and it is more difficult to navigate than ever before.
However, with these tips, some thorough experimentation, and staying on top of any new features and trends, you can create an Instagram video marketing strategy that achieves your goals.
Want to dive more into Instagram and social media strategy? Grab your free copy of "The Essential Guide to Social Media Marketing for Business [2022 Edition]."
Free Assessment:
How does your sales & marketing measure up?
Take this free, 5-minute assessment and learn what you can start doing today to boost traffic, leads, and sales.