Subscribe
Join 40,000+ sales and marketing pros who receive our weekly newsletter.
Get the most relevant, actionable digital sales and marketing insights you need to make smarter decisions faster... all in under five minutes.
Thanks, stay tuned for our upcoming edition.
Twitter fails to buy Clubhouse, whose creators can now make money... so what?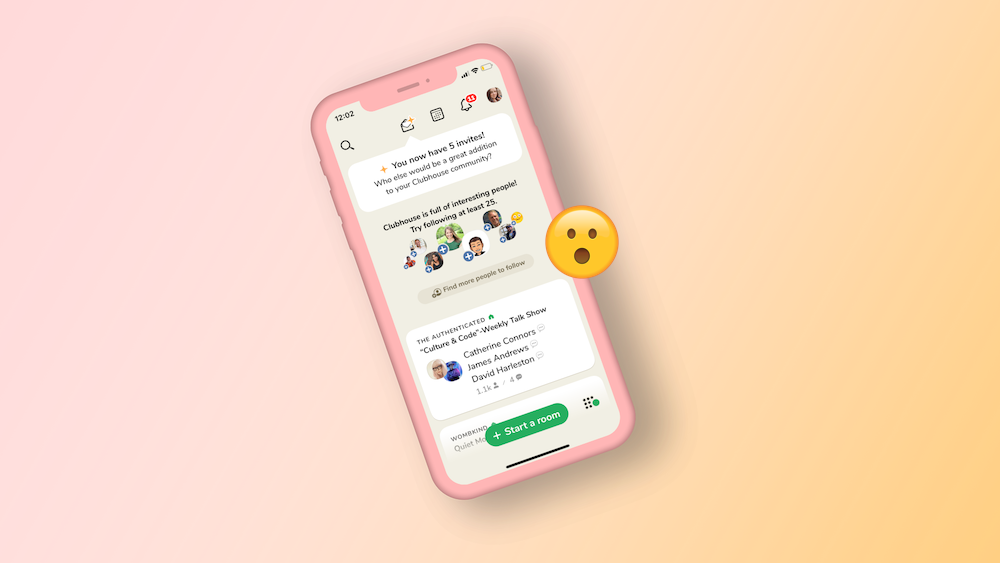 OK, between the Twitter acquisition rumors and the creator monetization news, it's been a pretty big social media marketing news week for Clubhouse. But even with all the fanfare, is Clubhouse now relevant to you or your brand's current digital marketing strategy?
Honestly, no.
Even if Clubhouse goes onto be a booming success, my answer is no. Stories like this, on the whole, annoy me, because they are a distraction for brand leaders and digital marketers like you from what you should be working on.
🎓 Free IMPACT+ course: Fundamentals of social media marketing for brands
If you're an avid Clubhouse user, I want you to stow your pitchforks momentarily and hear me out. There's a very specific reason I feel so strongly about this, but let's start by talking about how we got here.
First, what's going on with Clubhouse?
To begin our story together, I need to take you fine humans behind my velvet content curtain for a second. Prior to yesterday afternoon, this was the meat of my opener to this article: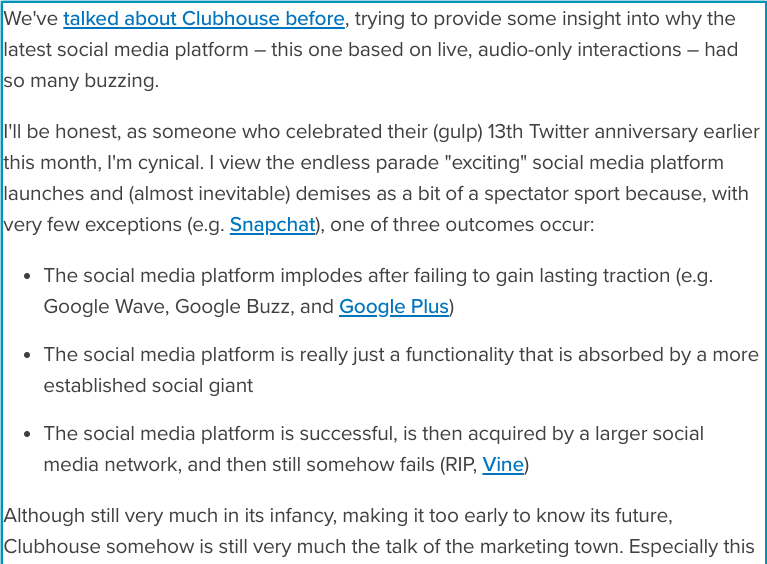 You see, originally this little ditty was going to be about the fact that Clubhouse – the audio-based interaction social media network – let everyone know they were going to be offering monetization features to creators on the platform.
Apparently, however, in addition to being a digital marketing content creator, I'm a wizard with fortune-telling capabilities. Within moments of moving on from the above copy with this zippy little 1990s/2000s throwback of a transition...

...this fortuitously timed message came roaring across our internal Slack channel for breaking industry news as I sat down at my desk to wrap up my piece: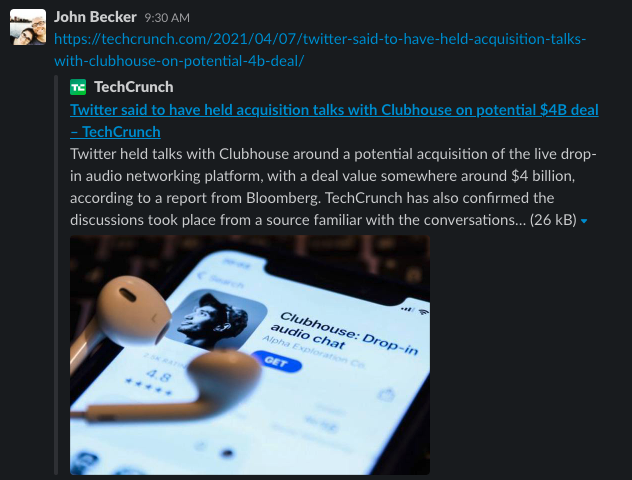 That's right, two major updates dropped this week about the internet's latest little social media darling.
1. Clubhouse creators can now charge money
As I already mentioned, although still very much in its infancy, the Clubhouse team made the somewhat surprising move to go ahead and offer monetization opportunities for creators:
"From the earliest days of Clubhouse, a guiding principle has been to build a platform that puts the creator first. Our aim is to help creators build community, audience, and impact. And as Clubhouse continues to scale, it's important to us to align our business model with that of the creators—helping them make money and thrive on the platform."
Clubhouse also said it won't be taking a cut of those tipped payments for creators. On top of that, it was announced this is merely the first of an array of to-be-released features that will empower creators to be paid for their contributions by their audience.
2. Twitter wanted Clubhouse for $4B and failed (maybe)
That's right, according to a scoop from Bloomberg that dropped yesterday afternoon, Twitter held talks with Clubhouse to takeover the budding social network for $4 billion (following a similar valuation from investor funding talks)... but those talks have since fizzled out:
"The companies discussed a potential valuation of roughly $4 billion for Clubhouse, the people said, asking not to be identified because the matter is private. Discussions are no longer ongoing, and it's unclear why they stalled, the people added.

A Twitter spokesman declined to comment. A Clubhouse representative didn't immediately respond to a request for comment."
Is this really that surprising, though?
The answer to that question should be "no," and here's why:
Again, my beef (which is coming shortly) aside, it's clear a lot of people and thought leaders and others with clout love Clubhouse. In a social media world dominated by written text, photos, and videos, the audio-only approach has captured imaginations around the globe, and that can't be denied.
Unsurprisingly, Facebook was rumored to be building their own "Clubhouse-esque" feature (married with some parts of Instagram Live) which is now known as "Hotline." And then Twitter was trying to do the same thing with something called "Spaces."
In short, Clubhouse has clearly struck a nerve and – for now, at least – it seems as though this "live, audio-only" approach to social media is viewed as having the potential to be the next "Stories" function... which everyone (Facebook, Twitter, LinkedIn) shamelessly stole from Snapchat not too long ago.
What about the creator monetization stuff?
Overall, the response has been positive from the personalities, thought leaders, and personal brands, including from friend of IMPACT Brian Fanzo: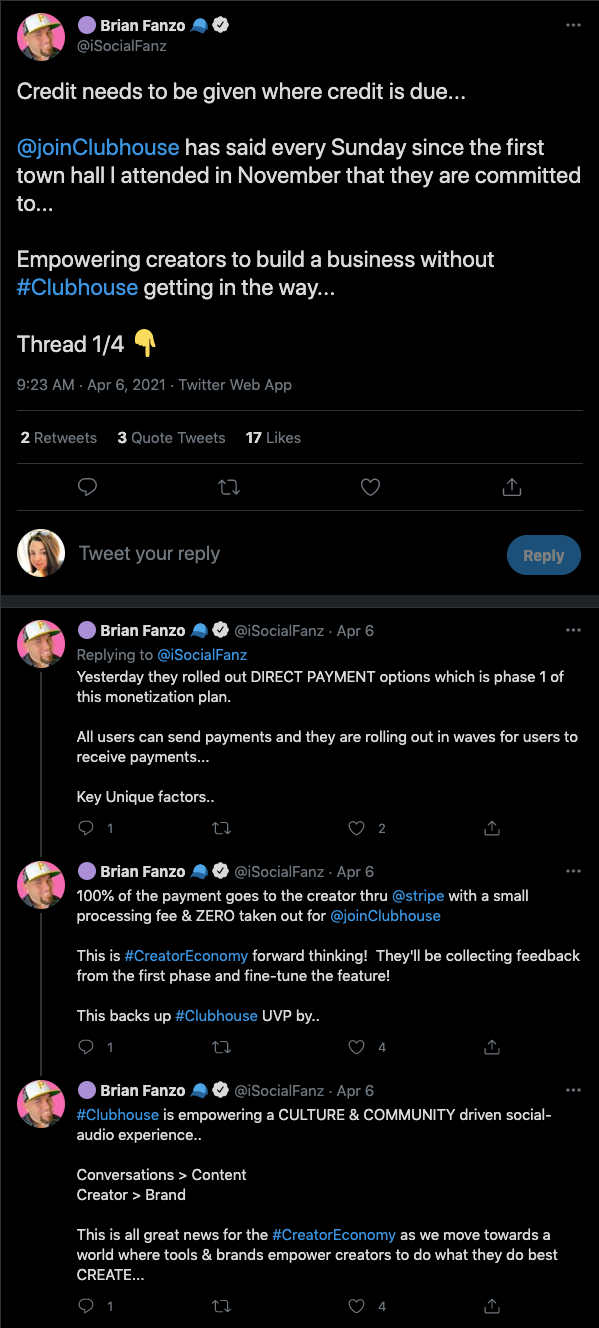 But as I was trolling through Twitter and other spaces online, I kept noticing something. Yes, people were really excited about Clubhouse, but moreso for the individual, rather than it being an opportunity for brands.
Even Fanzo above makes the note in his thread, "Creator > Brand." And this is something that has jumped out at me from the beginning – which brings me back to my initial point from earlier.
This focus on the creator at Clubhouse is great!
And it's also why I deem it more noise than substance for most companies right now. Those that are currently laser-focused on trying to drive traffic, leads, and sales with a proven digital marketing strategy – whether that's content marketing, They Ask, You Answer, or something else.
What's the opportunity with Clubhouse really?
So, I know more than a few of you (including a few people I adore) have a lot of feelings about me declaring Clubhouse is a distraction and noise... more specifically, feelings like:
"Liz, that's a bad take. Like, you're a beautiful marketing sunflower and I love you, but... you are wrong and have never been wronger."
Here's the thing, folks. If you find yourself agreeing with the above sentiment, I want you to know that we're both right.
You are right in that there's something there with Clubhouse. What the future holds, who knows, but I'm on board with you of it being worthy of awareness and understanding.
And, for a certain group of people, strategic attention.
That being said, I am also right in that digital marketers and business leaders for SMBs should have awareness of it, and also not put energy or strategic focus toward it at this point in time.
I say that for a few reasons:
As I noted above, there's a clear bent toward creators over brands. Clubhouse is a fascinating place for individual personalities to flourish, to collaborate with other individual personalities, and so on.
Also, when you're calibrating your efforts around, say, a B2B digital sales and marketing strategy with a specific service area – e.g., an IT provider in the Baltimore area – I doubt Clubhouse will reach the density/volume of the ideal buyers you're trying to reach that will make the effort you put into a unique content strategy there worth it.
Brands don't really win at Clubhouse
Additionally, when you move beyond the influencers, thought leaders, and bold personalities, the brands that have dabbled in Clubhouse (those with traffic, leads, and sales goals) are still rather lukewarm, even though they see promise...
"We're moving away from it because it's not something that is super conducive for people who can't align it with their schedules." – Lindsey Carter, Set Active
And here's another one:
"Last month, dog food brand Pedigree partnered with three Clubhouse moderators for a conversation on the benefits of pet ownership as it relates to mental and physical health. Listeners could click on the dogs' profile image to learn more and potentially adopt. The campaign landed four dogs a permanent home, per Craig Neely, vice president of marketing at Pedigree parent company, Mars Petcare.

However, the brand doesn't currently have plans to do it again.

'We look forward to seeing how Clubhouse grows and will continue to look for new opportunities and platforms where we can further our mission of ending pet homelessness,' Neely said."
Additionally, big brand leaders noted that they prefer tested, larger platforms (like Twitter and Facebook) with a proven, robust infrastructure. Social giants that possess the ability to pivot should there need to be changes, improvements, and so on.
Again, while Clubhouse shows promise, the overall themes I'm seeing from businesses who need to rely on their digital strategies to deliver is that it's too small, too untested. It's not operating at the enterprise scale of efficiency, experience, and returns needed to call it a sure bet in a marketing strategy.
Watch Clubhouse, but don't set a move-in date
That's the moral of the story here for you business leaders and digital marketers embedded at the millions of SMBs around the world.
There is clearly something to the live, social audio approach. Something that will either turn Clubhouse into a giant in its own right, a profitable acquisition for one of the other big players, or something that gets run out of town when the big ones integrate the audio features people love into their tested platforms.
🔎 Related resources:
There also may be paid advertising opportunities in future, which will be a massive opening for the right companies.
Of course, you may already be a big enough brand right now where some of your leading experts may have opportunities to forge human connections through Clubhouse. If that's the case, great! If you have the space for experimentation, as well as trial and error, get in there.
However, unless you're reading this and you are a thought leader with time, the desire to experiment as an early adopter, and the validated knowledge that your audience will be interested in meeting you there, your only actions should be:
Enjoy it as a consumer, if thought leaders you like are there.
Keep an eye on how it grows and evolves, either on its own or as features in platforms you already use as part of your strategy.
Otherwise keep your focus on the tactics that you know will move the needle (revenue-generating content, business videos that get results, and so on)... for now.
Free Assessment:
How does your sales & marketing measure up?
Take this free, 5-minute assessment and learn what you can start doing today to boost traffic, leads, and sales.