Top design tips for e-commerce website success in 2021 [Infographic]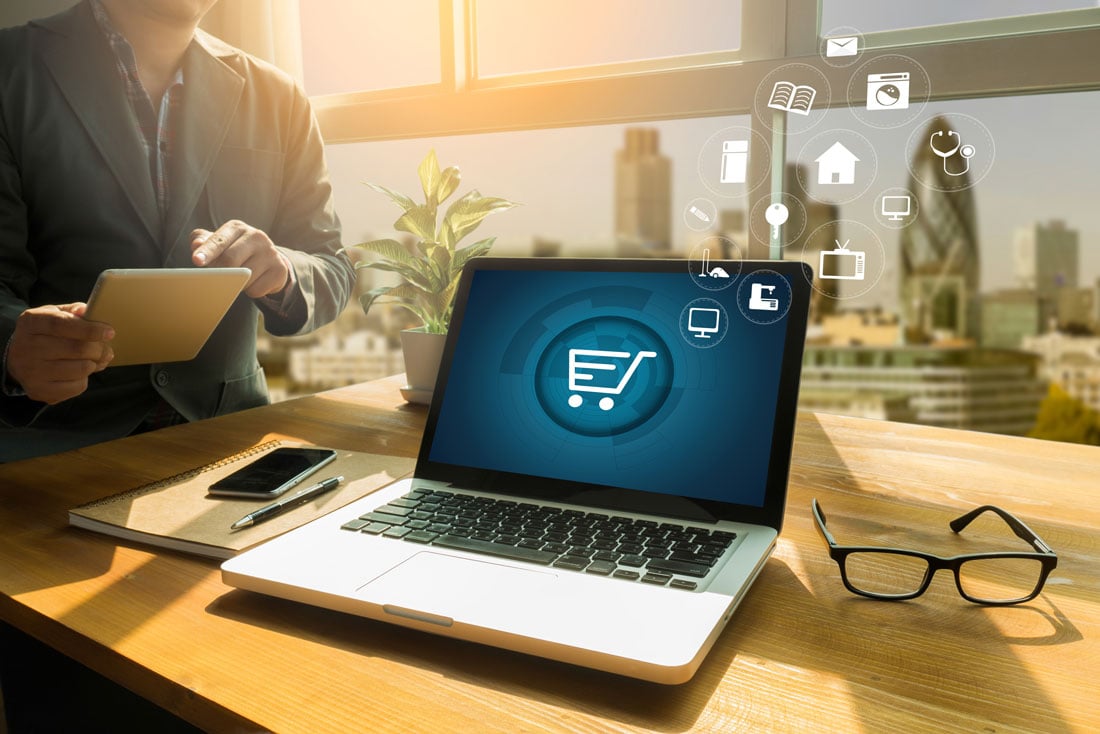 In our digital age, it's no secret that the world of e-commerce continues to expand. From online retail stores to social media shopping features, consumers are finding limitations of location or access to specific goods irrelevant as they search for and make purchases with a tap on their computer mouse or mobile screen.

Now more than ever, e-commerce is playing a larger role in not only how we shop, but how we live.
While consumer shopping habits had already been leaning toward digital retail spaces, COVID kicked those changes into high gear—widely and rapidly. Research by Shopify found that "consumers worldwide are buying items rarely purchased online before the pandemic like groceries, health and hygiene, and home essentials."

Accenture also found that, "the home continues to be the focus for living, working and shopping (despite restrictions lifting)." In fact, e-commerce sales in the U.S. rose more than 30% from Q1 2020 to Q2, and more than 44% from the same quarter 2019 with the top markets including home decor, fitness, and general home lifestyle goods.

And it's not just the retailers, consumers are looking to other businesses to amp up their digital capabilities as well. According to a Salesforce survey, 68% of consumers said COVID-19 elevated their expectations of companies' digital capabilities.

For many, this means considering e-commerce for the first time.
🔎 Related article: 4 questions to consider when building an e-commerce storefront for your small business

Now, it's one thing to add e-commerce functionality to your brand's site, but it's another to make that functionality user friendly and appealing to online shoppers.
A seamless buying experience from search to checkout not only means fewer abandoned shopping carts and more sales, but also a higher likelihood of advocates and return customers. In fact, customers who have a poor experience on a mobile website are 62% less likely to purchase from that brand again.

The team at The One Technologies compiled a list of some pretty important tips to help brands improve or launch their e-commerce capabilities in 2021.

Simple and straightforward, the tips found in this infographic guides users to ensure their e-commerce site follows design best practices to achieve digital retail success. Some key takeaways include:
Make branding a priority. Retail or not, branding is vital to building trust and ensuring users aren't interacting with a faceless company.
Nothing kills a check out faster than a clunky check out page. Be sure to simplify your check out page, and remove extra steps or distractions that can cause friction in the overall check out process.
Loading up your menu with every product option can seem helpful, but too many can keep your visitors from finding what they're looking for. Keep it simple.
Check out the infographic below:

Looking for some more design inspiration for your e-commerce site? We've compiled a list of six website examples every e-commerce brand needs to see here.
Free: Assessment
Does your website build trust with buyers and bring in revenue?
Take this free 6 question assessment and learn how your website can start living up to its potential.