4 questions to consider when building an e-commerce storefront for your small business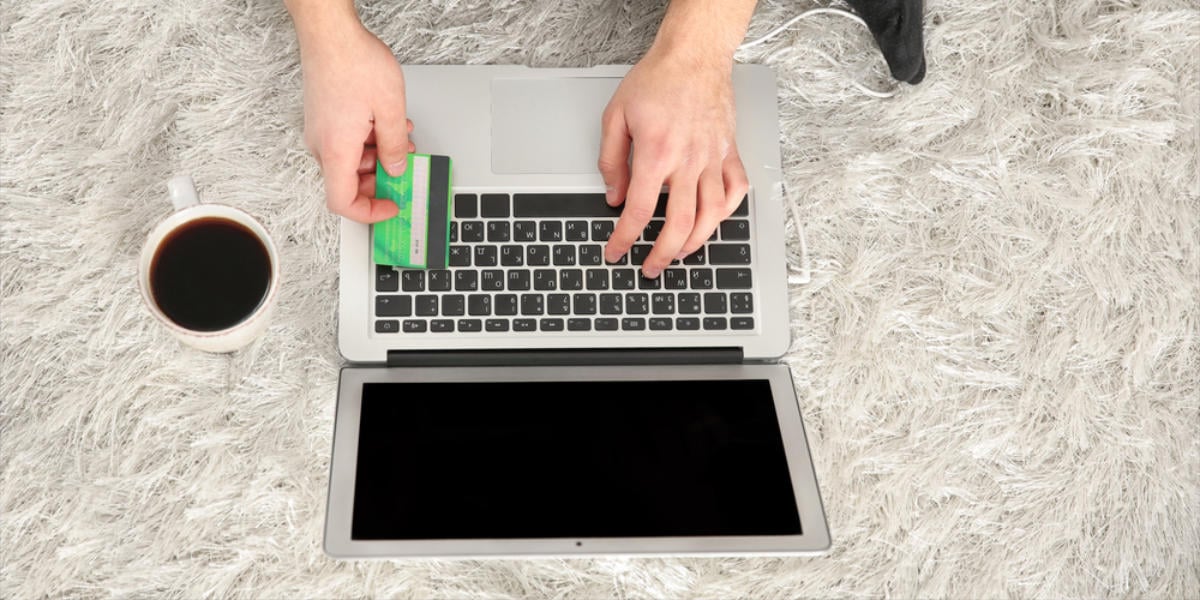 Given how volatile the economy has been during the pandemic, coupled with the fact that many small businesses are prohibited from having customers in their stores, more and more people are turning to e-commerce in order to stay afloat.
That likely includes you. You're probably feeling anxious and overwhelmed. You feel a need to pivot quickly or risk going out of business, but you don't know exactly where to start or what to do.
You know you need to start selling your products online, but you can't afford to make any mistakes or spend too much money in the process.
Fortunately, it's never been easier to sell items online.
There are countless solutions that can help get you and your business up and running with an e-commerce storefront quickly.
As someone who's worked on a variety of e-commerce projects, I know the pain points of trying to sell things online, including taxes, payment processors, inventory, and shipping.
I've boiled this complicated process down into four simple questions to help guide you through the decision-making process.
Not only will I help you determine what e-commerce platform is best for you, but I'll also help you understand the difference between popular e-commerce platforms and what you need to be responsible for when selling things online.
1. "Should I build my own storefront or use an existing marketplace?"
The first thing you'll want to determine is whether you should build your own storefront or use an existing marketplace like Etsy, Amazon, or eBay. This is a complicated question, but there are some keep considerations to help you determine your next move.
Building your own storefront
If you build your own storefront, you'll have more control over how it looks and functions but it usually takes more time to get up and running. You might also need to hire a web developer to help with the initial setup.
The advantage of this is that you're not locked into a specific service, and therefore have more freedom to change things to meet your needs.
The disadvantage is that you're responsible for configuring the store for shipping, inventory, taxes, and payments. Configuring these settings can be overwhelming, confusing, and above all, time-consuming since there are many variables at play. Fortunately, services like WooCommerce and Shopify can help take care of these issues.
Using third-party marketplaces
If you choose an existing marketplace like Etsy, Amazon, or eBay you can get up and running almost immediately, but at the expense of having complete control.
You also don't need to worry about setting up the infrastructure such as web hosting, transactional emails, and payment processors to sell online.
You also have the advantage of selling on a platform that already has millions of users and search algorithms to reach them. This is huge in a crowded market, but conversely, it puts you at the mercy of the platform.
The marketplace in which you sell your goods has complete control over when and how your products are displayed. Updates to their algorithm could affect how many people find your product. Plus, you're also competing with thousands of other merchants who might be able to more easily undercut your prices.
From my experience, you're better off building your own storefront. Even though existing marketplaces seem easier upfront, you can still use services like WooCommerce, and Shopify to create e-commerce storefronts quickly without too much technical knowledge.
That being said, let's assume this is the path you're taking.
2. "What e-commerce platform is right for me?"
Although there are many platforms that allow you to build your own e-commerce storefront, I'm going to focus on WooCommerce and Shopify. Both these platforms are established, battle-tested, and have great support.
WooCommerce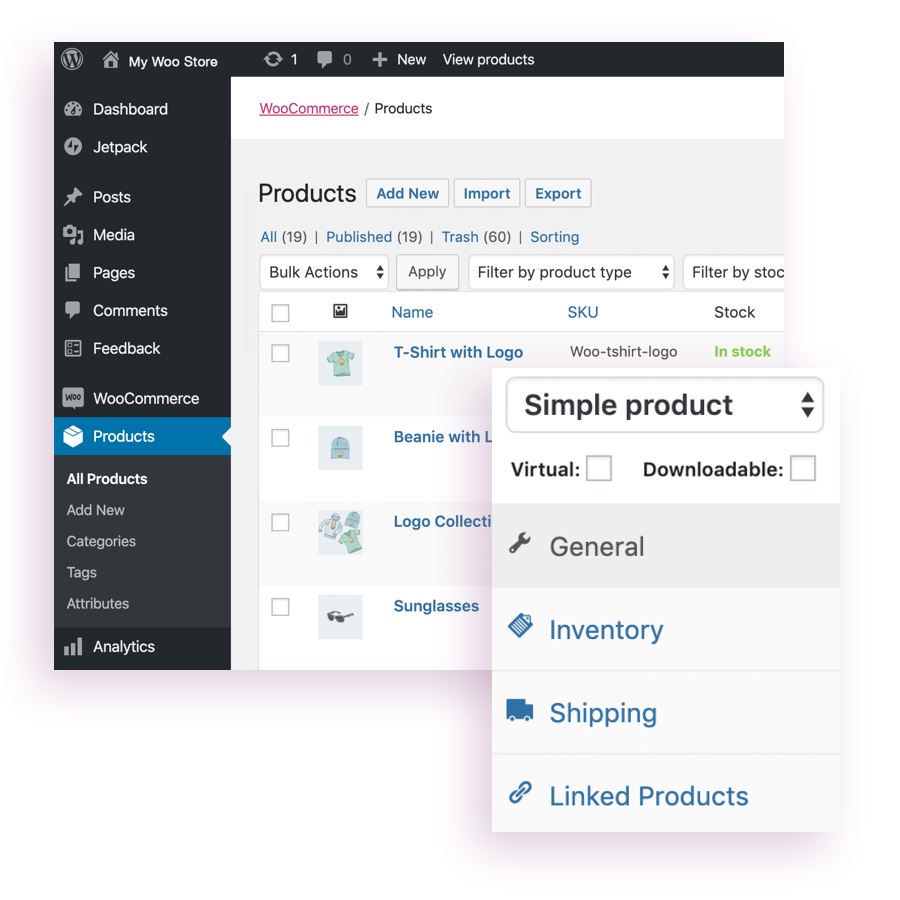 WooCommerce is right for you if you have experience with WordPress since WooCommerce can only run on that platform.
This also means you're responsible for updating your WordPress plugins and handling any server issues that may come up. Fortunately, services that specialize in WordPress hosting such as WPEngine or Pressable solve these problems.
However, if you don't yet have an existing website, or you don't want to be burdened with hosting your own site, you could choose to have WordPress host your store for you.
WooCommerce is the official e-commerce plugin for WordPress, so it's out-of-the-box features are free, and are more than enough to help you get up and running quickly. This includes inventory management, tax and shipping configuration, and the ability to connect to a payment processor like PayPal or Stripe.
If you need additional features such as customized shipping options or the ability to add variable products, WooCommerce offers a massive list of extensions to help meet your needs.
Although WooCommerce does a lot to help you configure your store, you're still responsible for things such as connecting it to a payment processor (like PayPal or Stripe) and configuring shipping rates. This can all be challenging if you have limited experience.
Finally, you'll most likely need to use a transactional email service like SendGrid or Postmark to ensure confirmation emails are delivered from your store to your customers. Even though WordPress and WooCommerce make this a bit easier, it does require you to have enough technical sophistication, for example, comfort installing WordPress plugins, to have it configured correctly.
Shopify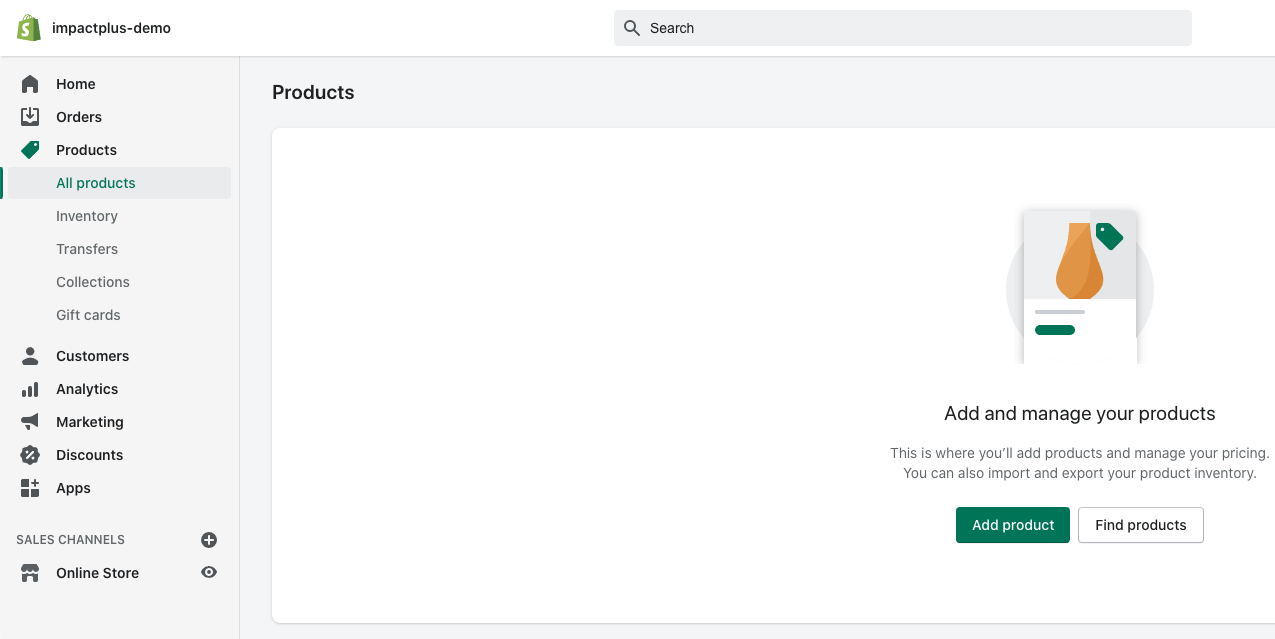 Shopify is right for you if you need to get something up and running in a day, and have little or no experience with building a website.
Their platform allows you to either build an all-in-one storefront with one of their customizable themes or integrate with your existing website by embedding products. Shopify can be embedded on CMSes including Weebly, WIX, SquareSpace, and even WordPress.
This means you're free to choose whatever platform to host your site on.
Unlike WooCommerce, Shopify handles payments out of the box, meaning you don't have to hassle with connecting to a payment gateway. It also handles transactional emails such as order confirmations and shipping updates for you.
Finally, Shopify connects to a point of sale system which keeps all your orders in one place. A point of sale system allows you to sell your products both online and in-person, all while keeping track of orders, inventory, and customers in one place. This is incredibly valuable since it allows you to sell anywhere, and not be limited to just an online store.
In short, Shopify allows you to get up and running without having to configure a whole lot on your own, but that being said, it's not for you if you want complete control over your website and storefront.
Although they have an extensive theme library, you may not find something that perfectly meets your needs.
Shopify might also not be for you if your website needs to serve as more than just a storefront; for example, if your business needs a website with features that extend beyond a basic blog (think advanced search, user login, store locator, directory listing, etc.).
Shopify is only concerned with e-commerce and simple marketing and is not meant to be customized beyond that context.
Also, Shopify imposes limits on how many users you can have per account, whereas WooCommerce does not. This could be a problem if you'll need multiple employees to have access on the site.
3. "What am I responsible for when running an e-commerce storefront?"
Although WooCommerce and Shopify take care of a lot of the heavy lifting when it comes to running your e-commerce storefront, they don't solve all your problems.
You're still responsible for managing inventory, fulfilling orders, handling disputes, and charging taxes. Both WooCommerce and Shopify make it easy to manage these responsibilities, but they don't do everything for you. Let's compare how these are tackled in each platform.
Inventory management
No matter what you choose, it's still your responsibility to ensure you're inputting the correct information when adding products to your e-commerce storefront.
Both WooCommerce and Shopify do an excellent job of tracking inventory as orders are processed and even go as far to hide out of stock items or warn users when an item is low in stock. However, you will still need to update your inventory within either platform.
This can become even more challenging if you're selling variable products, such as clothing that come in multiple sizes.
Fulfilling orders
Unless you're drop-shipping your products which is a retail fulfillment method where a store doesn't keep the products it sells in stock, you will be responsible for fulfilling orders. This means you'll need a place to store your inventory, prepare your packages, and track orders.
Both WooCommerce and Shopify offer the ability to integrate with couriers like UPS, DHL, FedEx, and USPS. This means you can print shipping labels, and even calculate shipping costs from the comfort of your home.
However, you need to make sure you're only offering items to customers you can actually ship to. For example, you'll need to determine if you're willing to ship internationally, and you'll also need to determine what courier will offer the turnaround and services you need.
You'll also likely want to send tracking details to your customers. Both WooCommerce and Shopify offer this, but it's usually up to you to add the tracking numbers in order for the correct emails to be sent to your customers.
Handling disputes
Most importantly, you'll need a way to handle disputes with customers. Maybe their package was never delivered, it was damaged, or simply didn't get delivered on time.
Maybe the customer ordered the wrong item and is looking for an exchange. Maybe they are not satisfied and want a refund. Whatever the case, you'll want to make sure that you make it as easy as possible for a customer to contact you. Not only that, but you'll want to keep these conversations organized and in one place to make fielding them easy.
Shopify allows you to create contact forms, and because WooCommerce is built on WordPress, you can easily create a contact form using a WordPress plugin. This is super valuable because it gives you an easy way for your customers to get in touch with you when things go awry. Not to mention you can generate leads from these forms.
Finally, you'll want to have clear language on your site regarding store policies such as returns, exchanges, and shipping. This is best solved with a highly visible FAQ page where you address any and all concerns a customer may have. Both WooCommerce and Shopify allow you to easily create simple pages, such as an About page or FAQ page.
Charging taxes
Depending on where your business is located and where you're shipping to, you'll most likely need to be responsible for taxing the items you sell.
Both WooCommerce and Shopify make it easy to calculate how much sales tax should be collected, but it's still your responsibility to ensure you're following the law. The calculations provided by both platforms are merely suggestions, but they don't know the intricacies of your product and location. For example, not all states charge tax on food and clothing.
You'll also want to make sure you can easily share and export your sales data, which both WooCommerce and Shopify offer. This is important if you live in the United States since you are required to file your taxes every year. Finally, you should always check with a local tax authority or a tax accountant to make sure that you charge your customers the correct sales tax rates, and to make sure you file and remit the taxes correctly.
My e-commerce storefront is live. Now what?
Now that you've picked a platform that meets your needs and you know what your responsibilities are, you're probably eager to hit the ground running and start making some sales. This is where having an effective inbound marketing strategy will come into play.
Tap into an existing distribution list to promote sales, offer deals, rewards or highlight featured products, and drive traffic. Don't have one? Make sure you add a signup form on your website immediately.
You'll also want to use features like related products and upselling upon checkout to encourage users to make additional purchases and feature more items. Also, consider allowing users to be able to leave reviews.
This will not only help additional customers find the right product but will also allow you to make improvements with your products by addressing your customer's concerns.
Free: Assessment
Does your website build trust with buyers and bring in revenue?
Take this free 6 question assessment and learn how your website can start living up to its potential.