5 Brands That Are Absolutely Killing It on Twitter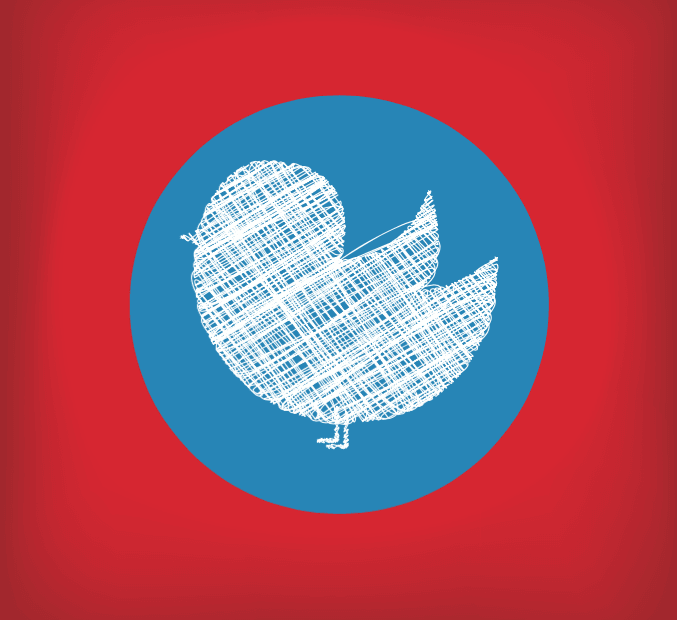 We recently came across an article from Moz's Rand Fishkin on marketing predictions for 2015.
While there are a ton of these posts making their way around the web, when an influencer like Fishkin gazes into his magical marketing crystal ball, we take note.
In the article, he foreshadowed major growth in terms of Google's indexation of Twitter posts, which particularly caught our interest.
While we're already loving Twitter for content distribution, relationship building, and brand awareness, this type of SEO value could mean big things for brands.
In order to gear up for what could be a huge year in social media marketing, we've scoured the Twittersphere for brands that are doing it right.
Let's see what they're up to...
Innovative photographers, thrill-seekers, and athletes of all ages come together to "ooh and aah" over GoPro's collection of hyper-engaging social content.

From videos of adrenaline-fueled mountain climbing adventures to unbelievable skydives, GoPro is committed to curating exactly what their audience wants to see while simultaneously highlighting the capabilities of their product.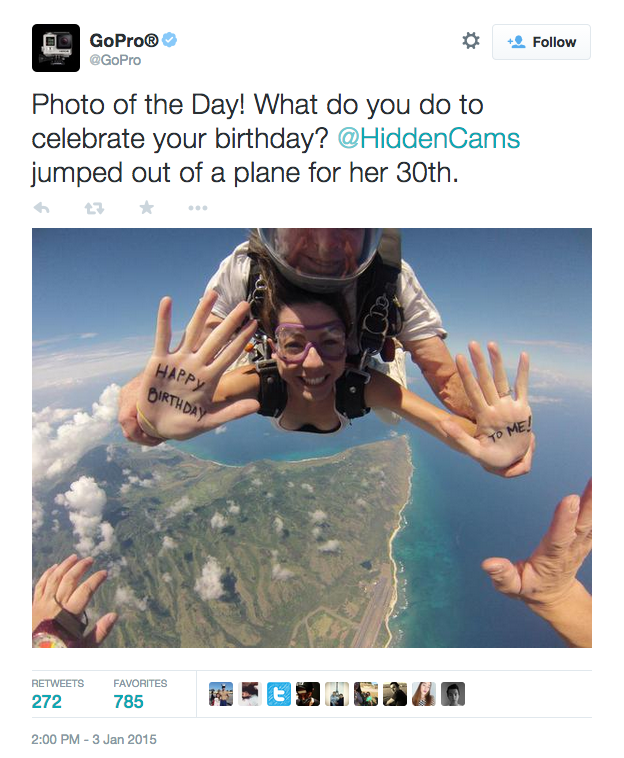 Their "Video of the Day" and "Photo of the Day" campaigns aim to drum up audience involvement by inviting users to share their favorite GoPro moments for a chance to be featured on their account. Not to mention, they make it easy for users to take action by including a content submission link right in their Twitter bio.

Their approach is quite simple - give the people what they want.
Even if you don't have a "sexy" product like GoPro, being able to tailor your content distribution to the specific interests of your ideal audience will bolster your engagement.
For years Skittles has been committed to making a colorful name for themselves, and their Twitter account reflects just that.

They are the perfect example of a brand that isn't afraid to be themselves. They know their voice, and they own it through off beat, witty social quips and interactions with fans.

Check it out:


By employing a first person approach in their social messaging, Skittles starts to feel more like a friend and less like the fruit-flavored division of the global manufacture, Mars, Inc.

Essentially, this approach helps them distinguish themselves from ordinary candy brands by creating a sense of comradery and authenticity.
We love the idea of integrating your social media strategy with your content marketing strategy.
With that said, we've found that HubSpot does a phenomenal job of marrying the two through the implementation of "tweetable" blog posts that aim to encourage social sharing.

Check out this example: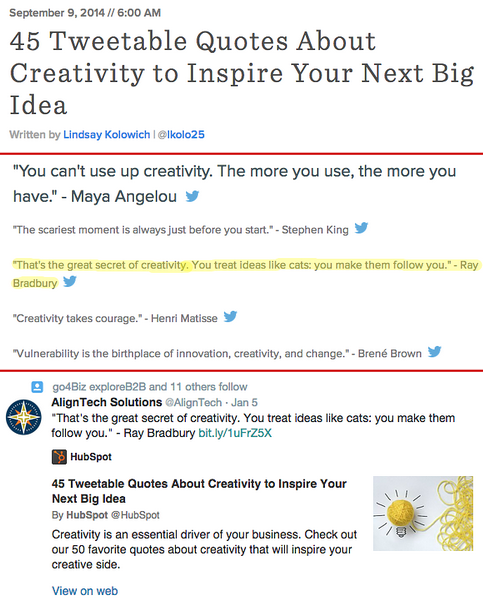 Not only are these types of post easy to curate, by the ease of shareability makes them a highly valuable asset in terms of generating a wider reach.
By eliminating any heavy lifting that would prevent a reader from passing the article along on social media, they are increasing the likelihood that their content will, in fact, get shared and engaged with.
When it comes to Twitter marketing, Dropbox is doing a lot right.
For starters, their presence is packed with valuable company news, updates, how-tos, and tips. All of this fresh insight helps to make a strong case for those considering following their account.
Not to mention, all of the resources they share help to drive traffic back to their website where users can stick around and discover even more assets.
However, our favorite social strategy from Dropbox is their incentive plan to increase social sharing. How it works is for each follow on Twitter (or Facebook like) Dropbox gives users a 125MB increase.
This approach serves as a strategic way to encourage people to engage with their brand and spread the word to attain the reward. Well played.
What kind of Twitter-themed post would this be if we didn't include the smart cookies behind the Oreo account?
While you've probably seen Oreo mentioned in every other social media marketing article you've ever heard, rest assure that it's for good reason.
Oreo has managed to build out a Twitter account that nearly every marketer is envious of.
How'd they do it?
A commitment to both creativity and consistency.
They host contests:
They interact with other brands: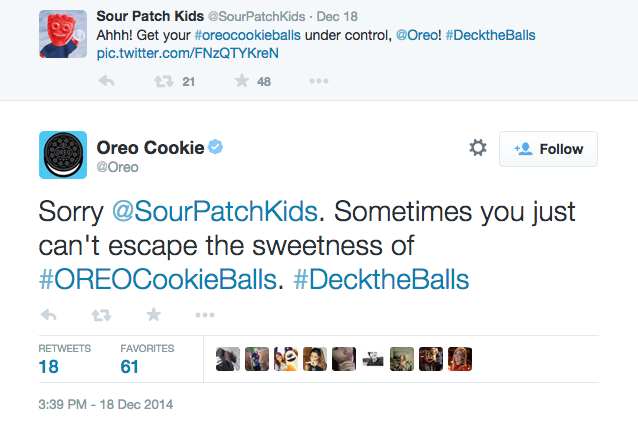 They educate:
AND hey spit rhymes..errr...haikus:
By prioritizing their social media strategy in this way, Oreo has set an excellent example for other brands looking to drum up conversations around their product or service this year.
What brands do you pull inspiration from on Twitter? What does your business have planned for Twitter marketing in 2015? Let us know in the comments section.
Free Assessment:
How does your sales & marketing measure up?
Take this free, 5-minute assessment and learn what you can start doing today to boost traffic, leads, and sales.