Subscribe
Join 40,000+ sales and marketing pros who receive our weekly newsletter.
Get the most relevant, actionable digital sales and marketing insights you need to make smarter decisions faster... all in under five minutes.
Thanks, stay tuned for our upcoming edition.
9 Brands That Brilliantly Newsjacked Star Wars: The Last Jedi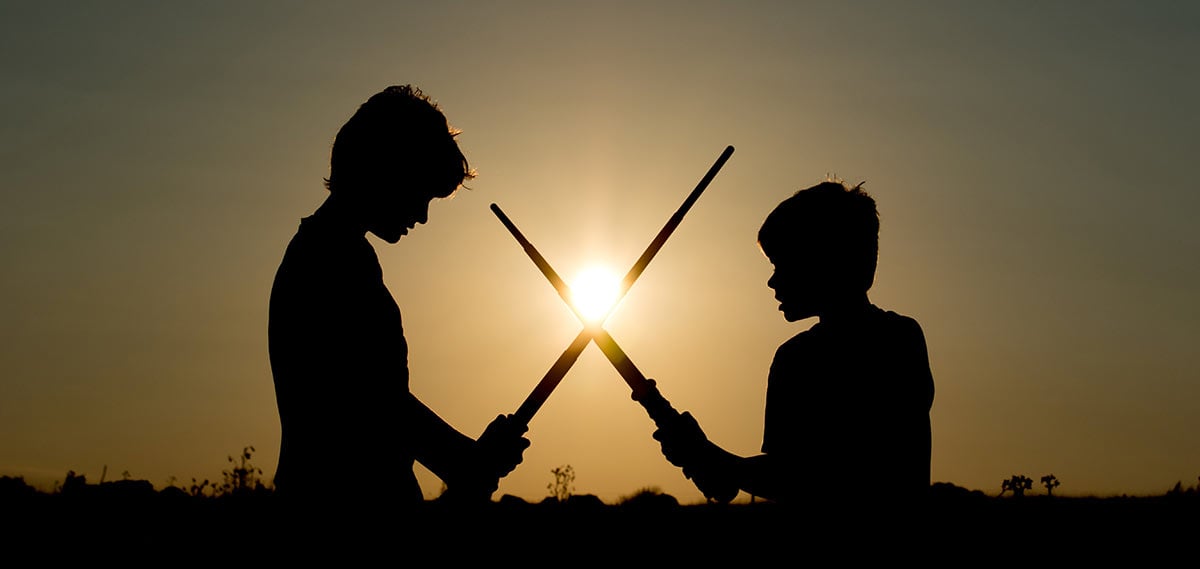 Recently, there has been a very intense force in the air.
Unless you live off the grid, then you probably already know that Star Wars: The Last Jedi has been quickly attracting viewers young and old these past few months. With Star Wars: Rogue One making 1.056 billion USD worldwide at the box office, one can only imagine what this year's film will hit.
While Disney's promotion of the movie was obviously a big part of its success, it wasn't the sole reason for its success.
Disney joined forces with many companies looking to deliver engaging experiences and unique products to help create further and anticipation. This newsjacking also acted as other ways to plant little 'movie reminder' seeds in viewers heads (while increasing sales to the participating companies).
As a quick reminder, Newsjacking is a term that David Meerman Scott defines as "...the art and science of injecting your ideas into a breaking news story so you and your ideas get noticed."
And these brands have definitely received an increase in engagement.
So let's take a look at how these companies partnered with Disney to newsjack the movie and the effects of each of their campaigns.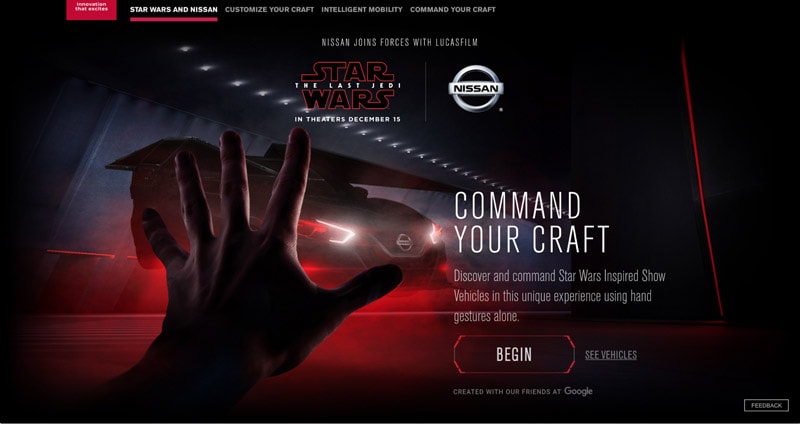 With augmented reality being such a intensely explored and highly discussed topic this past year, it's not surprise Nissan would venture into the medium.
Nissan gave users the opportunity to craft their own Star Wars inspired vehicles by picking your vehicle, selecting colors, decals, the side you're on, and other accessories. Once done, you can share the car on social media.
If you weren't interested in creating your own craft, you could instead choose one of their pre-designed cars and command its movements in a interactive experience that uses your hands to judge your gestures (with appropriate music playing in the background). While a little buggy at times, it's still pretty fun to try.
According to Amobee, this campaign helped increase digital awareness around Nissan's Automatic Emergency Braking technology by 60% which, if compelling to car buyers, can lead to some new Nissan car buyers.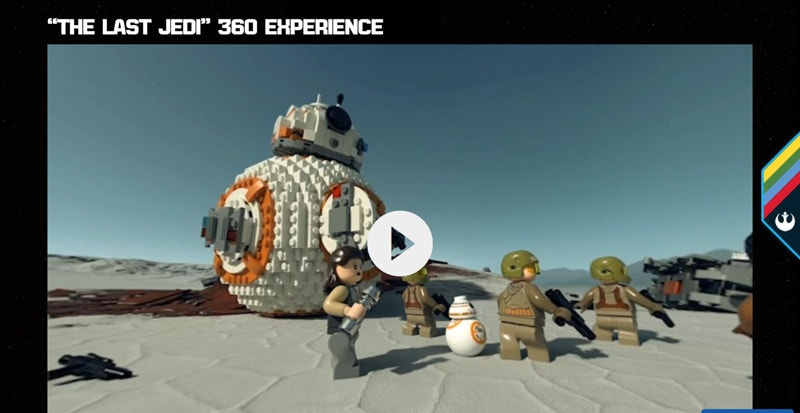 If you thought Nissan may have been the only one in the AR category for their campaign, think again.
LEGO created an amazing 360-degree video experience where you are placed into a LEGO adventure 'same time and location of Star Wars "The Last Jedi" '. While inside of the video, you are taken on a journey to help create vehicles from the movie and help battle the Resistance and First other to gain control.
For children who love imagining themselves in the Star Wars movies, this is a great way to keep their attention as they relive see their dreams almost come to life.
Overall, their Star Wars-related digital content helped them generate 62% as much engagement as EA (who had 48% engagement).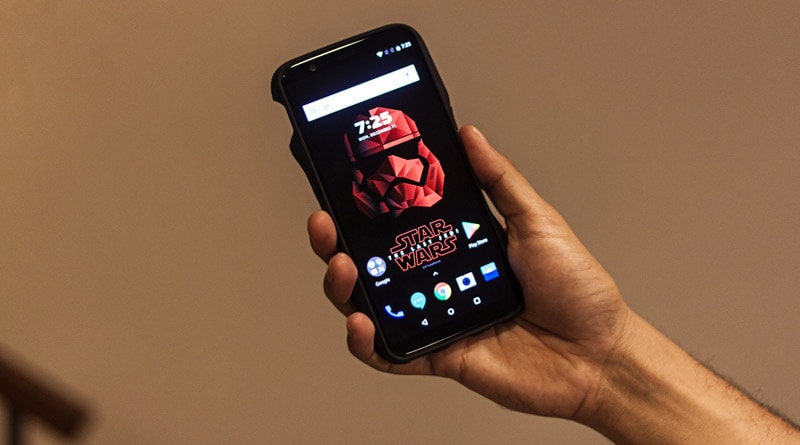 OnePlus decided to newsjack The Last Jedi bandwagon by creating a limited edition Star Wars themed phone. This variation came complete with a Crait-themed colorway, UI tweaks, and even a Kylo Ren-inspired case.
This piece is a great way to garner Star Wars collectors attention towards the phone so they can snatch one up before they're gone. Or, for those unfamiliar with the phone, this helps garner attention towards the other versions of the phone that people may be interested in purchasing (so long as the quality meets their standards).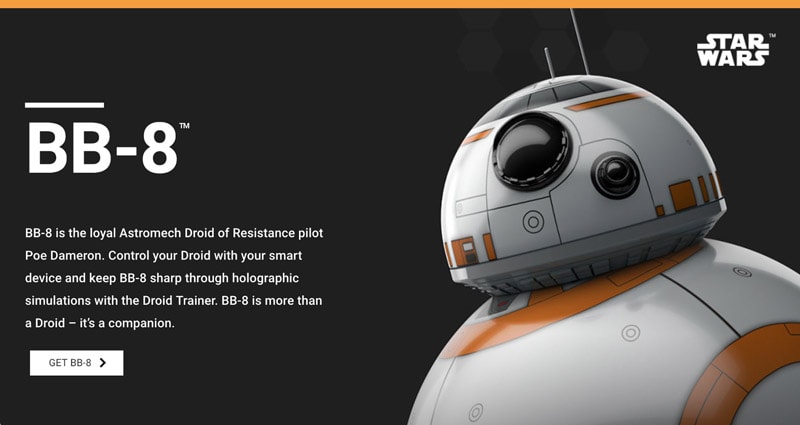 I'm not gonna lie, I love BB-8.
His personality and animations really brought him to life as a perfect companion in the movie, so much so that many, myself included, wished they could own their own.
Well, Sphero helped make that possible.
While not as big, you can purchase your own BB-8 for $129 and use their downloadable app to direct its interactions and movement wherever you bring it.
The droid also has a 'Watch With Me' feature which allows the droid to react to you by your side as you watch the Star Wars films.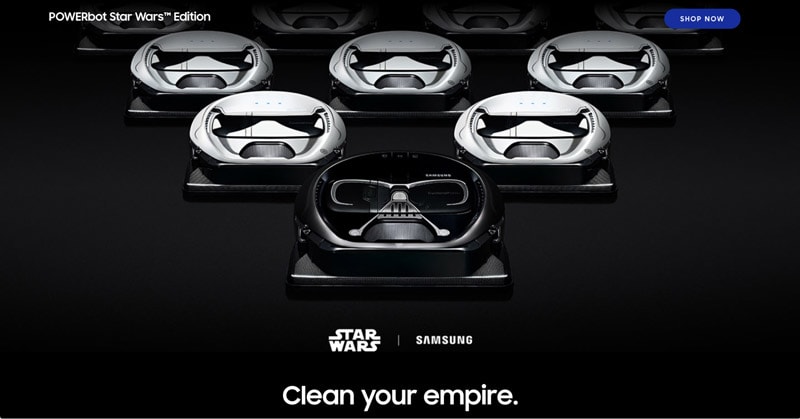 Sometimes, you just need a little help to clean your empire. Well, let Samsung's POWERbot help do that for you.
Along with your choices of Darth VaderTM and StormtrooperTM, the product comes with a FullViewSensor™ 2.0 that helps it avoid traps, special dust trappers, and a special app that enables you to control your POWERbot by touch or voice.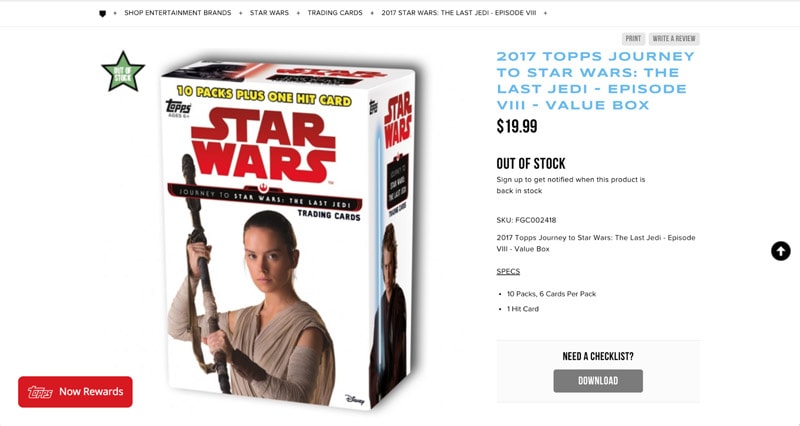 Card collecting is still a hobby that's very near and dear to many, especially when it comes to Star Wars.
So with the release of the newest movie, no one should be surprised that Topps came out with specially made cards. To make the cards even more attractive, lucky buyers may find ones with autographs, printing plates, or sketch cards with specially featured characters.
Amazingly enough, the set is already sold out on Topps website, so it will be interesting to see if people share what the specialty cards look like.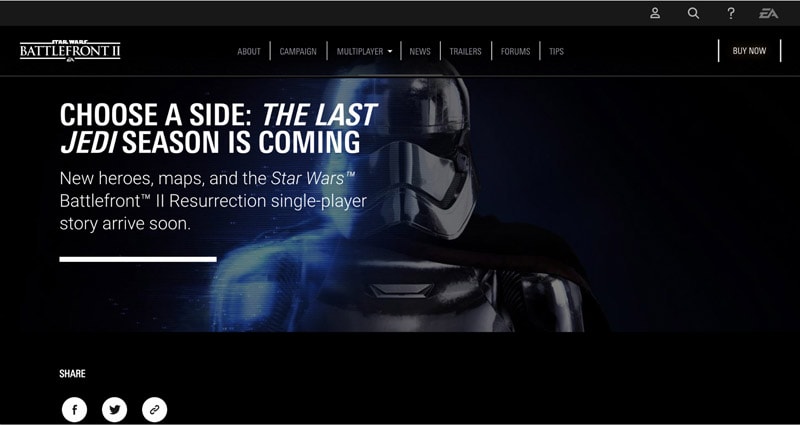 Out of all the companies listed thus far, EA had the most engagement, coming in at 48% of all EA digital content that was Star Wars related (between Nov. 10 and Dec. 10).
This should come as no surprise, especially with EA releasing Star Wars Battlefront II video game a couple of months ago. They already had the audience's attention on their Star Wars branded content before releasing any updates that were branded towards this movie.
The release of their Resurrection update with surely bring back any players who may have to fell off playing the game, increasing user retention for the time being.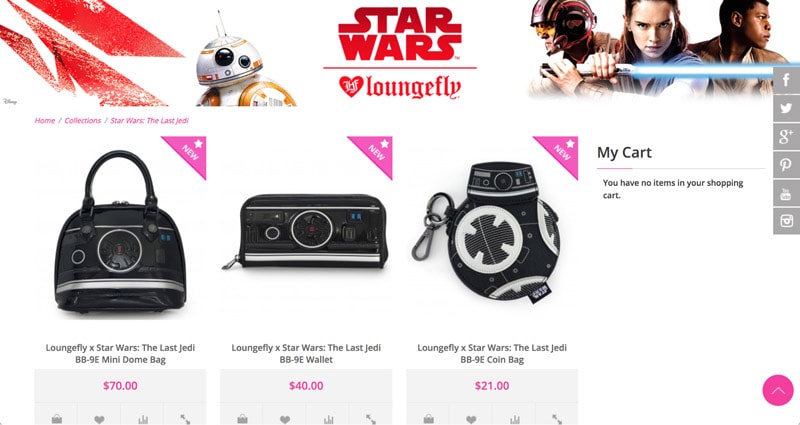 For those of you looking for a new Star Wars inspired fashion accessory to add to your wardrobe then look no further than LoungeFly.
The company has released a collection of purses, backpacks, and coin purses all designed within the shapes of specific characters, or themed by them.
This cobrand is a really awesome way for people to also invest in something practical while still staying themed to the movie.
Every droid needs a reliable network, and Verizon wants to be the one.
With this clip being a unique piece of content around the movie (but not using actual clips for it) it was able to garner attention from viewers anticipating the moving but hoping to avoid spoilers as well. It also gave viewers a first visual interaction between BB-8 and BB-9E.
While it may not seem obvious if you don't listen carefully, the commercial named dropped Verizon a multitude of times, making sure they got the most out of this 30 seconds of time to ingrain their name in your head.
Free Assessment:
How does your sales & marketing measure up?
Take this free, 5-minute assessment and learn what you can start doing today to boost traffic, leads, and sales.