The 7 Best Facebook Groups for Inbound Marketers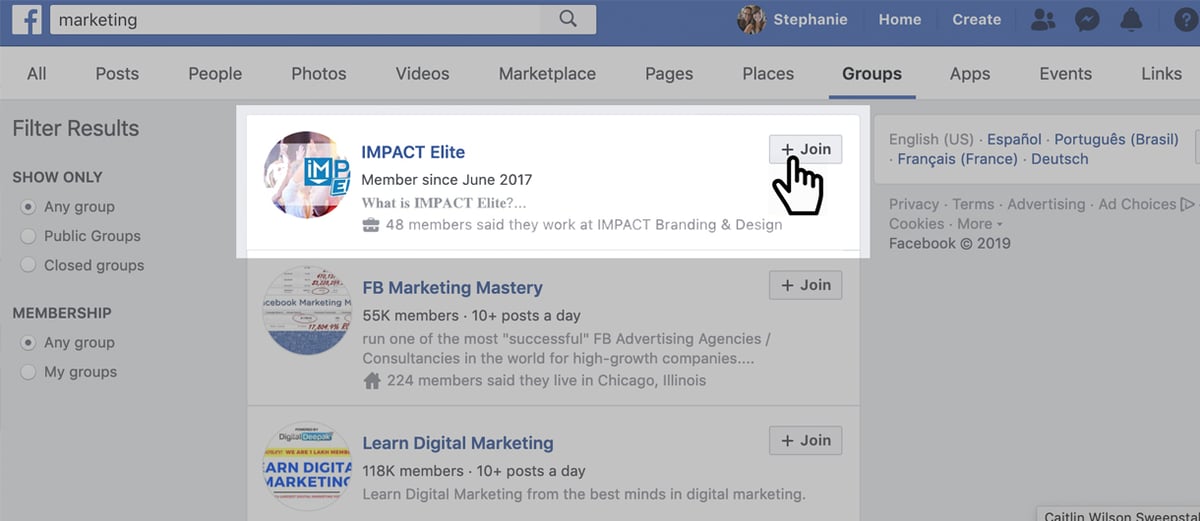 Best Facebook groups for inbound marketers:
The Daily Carnage
Word Workers
Social Media Managers Group
CXL - Conversion Optimization, Analytics & Growth
Digital Marketing Questions
Women in MarTech
Marketing Solved
As marketers, we all eventually encounter many of the same challenges.
Whether you're working on an email campaign and are trying to determine the best frequency and send times, or are writing new content and optimizing it for search engines, you'll run into something that makes you wonder "am I doing this right?"
Despite your best efforts to read blogs, books, and marketing news to stay on top of the latest trends, things are still constantly changing. It's a lot to keep up with. How can one person keep up with so many things?
The solution is joining an online marketing community.
Whether you're on a marketing team or are flying solo on your marketing journey, it can be comforting to know you're not alone.
Through a community, you can get answers to those burning questions from a trusted group of people who've been through it before. The hive mind of an online community takes some of the pressure off of you so you're not in it alone.
After all, why should we each reinvent the wheel every time we want to try a new marketing tactic?
Plus, when we do try something risky and it doesn't go as planned...who can we turn to? Your community is there for you - and I guarantee the members have similar stories to share.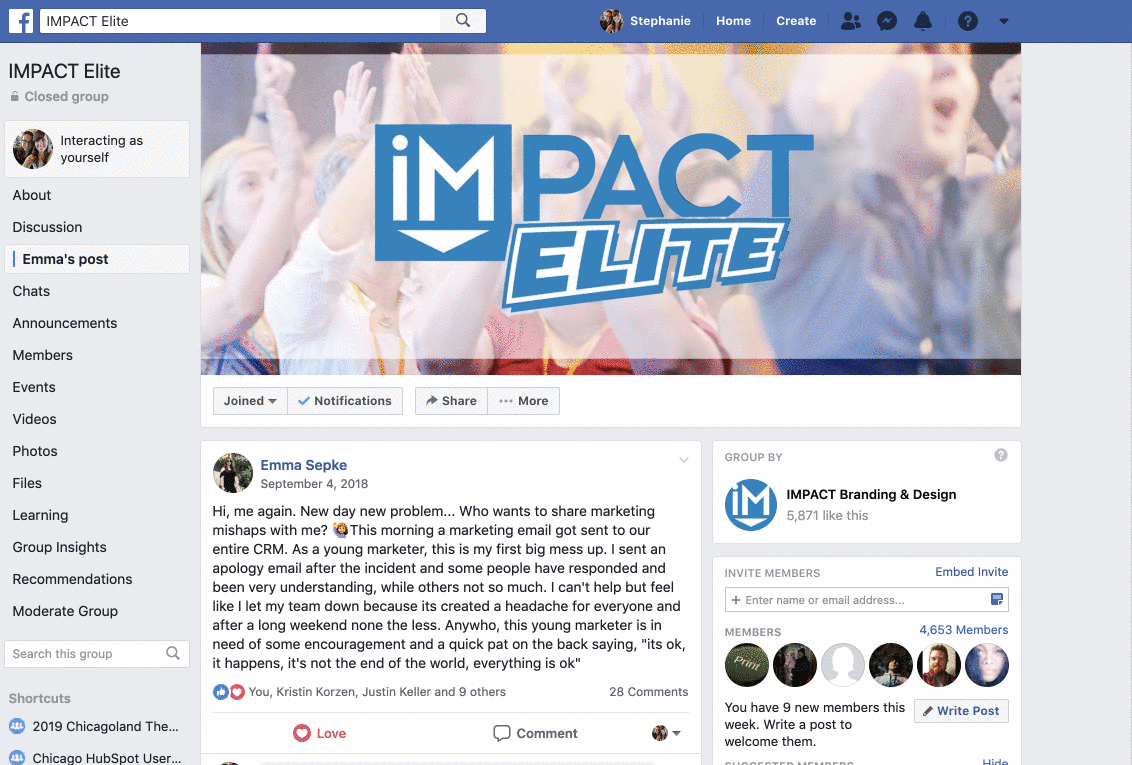 Thankfully there are a number of online communities specifically for marketers.
In these communities, you'll see people asking the same questions you've wondered about before. A helpful marketing community will answer those questions and provide you with feedback - all without judgment.
Many of these online communities exist as Facebook groups.
The only challenge is there are a ton of them out there. With so many to choose from (there are literally millions of Facebook groups), how can you decide which ones to join?
That's where I come in.
As a member of many groups and manager of IMPACT Elite, an inbound marketing Facebook group, I've checked out almost every related group on Facebook and have narrowed them down to the top 7 best ones I think are worth joining.
I have also learned a few tips along the way for deciding whether or not a group is for you.
How to Choose Which Groups to Join
When not filtered by topic, there are over 200 million groups on Facebook right now. Even when you narrow it down to marketing, there are tons to consider.
How can you choose which ones are worth joining?
Granted, joining a Facebook group isn't exactly a big commitment. If you're not happy in the group or aren't getting value out of it - you can always leave. In fact, group admins will not even be notified if you leave the group.
However, you can save yourself some time and energy by vetting groups before you join.
Here are a few tips I've collected from joining (and leaving) quite a few of these groups.
First, read the About section - the whole thing.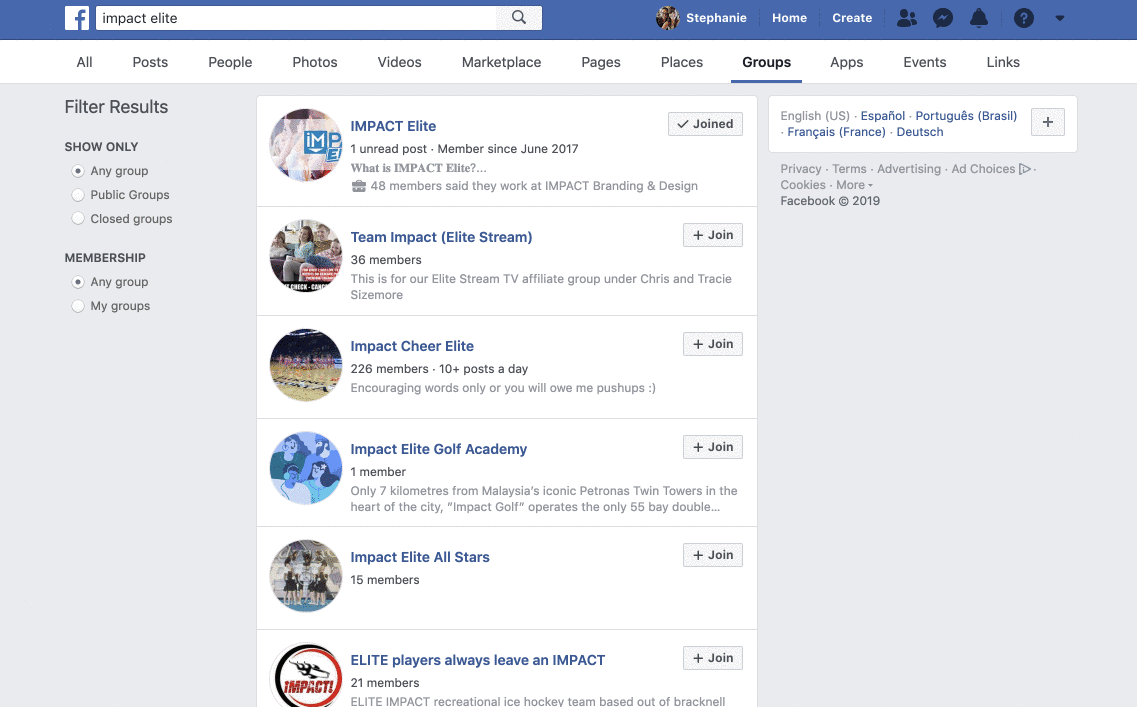 The amount of effort a group puts into their about section is typically a direct reflection of how much effort they put into the group itself. Groups don't always deliver what their About section promises, but it's a good place to start.
If a group admin has put time into developing a mission for the group, outlining rules and expectations, and included testimonials from existing members, then they're probably going to have a good group.
Unfortunately, groups are not always as they may seem in their About section.
One group I joined recently was not as impressive as its About section led me to believe.
I was intrigued by their statement of: "This group is for skilled marketers and entrepreneurs that know what they're talking about."
Based on all the information in their About section, I was excited to join.
Once I was in, I felt completely let down.
I was met with a seemingly endless series of posts from the admin of the group that had little to no value or engagement.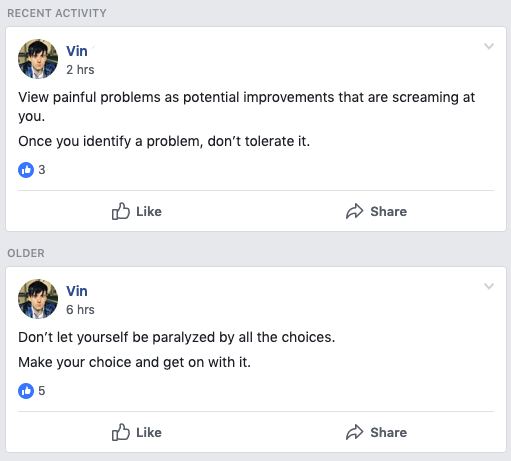 An experience like this is why the About section isn't always enough.
If the group is public, you can scroll through some of the recent posts to get an idea of the group's content and level of engagement.
Ask your friends for recommendations.
If there's anything I've learned from working on IMPACT's Facebook Group, or even just this article, it's that most marketers have at least one go-to online community.
Granted, they might not always be on Facebook (some are on Slack, LinkedIn, etc.), but if you get a recommendation for a group from someone who is already in it, it's much more likely to be of good quality.
Read the Reviews.
Finally, there are a bunch of reviews and guides out there (like this one!) about these groups.
Give them a read and you'll find a few groups tend to stand out above the rest. Taking the time to do this research will help you find groups that are just what you're looking for.
So with that, let's dive in. Here are my top 7 Facebook groups for inbound marketers.
1. The Daily Carnage
Total Members: 3,120
Who Runs It: Carney
When It Started: August 29, 2017
The About Section: "Bringing you the freshest news, tools, tips, and tactics in the marketing world. Get ready to break free from the monotony."
What I Like About It: The Daily Carnage group started from Carney's newsletter, called The Daily Carnage. The group began as a place to continue discussions on topics from the newsletter and has since evolved into a vibrant group of marketers asking and answering questions, sharing ideas, and genuinely having fun.
This is one of my absolute favorite groups. I definitely recommend joining but if you do - you'll also want to subscribe to The Daily Carnage to get the most out of it.
I asked Mark Rogers, Marketing Director at Carney and admin of the group, what makes the perfect group member. Here's what he said: "I like members who are willing to engage with others. The best groups are the ones where members give and take advice. That's what I want every group member to do. It doesn't matter if you're new to marketing or a seasoned marketer, you have an opinion and that's what I love to see."
2. Word Workers
Total Members: 2,970
Who Runs It: Copy Hackers
When It Started: October 15, 2016
The About Section: "The only Facebook community for anyone and everyone that writes as a major part of their work."
What I Like About It: There is a ton of engagement in Word Workers. I'll admit, I do not spend enough time in here. Since working on this article I've realized I'm missing out by not checking out this group more often. Plus, the amazing Joanna Wiebe (The original "conversion copywriter" and creator of Copy Hackers) is seen around the group from time to time. From tools people use to tips and tricks - there is so much value in the discussions in here. Definitely check it out if you're a writer or write for some part of your job.
I talked to Karine Bengualid, of Brought to you by the letter K, who manages the Word Workers community and she told me: "Joanna Wiebe, of Copy Hackers fame, created Word Workers for (copy)writers who want a place to get and give advice, celebrate wins, and (most importantly) convert like a MOFO. While those who aren't part of Word Workers should have serious FOMO. Thanks to her incredible following, thousands of writers from around the world (including some of the best copywriters) have this amazing place to go to talk shop and make new copy friends."
3. Social Media Managers Group
Total Members: 30,895
Who Runs It: Social Media Pro
When It Started: October 6, 2010
The About Section: Facebook's oldest and most active free group of SOCIAL MEDIA PROFESSIONALS. All skill levels welcome. All questions answered.
What I Like About It: With over 30,000 members it's no surprise Social Media Managers gets a ton of engagement. Drop a question in here and you will get a wide variety of perspectives and answers. I am amazed that a group of this size doesn't have more spam, but the admins do a fantastic job of keeping the group free of nonsense and filled with value.
With so many people posting, you probably will want to turn off the notifications for this group, but definitely bookmark it in your favorite groups and keep it handy.
They also have a fantastic pinned announcement for new members including a video where the admins introduce themselves. This is the only group I like that has also managed to nail the welcome content.
4. CXL - Conversion Optimization, Analytics & Growth
Total Members: 5,329
Who Runs It: CXL
When It Started: September 7, 2016
Join CXL - Conversion Optimization, Analytics & Growth
The About Section: Conversion optimization & growth discussions. Not a place for link dump or ads.
What I Like About It: Questions get answered. Simple as that. When someone asks a question in Conversion Optimization, Analytics & Growth, people jump at the chance to help. Plus, CXL's Peep Laja comes into the group and posts and I love seeing that. Interestingly, a moderator of the group posted recently that they had gotten a lot of feedback that people prefer to have professional discussions on LinkedIn. LinkedIn groups have recently been revamped and seem to have a lot of potential so I'm interested to see where they take this but, for now, I'll be sticking around their Facebook group.
5. Digital Marketing Questions
Total Members: 13,069
Who Runs It: The Blueprint Training
When It Started: May 30, 2015
Join Digital Marketing Questions
The About Section: This group is meant for all digital marketing professionals (or people who want to learn) - SEO, PPC, social, Analytics - to ask questions, network and share relevant industry content.
What I Like About It: Digital Marketing Questions is another truly spam-free group that has valuable discussion after valuable discussion. Sensing a trend? I've vetted many groups and the ones that don't make the cut are either filled with spam, have questions that go unanswered, or are simply not valuable. They have a fantastic pinned post for when new members join that sets the tone of the group and reminds members of the rules.
I asked Ryan Stewart, Group Moderator and Founder of The Blueprint Training, why they started the group and he said "I started the group as a means to build a community of like-minded people on Facebook to share ideas and network. It ended up growing into something so much bigger than I could've imagined."
6. Women in MarTech
Total Members: 229
Who Runs It: Sprk'd
When It Started: October 2, 2018
The About Section: The initial goal for this is to create a resource for:
- people looking to book speaking opportunities (#JustSayNoToManels)
- collaboration
- peer support, and more
What I Like About It: Women in MarTech is a very new group and doesn't have a ton of members yet but there is a massive amount of value. The admin does a great job of starting new and interesting discussions and is adding further value by creating a directory of women in MarTech that members can sign up to be listed on.
I asked Christine Mortensen, founder of Sprk'd and the Women in MarTech group, why she started the group. She said "I started this group rather organically because I needed to replace myself for a speaking gig on SEO and didn't have a super specific place to turn to post an announcement beyond LinkedIn. So I made Women in MarTech and it's grown into an incredibly supportive community. It's now part of a larger mission at Sprk'd to help 1,000 women-owned businesses generate $1 million in revenue whether it's their first million or their next. It's really incredible what happens when a group of strong women come together."
As a woman in marketing, I love this group and the support I'm already seeing from the members. Plus, the idea of having a group that helps its members get speaking opportunities and learn from those already speaking often is really exciting to me.
7. Marketing Solved
Total Members: 15,013
Who Runs It: Marketing Solved
When It Started: March 20, 2015
The About Section: Here you will get exclusive access to marketing training, tips, and tutorials, articles, business and marketing strategies, success stories, amazing business support, freebies and greatness!
How to Get the Most Out of This Group: Engage, Ask/Answer Questions, Provide Expertise, Be Visible, Be Positive
What I Like About It: Marketing Solved is a group of 15,000+ people who, for the most part, are not in the other groups I'm in. I don't know how there's not more overlap, but I tend to see a lot of the same faces in some of the other groups I spend the most time in. Birds of a feather, you know?
The admins of this group do a fantastic job of creating traditions - threads on certain days that focus on one specific thing. Sometimes these threads encourage people to promote their own content, share job opportunities, or promote their services. This is a great way to keep all of that content out of the regular feed of the group.
Finally, people seem to feel really safe in this group. From the questions people ask, I can tell that this group is welcoming and judgment-free. I recently read a post where someone shared their updated speaker website and asked for feedback. That's a tough thing to do, but he felt comfortable doing it in this group. which says a lot (and he got detailed feedback).
Go Find Your Perfect Inbound Marketing Facebook Group
So there you have it; my top 7 Facebook groups for inbound marketers. If you join one, be sure to tag me in a discussion so I can say hello and hopefully help answer your question!
A few others I love that are more specific to video are Film School for Marketers and Personal Branding with Video.
If you're an agency, there are a lot of agency-specific groups out there that do a fantastic job including The Sprout Social Agency Network, HubSpot Agency Partners, and DM Certified Partners.
Go forth and find your community!


Free Assessment:
How does your sales & marketing measure up?
Take this free, 5-minute assessment and learn what you can start doing today to boost traffic, leads, and sales.