"Link-Building & Guest Blogging the Right Way" with Justin Champion of HubSpot (Content Lab, Ep. 24) It was only going to be a matter of time before I found an excuse to bring one of my favorite content nerds back to the show -- Justin Champion, content professor extraordinaire at HubSpot Academy.
While I am prone to theatrics -- which, as an only child, I believe is my birthright -- I am not being hyperbolic when I say this is one of the most actionable episodes of the Content Lab to-date.
Fresh off launching a brand new business blogging course for HubSpot, we zeroed in on the final lesson -- guest blogging as a link-building strategy and how to do it well.
We wanted to talk about this topic for two critical reasons:
First, link-building is one of the most criminally overlooked aspects of building out effective topic cluster-based content strategies; and
Guest blogging has a bad reputation, and there are a ton of people in the marketing and inbound fields who say guest blogging is totally ineffective.
So, in this episode, we talk about:
Why link-building is so important if you want to see long-term success with any content you create, but particularly topic clusters and pillars;
Why guest blogging is a strategy you need to bring into your content processes;
What you should be guest blogging about and the strategic approach you need to take to develop topics and create guest blog drafts;
How to build relationships and effectively pitch story ideas to other publications;
How to write an incredible guest blog author bio, because I learned in this episode that I was totally blowing this step. (Oops.)
Enjoy!
Listen to the Episode
Resources We Discussed
Subscribe to the Content Lab Monthly Newsletter
Once a month, I'm going to send you an absurdly useful newsletter will tons of insights, tips, and tools for you to make your content amazing. It's that simple.
Here's what it looks like, so you know what shenanigans you're getting into with me: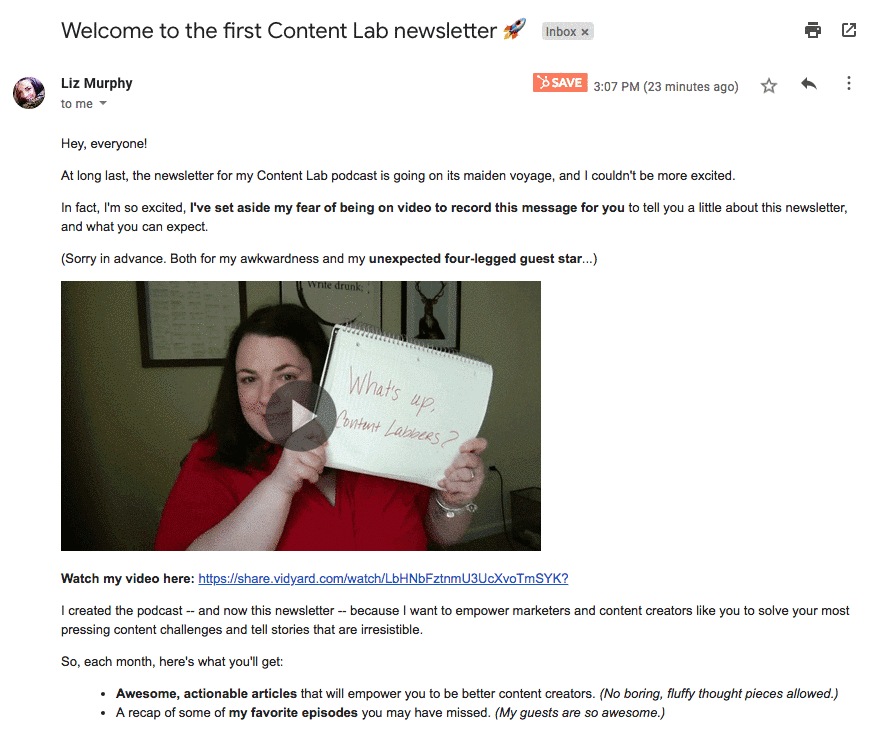 So, what are you waiting for? Go to this page and sign-up.
Connect with Content Lab
Okay, first, you've gotta subscribe to Content Lab on Apple Podcasts. That way you'll never miss an episode!
Or you can comment on this episode below! I'd love to hear from you.
Here's a secret: Video should be your best revenue driver. And it's actually easier than you think.
Join us on July 20 for Video Sales and Marketing World 2021 and learn from industry experts who are crushing it with video. The best part? Every tactic and strategy you'll hear about has already been proven to work … so you don't have to.
Register now with an IMPACT+ Pro membership, free for 14 days.
Hurry, early pricing expires in on July 15th!