This week, it's just me. And that's because I'm rolling out a new monthly feature called the "What's on My (Content) Mind," which will star little ol' me, on my own.
As I mentioned back at the beginning of the year, I wanted to play with the format of Content Lab to make it more valuable to you, and this new feature is part of that.
Before, I was trying to shoehorn in all of my thoughts and ideas around interviews and conversations that really should have been allowed to stand on their own.
In the spirit of radical candor, I'll just put it out there that the end result was a podcast that meant well, but was cluttered and messy.
Once I realized that, however, I was left with a problem. I always envisioned Content Lab as being part interview, part invitation to you all to come behind the scenes of what's happening in my brain, with content strategy, and content at IMPACT.
Enter stage left, "What's on My (Content) Mind."
Each month, I'm going to take a break from chatting with others to share with you all what's inspiring me, any major content milestones from the past month, and what I'm going to be focusing on in the month to come.
That way, we all still get to learn from some of the brightest content minds in the industry, and I still get to talk to you, one-on-one, about all of the new inbound marketing tools, strategies, and ideas we're testing here, as well as what's inspiring me and challenging me.
But the goal of Content Lab hasn't changed -- to arm you with "the strategies and tools you need to create the addictive content your audience will love."
OK, let's do this.
Free Guide: The Ultimate Inbound Marketing Strategy Playbook 2022
Enjoy!
Listen to the Episode
What's Inspiring Me
The biggest mistake brands make when making the shift to publishing is to think in terms of "campaigns." Being a brand publisher doesn't mean you create an e-book. And it's certainly NOT about making "viral videos." It's really a cultural shift away from the "campaign brain" and towards continuous content development, curation and distribution of content that results in conversations, community and ultimately conversion. (Source)
I believe this quote is relevant to service and product-focused businesses, not just brand publishers.
If we want to build trust with our audience -- establishing ourselves as the No. 1 resource in our respective spaces -- we have to be focused on cultivating conversations and building communities through our content.
For a little background...
VP of Marketing Kathleen Booth speaking at IMPACT Live about our publisher vision for IMPACT.
Major Content Milestones
We've launched five new pieces of pillar content across a wide variety of topics...
What I'm Thinking About
Well, to be perfectly frank, I've never been more excited about what I'm working on, but I also can't tell you ANYTHING about it.
But here is what I can say.
There's a guiding principle behind what I'm working on right now that I am going to mentally carry with me from now until March.
If you're not new to this podcast, you've heard me say this before, but I want to focus on being as helpful as humanly possible in every piece of content I create.
When it comes to massive content projects, it's so easy to define success by the ability to just say something is done.
But you can write 5,000 words of total garbage and still be able to call it "done."
The problem is, it's easy for us to nod our heads together right now saying, "Preach it, Liz. You're absolutely right. We should be creating helpful content."
But we've got to be honest with ourselves.
How many times have we published a crappy piece of content that we knew was not our best? And I don't mean perfect; because perfect is often the enemy of good. I mean our best in terms of going the extra mile to thoroughly answer a question or solve a problem.
And we did it because we were tired.
Because it was late.
Because we had put it off.
Or, in some cases, there are just so many words, right?
If this sounds familiar, you're not alone -- I feel this way all the time. Right now I'm in the middle of writing a pillar on pillars --which is something I can tell you about -- and when I think about that project in the global sense, I freaking love it.
I get excited about all of the ideas racing through my head. All of the pillar goodness I want to share with you. Oh, and how good it's going to feel to have something I'm so passionate about go live at the end of the process.
But when I'm in the thick of it (like I am right now) -- you know, writing, and getting the thoughts wrong, and not having ideas hang together easily and the way I envisioned on the first try...
I just want to throw my hands up in the air and say, "Oh my god, can I just be done already?"
Whenever I've experienced those moments recently, I have forced myself to say out loud, "Liz, you're doing this to help someone else. Your hard work is going to make someone else's life easier."
I wish I could say I immediately snap out of my angst -- I still occasionally end up grumbling my way to the end -- but reminding myself of what I'm doing this for really helps me center myself around the why. That why of being helpful.
That reminder keeps me moving forward and helps me hold myself accountable when I get to the end of a piece. I ensure that the final product really is helpful, instead of just a throwaway item on my to-do list I can finally cross off.
Subscribe to the Content Lab Monthly Newsletter
Once a month, I'm going to send you an absurdly useful newsletter will tons of insights, tips, and tools for you to make your content amazing. It's that simple.
Here's what it looks like, so you know what shenanigans you're getting into with me: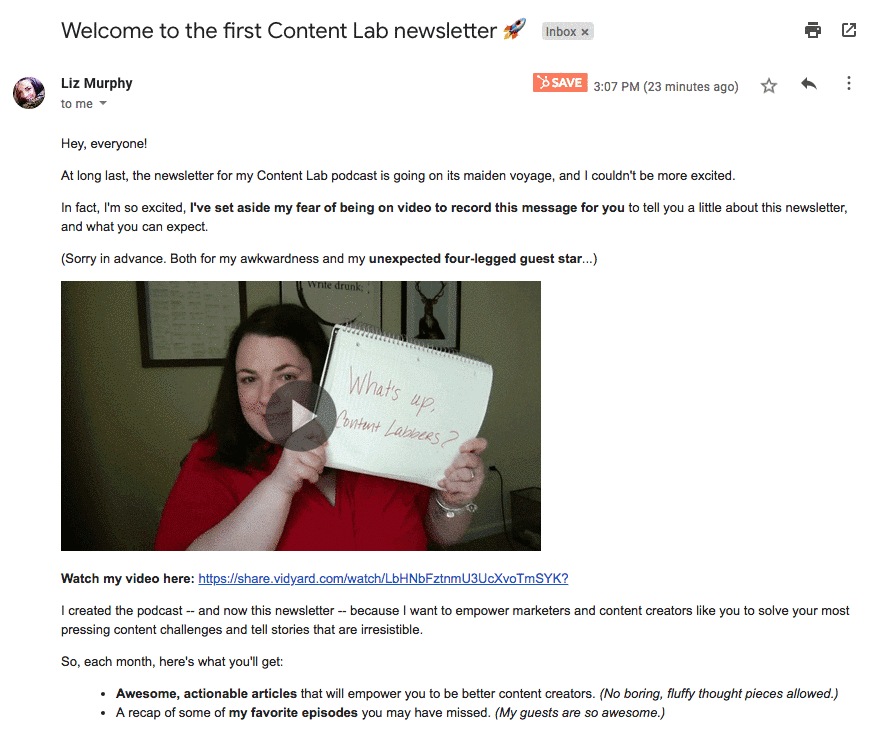 So, what are you waiting for? Go to this page and sign-up.
Connect with Content Lab
Okay, first, you've gotta subscribe to Content Lab on Apple Podcasts. That way you'll never miss an episode!
Or you can comment on this episode below! I'd love to hear from you.