3 great examples of brands using live streaming during the pandemic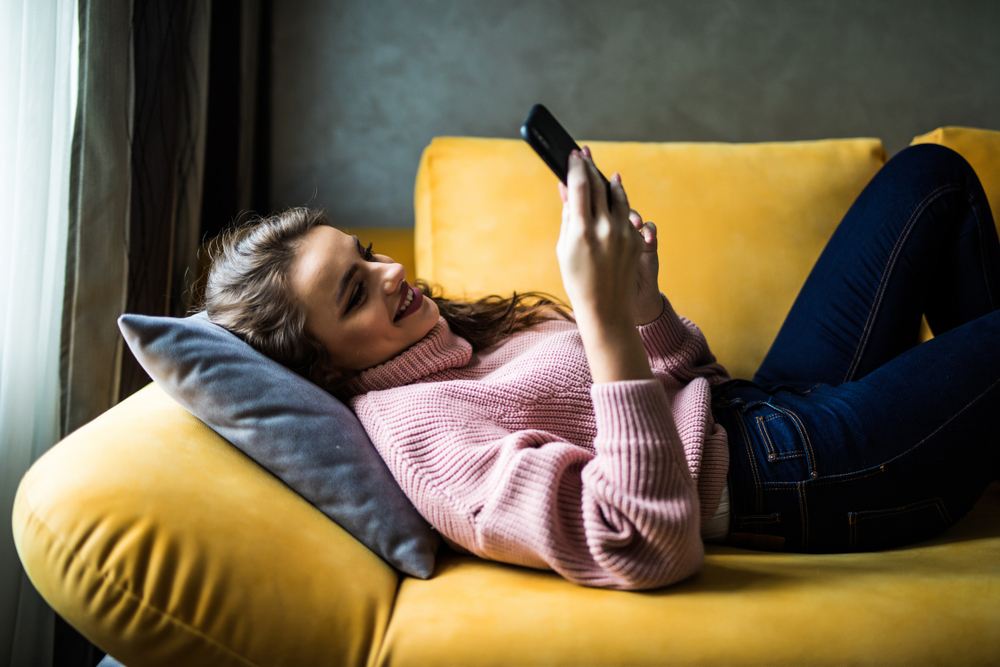 If the social media world has taught us anything, it's that people LOVE to share experiences.

What started as status updates and filtered photo uploads — raise your hand if you remember posting your daily updates on Facebook back in 2007, ✋ — has morphed to include allowing others to virtually take part in our experiences in real-time via live video.

Live streaming isn't necessarily new. Many brands have been connecting with their audiences through webinars for many years now.

From enterprise-focused platforms like Brightcove or IBM Cloud Video to social media platforms like Facebook, YouTube, LinkedIn, everyone is adopting live video features, giving brands and users now have a variety of outlets to express themselves and connect and engage with each other — especially when isolated during the COVID-19 (coronavirus) pandemic.
How the COVID-19 pandemic amplified live streaming success
Ever since 2013 when YouTube first provided a live streaming encoder to all of its desktop users, live streaming has been gaining traction substantially year after year, especially as more platforms began to introduce it.

In fact, the number of businesses utilizing live streaming to support their marketing efforts and to connect with their audiences had already been on the uptick with a 20% jump year-over-year.

Now that the quick spread of COVID-19 has forced many businesses to close their doors, help employees adapt to work from home life, and reconsider networking opportunities and events, all while maintaining a connection with their audience, the proverbial fire under most brands has been lit.

On the same token, with work from home and social distancing measures put in place, more end users have been consuming more digital content than ever.

I mean, think about it. When you're asked to stay home and socially distance yourself, your laptop or mobile device becomes your best friend.

This likely explains why streaming consumption increased 73% from February to March 2020 as the United States began to adopt various quarantine measures.

Facebook alone saw a 50% increase in the number of users watching a variety of live stories from cooking tutorials to work-for-home tips to fitness classes to storytimes for toddlers during this time period.

Why?

Well there are many benefits to live streaming, but in a pandemic like we've experienced with COVID-19, the benefits make it the marketing tool of choice for many businesses affected by lockdown measures. With mobile devices readily on-hand for most consumers, live streaming is extremely accessible, easy to use, and a great tool for real-time engagement. It also opens them up to a global internet audience that may not have been reachable previously.
3 great ways brands have used live streaming during COVID-19
While we had success with our in-person-turned-completely-virtual-event, we have also been continually inspired and impressed with how brands of all sizes have overcome these socially distant times with live streaming to continue engagement with their audiences:
1. Molbak's Garden + Home: Live gardening tutorials




What: Live Gardening Tutorials Series
Where: Facebook
Results: 9 sessions with over 17K viewers


Why we like it: If you're like me (and many others), you may have spent COVID-19 lockdown tending to your garden to prepare for summer, so I was instantly drawn to gardening tutorials and videos on social media.

Like many plant nurseries, Molbak Garden + Home is used to assisting customers in person, but with social distancing in place, they had to adjust a bit.

While they currently offer curbside pickup or reservation-only shopping experiences, they also turned to Facebook Live to provide a series of live tutorials addressing common gardening and home care needs.

Each video typically involves a staff member, the products, and often a change of location between indoors or outdoors.

While this B2C brand could have easily recorded a video and uploaded it to Facebook, they instead utilized live streaming to humanize their brand, allowing users to tune in and interact with the real staff in real-time.

In doing so, this local business has provided its community, customers, and out-of state viewers with a more personal experience and chance to engage with their gardening experts despite their facility being closed or accepting limited foot traffic. They further established their position as helpful experts in their industry and kept them top-of-mind during a difficult time.

Collectively their gardening series have recorded over 17K views!
2: Bon Appetit: The BA Test Kitchen Variety Show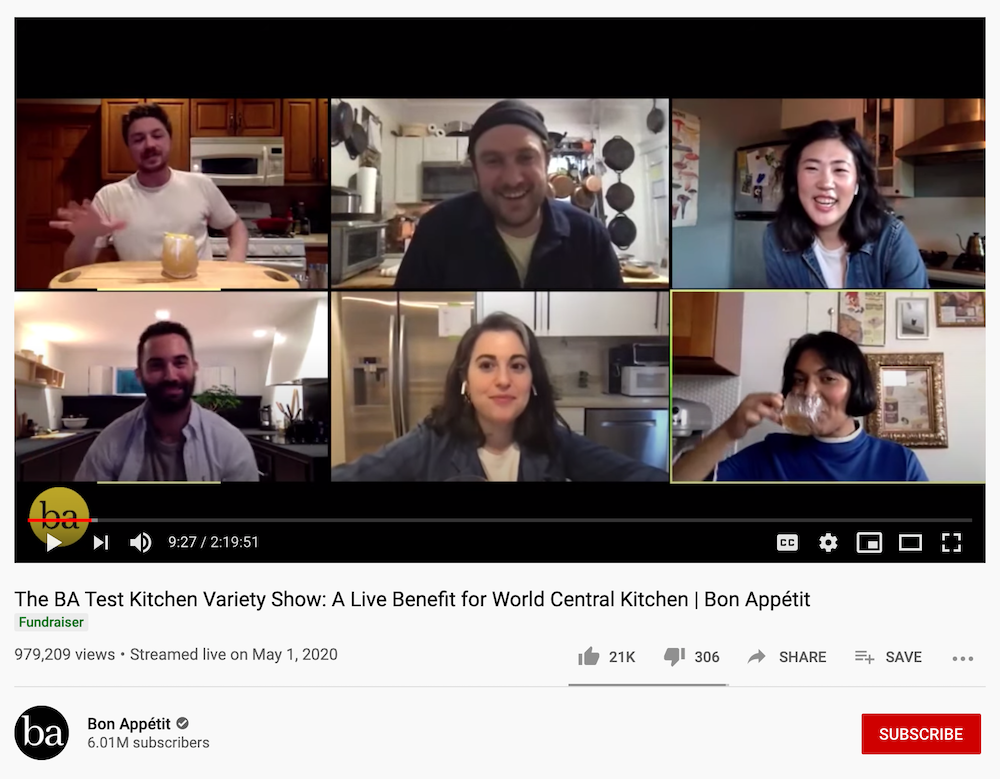 Who: Bon Appétit
What: Variety Show on Zoom
Where: YouTube
Results: Over 1 million views, 21K Likes, over 1K comments, over $130K raised


Why we like it: I don't know about you, but I definitely took to my kitchen like a fish to water during my lockdown and YouTube was often up on my tablet as I worked my way around the oven and stovetop.

This example was recommended to me by a fellow IMPACTer, Stephanie Baiocchi, and boy, did she deliver!

Bon Appétit Magazine's Test Kitchen crew produced "The BA Test Kitchen Variety Show," a casual and highly entertaining live stream from their kitchens, dining room tables, and living rooms.

The variety show's goal was two-fold: To not only engage with its audience stuck at home on all-things food, but to also raise money for its COVID-19 related causes like providing fresh meals to those in need, putting restaurants back to work, and feeding frontline healthcare workers.

While the two-hour variety show may seem like it was super casual and go with the flow, the session was thoroughly thought out with an agenda packed with cocktail hour, cooking challenges, games, tutorials, and fundraising updates.

Bon Appétit has an endless supply of educational and entertaining videos on their YouTube channel, and despite new measures, they've pushed their creativity and resourcefulness by continuing to post multiple times a week during the pandemic. And this particular live stream helped to ensure BA stays top of mind and continues to inspire their followers in all things cooking.
3: Social Media Week: Going virtual


Who: Social Media Week
What: 4-Week Virtual Conference Series
Where: Facebook
Results: 300+ Big Name Speakers, 150+ Live Sessions


Why we like it: Social Media Week is an annual week that draws in hundreds of top-level speakers and thousands of attendees.

Set to take place this year in May, Social Media Week had to pivot course, like many other events, to keep their commitment to their attendees and what they came up with was pretty impressive.

What was once a three-day in-person event turned into a month-long virtual conference.

From May 5-28, over 300 speakers participated in 150 sessions in the form of live talks, panel sessions, workshops, and product demos. Attendees also had access recordings, session recaps, and speaker presentations.

Additionally, as most conferences and events are great places to meet contacts and vendors, #SMWONE made sure that networking was still a primary objective of its new online event by hosting hangouts that give attendees a chance to meet, interact, schedule meetings, and engage with vendors.

The continuous turnout for Social Media Week year after year shows just how much educational and networking value marketers and attendees find in this annual event.

The organizers' quick decision to adapt to a virtual event, one that was more flexible stretching over a month versus one week, showed how strong the commitment to its consumers is, ensuring their attendees can complete the series with the value they were seeking when they initially purchased the ticket.
Will live streaming be effective after the pandemic?
As you can see, a variety of brands have been able to tap live streaming during the COVID-19pandemic—whether it being simple tutorials or taking full-fledged conferences online.

While it remains unclear when social distancing measures will come to a full end, the success brands have had with live streaming may signal its place as a permanent and valuable engagement tool for brands.

In addition to the advantage of real time engagement and feedback between business and their audiences, many feed algorithms favor live content allowing users that utilize live streaming to get their messages out effectively.

So if you're considering adding live streaming to your marketing or selling mix, here are a few additional tips to help ensure your live sessions is successful:
Create an agenda to keep sessions on track
Effectively promote the session or event
Have strong internet or wifi access to avoid any buffering or connectivity issues
Limit distractions during streaming so you can focus solely on your audience
Try a variety of platforms to see which your audience uses or engages on most
Pause your presentation or agenda to engage with users through chats or by addressing comments
Follow up but ensure users have access to a recording post-stream
Now with a little inspiration and quick tips, we hope you're ready to go out into the digital world and live stream away! And if you're already using live streaming to continue your brand outreach, we'd love to see how! Feel free to share in IMPACT Elite.
Free Assessment:
How does your sales & marketing measure up?
Take this free, 5-minute assessment and learn what you can start doing today to boost traffic, leads, and sales.