Virtual event planning: How we took a 3,000-person virtual sales and marketing event from idea to reality [Interview]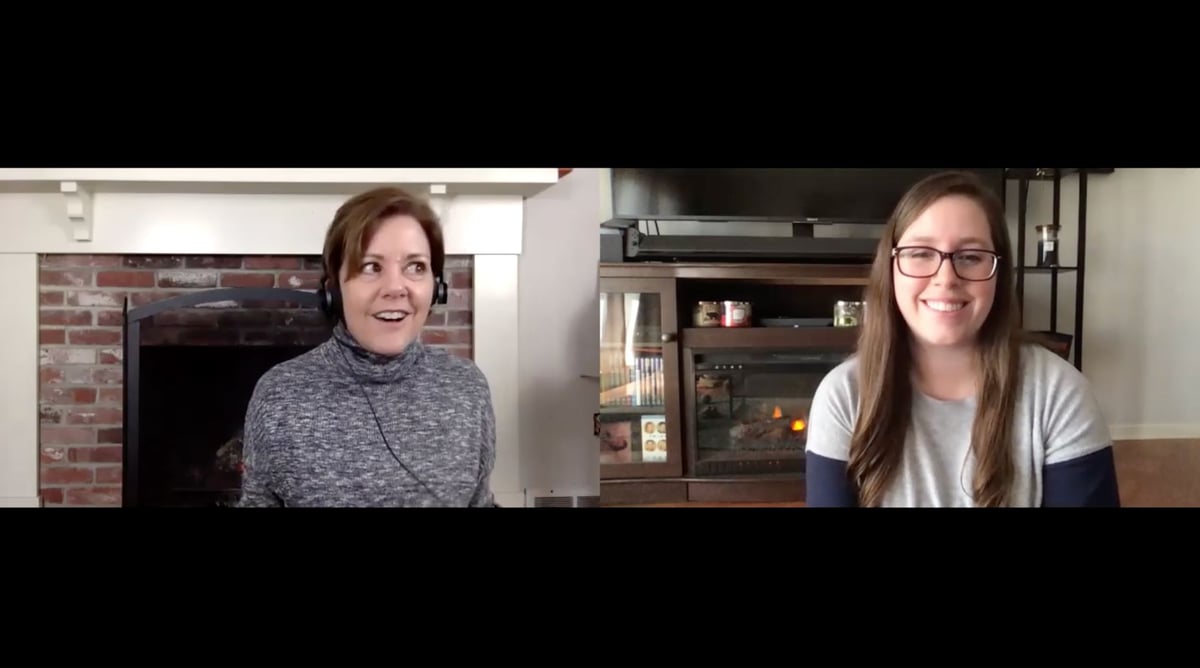 Stephanie Baiocchi works as IMPACT's director of events and community — a role that asks her to straddle the in-person and virtual aspects of our business.
Earlier this winter, IMPACT was ramping up to host our biggest event ever, Digital Sales & Marketing World (DSMW), in early April.
However, as the COVID-19 crisis grew, Stephanie and other IMPACT leaders decided to postpone DSMW until November.
Still, this decision didn't eclipse the fact that the pandemic created a more urgent need for digital sales and marketing guidance on the part of businesses around the world. With that in mind, the IMPACT team made the decision to host a completely virtual event during the time we had already reserved in April.
In a few short weeks, Stephanie and her team vetted software, built a speaker lineup, and pushed out a marketing campaign. After a hugely successful Digital Sales & Marketing Day back on April 6, she reflected on the learning process.
👋 Related: You can access all #DSMD2020 talks (and 60+ more keynotes) with an IMPACT+ account today
What were you most nervous about?
John: First off, congratulations on a hugely successful Digital Sales & Marketing Day! Going into it, what was keeping you up at night?
Steph: Almost four weeks before the event, we decided to flip it to a virtual event and postpone our in-person event.
At first what was going through my head was how are people going to perceive a virtual event? Are they going to see it as lesser? How do we make it still valuable and something people will want to attend?
Because, honestly, I can't tell you the last time I went to a webinar. I've signed up for some and told myself I'd watch the recordings, but I never do.
So, I was really just spending all my time thinking about how we could make it a valuable experience and not just another online streaming video.
As it got closer, [my fears] transitioned to technical concerns.
So, the thing keeping me up at night closest to the event was this: Is everyone going to be able to join and will we be able to stream our live sessions?
John: And that's so hard because you can't really do a dry run.
Steph: You're right. I mean, we did a sort of dry run on Friday and the event was on Monday. So we spent Saturday and Sunday troubleshooting, but I don't think I slept from Friday to Monday because there was just so much to do.
Building the event schedule
John: Can you talk to me about the schedule your team built? How it offered both breadth and depth?
Steph: Our concept was this: We need to give people a full day of content because it needs to feel like an event and not just a webinar to be something truly of value.
As it was mostly for sales, marketing, and leadership professionals in their roles, we wanted to have content at all times for salespeople, marketers, and for leadership.
We really looked at who our audience is, what do they need, what do they expect out of an event that would make it valuable for them?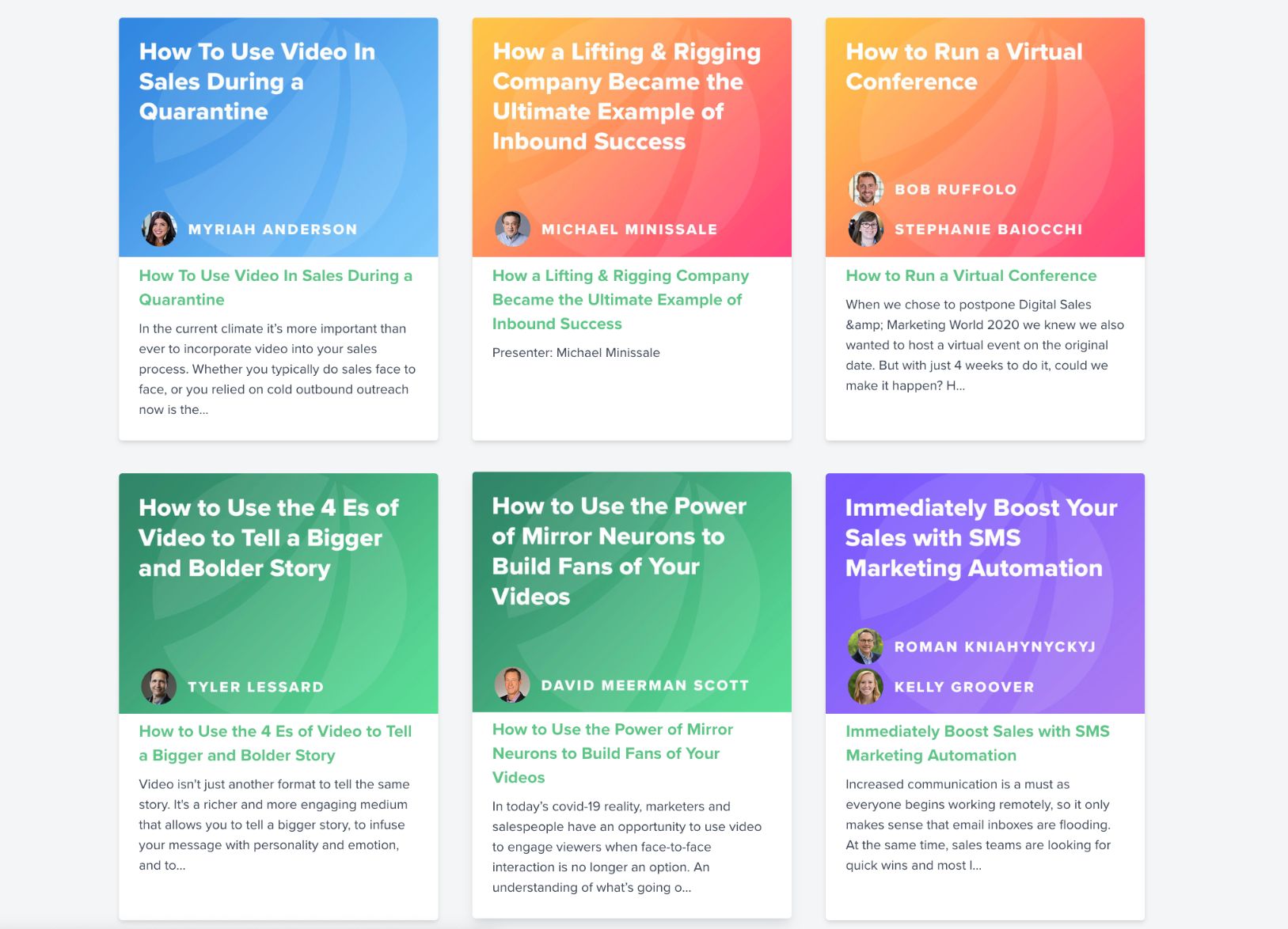 Access recordings of each of these sessions (and others) in IMPACT+.
For us, that involved creating a spreadsheet, filling it in with the content we already knew we had from our postponed event — especially content that was new.
We also reached out to our existing guest speakers outside of our organization and asked if they wanted to be involved in the virtual event or not.
Some jumped at the chance, some had a lot on their plates with everything going on and didn't want to right now.
Then, we reached out to other industry minds in our space and said, "Hey, if you have some time on your hands because of all this, we'd love to have you be a part of our event."
So it was about compiling the content. We knew we had some speakers, and then we organized and filled in the gaps so that we had something for everyone at all times.
Creating FOMO (fear of missing out)
John: I feel like it also created some FOMO. There were so many good talks, with several at any given time.
Steph: Creating FOMO is always part of an event experience, so I'm glad to hear that!
It wasn't intentional to make people want to attend multiple sessions at once, but there are marketers who lead marketing teams, so they're also interested in leadership content.
Plus, all marketers should be interested in sales content and sales people should be interested in leadership content.
It should all be interesting to everyone.
And the sessions were not narrow.
It wasn't "The marketer's guide to managing COVID-19."
We knew we wanted to offer our sessions as recordings available on-demand after the fact.
So, we made very little of our content related specifically to the virus, although some of it was very well-suited to the current climate.
We did have both live and on-demand sessions, but we made it very clear to everyone that when this is all over, if you miss one, all the recordings will be available in our online education community.
That was a way to keep the conversation going, to take that audience that we had grown and bring them into our community and keep them as part of the conversation in our online education platform.
So we purposely put all the recordings there after.
John: To me, the event felt big and exciting — but also really intimate and personal.
Steph: Yeah. I think the sheer volume of content that we had, the attendees we had, and the fact that it lasted an entire day contributed to the larger event feel of it.
We had over 3000 people signed up, over 30 speakers, and it lasted all day.
The quality of the content had to hold up throughout the day, otherwise people would have fallen off, but ultimately, we saw just about as many people at the end of the day as we did at the beginning.
The intimacy part of it was so cool too because we knew it was very important to have that chat functionality, whether it was the live sessions or the pre-recorded sessions that we released on demand.
We didn't want to risk the technical challenges of live streaming three simultaneous sessions and having something go wrong.
So, to deliver the best possible content but also bring the speakers there live in that moment, we had a live chat.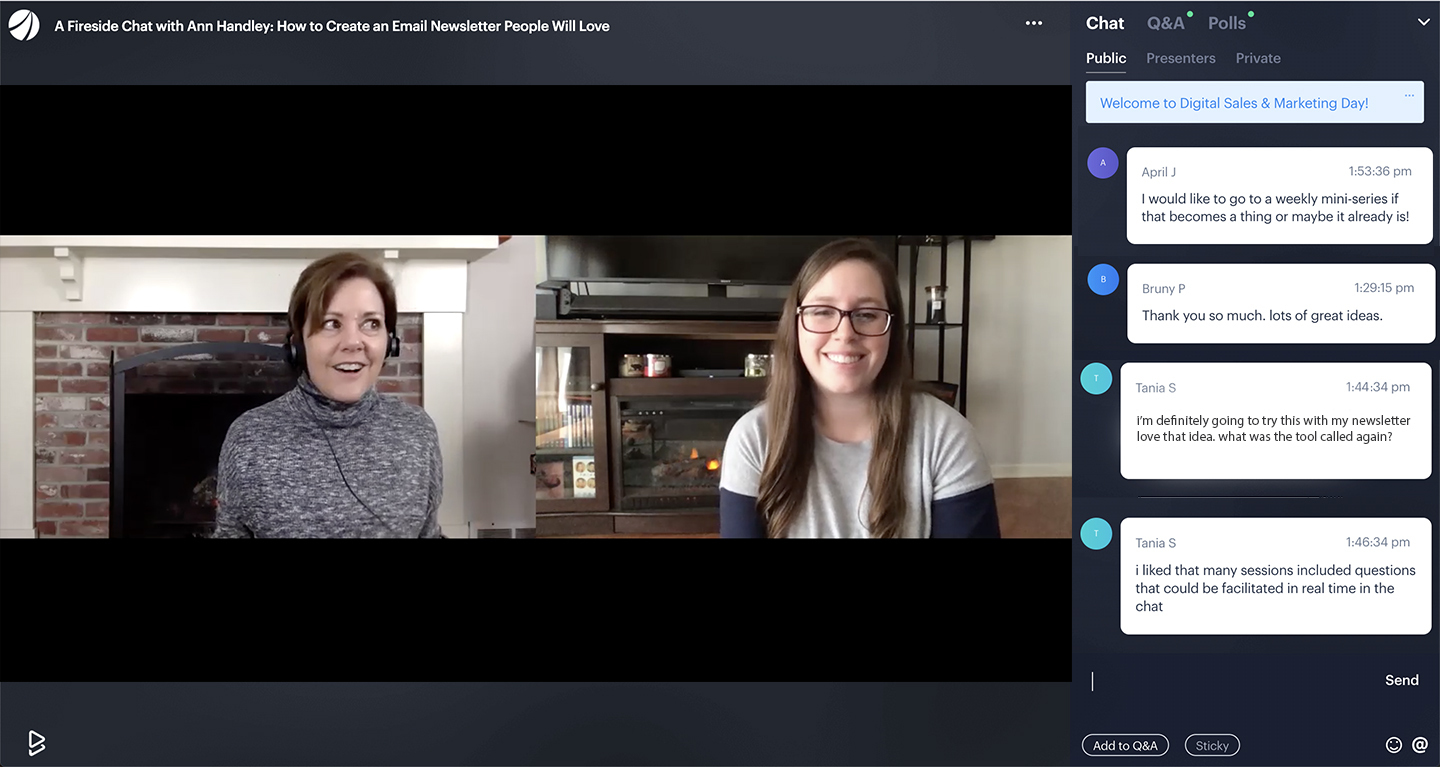 If you've only planned in person events, you might wonder why a live chat matters. Would it be distracting or rude to the speaker?
We thought through that a lot, but my title is director of community and events, and there is a reason for that.
The community aspect is what makes great events great in my opinion.
At the same time, we knew we didn't want to trick anyone and make them feel like they're coming to a live event only to be met with a pre-recorded session — even though all of the pre-recorded sessions were created exclusively for our event.
One of the ways we remedied that was having the speakers engaging with the chat in real time.
That really did create something special; more special than we even foresaw.
It was so cool to see that because everyone really did feel like they were part of a live experience and they were, it was live just as much as anything else.
From the feedback, people definitely loved it, so I would definitely want to do that again. I would give people the ability to hide the chat panel, though, because for some people it was distracting.
The tech that made it happen
John: Can you talk about the tech that made this all possible?
Editor's Note: Heads up — IMPACT will receive compensation from BigMarker for including them in this article. This in no way affects the other examples featured.
Steph: Yes. Virtual event tech is so interesting right now because developers are spinning it up as quickly as we did this event, but it's not to say that these are not good solutions.
Some of them were already in the process of being made and they're just going live a little faster. Some are relying solely on integrations.
When it came time for us to find the tool that we were going to use, we knew what our needs were:
We were going to have thousands of people.
We would have three simultaneous sessions throughout the day.
We would have live sessions.
So, we had bandwidth and streaming issues to consider.
And then we had the fact that when you get thousands of people in one live session, you're probably going to want to be on a dedicated server. We started the research back on March 15 and the event wasn't until April 6. It took about two weeks to really nail down a solution.
🔎 Related: Best virtual event software options for your company's next event
The more we searched, the more new tools popped up. Just when we thought we had found something, someone released something new that we'd consider.
And so, what I did was look to the community of other people doing what we were doing.
There are plenty of event directors out there managing virtual and in-person events. There was a Slack channel, there was a Facebook group, and eventually we found this list of tools with pros and cons.
It didn't make sense for us to demo 30 softwares when we could scroll through a spreadsheet created by this hive mine and say "this one doesn't have a live streaming. So, that's out."
That really helped narrow it down a lot more quickly. Then we had a budget.
The budget was really challenging. Right now there are fantastic solutions out there for $70,000. There are amazing solutions out there for $30,000 and there are pretty sufficient solutions out there for $200 — and figuring out the difference and what we needed was definitely challenging.
We had a group of seven working on this event all day, every day. We ended up choosing something called BigMarker, and they did a great job. There were definitely some challenges, being a solution on the lower end cost-wise, but it allowed us to have 3000 registrants.
It allowed us to have a series of live sessions or on demand sessions that people could join without having to pre-register or sign into each specific session.
That was really important to us. (It's just like in an in person event, you wouldn't want to walk up to a room to see a speaker and have to sign up again to enter the room.)
We also took into consideration our sponsors and our partners and what was important to them. That meant getting the attendee list, finding out how many people came to each session, and getting a list of emails they could follow up after.
Obviously we worked that into the permissions and consent of our registration, since we needed to be able to show our sponsors and our partners:
These are the people who came to your session during the day.
If we asked poll questions [in a session], we wanted to be able to give our sponsors the answers to that poll after the fact.
Ultimately, BigMarker worked out really well for everything we needed.
How should companies plan their own virtual events?
John: If there are companies, organizations, or nonprofits, out there who might have canceled events or are thinking of doing an event online, what's your biggest piece of advice?
Steph: My biggest piece of advice is to find someone who's done this before. There is no reason to reinvent the wheel.
Though, you should still do something creative and find what makes your event special and what makes people come to your event. And make sure that that translates to the virtual version.
If something that makes your event special is people get to have a really great dinner, you're gonna have to find a way to make something really unique in your virtual event that feels as special as that.
If your event is the only virtual event in your industry for people using a specific software solution, that's easier to translate to a virtual event.
So, think about what makes your event special and make sure that that translates into your virtual event.
And then find someone like me or a group of people who've done this before and learn from them — so you can avoid making the same mistakes that they made.
Events in the not-immediate future
John: Do you think events will ever go back to how they were before COVID?
Steph: Oh, this is such a depressing question! I live for live events. I seek out in-person events, concerts, conferences, networking. I just love interaction with people in person.
Now, working remotely and being on video all the time, I know a virtual event is the next best thing.
I don't think that in-person events will rebound to where they were immediately, but I think that they will come back eventually and they'll be better for it.
Free Assessment:
How does your sales & marketing measure up?
Take this free, 5-minute assessment and learn what you can start doing today to boost traffic, leads, and sales.