Subscribe
Join 40,000+ sales and marketing pros who receive our weekly newsletter.
Get the most relevant, actionable digital sales and marketing insights you need to make smarter decisions faster... all in under five minutes.
Thanks, stay tuned for our upcoming edition.
COVID-19 made them a necessity, but virtual events are here to stay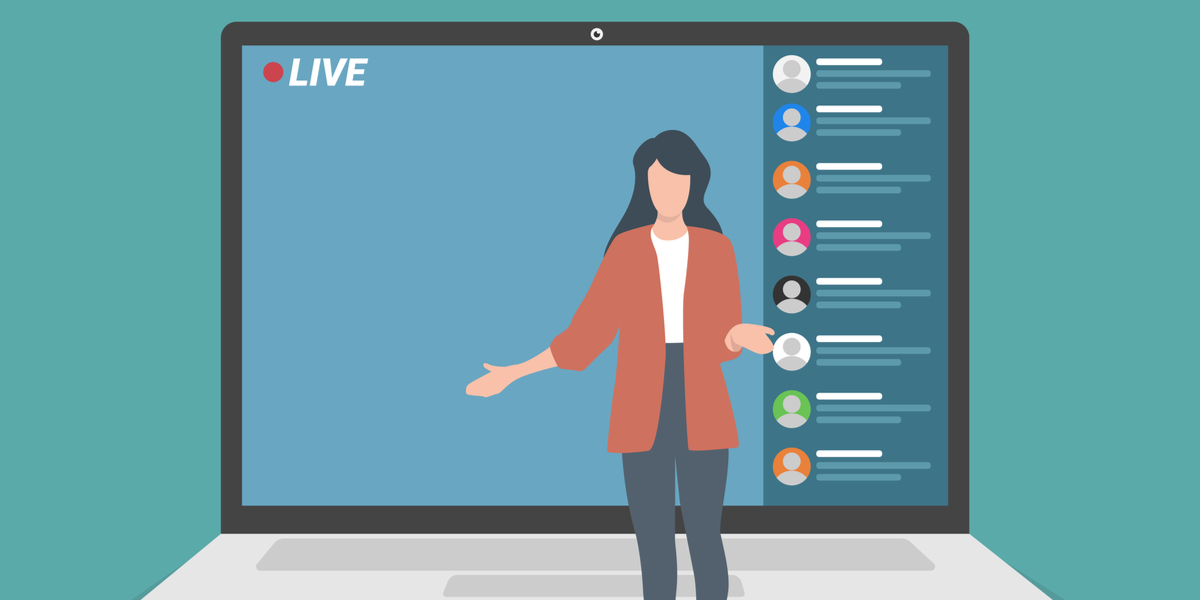 "They're here to stay."
That's what the folks at Condé Nast said about the virtual event concept when they previewed the 200 virtual events they had planned through the end of the year. (Yes, 200. You read that correctly.)
In the wake of the coronavirus (COVID-19) pandemic, the international media and publishing giant is taking a big swing at loading up those virtual efforts with sponsors via its first-ever Virtual Events Upfront.
🔎 Related: See all of our COVID-19 digital sales and marketing coverage
They displayed what advertisers can expect from the company's portfolio of brands through the end of the year. Virtual events, as compared to the traditional in-person gatherings, allow for businesses of all kinds and sizes to hold events on a global scale and empower direct one-to-one measurement.
Of course, advertisers and sponsors have been understandably a bit "skittish."
Could virtual events be as profitable or worth the investment as the more traditional, pre-pandemic live events?
New data shows strong public interest in virtual events now (and in the future)
Back in May, Conde Nast ran a global survey focused on audience perceptions towards virtual offerings, and what they would likely tune into. According to Eric Johnson, SVP of commercial marketing and events at Conde Nast, from a consumers' perspective, "There is a much higher aptitude for engaging in this virtual format."
The survey found that over 70% of the Condé Nast audience had already attended one of the 150 virtual events that the company has held since March. Additionally, 90% of respondents said that even once live events are back, they would still be interested in the virtual offerings.
What should your virtual event strategy look like?
It's becoming clear that more and more businesses are leveraging virtual events to replace their in-person events, but does that mean everyone should add a virtual event strategy?
Not necessarily.
However, it's getting much easier to plan and execute a virtual event. While I'm not the expert on the topic, IMPACT's event experts have chimed in with their take on everything from planning, software, sponsorships, to promoting your event and organizing an events team.
FAQ #1: How long does it take to plan a virtual event?
Whether you're transitioning a previously in-person event to an online one or you're starting a virtual event from scratch, you need to allow time for your initial strategy development.
Take time to determine the goal of your event. Not all in-person activities transition well online — nor should they. Determine what you want the experience to be like and what you're trying to accomplish for your attendees.
According to IMPACT Director of Community and Events Stephanie Baiocchi, our event guru, these are the questions you need to consider when planning your event:
Is this a one-time event or a series?
How long will it last?
How much content and how many speakers you'll have?
Will sessions be live, pre-recorded, or a combination?
Will you have networking opportunities and other activities?
Will you charge or will it be free?
Will you have sponsors?
Will attendees be able to create profiles? Chat with one another?
What other features do you want? Polling, pop ups, etc.
After hosting two virtual events already (and another one around the corner with HubSpot Training Day on October 27), Stephanie is definitely also a big fan of virtual events:
"Virtual events can be incredibly rewarding for your audience and your business.

In addition to saving businesses and attendees money and time, virtual events are more accessible and convenient to attend which means you can reach a larger audience than with an in-person event."
Still, she notes that proper planning is key.
"Many companies are jumping on the virtual event bandwagon and most are doing virtual events for the first time — so they're not necessarily prepared to do them well."
🔎 Related resources:
FAQ #2: What's the best virtual event software?
Virtual event software is a tool that allows you to create a long-form online event experience with live or recorded sessions and the ability to interact with other "attendees" virtually.
Each virtual event software has its own level of customization and feature sets, but some typical features you'll find are:
Virtual lobbies
Public and private chats
User polls
Sponsor areas and ads
Reporting on user engagement metrics
After doing extensive research on virtual event software for us, IMPACT VP of Marketing Vin Gaeta had this advice for companies looking for software for their own virtual events:
"There are hundreds of virtual event softwares out there; ones that only offer live streaming, or only on-demand recordings, platforms that are extremely niche and only work for a specific industry, and more that I probably don't even know about.

It's important to do your own research and find what fits perfectly for your needs."
🔎 Related: 5 best virtual event softwares you should consider
FAQ #3: How do virtual event sponsorships work?
The fact is that virtual events are where everyone's attention is right now. With their large, active audiences, virtual event sponsorships have become one of the most effective ways to drive awareness and generate leads for companies of all sizes.
According to IMPACT's partnership ninja, Nick Bennett, sponsoring a virtual event is far less expensive than a traditional live event sponsorship.
Here are the three most common sponsorship options that we are seeing:
Virtual Booth: A "room" where attendees can, like at a live event, chat with your company representatives, learn about your brand, and check out your offers.
Presenting Sponsor: Can be a live or pre-recorded 30-60 minute presentation during a virtual event to educate attendees and show the value of your company, while you interact and respond to their questions in real-time.
Exposure/Promo: This could be a combination of a lot of little things your event organizer can do for you. Typically, it includes logos in emails, social media posts, ad placement across the in-event experience, and on the website.
If you're a business considering sponsoring a virtual event, as opposed to running a virtual event yourself, Nick has this advice:
"We must remember that for all quantifiable business outcomes and deals you can close from sponsoring virtual events, the most important (and intangible) is the trust you build with audience members by meeting them where they are and showing up as a leader and educator in your space.

When you show up as a helpful teacher rather than a cold corporation, you are able to connect and build relationships with your audience that are even more valuable long-term than a short-term sale."
🔎 Related: What does a virtual event sponsorship actually look like?
FAQ #4: What should a virtual event promotion strategy look like?
If you're wondering how different it is to market a virtual event versus a live event, the answer is honestly... not very. That said, there are things you need to keep in mind, especially given today's climate.
Kristen Harold, IMPACT's director of demand generation, has the inside scoop on what she includes in every single one of her outstanding virtual event promotion strategies:
Brand your virtual event memorably
Create a multi-faceted marketing plan (website, social media, email marketing, partnerships, paid media, and so on)
Build a dedicated website or landing page for your event
Send a save the date email for your event
Create and launch a social media plan
Announce your agenda or event programming
Find your event ambassadors and leverage your speakers to promote your event
Keep promoting even on the day of your event
Still, before you even begin marketing your event, Kristen recommends you ask yourself two critical questions:
"That's one of the first questions you need to answer before you start planning, let alone marketing, a virtual event. Will this offer value to your audience? Second, will hosting a virtual event help your business achieve its goals, whether it's sales, awareness, or lead generation?

Once you understand what value your offer and what your own goals are, you'll be better equipped to start marketing your virtual event."
🔎 Related: How to promote a virtual event (8-step promotional strategy)
So, what should you do now?
From our own personal experiences at IMPACT — now underscored by Condé Nast's new data — it's clear that a virtual event strategy is something almost every business should consider in some capacity. But you have a few questions you need to answer:
Should we put on virtual events, participate in virtual events as sponsors, or some combination of the two?
If we're already hosting in-person events, are they suitably translatable to a virtual format?
If we're already hosting in-person events (or not hosting events at all), what new event opportunities do we have in front of us now that we have a new virtual playground to explore?
Remember, virtual events — whether you're hosting one or sponsoring one — will only earn you the trust and revenue you're looking for, if you do them well and with purpose. Simply embracing virtual events as a fad will get you nowhere fast.
Free Assessment:
How does your sales & marketing measure up?
Take this free, 5-minute assessment and learn what you can start doing today to boost traffic, leads, and sales.