8 best virtual digital sales and marketing events in 2020
Back in December 2019, our director of demand generation, Kristen Harold, put out an article showcasing the 10 best [in-person] marketing events to look forward to in 2020.
It was the makings of a great resource for event-goers in the marketing space; I was making plans to attend a few myself!
Then, the whole world got flipped upside down.
Suddenly, that great top-10 list turned into:
1 in-person event,
3 canceled events,
3 virtual events, and
3 events that are too far away to tell, but I'm suspicious they are making contingency plans.
No one could've anticipated what COVID-19 would bring to the events world, let alone the world entirely.
I had started as IMPACT's community and events manager less than two weeks before the March 13th announcement of a national state of emergency in the U.S.
It was a chaotic time to start a new role, let alone a role in events.
I remember one of the first events team meetings I was a part of. It started with cautious planning of our in-person event, Digital Sales & Marketing World, including all the measures we were planning to take to make it a safe environment for attendees.
Then, we got a notification that there was a live press conference about to take place where a national state of emergency was likely to be announced.
Slowly, knowing our fate, our team began to look around in search of our CEO Bob Ruffolo to share the news and begin re-strategizing.
What began as final preparations for our annual event had now become a scramble to figure out if the event would happen at all.
Surprise! We didn't have our in-person event. In fact, just about everyone who had an event scheduled after that day didn't.
The race was now on to create amazing virtual events and three weeks later, what was once saved for our three-day in-person event, became a full-day virtual event called Digital Sales & Marketing Day.
Since then, the virtual events space has become drastically over-saturated.
Eventbrite, the online event ticketing platform, experienced a 1,100% YoY increase in business or professional online events in April 2020. Virtual or online events, in general, saw a spike of over 2000% on the platform as well. While we can't say 100% this is due to the coronavirus, considering the effects across the globe, it seems like a logical correlation.
This makes it really tough to figure out which events are worth checking out and which are not in 2020.
With so many virtual events on the horizon, we have compiled our [chronological] list of the best virtual events in the digital sales and marketing space coming up in 2020.
The best virtual digital sales and marketing events in 2020

Date: June 17, 2020
Cost: Free
Presented by the sales-focused SaaS company Xactly, this once in-person event has pivoted to become a four-hour virtual event that brings sales, finance, operations, and compensation teams together to unleash the potential of your sales teams.
The event will feature keynote speakers like Xactly CEO Chris Cabrera and Forrester Principal Analyst Mary Shea as well as breakout sessions that work along four separate tracks - Finance, Sales Leadership, Compensation Administration, and Sales Operations.
To make things a bit more fun, Unleashed virtual is going to have an X-Factor Talent Show! I don't know what that exactly means, but ending an event with a talent show seems like a good time.
On top of all this, what's really unique and forward-thinking about this event is its recreated other parts of the event experience aside from sessions! All-day, attendees have the option to hop into virtual hangout rooms to get away or network, just as you might do at an in-person event.
There are three rooms, all offering different services for their attendees:
Wellness Xscape: This room will offer guided meditations, yoga classes, and more to help you mentally escape from the stress.
Partner Pavilion: Here you can meet up with some of Xactly's partners and learn how
XactlyLoves Me Lounge: While the name is a little odd, this is the place to network with attendees and spark conversation.
Taking the time to have these mental health-focused areas in a virtual event is something I think we will see a lot more of, so kudos to Unleashed Virtual for including it!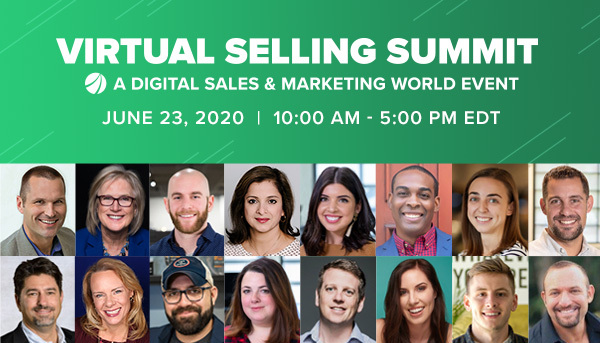 Date: June 23, 2020
Cost: $39 (Use code VIRTUAL for $29 tickets!)
Presented by IMPACT and part of our Digital Sales & Marketing World event series, Virtual Selling Summit is a full-day event that will empower organizations and their sales teams to transform into virtual selling machines.
The event will feature keynote speakers like Marcus Sheridan, Author of They Ask, You Answer, Jill Konrath, Author of SNAP Selling, Yamini Rangan, HubSpot's Chief Customer Officer, and many more.
What makes the Virtual Selling Summit stand out is that while there is a mix of live and pre-recorded sessions, all the speakers will be live in the chats of their sessions interacting with attendees, spurring conversation, and answering questions during their sessions! Rarely does the audience actually get time to interact with the speakers on such a personal level even at in-person events.

Date: June 25, 2020
Cost: Free
Drift's all-day virtual event is focused on helping businesses create the ultimate personalized website experience for consumers.
Given that digital is one of the only channels you can connect with buyers during the coronavirus pandemic, RevGrowth Digital will show you how to take your website to the next level.
Their sessions will feature industry leaders in personalization, UX design, SEO, and yes, how chatbots can help. By attending this event, you will master how to make your website speak directly to your customers and prospects in a way that puts their needs first.

Date: June 29 - July 3, 2020
Cost: Free
Presented by Social Media Pro, Social Media Day 2020 is bringing the top minds in social media together for a comprehensive dive into what success looks like on the top platforms such as YouTube, Facebook, Instagram, Pinterest, and LinkedIn, as well as the strategies and tools you need in your arsenal.
Each day of this five-day event will have its own theme as follows:
June 29: Personal branding and building connections
June 30: Packages and pricing strategy
July 1: How to win on LinkedIn, Instagram, Facebook, and Pinterest
July 2: Using video on social media
July 3: Content creation best practices
Since Social Media Day 2020 is broken down this way, they also implemented a unique registration strategy, allowing users to register for individual sessions on individual days, making it easily accessible for those looking for something in particular.

Date: July 14-15, 2020
Cost: $129
MozCon is a two-day virtual conference that focuses on search engine optimization and search marketing.
SEO has changed a lot as more and more consumers have had to move online. Companies have had to change their strategies to win the growing online consumer audience. In their shift to virtual, MozCon said, "...while the world changes around us, SEO doesn't stop - searchers keep on searching, and marketers need to stay sharp to meet their needs."
So why does MozCon cost $129 while others are free? To start, the speaker lineup includes some of the biggest names in the SEO industry such as Andy Crestodina, Co-Founder of Orbit Media Studios, and Sarah Bird, CEO of Moz.
The sessions featured at MozCon are catered for not just an SEO audience either. They will bring actionable insights for content managers, digital marketers, and even agencies.
MozCon also embraces the community experience of virtual events by offering birds of a feather discussion groups that will feature live Q&A sessions with speakers, chat rooms for attendees to hang out together, and unique discussion topics in those chat rooms that will change each day of the event.

Date: September 2-3, 2020
Cost: $310.96 (very specific)
For all the SAAS lovers out there, SASSTR is going to be the ultimate two-day event for you.
The event will bring together 50,000 SaaS executives, founders, and VCs for the largest digital SaaS gathering on the planet and it has a huge line up of high profile speakers, with over 250 SAAS experts already announced.
SaaStr is designed to help SaaS businesses grow faster by learning from those who have done it before them.
As Aaron Levie, CEO of Box, put it, "SaaStr is definitely the largest collection of people who like enterprise software on the planet. It's a great community of people trying to build companies and learn from one another."
Some of the highlights of those announced include Eric Yuan, the CEO and Founder of Zoom, Cynthia Stoddard, CIO and SVP of Adobe, and Adam Blitzer, CEO of Salesforce Marketing Cloud.
The precise $310.96 price point, while a bit on the pricier side compared to other events on this list, does have some great perks. Not only do you get access to all the live sessions (as well as recordings after the event), you also have full access to all the workshops and 1:1 or small group discussions with other SaaS leaders. With an audience that large, you will be running into some high-power leaders that can take your business to the next level.

Date: September 22 - 23, 2020
Cost: Free - $69
Hosted by HubSpot, INBOUND is one of the largest marketing events in the world, typically garnering over 26,000 attendees per year.
There are two main areas that INBOUND is aiming to deliver on in their virtual event: Energy and Community. In a statement released by the INBOUND team, they say:
INBOUND 2020 will bring attendees together no matter where they are physically with connection, energy, personality, and excitement. We believe that events should create a shared moment in time that unites a community and create space for uplifting energy to percolate, enabling conversation and connection, allowing everyone to feel part of something bigger, something that's worth getting excited about and rallying around, no matter the medium. That's the secret sauce that has always made INBOUND special and as we think about how we are going to deliver INBOUND via this new, online, immersive experience, creating a way for this to happen is top of mind for us.
While they only recently announced the move to virtual this year, INBOUND plans to deliver on these promises through engaging breakout speakers, interactive keynote sessions, and a dynamic community atmosphere where users can connect and network.
For free ticket holders, they will get access to the main spotlight speakers and limited access to the networking and games sections of the event. On the other hand, those who pay $69 for their ticket will get full access to everything the free ticket gets as well as access to all the breakout sessions, additional INBOUND content after the event, and an exclusive "Inbound From Home" kit. (It's a secret what's actually inside, but fingers crossed there is a lot of INBOUND swag.)

Date: November 5-6, 2020
Cost: Free
The Sales Growth Virtual Summit, hosted by Women Sales Pros, brings together 40 of the leading experts in the sales field who share their insights, expertise, and actionable advice for salespeople of all levels.
The sessions are fast-paced, 20-minute sessions that teach today's best practices in sales, ranging from high-level strategy and process down to the proven day-to-day tactics and technologies.
Each day will also feature a town-hall-style interview session where audience members can ask questions and dive into the details directly with the top experts.
The speaker lineup is primarily female, a refreshing change from the typically male-dominated sales speaker landscape and features many of the leading female sales experts in the industry, including Carole Mahoney, Founder of Unbound Growth, Danita Bye, Founder of Sales Growth Specialists, and Amy Franko, Author of The Modern Seller.
Virtual events are the new reality
While I'm sure I didn't capture every great virtual event that will happen in 2020, I can confidently say that virtual events aren't just a trend that will go away once COVID-19 is past us, if it ever does pass.
The events industry has been moving in a virtual direction for a long time and that migration has only been expedited due to COVID-19.
As we get towards the fall and winter months of 2020, there will be a telling tale of if in-person events will again reign supreme or if the virtual trend will become the new king of the events space.
Looking to host your own virtual event but don't know where to get started? Or maybe you had an in-person event that needs to move to virtual? IMPACT can help! Check out our virtual event consulting and build the best virtual event in your industry!
Free Assessment:
How does your sales & marketing measure up?
Take this free, 5-minute assessment and learn what you can start doing today to boost traffic, leads, and sales.