The 3 Stages of Successful Live Event Marketing (& Tips for Nailing Each)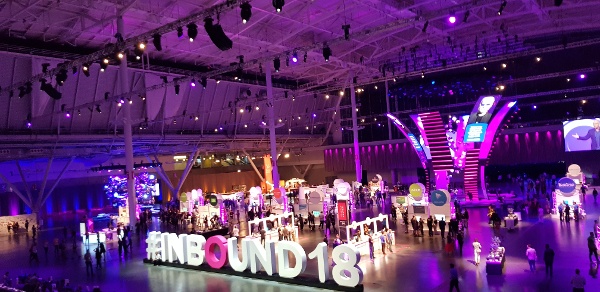 Trade shows and live events require a great deal of capital and resources.
Done right, they can give you face time with prospective clients, build brand awareness, and generate new leads for your business, but done wrong and they can be a huge waste of money.
So, how can you ensure your trade show booth generates leads that ultimately turn into customers?
The key is to approach a trade show as you would any other business venture - with a strategy.
What Do People Really Want At Trade Shows?
How many times have you avoided making eye contact with someone "manning" their booth at a trade show or live event?
It's ok to admit it; we've all done it!
It's can be awkward. You feel like perhaps you should talk to them, but chances are, you don't have a need for their product or services.
As we know from inbound marketing, buyers want to do their own research before talking to a supplier/vendor.
Some estimates indicate that buyers actually complete 57% of their buying cycle before they are willing to speak to a salesperson or contact a company for information.
What does this mean for you as the exhibitor on the floor?
If your ENTIRE trade show strategy is to introduce your company or product for the first time to the attendees at the show, you are likely to fail.
Most attendees are not looking for new vendor information or relationships at trade shows, they're looking for information to validate the buying cycles their already in.
With that said, however, some will discover your brand for the first time.
So, as a marketer, you do need a plan for successful top, middle, and bottom-of-the-funnel interactions.
If you set lead goals for each stage of the funnel and get a strategy in place in advance, your team can be more effective and results driven.
A Good Trade Show Strategy Starts Weeks in Advance
Your success on the trade show floor is determined in the weeks and months prior to your shoes hitting the ground.
As an exhibitor, your pre-show marketing is just as important as your post-show follow-up and everything in between.
Let's break this down into the three different stages of live event strategy: Pre-show, during show, and after show.
Pre-Show
It's a good idea to focus most of your strategy on growing your existing relationships at the trade shows you attend.
Use this time for face-to-face account meetings to review sales or introduce additional service offerings with existing customers, or to meet that prospect you've only spoken with on the phone, face-to-face.
To do that effectively, it's best to announce that you are exhibiting to your clients and prospects at least two months in advance.
You already know who your clients and prospects are and hopefully, you've got a list of all of the decision makers at those accounts.
Cross-reference that to a list of attendees of the trade show. (If you are a sponsor, the trade show should provide you with that list.)
Once you identify which of your clients and prospects will be there, talk about the theme of your booth in your email newsletter, your blog, social media profiles, or even any upcoming sales or account management conversations.
Even better, launch a targeted Account-Based Marketing campaign to get them to your booth, that your marketing team and sales team participate in equally.
Advertising and Account-Based Marketing (ABM)
Our clients have seen a lot of success leveraging the one-two punch combination of advertising and ABM because it combines traditional marketing, digital ads, and simultaneous sales team collaboration to secures meetings and create new opportunities.
The first step in uniting these two methods is to create an 'offer' that will drive clients and prospects to your booth.
Send a clever 3D object in the mail with marketing collateral that supports our offer's messaging. (Read on to learn how Maui Jim executed on this.) ….
Ensure that your sales team follows up with each customer or prospect shortly after the mail arrives, to set up a time to meet at the trade show and cash in on that offer.
Then, target that same group of clients and prospects with paid ads on LinkedIn with digital messaging to ensure they visit your booth.
Offer Incentives
What might this look like?
Our VP of Marketing, Kathleen Booth shared a great example with me recently. In the past, Maui Jim has sent targeted prospects cleaning wipes in the mail with their booth number and a call-to-action to visit their booth for a special prize, a free pair of sunglasses.
This was great because it gave people a taste of their product line, but also offered a reward for learning more. If that won't drive booth traffic, I'm not sure what will.
A more traditional (and less expensive) approach to this could be, sending a locked thumb drive with a piece of marketing collateral that explains if the prospect goes to your booth, you'll unlock the resources on the drive.
Or it can be something as low-friction and fun as a "locked" Starbucks gift card. If the prospect visits the booth, you'll unlock it so they can use it.
The idea is to incentivize visiting your booth.
Bigger prizes to drive sales appointments aren't a bad idea either.
For example, if you sign up for a meeting with a salesperson and attend, you could be entered to win a new Google Portal or iPad.
Forget scanning every passer-by's badge to grow your contact list full of meaningless contacts, instead, this targeted and incentivized approach ensure you engage with the most highly coveted attendees and nurture them from middle to bottom of the funnel with meaningful conversations.
During Show
During the event or trade show, it's a good idea to have a conversion path for different types of leads you and your team interact with.
Make sure your trade show staff understands each one. It might even be a good idea for each staffer(s) to own a step in them.
For example, when IMPACT was a booth sponsor at INBOUND 2018, about a dozen team members attended and played very specific roles with prospect interaction.
Pre-show, we met as a team to discuss roles and to ensure everyone understood how their contribution would help drive more leads and sales and drive towards our goals.
Then, when we got to the show, each role type had a booth schedule and we rotated in and out of the booth in different shifts each day for each role. This helped us help booth visits quickly access the right people and content based on their needs.
Roles included:
Greeters: These folks spoke with any booth visitor at any stage of the funnel to answer questions, introduce our brand, hand out swag, you name it. They also checked-in attendees who had made appointments for a Website Throwdown with on of our strategists.
Strategists: Our strategists' main purpose was to meet with attendees who signed up for a website throwdown and share honest feedback on what could be improved from UX, design, marketing content, and conversion paths.
The goal of the throwdown was to convert that interaction into a meeting with a salesperson either on-site or the week after INBOUND.
Sales People: In addition to meeting with post throwdown prospects, we also met with top-of-the-funnel leads who were interested in learning more about how we might help with projects and marketing initiatives.
We also proactively and in collaboration with our pre-show marketing, set up appointments to meet with any clients and prospects who were in attendance but didn't sign up for a throwdown to maintain relationships, upsell, and close more business.
Geofencing
If you have awareness goals for your trade show, you can also consider geography-based advertising.
The beauty of trade shows and live events is that they bring large groups of your target audience together in one place. If someone is not aware of you, implementing a geofence around the venue will enable you to target these new individuals.
Geofencing enables you to deliver mobile ads to people who are browsing their favorite websites or apps on their phones when inside the radius.
This article has several great ideas for leveraging the tactic.
If we use INBOUND as an example again, IMPACT would look for marketing executives staying in the Seaport District of Boston, who are of a certain age, with income of a certain amount and have used certain types of apps or visited www.hubspot.com, inbound.com or a marketing publication online.
Once the fence and the target audience is set up, develop an offer driven ad that drives traffic to your booth, and tah-dah, your geofencing campaign is activated. Utilizing a landing page or other trackable conversion point in collaboration with geofencing is important, because post-event, you'll want to retarget these newly captured contacts appropriately.
Geofencing is facilitated through vendors like Propellent Media and others who use mobile device data to target people in a specific geography.
You'd work with a geofencing vendor and determine the radius of your geofence. Perhaps a mile around the address of the trade show location], but you don't just want to blanket everyone inside the geofence, targeting the right people will be critical to your success.
Side note: Don't forget the importance of including nearby hotels and restaurants in the geofence that trade show attendees will likely be patronizing. The conference will be top of mind everywhere they go when they're near the conference center, even when they're dining or mingling at nearby eats and treats.
In-app Advertising
The more organizers can help exhibitors connect with attendees digitally, the better opportunity for ROI (and in turn, the better opportunity for sponsorship renewals. So chances are the organizers of your event developed a dedicated app. Use this to your advantage!
If you want to streamline your targeted audience and only market to those who are using the conference app, consider in-app advertising or promotion if it's offered.
As a sponsor, ask the trade show what options they have for:
Launch screen banner ads

Highlighted sponsor/exhibitor listings

Push notifications/alerts

Scavenger/treasure hunts

Opportunity to showcase a new product

Digital demo or audio tours of the booth with CTAs
Any of the above ideas will also work to further engage clients and prospects targeted pre-show as well.
You might even consider running two types of the above campaigns, on top-of-the-funnel and another middle to bottom with different CTAs for both types of prospects.
Experiential
A great way to drive traffic to your booth is through unique experiences. Experiences, unlike swag, are active. They're fun and engaging and things that people are likely to tell others about in conversation or on social media.
For example, after a few hours walking those concrete conference hallways, your body hurts. A massage station never fails to drive traffic.
Remember you have goals and a conversion path plan for your booth, however.
Even if an attendee visits your booth for nothing more than a chair massage, make sure your greeter says hello and continues the conversation.
Perhaps they are prepared with a survey that the attendee is asked to complete and the survey has persona or qualification-driven questions.
This is effective because you draw them in through the irresistible experience, and get the conversion so you can market to them (or not based upon their responses) accordingly.
Games & Competition
Another fun way to grab attention is to set up a game with a leaderboard and compelling prizes. This gamification will keep attendees coming back to visit your booth time and time again during the show to see where they rank. This is a tactic HubSpot Academy has used several years at INBOUND.
Our Head of Strategic Partnerships & Web Specialist, Vin Gaeta, never misses it:
Inherently people want to win, especially your 'D' types of decision makers who are also likely your best prospects.
Capitalize on Influencers
At INBOUND this year, Alex Rodriguez was a speaker, as well as a host of other high-profile names.
I happened to be at the IMPACT booth during his session and watched it on the exhibition hall screen. Throughout the talk, everyone watching there ran to the front of that screen to take selfies "with" A-Rod.
Even I took one and sent it to my Yankee-loving friends and family to make them jealous.
How cool would it have been if an exhibitor had a green screen at their booth where you could get a 'picture with A-Rod' as a keepsake?
A while back, our team attended a trade show and an exhibitor did this with Barack Obama's photo and it drew in a lot of traffic.
It doesn't really matter who the celebrity is so long as it's someone your audience admires.
Slap a logo on that picture and boom, it's great awareness generating trade show success.
If you can have a high-profile name be at your booth at the specific time, even better!
When all else fails, here are some more fun awareness driving ideas: Charging Station
Never underestimate the power of a charging station (see what I did there?)
At live events, everyone needs a charge and is grateful to those you can provide it.
One reason why I love this idea so much is that desperate times call for desperate measures and a charging station will keep someone at your booth longer which opens up the opportunity for your booth greeter to strike up a friendly conversation and encourage a conversion path if appropriate.
Guerrilla Marketing
You don't have to be an exhibitor or sponsor to take advantage of awareness marketing opportunity at an event. Try some guerrilla marketing tactics!
Think of all of the workers that will be in/around the trade show for those few days, for example. Bartenders, shuttle bus drivers, bellhops, cab drivers - they'll interact with attendees a lot.
Why not make up some cool swag and hand it out to these folks, and give them an incentive to wear it like an instant prize if one of your staffers sees them wearing it.
This article mentions several more guerrilla marketing ideas that can support your overall campaign strategy.
Post Show
So the event is finally over!
You've got a lot to do and you're tired, but you can't rest just yet!
It's really important to keep up your energy and finish executing your strategy strong.
Don't let all of the time and effort from a trade show go to waste.
First, meet again with your trade show team and report back on how each person tracked to your goals. By including the team in the post-show debrief, you'll help them feel a sense of accomplishment and get a full picture of what happened during the event.
Assess the conversion paths for your clients and prospects, how many people visited the booth as a result of your pre-show digital and ABM efforts and what was the result of that interaction.
Have you entered that person into the appropriate follow-up sequence or updated their lead score in your marketing automation platform?
You should also setup post-show ABM to engage with anyone on your pre-show list that didn't visit your booth.
How many net new contacts did you generate at the booth? Was your greeter able to successfully identify prospects who could be now be nurtured as an MQL?
Consider retargeting the folks captured in your geofencing efforts and make sure your sales reps enter all of their new contacts or notes about their conversations into your CRM so that your entire company can move ahead with a solid smalignment (sales and marketing alignment.)
Lastly, keep detailed notes of your strategy and how you executed upon it, so you can iterate and improve upon it for the next conference. You'll likely save yourself a lot of time and energy.
Happy conferencing!
Free Assessment:
How does your sales & marketing measure up?
Take this free, 5-minute assessment and learn what you can start doing today to boost traffic, leads, and sales.