3 Qualities That Make A Great Marketing Leader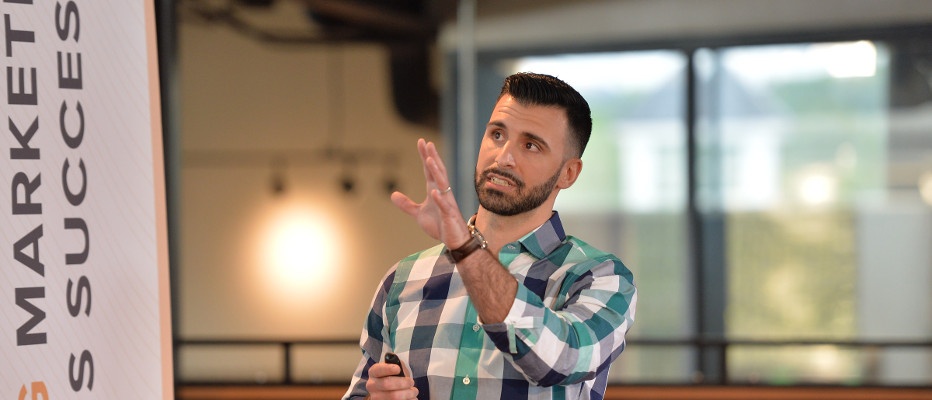 What makes a great marketing leader?
tl;dr: resourcefulness, ownership, and thinking ahead.
My approach comes from the experience I've had during a period of accelerated growth while I've been at IMPACT for the past two years.
The way that I've become a guidepost to my team was by learning the hard way, because I truly don't believe that there is any other way to really learn. Yes, you can watch videos, you can read books from great leaders, and you can learn in person from leaders that you already know, but you'll never learn something as completely and entirely as when you do it yourself.
You might think that this applies specifically to agency life, or small marketing departments, but I've found that managing people and driving marketing operations forward is really the same no matter where you go.
Application and Context
Like a lot of things in life, leadership is relative. You can't manage a five person company and a five hundred person company the same way, because they are drastically different. You'll manage differently depending on how long you've been in a leadership position, where your strengths and weaknesses lie, and how you gained your experience.
Each situation is different - for me, I can't manage my team the same way that I manage a client - it just wouldn't work. The two variables I've found that I can play with the change an outcome are 1) the situation and 2) my team. Situations are typically out of my control, while my team is the force I can use to change the situation.
The three qualities I've found that make all the difference inmarketing leadership situations are:
Ownership
Resourcefulness
Thinking ahead
These three universal qualities are necessary in a team of professionals, and so I've tried to instill them in my team from the moment they joined. They apply to everyone on a team, but matter more at higher levels.
For remainder of this article, I've come armed with examples of how they've made my team's life easier and helped us deliver results for our clients.
Ownership
This goes first because it drives the other two. In the time that I've been at IMPACT, ownership has been one of the core qualities that our top performers have. If you have a new tool, want to start a new thing, or want to share knowledge that would be useful to other members of the team, that's on you.
At IMPACT, we always rely on the members of our team, but there are sometimes tasks or objectives that fall into an accountability grey area. Tired of a broken process? Having trouble hitting deadlines? It's somebody's responsibility to step up and own that, and if it's not immediately clear who that person is, it's probably you.
How this applies to managing a marketing team
Every member of the team has to own something. The most straightforward way to do this is to assign objectives that match the team's overall goal(s). IMPACT's marketing team needs to reach a certain traffic number, and a certain conversion rate - that's their goal, and they own everything about reaching that goal.
It doesn't mean they are solely responsible for it, it means they are accountable for it. Ramona and Christine don't write every blog, but they manage the process, and make sure the rest of us deliver on what we've committed to do.
I've seen internal marketing teams laid out in a similar fashion. Sometimes one person is accountable for the top of the funnel, another for the middle, and a third for the bottom.
A content marketing manager is usually accountable for the blog's performance, while an inbound marketing manager might be responsible for traffic or conversions. Further down, a marketing coordinator might be more tactical, and responsible for generating a certain number of deliverables within a certain time frame.
As the marketing leader in your organization, you're responsible for managing all of that. But more likely than not, you're accountable for a number of qualified leads delivered to sales.
Resourcefulness
How many times during a day are you asked dumb questions? By that, I mean, how much time do you spend sharing information that has already been shared; whether it's in the form of knowledge, processes, or data, that are already documented and have been communicated by someone in your organization?
Probably more than you think.
That's where resourcefulness comes in. We all have a limited number of hours in the day, and only a certain amount of mental capacity, and it's important that we use that wisely.
What I really mean by resourcefulness is that if you can do it on your own, do it on your own. I understand that novel situations or new team members on a team need help onboarding, but at a certain point the process, you need to figure it out.
How this applies to managing a marketing team
It goes without saying (but I'm going to say it anyway) that being resourceful is important to any job or position you might hold, ever.
In a marketing context, the biggest area this covers is staying on top of the changes within your industry and being able to adapt quickly to stay in front of them.
Google rolls out a new algorithm? You need to be able to answer how it affected your website. Did your writer flake on content for a new blog post? You better have a backup or two waiting in the wings.
I've noticed that being resourceful is harder the farther you are from the execution of work. It's hard for a CMO to be as resourceful as the rest of the department, simply because of time constraints and differing responsibilities. So keep that in mind if you find those asking questions may be the ones without much involvement on the project at hand.
Thinking Ahead
It's not easy, but it's absolutely critical that everyone on the team thinks ahead.
Creating content takes time, and the blog post that's being written right now might not be relevant by the time it's finished.
Conversely, something might happen that requires you to stop what you're doing and focus on something else. You can't plan for that thing exactly, but you can plan for something to happen, and have a backup plan.
I've found that thinking 1-6 months ahead is a good practice. The human mind has a hard time visualizing anything that happens more than 90 days in the future, so anything past the three month mark is probably no more than an idea. Everything sooner than then is usually already something that is being worked on by the team, and has a priority assigned already.
How this applies to managing a marketing team
I'm sure your business is planning to be around in six months, and you are as well. As marketers, one of our jobs is always to think ahead. If we don't, we'll never be able to get anything done, we'll never reach our goals, and our competitors will outstrip us.
Most companies have a certain speed at which they get things done, and that speed is usually a product of that company's culture and leadership.
By thinking and planning faster than that speed, your team's workload will be more precisely balanced, your efforts will be all be rowing in the same direction, and you'll find success more easily because you'll already be aligned.
At IMPACT, we use SCRUM and the agile methodology to plan and prioritize our work, while staying flexible. It gives us full transparency into what we're doing, what's next, and any obstacles that might be in our path.
Having a regular pulse is key to thinking ahead. We have Daily Scrums in the morning, but I've also heard of pulse meetings, Level 10 meetings, huddles, and more. It doesn't matter what it's called, but it's a great practice to have that check-in frequently, even if it's only fifteen minutes.
How To Start Becoming a Marketing Leader
Start with IMPACT Live! Our intimate, two-day experience in Hartford will have you in the room with marketing and sales leaders just like you to connect, learn, and overall, have a damn good time! Get Your Ticket Here Now!
Free Assessment:
How does your sales & marketing measure up?
Take this free, 5-minute assessment and learn what you can start doing today to boost traffic, leads, and sales.