Personalized Marketing: 7 Impressive Examples & Why They Worked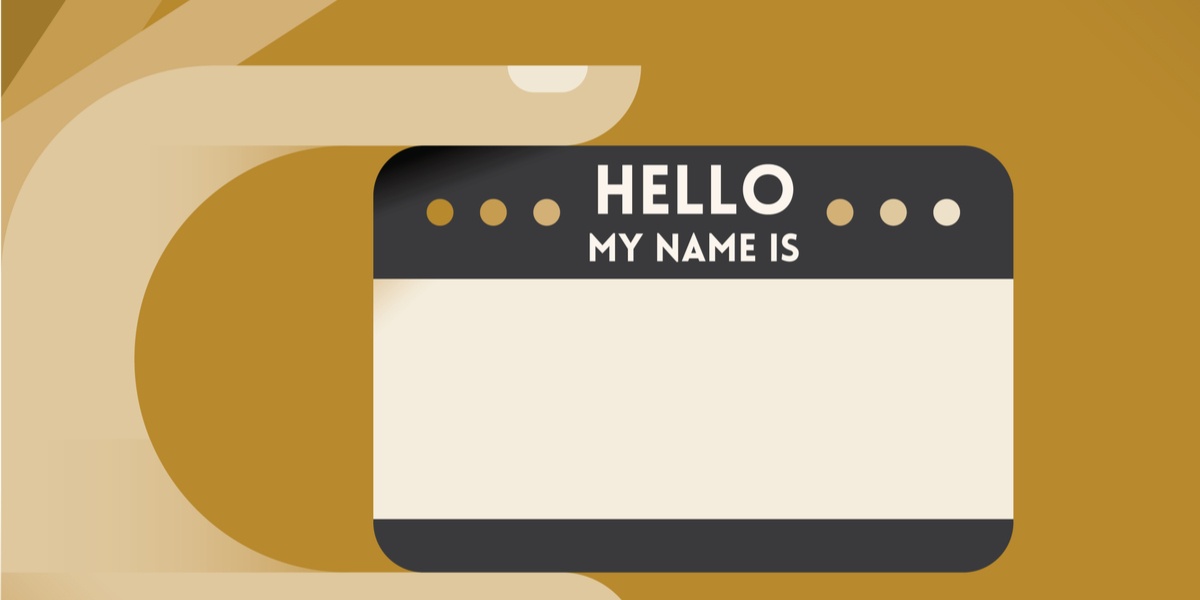 We have entered an age in which customer service and user experience are valued above all else.
Over the last decade, personalization in the business world has become more and more prevalent. From marketing and customer communication to product creation and beyond, it is now the expectation of most consumers.
In fact, 94% of customers and marketing professionals said personalization is "important," "very important," or "extremely important."
As competition in almost every industry increases, companies are steering away from generalized, hard-selling techniques to more effectively reach their audiences, "delight" them, and leave a lasting impression.
But how successful can personalized marketing efforts actually be?
Well, in a study conducted by Experian, personalized emails boast six times the transactions of emails that aren't personalized, and personalized websites for visitors saw an 18% increase in sales.
Despite these staggering results, many companies still aren't fully on board with personalized marketing just yet, and those who are, struggle with it.
Perhaps, they don't have the technology to do so, or, they simply don't go beyond including their contacts firstname and need a little inspiration.
In this post, we've gathered 7 examples of awesome personalized marketing, driven by data, that show's the incredible potential that personalization can have on your marketing efforts.
Personalized Marketing Examples
94% of customers and marketers consider personalization important today, but how do you do it effectively? Here are 7 brand campaigns that did it right:
DoggyLoot

DeepSky

Coca-Cola

Target

NakedWines

Amazon

Spotify
I'm a sucker for man's best friend, so I have to start with them.
DoogyLoot tailors its website content based on the size of your shaggy little friend. Your 8.5lb Yorkie (which might as well be a cat, by the way) would be petrified of a 5lb rawhide bone, right? So why show a Yorkie owner products designed for a Rottweiler?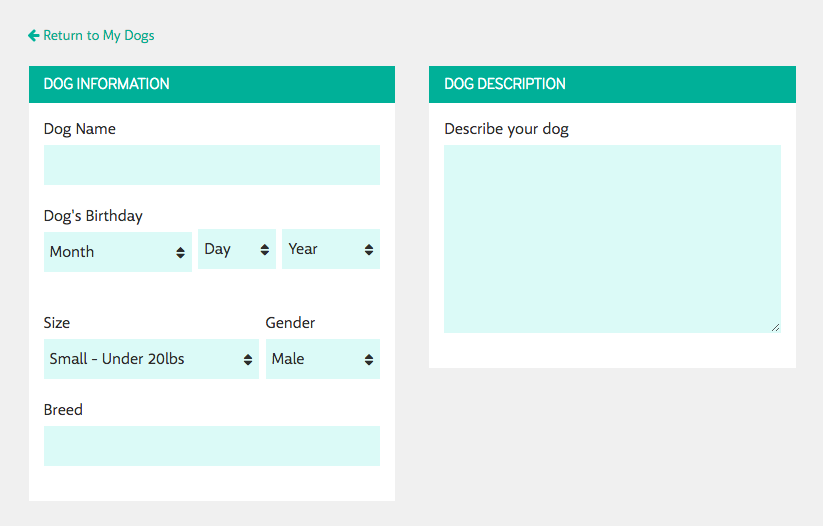 By only showing products relevant to the visitor, this personalization creates a tailored, user-friendly experience, where they don't have to waste time sifting through items they'd never want to purchase.
The same idea can apply to customers of the two-legged variety.
As a B2B brand, you can segment your marketing efforts based on business size, age, gender, industry, etc. to appeal specifically to that individual. Enterprise level software (along with an enterprise-sized cost), for example, would be useless to a small mom-and-pop shop. When you use the information leads give you through form data or profile information, you no longer have an excuse to showcase incompatible products or software for your users.
DeepSky is an accounting service that targets entrepreneurs with businesses of all sizes and products. With such a broad base of prospects, personalizing marketing efforts SHOULD be an incredible challenge, but the company has a clever solution.
On its "Free Tools" page, it has a cost estimator that allows entrepreneurs to assess their need and goals, as well as what they should be spending on accounting activities each month.
When they click "get started," prospects are asked a series of questions, and the tool personalizes a budget recommendation based upon their answers:
"In order to reach your goals, you should expect to spend X dollars a month on accounting."
The same philosophy can apply to your product positioning. Think about it; Why try and upsell a small startup your highest level of service?
Of course, it would be nice to nail down a huge account, but it's unrealistic for everyone. With a tool like this calculator, you can create an image of your product or service that truly resonates with potential customers and makes sense for them.
This level of specificity can't be given with something like a blog post or an eBook. It's interactive and most importantly, it gives each person who visits a unique experience, personalized just for them.
It also helps the brand gather valuable qualifying/segmenting data by having people fill out these forms.
In 2014, Coke debuted the now-famous "Share A Coke" campaign.
In an effort to reach out to teens and young adults, they released Coke bottles with 250 of the most popular names of the generation.
It then expanded to terms of endearment, relationships, nicknames, and even the opportunity to customize a bottle. Now, there are over 800 names in circulation, covering 77% of the U.S. population aged 13-34.

Unfortunately, IMPACT isn't one of the 800 names, so we'll have to splurge for one.
AdAge reports they will soon be unveiling common last names as well.
So how did an idea as simple as putting a name on a bottle work out? Well when the "Share A Coke" campaign came out in 2014, the company saw its first increase in sales volume since 2000.
The point here is simple: when considering personalizing a product or service, make sure it makes sense for your buyer persona or target market. Understanding its desired young audience, Coke gave them a fun, simple, and shareable campaign to follow and actively participate in with their peers.
Now, this one is my favorite.
Target wanted to appeal to new or soon-to-be parents for most of their baby needs. The company noticed that it had become the go-to for household items like cleaning supplies and toilet paper, but weren't pushing enough baby formula or toys. New moms were going to other (and multiple) places for all of that, which inspired a personalized marketing campaign for the history books.
Andrew Pole, a statistician at Target, came up with a method using advanced statistics and other fancy math tools, long story short, identify new parents before they became parents. (This awesome article from the New York Times goes into a lot more detail.) Andrew explained:
"New parents are a retailer's holy grail. Most shoppers don't buy everything they need at one store. Instead, they buy groceries at the grocery store and toys at the toy store, and they visit Target only when they need certain items they associate with Target"
With this in mind, Target set out to have people form a brand identity with it before all the parent expenses hit.
When children are born, parents get slammed with marketing materials from everywhere, but by assigning customers a "guest ID number" Target was able to store the customer's demographic information, ranging from ethnicity to job history, and to track buying behavior. It allowed it to market to pregnant women as early as their second trimester.
Here's where personalization might have gotten too personal:
After the implementation of Pole's model, one innocent store in Minnesota got a visit from a frantic father, who said his daughter (still in high school) had received coupons for baby clothes and cribs and accused the company of "trying to get her pregnant"
The manager apologized profusely, only to receive a phone call a few days later:
"I had a talk with my daughter, and it turns out there have been some activities in my house I haven't been completely aware of. She's due in August. I owe you an apology".
Okay, story time over. Personalization based on demographics and key purchase indicators can be effectively used to cater what your visitors see and like Target, help them create an unexpected bond with your brand. Almost 3/4ths of online consumers get frustrated with sites when content appears that has nothing to do with their interests, so try it out.
Consumers want to stay with the company that knows them and what they want to buy without asking.
Another simple way companies are personalizing their user experiences is just based on purchase history.
For all you vinographers out there, you probably have some clear favorites and dislikes -- or maybe you don't know a thing about wine at all. Either way, when buying from NakedWines.com your preferences are always taken into account.
Naked Wines has developed their brand into much more than just a wine retailer, but a personalized sommelier site. It allows you to buy wines and rate them online and gives you personalized picks and recommendations based on your specific tastes.
The site also invests a lot in its wine merchants to keep the little local guys going but that's just a plus.
Even though it's not the biggest of companies, it adopted the same personalized marketing strategies as giants like Netflix and Amazon.
In fact, 73% of consumers prefer to do business with brands that use personal information to make their shopping experiences more relevant. Netflix, for instance, reports over 60% of rentals are from their "Recommended For You" section, and Amazon says the same with over 35% of sales come from their "Products you Might Like" section.
Speaking of the retail giant, Amazon has been personalizing its marketing since 2013.
This shouldn't come as a surprise, but its ability to use data for a customized user experience can't go unrecognized.
Amazon uses purchase history and viewed product history to recommend more purchases and all the time emails always use personalization tokens and are targeted to the individual. It also uses your shipping address to customize your experience based on location.
Now the shame comes out for an example; Look at what I see when I log into my account: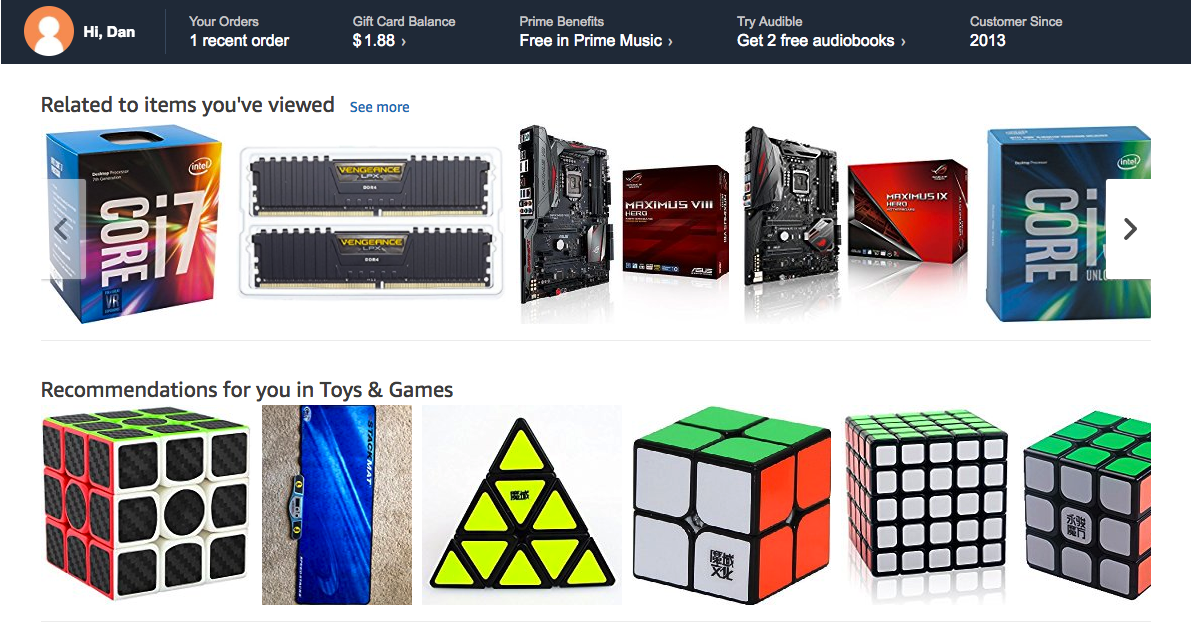 I just finished building a computer, and I'm a pretty big Rubik's Cuber. So what does Amazon show me? Exactly that. The inner nerd comes forth as you can see. It's perfect.
Amazon knows me, and that's the point. Amazon has shown that it understands me and it builds trust and saves me time by presenting me things I'll like. This is part of the reason anytime I think about an online purchase, I head there first.
This kind of personalization and trust can lead to impulse buys and unplanned money spending for consumers.
Many of you already know that Spotify is a king of musical recommendations. It makes its money knowing what subscribers want to hear next and providing it to them, but other than recommendations based on previous activity, Spotify took it a step further with their "Thanks 2016, it's been weird" campaign.
In November 2016, Spotify used the incredible amounts of data it collected to target consumers. It released billboards with data collected but with a unique twist.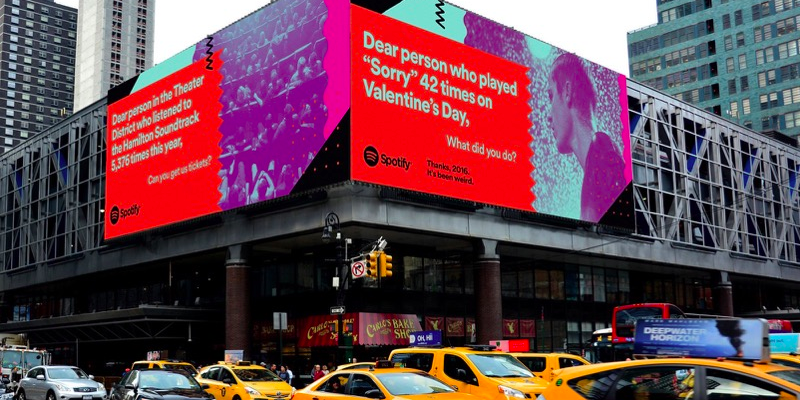 Each billboard included a funny message personalized to individual users, such as "Dear 3,749 people who streamed 'It's the End of the World as We Know It' the day of the Brexit vote, hang in there" and "Dear person in the Theater District who listened to the Hamilton Soundtrack 5,376 times this year, can you get us tickets?"
Now, how can I praise a company for using traditional, outbound methods?
Well, the argument can be made that the billboards weren't really outbound marketing. They used real data their users provided to target that individual. Did they make a ton of other people laugh because of it? Probably -- but that's just a bonus.
The simple fact that someone was individually recognized and remembered implies that marketers can address and engage them in a way that fits their preferences.
As the CMO of Spotify said: "For us, data inspires and gives an insight into the emotion that people are expressing".
Key Takeaway
The point of personalization is to give your customers and potential customers a unique, memorable experience and build a bond; it lets them know you are paying attention and understand what they want and need.
When done correctly, your audience gets what it wants at the right time, creating a user experience your competitors won't be able to match. Create an unforgettable experience, and watch loyalty to your brand skyrocket.
Free Assessment:
How does your sales & marketing measure up?
Take this free, 5-minute assessment and learn what you can start doing today to boost traffic, leads, and sales.