10 Questions You Need to Answer Before Planning Your Next 90 Days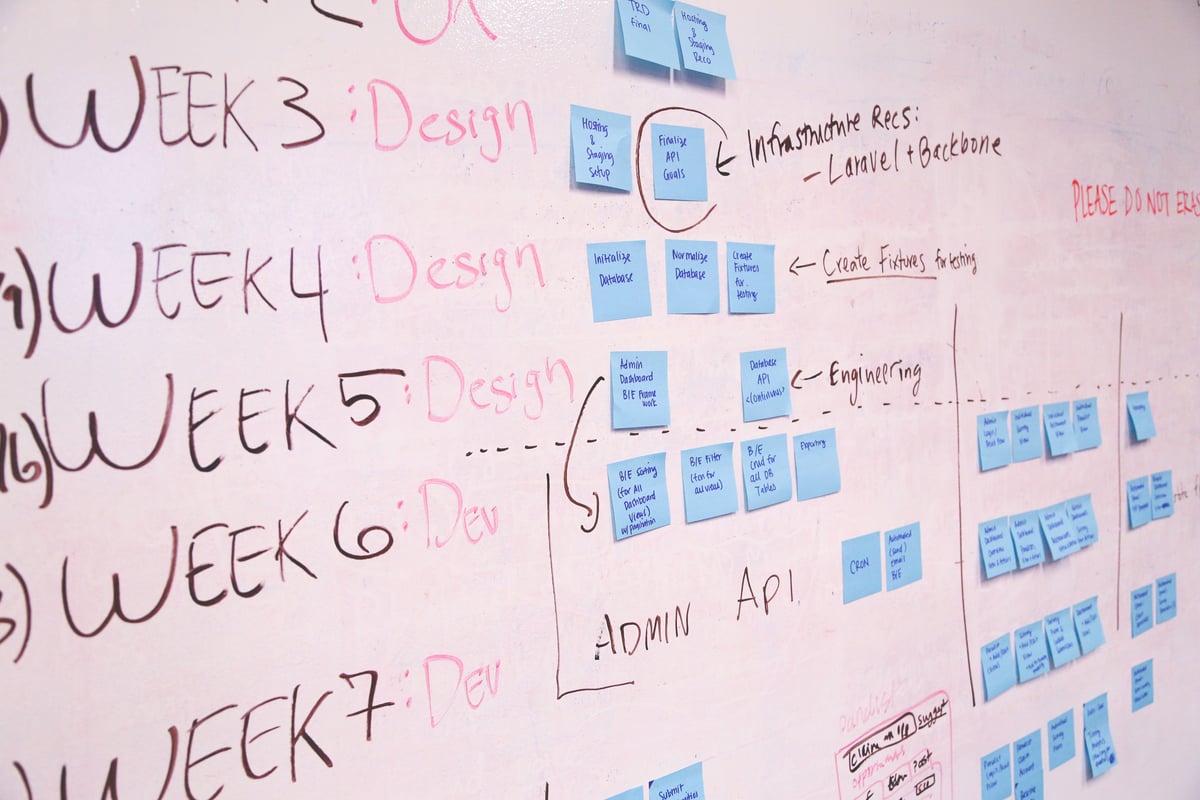 So, I trust you already know what a great idea it is to plan in 90-day cycles as a marketer or business, so I won't spend a bunch of time trying to convince you.
What I will do instead, is spend a bunch of time convincing you to do it right!
It is really easy to start planning in 90-day cycles, but what is a bit less clear is what should go into that planning every quarter.
It is important to start your planning process by asking yourself 10 key questions that will set you up for planning (and execution) success!
1. What important initiatives or events do I have coming up in the next 90 days?
Ask yourself what important immediate deadlines you have coming up in the next 90 days that have to focus on.
These are events/campaigns that will happen on specific dates and no amount of "I'm too busy" excuses can change or adjust. Some examples include:
Specific events you or your team are attending or speaking at.

Product releases or changes.

Important industry or market updates. This could be the sunsetting of software that affects your company or audience or a change to a major industry regulation (marketers: think GDPR).

Major holidays or office closures.
Understanding these are non-negotiable items allows you to plan your other activities around those things without feeling overwhelmed or rushed.
You want to start by making sure these biggest initiatives are accounted for first, then slowly work in less deadline-specific items around them.
This will ensure you don't lose track of anything important or find yourself having to put in nights and weekends to make sure you hit a deadline you failed to plan for.
If one of the less specific items doesn't fit, perhaps it needs to be pushed back to another quarter.
2. What are my biggest goals for the next 90 days?
Ok, now we get to the fun part. It is time to think about goals!
Your 90-day goals should be broken down from your larger annual goals and be specific enough that you can make some real headway over the next quarter.
90 days is the ideal length of time to provide your team with enough time to hit stretch goals, but short enough to still create a sense of urgency.
It'll motivate the individuals on your team, but also give you not lock you into a plan so long that you can't pivot or be agile.
Break your quarterly goals into what we call OKRs (objectives and key results) to ensure that you know where you are going (objective) and how you'll determine if you got there (key result):
Objective:

an objective is the end goal that is desired and may be something like "increase revenue," or "increase average deal size."

Key Result:

a key result is an associated metric required to determine if we are successful in meeting our objective.

Together an OKR might look like:

Objective: Increase Revenue

Key Result: Hit $500,000 for the quarter
Structuring your 90-day plan around OKRs will help you be very deliberate about choosing the activities that should be part of that plan. If there is something you are considering doing that you can't tie back to an OKR, it shouldn't be part of the plan!
3. How did I perform on my goals for the last 90 days?
You can't decide where you are going if you don't know where you've been!
You should be in a regular cadence of setting 90-day goals, you guessed it, every 90 days. So, as you are working on your next set of goals, it is very important to ask yourself how you performed on your last set.
Take a look back at the key results from last quarter.
Did you hit the numbers you set? Why or why not?
Dive deep into your metrics and understand what you did that resulted in either success or failure in order to inform your future decisions.
If you are struggling to answer the "why" or "why not," of your performance, it will be very difficult for you to understand how to set goals moving forward or to figure out how you can hit them.
A strong understanding of the insights that come out of the data is far more important than the numbers themselves.
Even if this is your first time setting 90-day goals, you must use this time frame to be able to set realistic goals moving forward. You wouldn't expect yourself to hit the same numbers in a quarter that you've only previously achieved in a year, right?
4. How am I trending on my year-long goals?
Ok, now that we've thought a little bit about what your goals are going to be for the 90 days and how you did previously, it is a good time to check-in on your progress for the year as a whole.
Are you far enough along in your progress to still hit the annual goal that you've set?
Where you currently stand will influence whether or not your goals in the next quarter need to be higher, lower, or completely different.
If you are halfway through the year and you've already made it 75% toward your year-end goal, you have some fun choices to make!
You can decide if you should re-evaluate and increase your goal for the year and keep pushing toward it or if you can make sure you put just enough focus on it to efforts moving forward while you shift your major priorities to other areas that need attention. What a great problem to have!
On the other hand, if you are halfway through the year and you've only made it 25% of the way toward your goal, it is time to understand why.
Was it lack of prioritization and focus? Did some of the tactics you chose to use fail to deliver the expected results?
Whatever the reason, it is very important to understand what the reasons are behind the lower-than-desired performance. This will help you to remedy the problem.
Overall, this is a time to re-evaluate if the goal needs to be changed or if they're right on track.
5. What activities had the most positive effect on my goals thus far?
As we've touched upon, it is important not just to recognize your successes, but to understand them.
Asking yourself what you have done that has created the biggest impact on your performance and can help you figure out how to replicate or accelerate that success.
If your goals are website traffic-related, aim to understand what activities you've done in the past that have resulted in the biggest traffic gains.
For example, if you're looking to improve conversion rates, look back over your data to determine what you've done in the past that has helped improve those rates.
Now you can take those same tactics and continue to implement them or improve them to be even better. Don't reinvent the wheel. If you have done something that directly correlated to success in the past, keep doing it!
It may sound simple and obvious, but this is one of the most important questions you can ask yourself during quarterly planning.
6. What activities are my biggest priorities?
The next step is taking those goals you want to hit in the next 90 days and prioritizing them.
During 90-day planning sessions, it is really easy to get overly excited about all of the cool stuff ahead and want to start it all immediately, but we all know that just isn't realistic.
You've already set your overall OKRs, so you know what you need to focus on. The next step is taking those OKRs and prioritizing them.
Assign each OKR a numerical priority number (and no two OKRs should have the same priority level) so you know which one you should focus on earlier rather than later.
There are only so many hours in a day, so many days in a week, and so many people on your team. So, you need to prioritize your goals and your efforts to make the most of your time.
You've already built your plan with the important deadline items you can't move, so now that you've assigned priority to the rest of your efforts, you can focus on filling in the highest priority activities into your plan first to ensure they get the most attention and are pushed through to completion.
7. How should I be dividing my efforts?
On a related note, it is important to understand how you should be dividing your effort between activities.
Divide activities and tactics for each goal into three categories:
Short-term

activities are meant to drive immediate return, in most cases meaning driving leads right away.

Long-term

activities are meant to help build a foundation for driving a long-term healthy pipeline.

Mid-term

activities fall somewhere in between the two.
You should understand how each and every activity you are planning will fit into those categories and make sure you strike the balance that is ideal for where your business is right now.
If you spend all your time focusing on short-term efforts, you may generate some quick leads but you will have done nothing to build a healthy future for your business.
You should be doing a mix of all three for the best results overall.
8. Are there any red flags?
Quarterly planning is a great time to check in on the pulse of your marketing efforts to make sure there isn't anything slipping through the cracks.
During quarterly planning cycles with clients, we often do things like SEO audits, year-over-year traffic comparisons, and website speed tests to ensure we aren't letting small problems turn into big ones.
What you should do when you find red flags depends very much on what the flag is telling you.
For instance, if you notice a huge dip in traffic, it is time to look for things like broken links or try to determine if Google algorithm updates may have hurt your traffic.
If you notice a big drop in conversion rate, take a look at any changes you may have made to website pages (i.e. removing CTAs or changing the text on key landing pages) to see where that drop may have come from.
Once you recognize an issue you'll want to rectify it or perhaps include plans in your next 90-days to tackle it. You definitely don't want to miss a huge red flag simply because you forgot to look.
9. What resources do I have (and do I need)?
Now that we know what we want to do over the next 90 days, we can start really understanding how we are going to do it.
Taking stock of who on your team will be doing what, or what third parties you will be using is an important step in this process.
You want to make sure you are leveraging all of your resources to the best of your ability and create the greatest impact for the efforts being completed. This is something that is most often overlooked in this process.
Do you have someone trying to make changes to your website that is really not trained in the right skill sets and is "learning as they go?"
Is this creating the best outcome for your business, and is this using that person to the fullest advantage they could provide?
It is time to think about things like this and remedy areas where you see gaps.
To identify resources that you are missing, go through your plan that you've started building and highlight anything where you struggle to assign the work.
For instance, if you want to create videos but don't really have anyone you can immediately assign editing to, there is a gap you need to fill with an external resource.
This is your time to make sure you are fully equipped with what you need to accomplish your goals.
10. What has changed in the last 90 days?
Lastly, ask yourself if you are really up to date on everything you need to know.
Ideally, you should be staying on top of market trends, new strategies, and marketing trends all the time.
However, if you have found that you've fallen behind, quarterly planning is the perfect time to bone up and just make sure you aren't missing out on great ideas you could be implementing.
Final Thoughts
So, if you are embarking on your next 90-day planning cycle I just ask that you do it right. Ask yourself the right questions, put a lot of effort into making sure you've fully answered those questions, and finally go forth and market!
Need help planning? Talk to us!
Free Assessment:
How does your sales & marketing measure up?
Take this free, 5-minute assessment and learn what you can start doing today to boost traffic, leads, and sales.