The 5 triggers of brand authority from DigitalMarketer's Ryan Deiss [Video]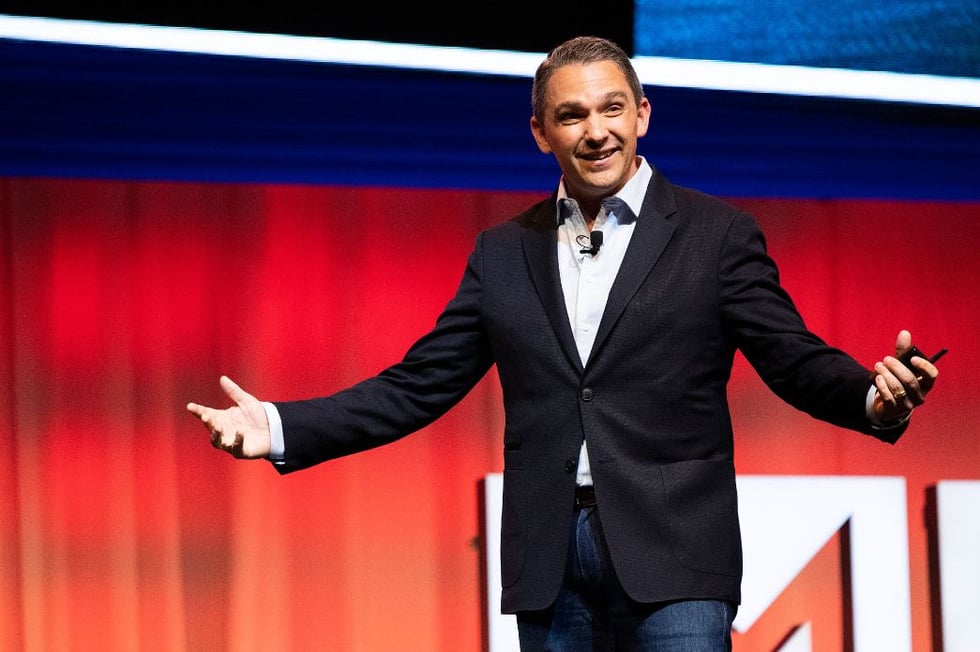 Associate Director of Content, Strategized Initiatives That Increased IMPACT's Website Traffic From ~45K to ~400K
Does anyone care that you exist? Does your presence turn a glance into a stare?
These are the questions Ryan Deiss presented the audience at IMPACT's annual conference, IMPACT Live 2019 (now Digital Sales & Marketing World), but it wasn't to send them on some existential personal journey; It was about their brands.
In today's digital world, there is more noise than ever — more blogs, more videos, more ads, more tweets, more stories.
According to Deiss, the Co-Founder and CEO of DigitalMarketer, the only way to stand out and become the beautiful melody that transcends the noise is to establish brand authority.
Paige Weiners explains on Forbes, "it's useful to think of [brand authority] as a company's perceived expertise within an industry or topic. If the public accepts a company as a legitimate expert within their field, then we can say the company has brand authority….[It] is not a status you can confer on yourself; rather it's a reputation and an element of trust that others must assign to you."
So if brand authority is essentially out of your control, how can you establish it?
In Deiss' talk from IMPACT Live 2019 below, he shows attendees the secrets to reverse-engineering authority and the five steps to building a mini-brand" in virtually any market.
Triggers of modern brand authority
Whether it be on social media or a search engine, you have to go above and beyond to get noticed. Deiss recommends these five steps:
1. You must have a plan.
If you want to make a difference in someone's life, you need to have a plan for their life.
Do you have a singular, signature framework, idea, or process, that someone can hear, understand, AND share with others?
You want to have something that is unique to you that people can point to and know as yours. (i.e DigitalMarketer's Value Journey Canvas, HubSpot's Inbound Methodology).
2. Answer specific questions
As thought leaders, we can get very philosophical about our areas of expertise, but to reach the masses we need to answer the simple and obvious questions. These are the questions that can actually make an impact in people's day-to-day immediately.
3. Maintain absolutes
Accuracy does not equal authority. When you speak in absolutes, you may be wrong, but it commands attention and provides a framework for discussion and debate.
4. Core belief
Where does your brand stand? What do you fundamentally believe to be true in the universe and your place in it, that others in your space may disagree with?
Once again, this establishes your brand's position and values and gives something for people to either be drawn to or disqualify themselves based on.
5. Rites and rituals
What rites and rituals do your customers need to go through to show they belong to your group? It's like joining a frat or sorority in college. What can they do to show that they are bought into the values of your brand?
There are three options:
Get them to do something they wouldn't normally do
Get them to alter an existing routine
Get them to "lick" (or claim) your brand
Having a ritual or experience that you can become known for further establishes your unique position in your industry.
Keep going in IMPACT+
With dozens of actionable tools and training resources for sales and marketing professionals, IMPACT+ is the only online educational community that helps you both move the sales needle and advance in your career.
Join today for free or upgrade to a pro membership to see the full 40-minute talk from Ryan Deiss n as well as all of the recordings from IMPACT Live 2017-2019, Digital Sales & Marketing Day, and Virtual Selling Summit, and gain access to pro courses, private virtual peer groups, pro resources, and more.

Photo courtesy of Connecticut Headshots
Build up your leaders. Scale up your business.
Join us on May 25th for Scaling for the Future 2021 and learn how to scale up your company in a constantly changing business landscape. You'll walk away armed and ready to align your teams around company-wide goals, master strategies to successfully execute your vision, and lead a more profitable business.
Hear from the most successful business leaders in the world, including entrepreneur and international keynote speaker Marcus Sheridan, business coach Andy Bailey, CEO Daniel Marcos and more!
Keep Scrolling to Continue Reading
Online, Everywhere | May 25
Presented by:

A ONE-DAY VIRTUAL FORUM ON BUILDING UP YOUR LEADERS AND GROWING YOUR BUSINESS
In a constantly changing business landscape, scaling up is more challenging than ever. Join 1,000+ business leaders and learn how to achieve company-wide alignment, master strategies to execute your vision, and lead a more profitable business. In just one day, get the skills you need to start scaling up now and into the future.
Register soon! Event starts in: