Subscribe
Join 40,000+ sales and marketing pros who receive our weekly newsletter.
Get the most relevant, actionable digital sales and marketing insights you need to make smarter decisions faster... all in under five minutes.
Thanks, stay tuned for our upcoming edition.
Average Time to Close Ticket Reports, They Ask, You Answer (Revised & Updated), & New Report Drill-downs [Hubcast 237]

This episode of the Hubcast is brought to you by They Ask, You Answer: Revised & Updated, available worldwide August 6. Pre-order now on Amazon.
Let's take a step back from INBOUND this week to talk IMPACT Live. It's, of course, going to be a blast, but Marcus I want you to break down why. Why it's so important for teams to attend an event like this, and why you're so fired up about it.
(PS - we WILL be packin' Hubcast swag at Live, so come see me!)
Report on This
Service Hub Reporting: Average Time to Close by Ticket Category and Owner
If you're using Service Hub for standard customer support (i.e. customer inquiries, issues, questions), you're likely going to have different categories of tickets.
When creating custom reports to look at things like Average Time to Close, I like to pretty much always break those out by ticket category, because it can give you insight into what types of things are creating bottlenecks and slowdowns for your support team.
Beyond that, if you break it out by ticket owner, you can see if certain reps take longer than others to answer certain types of issues or inquiries.
Here's a video walk-through of how to build it!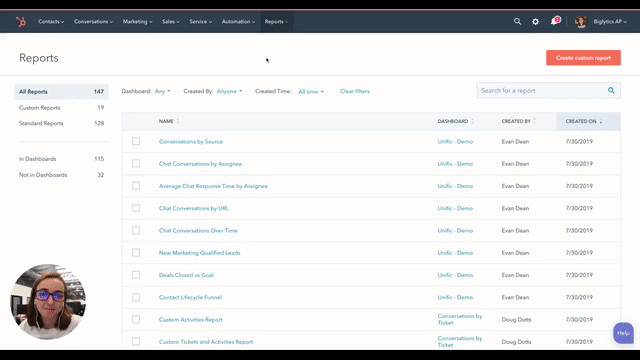 They Ask, You Answer: Revised & Updated
It's coming out next week baby!!
HubSpot Wishlist: "Case" Branching Logic in Workflows
"It'd be really helpful if if/then branches could be based on more than one case.

For example, if I want to send a specific email to a contact based on a property value, and there are 5 property options, this requires 4 If/then branches. Would be great if one block could manage multiple cases.

Following an if/then branch or the above case branch, would be helpful to be able to rejoin branches so that the remaining blocks do not need to be duplicated for each branch.

So, if I just wanted to change 1 email in the above example per a property value, but the rest of the workflow is the same, I could build only one series that applies to all 5 branches."
This is really just an overall wish for the workflows tool to be a bit more robust.
Yes, you can certainly do a lot with it, but there are things (like the cases mentioned above) that you have to build out such complexity into a workflow, making it less reliable and having to put more safeguards in.
HubSpot Updates
Ensure Secure Logins by Requiring Two-Factor Authentication
"Last year, we launched two-factor authentication. With this update, you could enable two-factor authentication, but not require it. With today's update, you can now require it.

When you toggle this setting, every user in the account will receive an email notification to enable two-factor authentication."
Learn More
If you're an admin just go to your Settings > Account Defaults and select "Require 2FA."
Removing Location Data from the Activity Feed
"Previously, HubSpot used the IP address of the person opening the email to predict the open location for tracked emails.

While email tracking can prevent over-emailing and help you time your follow-up in a relevant way, the location data attached to that tracking did not add enough value to either the user or the end-customer-experience.

You will continue to have the option to track email opens and receive notifications whenever those emails are opened or clicked, but as of August 7, location data will be omitted."
Dive Into Your Reports With Report Drill Downs
"With today's change, you can now drill into reports for the first time. Click a lead gen bar chart to see the actual contacts, a deal funnel to see the actual deals, a ticket table to see the actual tickets, and so on.

With the new drill downs, you can now navigate two layers deeper. Drill into a summary value on a chart with a single click. This turns a single datapoint on a chart into a list of the records behind that data point. Then, if you want to dig into an individual record, simply click it. The record will pop open in a new window."
If you haven't checked this out in your dashboard reports, do it now!
This also prevents you from having to save all of your reports as an unsummarized data table just to be able to click into each of the records in the report!


Until Next Time
Interested in sponsoring the Hubcast? Head on over to the Advertise with IMPACT page to learn more!
If you're listening on iTunes - head on over and leave us a review! We love hearing your feedback, so feel free to leave some in the comments, or shoot me an email at cduffy@impactplus.com!
Until next time. This is Carina Duffy & Marcus Sheridan saying to you, get out there and get after it!
Free Assessment:
How does your sales & marketing measure up?
Take this free, 5-minute assessment and learn what you can start doing today to boost traffic, leads, and sales.