B2B SMS Marketing: Easy & Effective Tips for HubSpot Users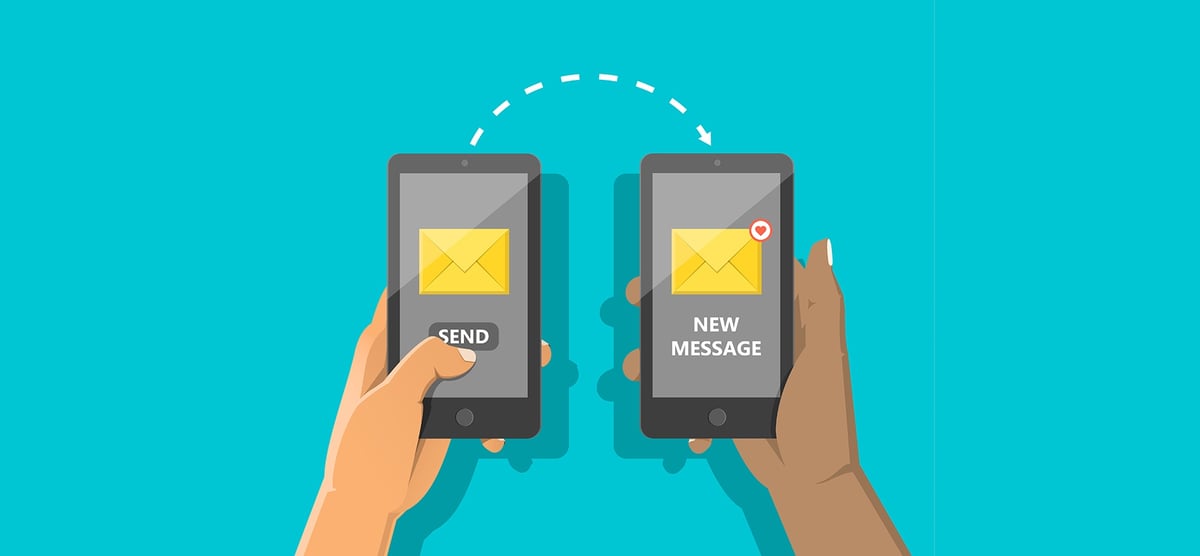 Competition is everything when it comes to managing and growing your business.
You want to be bigger, better, and more attractive than the company who's doing the same thing as you, right? I mean, that's the big picture, but, in the words of Gary V - "You really should focus on putting yourself out of business instead of worrying about what your competition is doing."
Which leads me to SMS marketing (text message marketing) and why it's a must.
Why SMS Marketing?
You need to be prepared to try and test every avenue you can to learn how your audience wants to engage and learn about your company.
If you aren't at least exploring how SMS marketing could work for you, you are selling yourself short, thus not working hard enough on putting yourself out of business.
SMS marketing speeds up that ability for marketers to reach their database instantly.
What other platform does that? None.
New research conducted by British psychologists indicates that young adults use their smartphones roughly twice as much as they estimate they do.
"The fact that we use our phones twice as many times as we think we do indicates that a lot of smartphone use seems to be habitual, automatic behaviors that we have no awareness of," Dr. Sally Andrews, a psychologist at Nottingham Trent University told Huffington Post in a recent article.
We wouldn't be marketers if we didn't look at these numbers as opportunities, right?
If you haven't explored SMS marketing yet, and believe us, there are many, many B2B companies that have yet to dabble in this marketing tactic, this blog is for you!
How to Start an SMS Marketing Campaign:
1. First and foremost, you need to create an SMS marketing list.
Text Keyword to 12345 and get this great offer. Not very compelling right?
Just like with inbound marketing, your offers have to provide something your audience actually needs, and finds helpful, entertaining, and useful.
You've spent countless hours understanding your audience so you are creating the right emails, blog post, social posts, and premium content, right?
Creating the right SMS call-to-action is the same concept. You want to give them a reason to text that awesome code so that they are entered into your SMS marketing campaign.
A Few Methods for Building Your SMS List:
You need a good strategy on promoting your SMS list to build one successfully!
Send an email out to your database. For example, if you own a software company and you frequently make updates to the software that are imperative to its users, let them know that you will also be communicating important software updates via SMS. They will want to text "GET SOFTWARE UPDATES" to 45567.
Promote it throughout your website. On your high performing web pages, a good method for promoting your SMS list would be to design calls-to-action and place above the fold, right below the hero section.
Use your webinars and podcast to promote your SMS list. Either add it to the creatives/slide deck or mention it a few times during your broadcast and, of course, tell them the value of texting "Get software updates" to 45567
And of course, utilize social media to promote your SMS list. Hosting upcoming Facebook live events? Be sure to mention your SMS list! Have a great offer you are using an SMS list for, put some paid dollars behind it and create an ad or boost a post!
2. Segment Your Lists
If you promote "Text: Get software updates to 45567" and start sending messages that don't relate to software updates, this can annoy your audience.
Considering promoting several different SMS codes for various messages, but be sure you are segmenting your list and staying organized. Just because someone has opted in, doesn't mean you should abuse it with content they don't want.
3. Find an Irresistible Offer!
Like with any really great inbound marketing campaign, your offers are the driving force of lead conversion!
We do this well on our blog subscriber pages for our clients offering them something for free by signing up the blog.
Since incorporating this feature into our framework, we've seen major increases in blog subscribers. Recreate this magic with your SMS marketing.
People like free. So, offer them something for free if they sign up for your SMS list!
A few examples:
Free ½ hour

training session

on something you know your audience struggles with or maybe they don't have time to teach their employees themselves. Say you design network infrastructure and wireless setup for enterprise companies. You could offer free training on cyber security training.

Free

templates.

Everyone loves templates. It gives them a head start on not having to create something from scratch. This is essentially awesome for almost any type of B2B business.

From business plan templates to business proposal templates to design templates, if your target persona has to create something for their job, create a template!

A valuable gift! Offer a $50 Amazon gift card or something as unique as meal kits! Anything to make their work-life balance a little easier!
These are just a few examples. You can really get creative here.
Before You Start SMS Marketing, Remember:
Pay Attention To Frequency
As mentioned earlier, you wouldn't over-send emails, don't over-send texts.
Depending on your audience, I'd recommend starting with no more than 2-4 text per month. You also need to be sure when someone signs up, your auto-responder mentions frequency so they know what to expect from you upfront.
With Call Loop's SMS marketing software, users have the ability to build their mobile lists and to also send voice and SMS text messages to their contacts with HubSpot's Workflows, but we'll get into that later.
Hours You Should Be Texting
Honestly, this should be a no-brainer!
You don't like getting texts at 3 AM and the people in your SMS marketing list won't either. Be courteous and make sure your SMS messages are scheduled during normal hours, but preferably when you think people are taking breaks.
The time of day really depends on your audience. Testing is always a must to see how your audience responds best. Not one single person is the same, so it's very hard to say what hours are best.
Don't Forget Disclaimers
CTIA represents the wireless communications industry and it requires you to include things like "MSG & DATA RATES MAY APPLY," in your auto-responder messages.
These disclaimers only need to be sent once, but it's important to not skip them. Make sure to look into the specific disclaimers associated with your offer.
Opting-Out
When someone signs up for your SMS marketing list, in addition to disclaimers, you must also give someone the ability to opt-out.
For most services, this is simply by adding "Text "STOP" to cancel," but make sure to look into the specifics of the one you're using and make the instructions overt.
So, now you know how to get started building your first SMS marketing campaign...
But How The Hell Do You Set It Up?
Your SMS marketing campaigns need to run on the right software.
Good news! Call Loop recently announced that it now integrates with HubSpot and we couldn't be more thrilled!
Better news - it has a quick video on YouTube explaining you exactly HOW to do it! I could go into detail on this, but I think this is better served by just watching the video:

Looks awesome, doesn't it?
Now, it may also look a little overwhelming. You might be saying:
Who has time to do this?

This looks too technical for me.

This is going to cost too much money.
That's why you should take a few minutes and set up a call with one of our experts here at IMPACT!
They can help answer your questions and even discuss strategy in a bit more detail on this or any other marketing campaign you are thinking of starting or have started and it's just not working the way you thought it would.
Ready to get started? Awesome! Click the button to schedule your call!
Free Assessment:
How does your sales & marketing measure up?
Take this free, 5-minute assessment and learn what you can start doing today to boost traffic, leads, and sales.