6 Things You Should Accomplish While Building Out Your Culture Code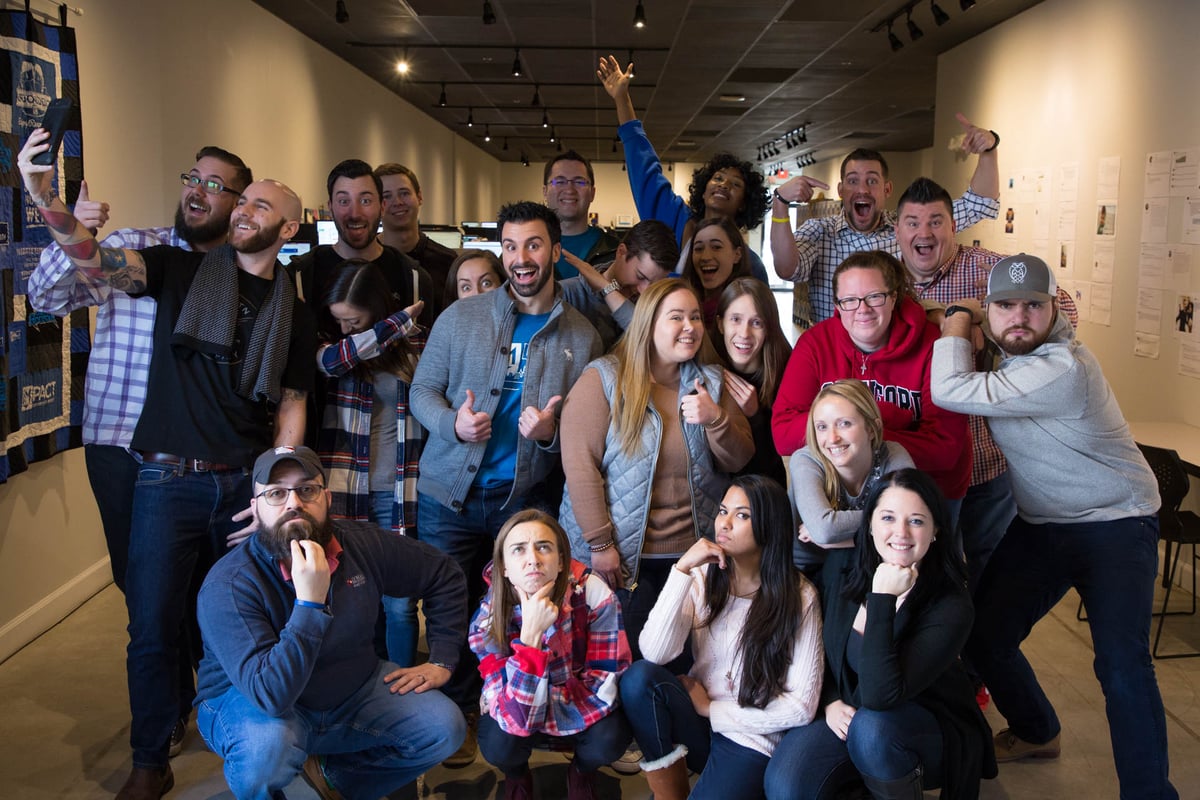 A few years ago, after seeing HubSpot's Culture Code slide deck, we knew we wanted to create one for ourselves.
After creating something that we really liked at the time, when we recently took a look at it we realized it needed a total refresh.
We wanted it to represent the IMPACT we are today, which is very different than the IMPACT a few years ago.
While some important things didn't change (core values, mission, etc), there were a lot of elements that we left out.
Before I jump into what those elements are, I think it's important to cover why a company should have a culture code.
Why Should My Company Have a Culture Code?
If you're asking yourself that question, I'm sure you're not alone.
Knowing the purpose of creating this document is essential to mapping out what you'd put in there. Without going into too much detail, here are a few reasons a culture code is important to your business.

It attracts talent.

While some companies keep their culture code internal, it has a ton of power outside your organization. Culture is starting to become the most important aspect applicants look for in a company. Why not create documents that outline exactly what your culture is like?




It sets expectations for your employees.

Even employees sometimes need a refresher on what is expected of them at an organization. Creating a document that clearly outlines expectations is a great way to keep everyone aligned, and know when people are doing the right things.




It educates your clients.

A lot of prospects have told us they heavily weigh a company's culture into whether or not they choose to work with them. At IMPACT we do the same thing when choosing to work with companies so we wanted to have something to easily hand prospects to truly understand who we are and why.
What Should I Focus on When Creating My Culture Code? (Or updating it)
It can seem really intimidating to get started with creating this piece of content (I know it was intimidating for me!).
What should and shouldn't I include in it? How do I make all of that flow together? Is this fully representing our company?
A lot of questions might go through your head.

However, when I looked back at my process, I pulled out a few key drivers of how we redesigned ours that will help guide you through the process.
1. Talk with the Right People
The person who created the "why"
The first thing I did when I went to update the culture code was schedule out time with Bob Ruffolo, our Founder, and CEO.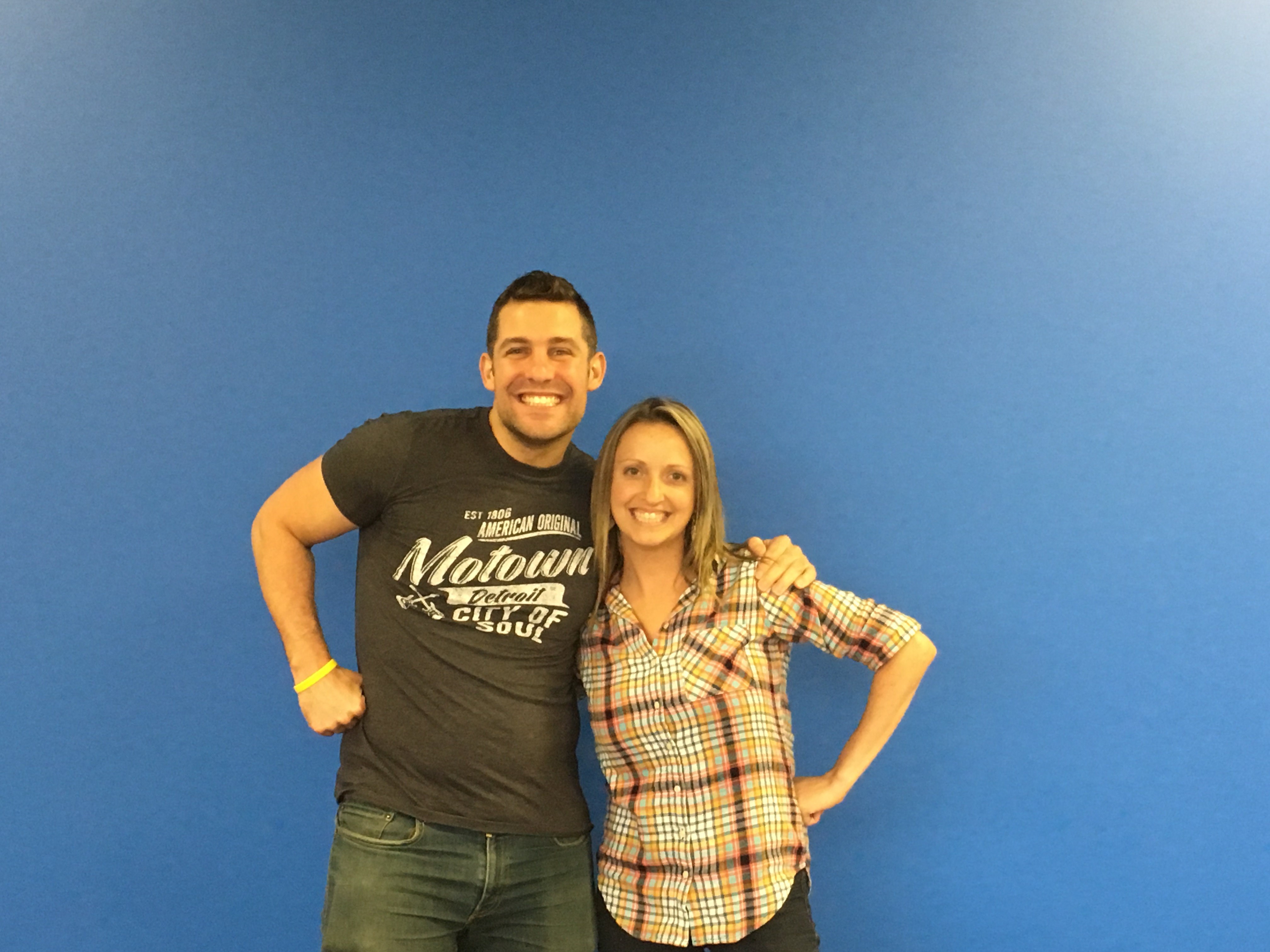 Me and Bob, our CEO
While all of the employees know IMPACT's culture, Bob can tell all the details and the stories behind why it is the way it is.
When I told him my plan, we decided it was best to just have him talk about the key things that have made IMPACT the company it is -- all the way from the beginning to where we are now, and where we are going.
While he talked about all of these things, I took detailed notes and asked any clarifying questions, until I had pages of information to pull from.
People who have been around a while
These are the people who can add color about what the employees really felt during all of the different phases of the company, good and bad.
Sometimes executives can have very different views of past events, so it's important to get a bunch of different perspectives.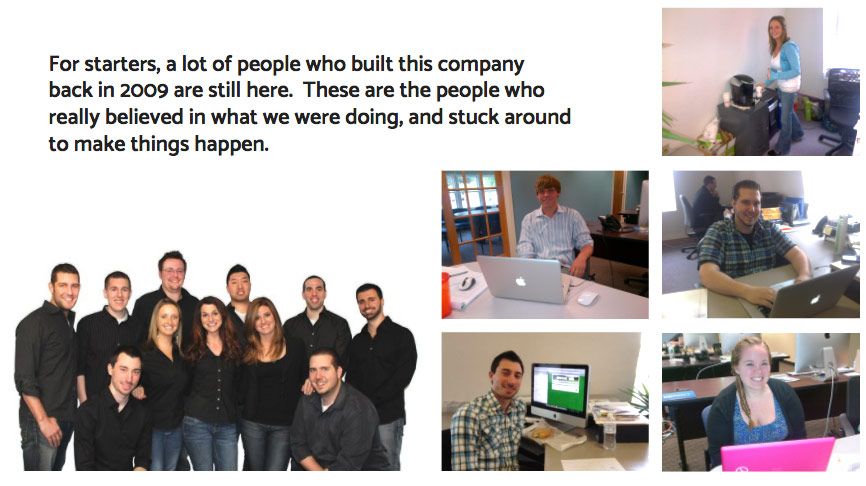 Slide from our culture code showing some of our employees who have been here since the beginning. That's me up top rocking the bell bottoms...
The people in the day-to-day
Building off of the last point, it's important to get a really rounded view of your culture -- one that accurately represents the employee experience.
The CEO can certainly tell you what he envisions, but as we like to say, culture is what happens even when the boss is away.
People in the day-to-day at your company whether they've been there for a long time or not can give excellent input and feedback as to what it feels like to be an employee.
Make sure to have at least one person like this involved in the creation and finalization of your culture code.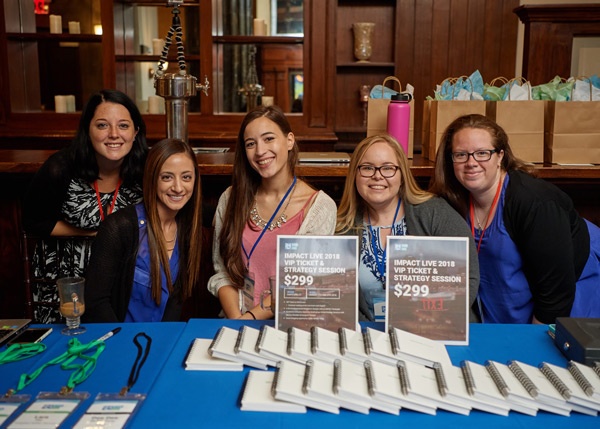 Some awesome IMPACT ladies.
2. Explain
why
you do what you do.
Your Purpose
What gets you out of bed in the morning? What drives the business forward? What is your company's purpose?
After reading through your culture code, people should understand why your company is in business, and taking it a step further - how you make that purpose a reality.
Understanding your purpose is what will excite applicants, guide employees, and encourage clients to want to be a part of your company.
For us, our purpose is to "help people and their organizations succeed."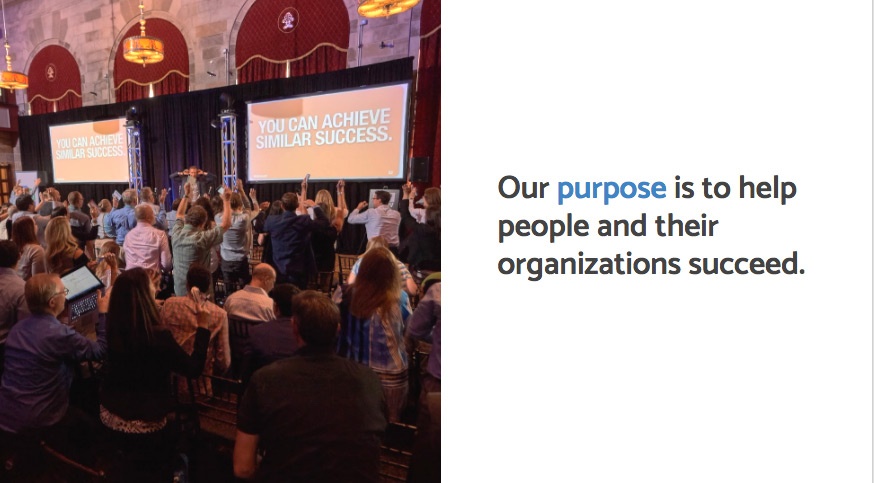 Using us as an example, here are a few ways we incorporated our purpose throughout our culture code:

We stated our mission

We explained the different types of people we help

We talked about our past with achieving our mission (and how we weren't very good at it)

We mapped out the current 3 top ways we help people: Education, Community, Transparency

We explained how helpfulness is a core value, and what that means for our employees

We included how we want to be helping people in the future
All of these examples show how we are driven to fulfill this mission, and it's a part of everything we do.
But don't just talk about it - show it!
Showing different ways you practice what you preach in your culture code builds trust and understanding with your reader.
For example, in our new version, we show quotes from clients and other agency owners, show examples of recognition employees have received for demonstrating our core values, and include real photos of our team in action.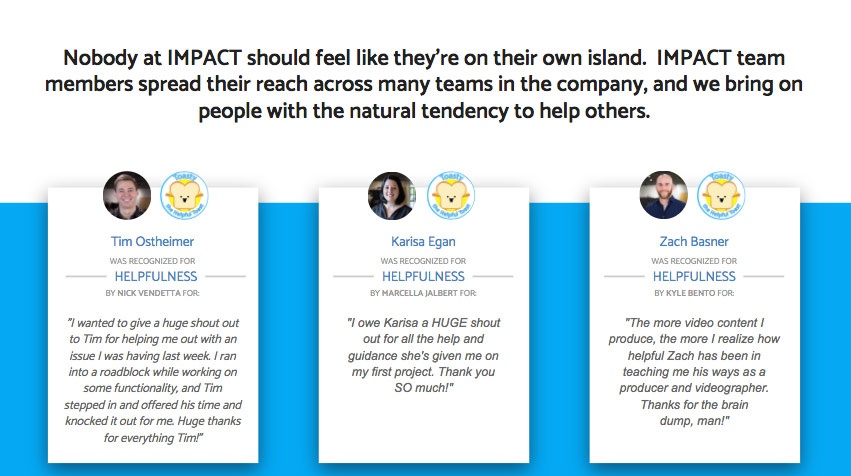 Slide in our culture code showing team member recognition. These people aren't too shabby...
3. Describe the kinds of people who work there.
Why is this important?
The people reading your culture code should know exactly the types of people on your team.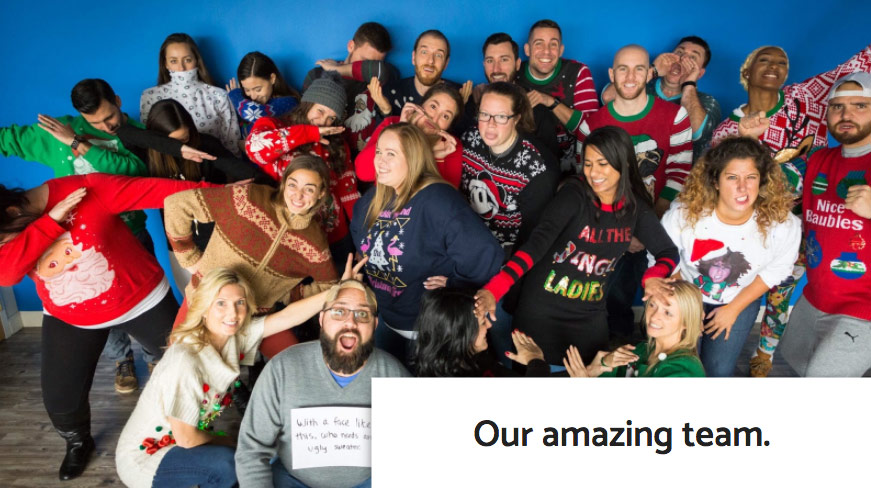 Slide from our culture code intro'ing what our team is like.
Doing this does the following things:
Guides and reminds your employees of the

behaviors expected of them.

Demonstrates to potential employees the types of people who fit in (encouraging them to apply if they fit the bill or discouraging those who don't)

Shows potential clients the type of people they'd be working with, hopefully encouraging them to go with your team.
Where to Start
If you've done the step above and explained your purpose, you've already laid a great foundation.
From there, however, it's time to dive into your core values.
For us at IMPACT, these are the deal-makers or breakers when hiring talent, and are a prerequisite for every single team member across the company.
When talking about your core values, here are a few things you should cover:
What they are.

What each of them means.

Why they're important at your company.

Examples of how you put these values into practice.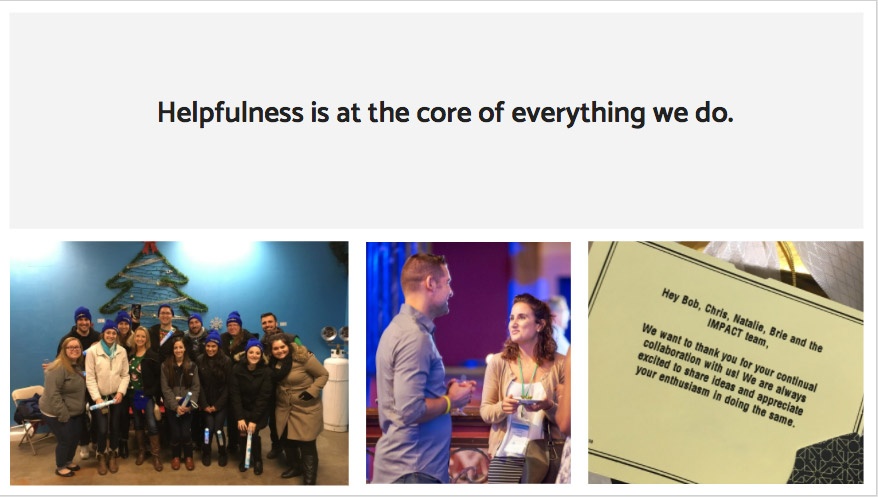 Slide from our culture code showing ways we are helpful. On the left, we're volunteering for Christmas Wish CT. Check it out, it's an amazing cause!
4. Talk about where you're going.
Another important part of your culture code is explaining your vision for the company in the future.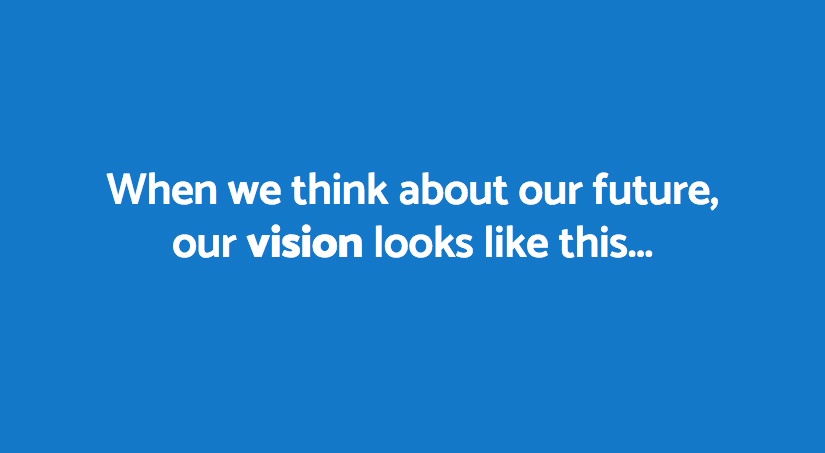 Slide from our culture code intro'ing our vision section.
People like to know that they're building something with you, not that everything is already built. They want to know exactly what your company intends to be so they can better see their own future there.
Get your employees, job applicants, and clients all excited about where the company is headed so they'll want to be part of the journey.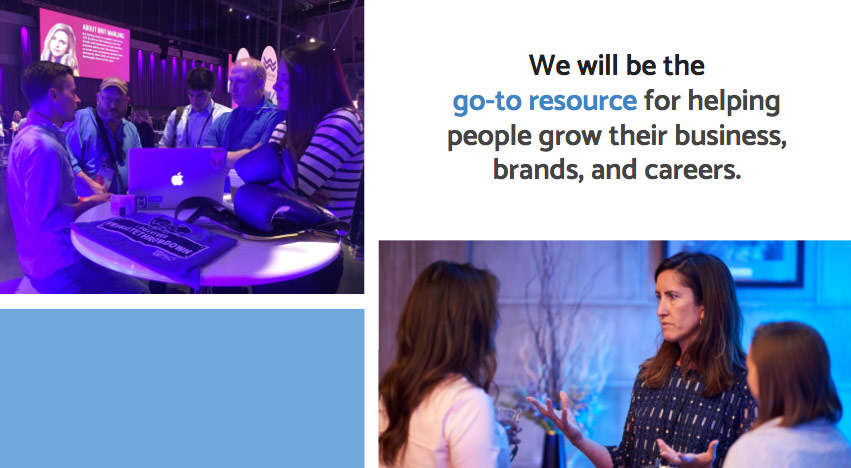 Slide from our culture code showing one of the pieces of our vision.
5. Be Honest
Everyone says honesty is the best policy, but this is especially true in your culture code.
In our recent revision, we purposely wanted to include some negative things about our company's past, and even the fact that we don't have everything figured out.
In fact, publicly admitting to our failures and humbly explaining how we eventually got things right is a big reason people come to us for our content, advice, and jobs.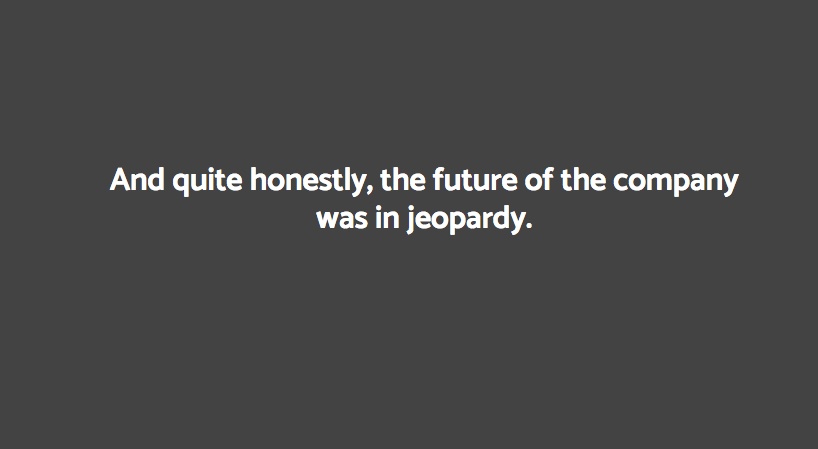 The more honest and transparent you are when explaining your culture, the more trust you'll build with the audience.
6. Make sure It feels like your company
After creating your culture code, make sure it accurately represents the vibe and brand of your company. Aside from things like your company colors, make sure to use photos of your people as opposed to stock photos, and write in the tone that best represents how you actually communicate with people.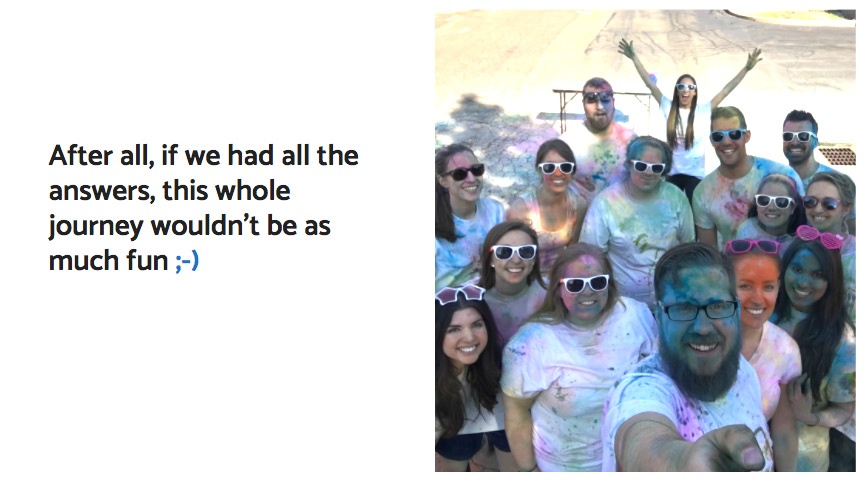 Make sure the person writing and designing it knows exactly what it feels like to be at your company so they know when they have it right.
Make it a Priority
It can be easy to push off a document like this when there are so many things going on at work.
For us, making it one of our company's quarterly objectives was what finally got us to make our culture code revamp a priority.
If you already have a culture code, or after you're done creating it, I'd love to check it out!
Please post a link in the comments, and include any other key parts you think should be in there as well.
Like what you see about IMPACT? Check out our open positions!
Free Assessment:
How does your sales & marketing measure up?
Take this free, 5-minute assessment and learn what you can start doing today to boost traffic, leads, and sales.