7 Creative Game of Thrones-themed Marketing Campaigns From Brands You'd Never Expect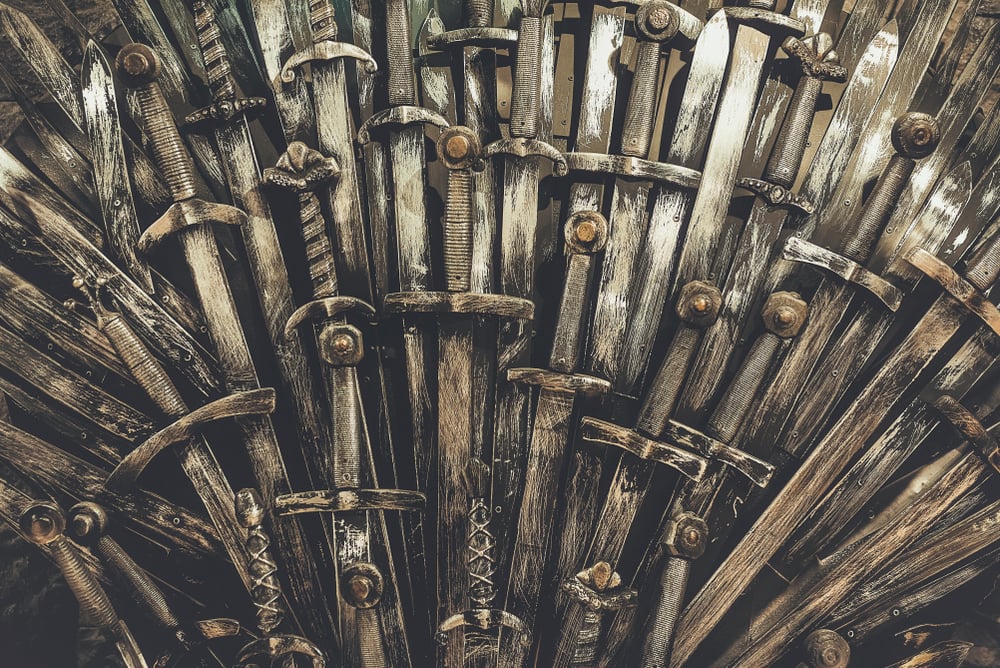 Whether you watch it or you don't, you're probably aware that the premiere of Game of Throne's final season aired on HBO this past Sunday.
The show has had a cult following since the book series, and the final season premiere drew in a record-breaking 17.4 million viewers.
No matter where you were, it was hard to ignore how big of a deal this was for fans.
The only drop that matters pic.twitter.com/sCv0LbFBrW

— zane (@zane) April 15, 2019
One of the reasons it was hard to ignore was because of the massive marketing initiatives by HBO to build as much awareness as possible and by major brands to, in turn, capitalize on it.
Because most brands don't have too much in common with mythical kingdoms, zombies, and dragons, it's been interesting as a marketer to see the creative initiatives they came up with to be both on-brand and relevant to the Game of Thrones theme.
1. OREO
Oreo has been known to get into the spirit with popular pop culture events - and the Game of Thrones premiere has been no exception.
The cookie company released a limited edition pack of Game of Thrones-themed Oreos, pictured below:
The cookie designs feature four embossments representing the groups still battling for the Iron Throne—House Lannister, House Targaryen, and House Stark—as well as The Night King and White Walkers.
Additionally, to make their efforts more shareable on social media, they also re-created the iconic Game of Thrones opening title sequence with Oreo Cookies.
Clearly, this was a great way for Oreo to get in the spirit about the final season and spread awareness of their efforts.
Popular burger chain Shake Shack not only rolled out a cool ad campaign to celebrate Game of Thrones but they also debuted an entire secret menu to go along with it.
For a limited time at Shake Shack's Madison Square location in New York City, Game of Thrones-themed items are on the secret menu, including spicy Dracarys burgers and cool Dragonglass shakes.
Additionally, there is a very on-theme trick to getting one: You have to order in Valyrian, a fictional language from the series.
Luckily, Shake Shack offered a helpful translation key for the guest that were not fluent in it.
If you watch Game of Thrones (or have even heard of it), you'll know that there is a lot of death and blood.
So, the American Red Cross creatively worked that aspect into their marketing campaign, launching "Bleed for the Throne," which encouraged fans to donate blood in exchange to win an actual Iron Throne.
After donating, fans are brought through an immersive experience, hearing voices of prominent Game of Thrones characters who have literally "shed blood" in their fight to get closer to the Throne.
You wouldn't normally find a correlation between Game of Thrones and a healthcare organization like the Red Cross, but this campaign goes to show that a creative mindset can really help you achieve results and generate engagement.
4. The New York Mets
Baseball is an American staple this time of year, so it makes sense HBO would seek out the MLB to incorporate the final season into its events.
The two brands saw a partnership in 2018, with the campaign "Baseball is Coming." and now, they've revealed several different themes for this season, starting off with the Mets.
The first 25,000 fans will receive a Noah Syndergaard bobblehead sitting on the Iron Throne.
It's been said that these bobbleheads will continue to be used for different teams in April and May MLB games.
5. Mountain Dew
Mountain Dew also partnered with HBO to launch "A Can Has No Name" campaign.
The campaign centers around it's one of a kind can which appears completely blank when warmed, but once chilled, reveals the kill list of character Arya Stark.
This is a very simple way to make a big impact for both HBO promotion and for Mountain Dew to sell more products to fans.
6. AT&T
AT&T pulled out all of the tricks in order to execute this campaign.
The cellphone provider put together an entire "Game of Thrones" experience in select stores leading up to the premiere utilizing both VR and AR technology to bring the world to life.
They also provided an exclusive look at content, costumes, props, and other show memorabilia to make the experience more valuable.
7. Urban Decay
Cosmetics company Urban Decay launched a limited-edition Game of Thrones collection set to capitalize on the final season hype.
On their website, the company stated:
"We've partnered with HBO to create the Urban Decay | Game of Thrones collection, inspired by our favorite places in Westeros and the strong women of the Seven Kingdoms. From the shores of Dragonstone to the frozen lands beyond the Wall, this collection will let you create looks inspired by House Stark, House Targaryen, House Lannister, and the White Walkers."
The collection features various makeup products, but they took their messaging a step further with incorporating the themes into their product descriptions.
"Get a glow that lights up the Seven Kingdoms with the Mother of Dragons Highlight Palette and its three new shades of Afterglow Highlighter. Command dragonfire with the Dracarys Lip & Cheek Stain, a universally flattering Targaryen red tint."

"Prepare for the long battle with four new shades of our award-winning, waterproof 24/7 Glide-On Eye Pencil as well as our unstoppable, long-lasting Vice Lipstick—because lipstick is always the best weapon."

You'll be armed and ready with Jon Snow's Longclaw and Arya Stark's Needle eyeshadow brushes."
This is a unique, fun way to ring in the premiere, and provides fans with a piece of memorabilia from the event, along with a great, high-quality product that we can expect from a brand like Urban Decay.
The Power of Newsjacking
All of these examples are prime examples of how newsjacking can be mutually beneficial for brands.

Here, HBO got added exposure for the Game of Thrones final season, and the brands involved got to attract its huge fanbase and be a part of the fun.

This goes to show that when done right, Newsjacking can help brands stay top of mind and catch some of the buzzes from these prominent current events.

It also exemplifies that by getting a little creative with your strategy, you can create a campaign that is both on-brand for your company and relevant to what's happening in the world.

Since this is the last season of the show, we can expect some of these newsjacking efforts to continue as the season goes on - and get ready to start taking notes for the examples to come for the final episode!

The New York Mets revealed that April 27th will be "Game of Thrones" night at the team's stadium.
Free Assessment:
How does your sales & marketing measure up?
Take this free, 5-minute assessment and learn what you can start doing today to boost traffic, leads, and sales.