How We Shattered Our All-Time Traffic Record 2 Months in a Row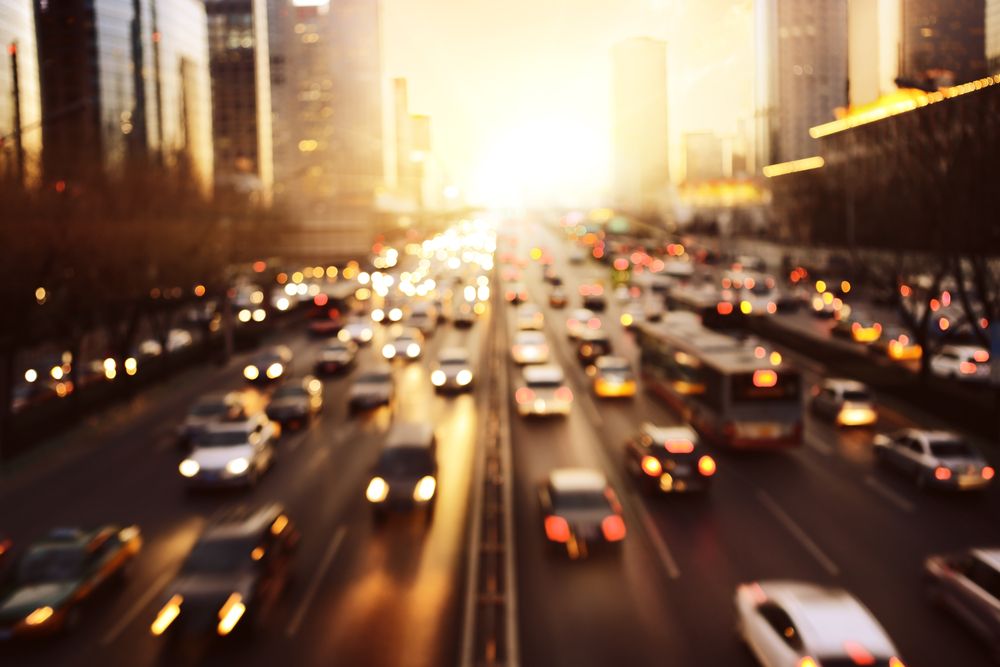 A lot changed for us in 2015.
We moved into a new office, became a HubSpot Diamond Partner (woo!), and probably the biggest change of all, we wished some of our veteran team members well as they moved on to the next phases in their careers.
With all of these changes came even greater responsibilities and goals to be hit, but as every savvy inbound marketer knows, if you want to spike your numbers at the bottom of the funnel, you've got to start from the top.
In other words, coming out from a short rough patch, we wanted to ramp up our traffic and get more people into the top of the funnel that could be nurtured to the bottom.
In September, we did just that! That month, we set a new all-time highest website traffic record for the agency, only to top it again by over 6000 visits in October. (High Five!)
But how did we do it?
To paraphrase a wise man known only as Drake, we started at the top-of-the-funnel, now we here.
I know that there are more than just a few organizations wish they could do the same, so in this article, I'm sharing three of the tactics we used to increase our overall website traffic to a new level and some of the lessons we learned along the way.
1. Focusing on Subscribers
In recent years, I think blog and email subscribers have been taken for granted.
Sure, these leads may not all be super qualified at this time, but they one day, they may be. The point is, they've opted-in.
Unlike individuals who have "liked" or followed your content on social media or other top-of-the-funnel avenues, when someone subscribes to your organization, they've entered your database and granted you access into their personal inbox.
They've acknowledged that they want to hear from you, they're interested in what you have to say, and most importantly, that they will return to your website for it.
Taking note of this, the IMPACT marketing team prioritized getting new blog subscribers with the goal of boosting return/email traffic to our website.
Offering an Incentive
One way we boosted our subscriber numbers was by incentivizing the act of subscribing.
These days people are extremely cautious about sharing their contact information with businesses. If they do share this information, it has to be worth it.
So, instead of emphasizing the obviously awesome content they'd be getting from our blog every day, we sweetened the deal by giving away an exclusive eBook along with it.
We made this offer (the most immediate value) the highlight of our messaging. You could only get it if you subscribed, in turn creating a sense of "special treatment" and increasing the perceived value of filling out the form.
This sense of exclusivity combined with the increased value, make people more likely to convert.
Using an Exit-Intent Popup
In our effort to boost subscribers, we also worked on increasing the visibility of the subscription offering by implementing a simple in-line form on the homepage of our blog as well as an exit-intent popup. (Check out examples of each below)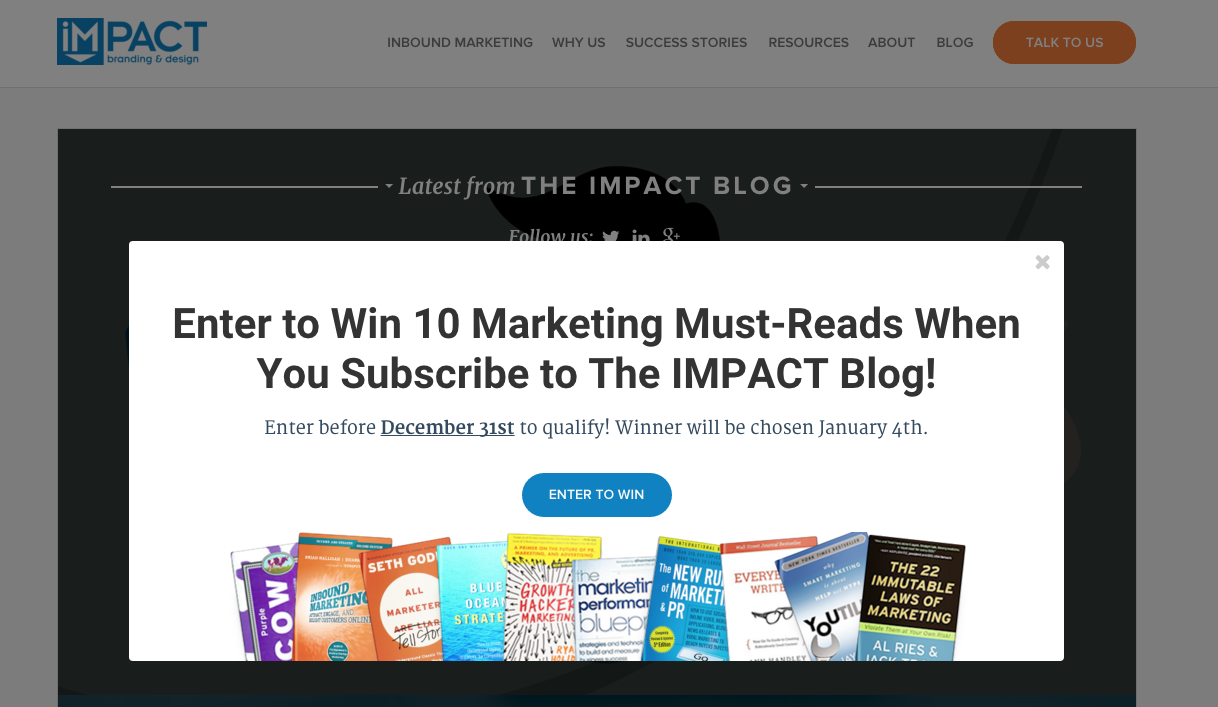 People can't convert if they don't know how to -- and believe it or not, this was an issue on our blog for months. By adding these two elements to our blog, we clarified the path to conversion and also re-engaged an impressive number of users before they could bounce off the site.
These tiny adjustments to the user experience and journey, not only helped us convert hundreds of new people, it also helped us convert hoards who were regularly visiting our blog, but had never subscribed.
Overall, these tactics helped boost our subscription rate by 150%.
2. Refreshing Our Content Strategy
In addition to this subscription focus, we also decided to revisit our content mix and strategy as a whole.
Frequency
First off, we increased our blogging frequency. Now, I know this may go against the idea of "quality over quantity" but with our ambitious traffic goal, it proved extremely valuable.
Let me explain.
Prior to June of this year, we were blogging only about three times a week, with a "round up" on Sunday mornings. Traffic was steady and each article got hundreds of views a day, but we knew we'd need more than steady to reach our goals. Thinking of our new traffic goal, we cranked this up to once a day, shortly followed by twice a day in July.
While this volume was initially a shock to our marketing team, we saw a 12% increase in our blog traffic alone, proving that our work had not been in vain. This was our sweet spot.
Note: In August, we tested the waters with three articles a day, but we quickly found that our blog traffic remained unchanged despite the additional effort, so scaled back down.
This testing, though unsophisticated, helped us learn the limits of our audience's attention and prevented us from wasting time and effort on creating five additional articles a week.
Content Mix
Next, with double the content being published, we had to revamp our content mix to fill this demanding schedule -- let alone, avoid boring our audience or letting writers get burnt out.
So once again, we expanded.
Everybody Writes -- Literally
Instead of only having the marketing team create content, we encouraged team members from throughout the agency to contribute.
From the CEO to our newest junior designer, everyone had the chance to share their perspective in some way.
Having these new voices on the IMPACT blog not only helped distribute the workload and diversify our subject matter, it provided our client services team an opportunity to establish themselves as thought leaders within the industry as well.
Diversifying
With the whole team on board, we also began to explore more formats that capitalized on their personal strengths. New content included more curation, infographics, downloadable checklists, listicles, event recaps, investigative case studies, how-tos, book summaries, and SlideShares among other things.
By diversifying our content in this way, we helped keep our voice fresh and entertaining for our readers, while also appealing to different moods and styles of communication that were more share-friendly for platforms like Pinterest and SlideShare.
These shares were crucial to expanding our social traffic. In a similar way, content distribution was crucial to increasing our referral traffic.
3. Content Distribution
In inbound marketing, we are fortunate enough to have several vibrant and active communities available to us online. We capitalized on these established (and interested) audiences to extend the reach of content and drive referral traffic back to our website.
Here's how we approached distribution in our four largest channels.
In this community, started by HubSpot's co-founder and CTO, Dharmesh Shah, we would share our articles daily and occasionally start discussions centered around the topic of a recent article. (Here's an example of one we recently started about dealing with stress as a marketer.)
Doing this would get a link to our content in front of the website's audience of 141,970 marketers and counting, encouraging shares and visits to read the full content.
For those not familiar with it, Medium is a blogging platform popular with the creative and tech community as well as industry thought-leaders looking to share and find inspiration.
On this platform, we would share excerpts of our most popular articles then include a read more link leading back to the original piece on our website.
Similar to Medium, on LinkedIn Pulse, we would post excerpts of some of our most popular B2B articles along with a link to read the whole thing on our website.
With its native, professional audience and publish notifications to your connections, this feature of LinkedIn offered valuable opportunities to drive qualified traffic back to our website and also expand our reach globally.
Last, but not least, Quora is the most unique out of our four main distribution channels. Unlike the others which allow you to publish and share long-form content, Quora is a platform where people can ask questions on absolutely any subject.
To generate traffic from it, we would sort through relevant topics (i.e. SEO, website design, inbound marketing, etc.) and share articles or offers from our library that would answer the question at hand.
Not only did this community help us drive traffic back to our site, but personally providing answers to individuals in it helped us humanize our brand and showcase our expertise one-on-one.
Key Takeaway
Website traffic is the catalyst for any inbound campaign.
When trying to attract new or more traffic, don't be afraid to shake things up! Experiment with your content formats and frequency. Welcome new voices and try that outrageous headline. Always respect the basics and best practices, but never be afraid to push them to their limits to help your traffic numbers do the same.
Free Assessment:
How does your sales & marketing measure up?
Take this free, 5-minute assessment and learn what you can start doing today to boost traffic, leads, and sales.