Subscribe
Join 40,000+ sales and marketing pros who receive our weekly newsletter.
Get the most relevant, actionable digital sales and marketing insights you need to make smarter decisions faster... all in under five minutes.
Thanks, stay tuned for our upcoming edition.
Hubcast 1: Finally, a Podcast Just for HubSpotters!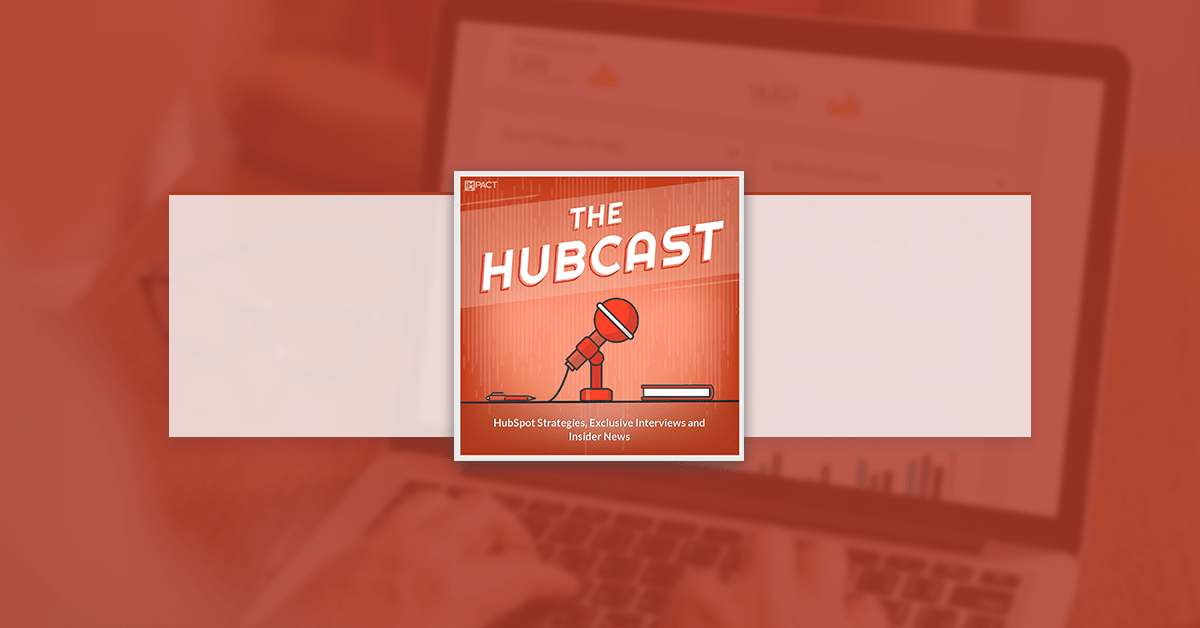 Welcome to The Hubcast folks, a weekly podcast all about HubSpot news, tips, and tricks. Please also note the extensive show notes below including some new HubSpot video tutorials created by George Thomas.
Note from Marcus*** As I've discussed recently here on TSL, podcasting (audio communication) is exploding. And as I've been regularly podcasting every two weeks this year, my love for this medium has only continued to grow. It is for this reason that I've (along w/ my weekly co-host George Thomas) started a 2nd podcast here on TSL just for HubSpot users: The Hubcast.
As certified HubSpot partners here at The Sales Lion, and someone that has talked about the company for years on this blog, our HubSpot readership base is very, very large. Having the Hubcast will allow us to give incredible value, once a week, to these HubSpot users. The Mad Marketing Podcast will continue (and likely pick up the pace even more I suspect), but this podcast will get down and dirty about all of our thoughts and feelings (good and bad) on HubSpot tools, strategies, news, and more.
Show Notes:
Inbound 2014

Malcolm Gladwell has an incomparable gift for making new ideas in the social sciences understandable, practical and valuable to both business and general audiences. He is the author of five perennial bestsellers including The Tipping Point, 400+ weeks on the New York Times bestseller list and now, his latest, David and Goliath: Underdogs, Misfits and the Art of Battling Giants. In this episode of the Hubcast, George and Marcus discuss Gladwell, Simon Sinek's appearence, and more.
See other presenters coming to Inbound 2014
HubSpot Tips & Tricks - HubSpot's Image Editor
You can now edit your images right in HubSpot using the new image editor. The image editor is available from the file manager and can be used wherever you manage your files in HubSpot.
Whether it be to crop and resize images, add overlay text and stickers or apply filters (like Instagram), the image editor can take you to new photo sharing heights. We've even included pre-set sizes for posting to Facebook and Twitter so you never have to worry about your image being the right size on those networks.
Currently, this editor makes a copy of the original image, and saves it in the same folder as that of the original file. The original files are never over-written.
HubSpot Strategy - The Keywords Tool
The HubSpot Keywords Tool, when it comes to SEO, can be incredibly useful for HubSpotters. In this episode of the Hubcast, Marcus discusses an important keyword strategy of identifying SEO keyword targets with each piece of content you produce and then adding them to your Keywords Tool accordingly.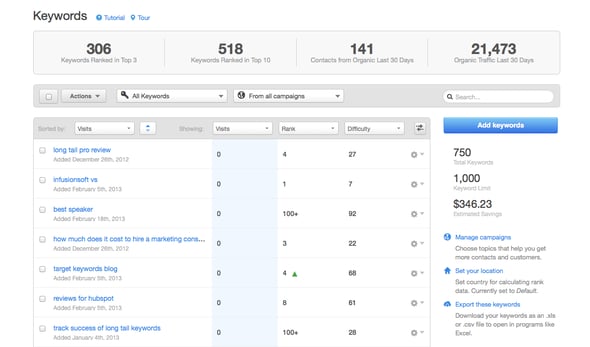 HubSpot Updates
(Each week on the Hubcast, George and Marcus will be looking at HubSpot's newest updates to their software. And in this episode, we'll be discussing 3 of their newest updates)
New Email List Selector
Now live is a new way to add email recipients to an email send. You can choose to create a list right from the email editor tool, add lists that you have already created, add individuals, or exclude lists of people or individuals. All of this can be done right from the "Sending" tab in your email editor.
The new UI for choosing lists of people or individuals makes it much easier and faster to understand who you are including in your email sends and who you are excluding. Once selected, you will see a much clearer view of your email lists.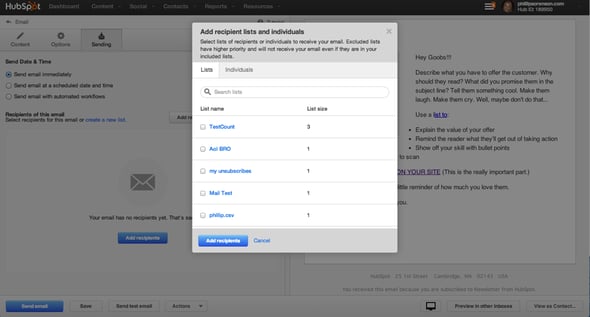 Set a Landing Page Expiration Date/Time
Now available is a new feature on HubSpot COS landing pages that will enable users to set an expiration date and time for their landing pages. You may have date specific offers and landing pages that are no longer relevant after that date has passed. Instead of remembering to "unpublish" these pages once the event has passed, you can now automatically set up your landing page to redirect to another URL after a certain date.
In the publishing tab of your landing page, you'll see an option to set a landing page expiration date and time. Select that and denote the date and time you would like the page to unpublish and the location to which future visitors should be redirected.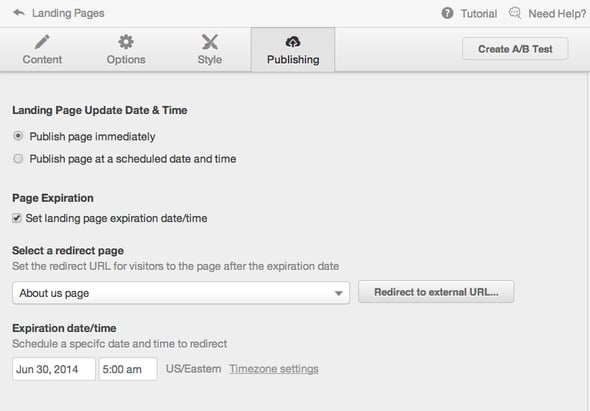 Updated COS URL Mappings
Now live is an update to the COS URL Mappings tool. URL Mappings allow you to control how URLs are handled on your site through webpage redirects, and with the redesign this is easier than ever. This update includes:
Visible System-created redirects so you can see everything that's going on with your URL mappings and redirects without having to call support
Every URL is line-wrapped so they're fully copy/pastable and readable.
Pattern-based mappings available to all users, so you no longer have to call Support to set one up
Improved help text throughout to assist you while adding redirects, including dynamic tokens that assist in creating bulk redirects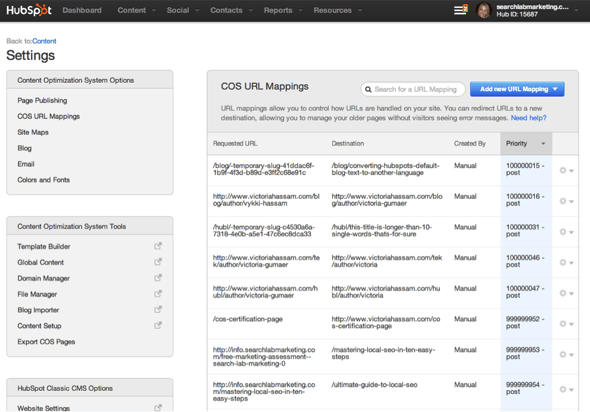 HubSpot - Wishlist
In this episode, George and Marcus discuss the issue of migrating to the new COS in HubSpot and the fact that there is still a 7 month lag time to get this done-- something that can be a problem for HubSpotters and quite frustrating as well.
Cool HubSpot & Inbound Tweets

Check out more from Erin on Twitter
HubSpot Question of the Week(answered in this episode)
Cindy asks: I have heard a lot of talk about Signals, can you explain how to install it and use it effectively?
Check out the Signals app here
We hope all of our HubSpot readers will enjoy the new Hubcast and hopefully you'll take the time to review us on iTunes. (This episode will appear on iTunes within the next 24 hours) It will also appear on Stitcher within the next 48 hours.
Where else can you find the Hubcast Podcast:



Free Assessment:
How does your sales & marketing measure up?
Take this free, 5-minute assessment and learn what you can start doing today to boost traffic, leads, and sales.