Hubcast 12: Is HubSpot Stock a Smart Investment & Thoughts on Enhancing the New Editorial Calendar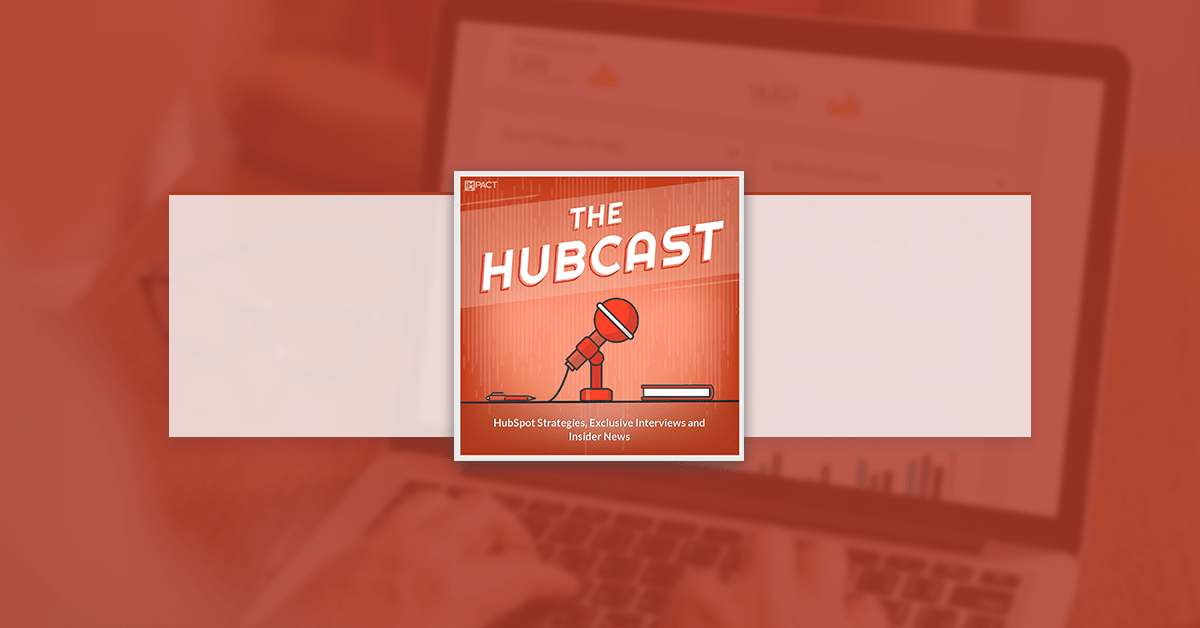 Welcome back to The Hubcast folks! As mentioned last week, this will be a weekly podcast all about HubSpot news, tips, and tricks. Please also note the extensive show notes below including some new HubSpot video tutorials created by George Thomas.
Show Notes:
HubSpot IPO
Despite the turbulence, Boston-based Hubspot launched with an impressive IPO raising $125 million in fresh capital and leaving the company with a market valuation of $880 million.
The company raised about $125 million last week, selling five millions shares at $25 each. The stock initially popped as high as $30, but this morning was changing hands at $27, above the IPO price but below last week's highs.
You see, Hubspot is still burning cash. According to its S-1 statement filed with the US Securities and Exchange Commission, Hubspot lost $17.7 million in the first six months of 2014. That's compared with $16.4 million in the first six months of 2013.
HubSpot Strategy
This week we talk about the difference between feel good, thought leadership, and lead generating content. We have also supplied you with three great examples below.
Thought Leadership Example: Content Marketing and the Commoditization Effect: Is it Real?
Feel Good Example: The Best Example of Brand Storytelling Ever: The Lego Movie
Lead Generating Example: The Most In-Depth HubSpot Vs. WordPress Review Ever Written
HubSpot Tips & Tricks
CRM Tip
In this HubSpot CRM tutorial I show you how to add an auto signature to your CRM email tool. This will help save you a ton of time in the long run.
COS Tip
In this HubSpot Tip / Trick I talk about why you should block IP addresses for internal traffic and how to easily make it happen in your portal.
Read HubSpot article about it here
HubSpot Wishlist
Editorial Calendar Integrated
I am quickly falling in love with the editorial calendar inside of the HubSpot tool, however I heard loud and clear a new HubSpot Wishlist item from one of our clients this week.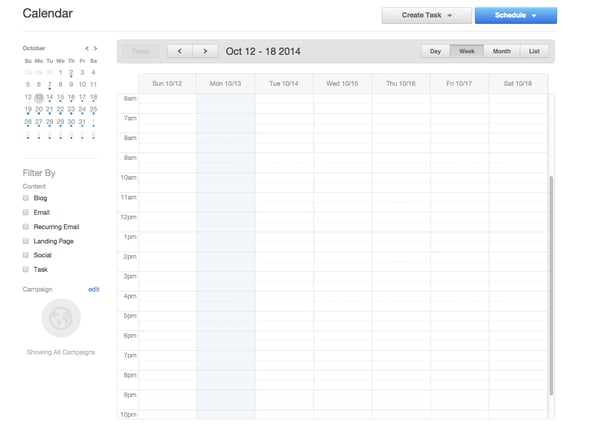 Hubspot it would be great if the editorial calendar integrated with Gmail and Outlook calendars. Of course by-directional would be awesome but even if we could created a new task for an employee in HubSpot and then a notification to that employees Google or Outlook calendar was added would be an awesome add-on.
HubSpot Updates
Android mobile app now features Email dashboard
Like the HubSpot iPhone app, the Android mobile app now features an email dashboard with metrics with the ability to drill down into your top emails.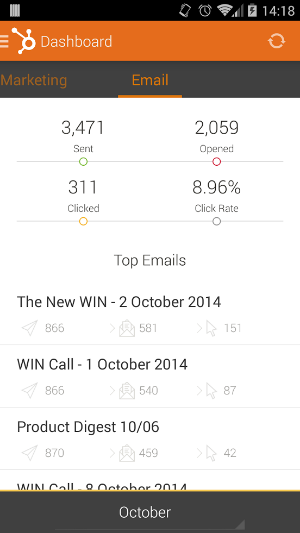 The metrics above represent your email performance and top emails in a given timeframe, which you can set on the "Marketing" dashboard or the "Email" dashboard. The timeframe will apply in both places. (For example, you'd change it on the "Email" dashboard by tapping on "October" in the above screenshot.) Changing the timeframe may change what emails are displayed under "Top Emails."
Drilling down into a Top Email will give you it's individual metrics. You can tap on any of the numbered boxes ("Sent," "opened") to get a list of individuals who fit that criteria.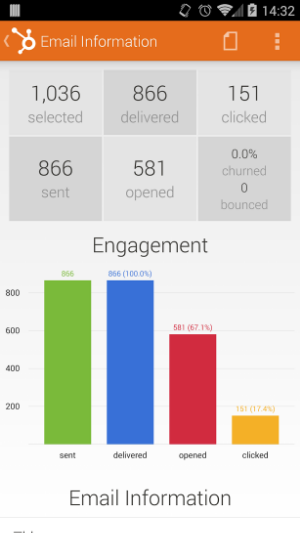 If you are a savvy marketer with an Android phone, download the HubSpot Android app for your smartphone now!
Updated Chrome extension for Social Inbox
Now live is an updated Chrome extension for Social Inbox. This update allows you to choose one specific portal to always publish from, no matter where you are on the web.
For any HubSpot customer using Social Inbox, the Chrome extension (and bookmarklet for non-Chrome users) is a must-have. It makes publishing messages through Social Inbox so easy because you can do it from anywhere on the web in a variety of ways, like:
Highlight text on the web and instantly publish
Push the sprocket in your browser on any web page you'd like to share
Use the sprocket in places you'd find great content, like Twitter or Feedly
If you already have the Chrome extension installed, there's no need to re-install it. If you don't, you can install it here.
To choose a specific portal for publishing, right-click on the extension in your Chrome browser to pull up this menu. Then select "Options":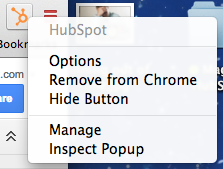 Then, you can change the portal number the extension will publish from by clicking "Change":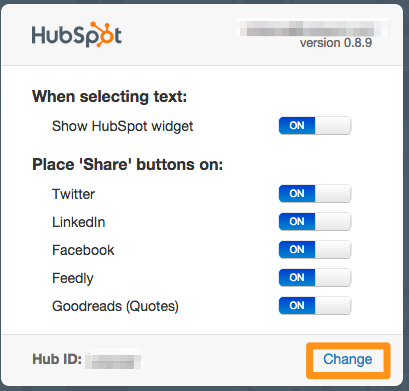 Start using the Chrome extension or browser bookmarklet today!
Video Tutorial: How to choose one specific portal to always publish from with your HubSpot Chrome extension.
Google Chrome extension you may want to check out:
Cool HubSpot & Inbound Tweets
Team @HubSpot ringing the opening bell at #NYSE for $HUBS Thank you to all our supporters and believers. YOU rock! pic.twitter.com/cbfO6QUarT

— Mike Volpe (@mvolpe) October 9, 2014
Congratulations HubSpot and all you Hubspotters!
.@HubcastPodcast important difference: email sent in CRM goes through hubspot gateway. I see better opens/response when I send via GApps. — David Ferguson (@davferg5000) October 10, 2014
We love this tweet for a couple reasons.
It is a tweet from on of our community members about a discussion in episode 11
It shows that yes folks we have set up a @hubcastpodcast Twitter account for future Twitter fun
It gives me a reason to have a second Wishlist item in a single episode
HubSpot Question of the Week
Angela asks: What is the best way to create an ebook? Should I use old blog articles, or write all new content?
Where else can you find the Hubcast Podcast:



Free Assessment:
How does your sales & marketing measure up?
Take this free, 5-minute assessment and learn what you can start doing today to boost traffic, leads, and sales.