Hubcast 170: HubSpot Reports Add-on, Go Yip Yip, & Multiple Teams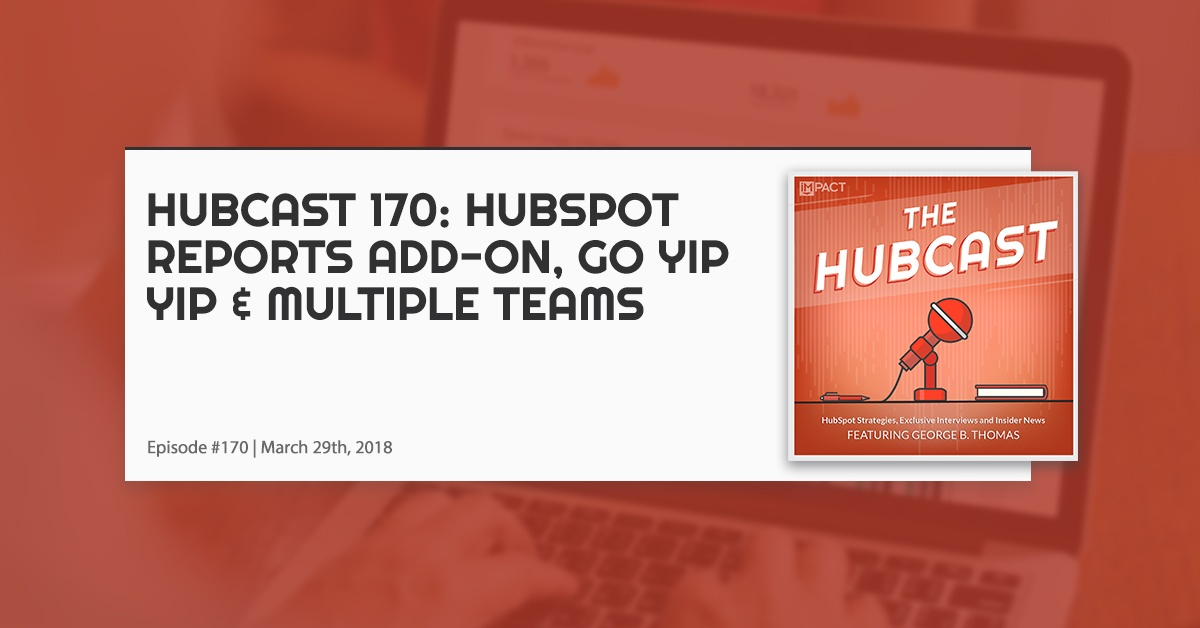 In this episode of the Hubcast, we cover a ton of amazing HubSpot goodness -- multiple teams, the Reports add-on, and Academy certifications, just to name a few.
This episode is brought to you by YipYip.

HubSpot Property of The Week
Web Technologies (company property)
The web technologies used by the company or organization - "this property was filled from the HubSpot Insights database."
What the heck is the HubSpot Insights Database? Check it out.
Why would you care?
This could be extremely valuable information (especially for agencies!!) if you're targeting companies that are using a specific technology stack.
HubSpot Wish List
Are you using teams in HubSpot yet? If so how? Let @CGDuffyDesigns and @Georgebthomas know.
Wish List Item From: Andy Hampshire
Grant Users Access to Multiple Teams

We need the ability to grant users access to multiple teams so when they are creating deals, companies or contacts they can specify which team they are doing this for.

This will allow our support staff to support multiple individuals in a way they can't at the moment and in reality, in many businesses, an individual will often work with more than just their own team.

The user permissions settings are far too basic at the moment with just 'individual', 'team' and 'everything' not granular enough.
IMPACT Facebook Groups
Are you looking for a place to take your inbound learning to the next level? Then make sure, Hubcast listener, to check out our two private Facebook groups IMPACT ELITE & MASTERING HUBSPOT today!
HubSpot Strategy
Reports Add-on #MakeItFree


In this week's strategy session, we talk about reporting and what we get versus what we might need.
I also got the opportunity to interview Jorie Munroe one of the fantastic HubSpot Academy Professors.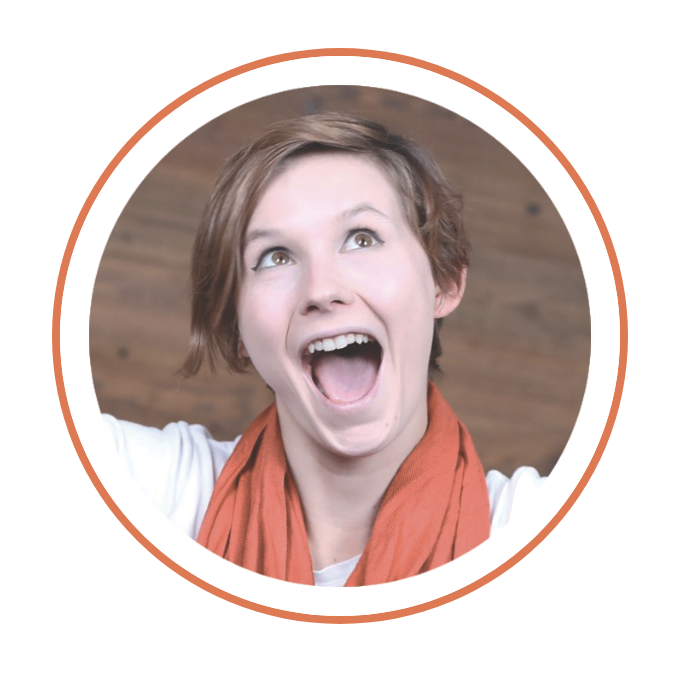 Marjorie (Jorie) is an Inbound Professor on the HubSpot Academy Team dedicated to educating and inspiring people about conversion rate optimization and reporting and analytics. Engage with Jorie on Twitter @findingjorie.
Free 15-Minute Assessment
Do you want to make sure you are getting 100% out of your HubSpot & inbound efforts? Schedule your free 15-minute portal assessment with George B Thomas today. Schedule your free 15-minutes here.
Yip Yip Sponsorship

Integrated with HubSpot, Yip Yip is a true Sales Enablement solution.
Reuse your existing content to amplify reach while helping the sales team stay top-of-mind with their social networks, be seen as thought leaders and generate "Net New" leads for the entire sales team.
One push of a button can personalize your existing content for the entire sales team and help them capture leads and build relationships with their own personally branded blog pages on your existing website.
HubSpot Updates
[Now Live] Visual Refresh of the Funnel Report Builder
Users of Sales Professional or the Reports Add-on will now see a redesigned editor when they go to create funnel reports.
Funnel reports are meant to show you how successful your team is at progressing deals and contacts.
With this information, you can understand where your team might encounter roadblocks and change your process accordingly.
This visual refresh makes it more clear what the conversion rate means between each stage of your funnel so you can see exactly how successful you are at each stage of your buyer's lifecycle.
[Now Live] Visual Refresh of Content Strategy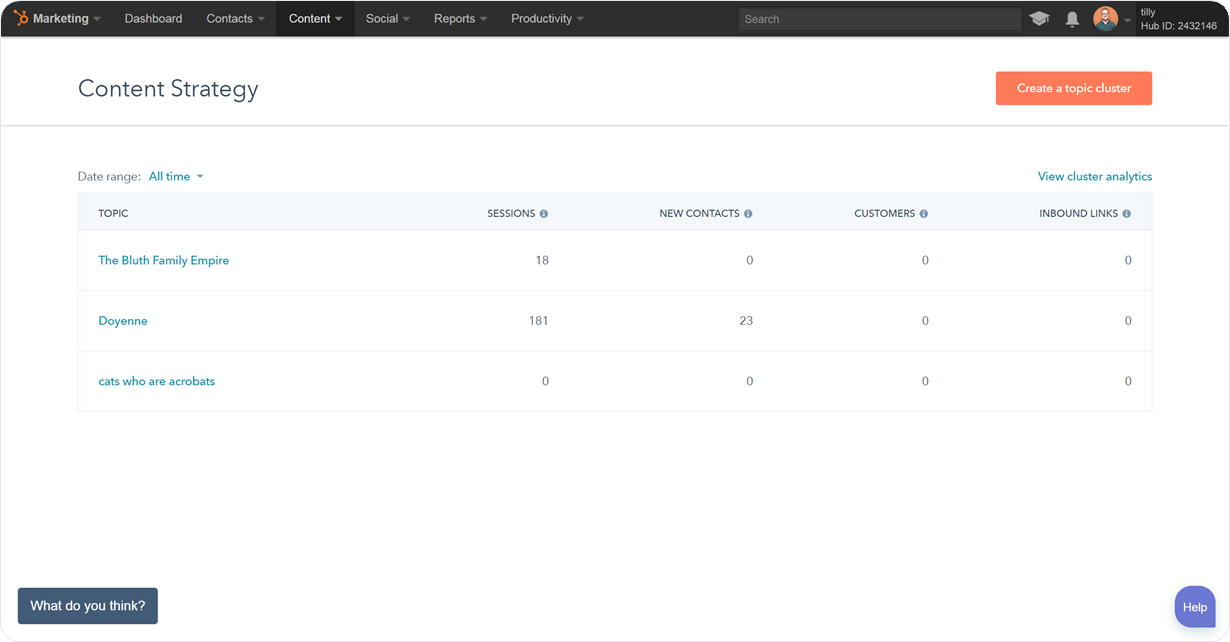 As search engines have developed to recognize intent, ensuring you are writing in-depth content on a specific topic that is optimized for search is far more important than worrying about where you rank for an individual keyword.
This is where Content Strategy comes in. The visual refresh of the tool makes it easier to see exactly which pieces of content are linked together within a topic cluster.
[HubSpot Connect] - HourStack Integration
HourStack is a time management product that provides a visual solution for keeping your HubSpot tasks organized.
Sales is a field full of moving pieces, with often many small steps necessary in order to close a deal.
For the visually-oriented sales rep, HourStack makes it easy to stay organized and on-target to meet monthly quotas.
That means your sales team can spend less time digging through endless tasks and more time building meaningful relationships with leads and customers.
Monthly Newsletter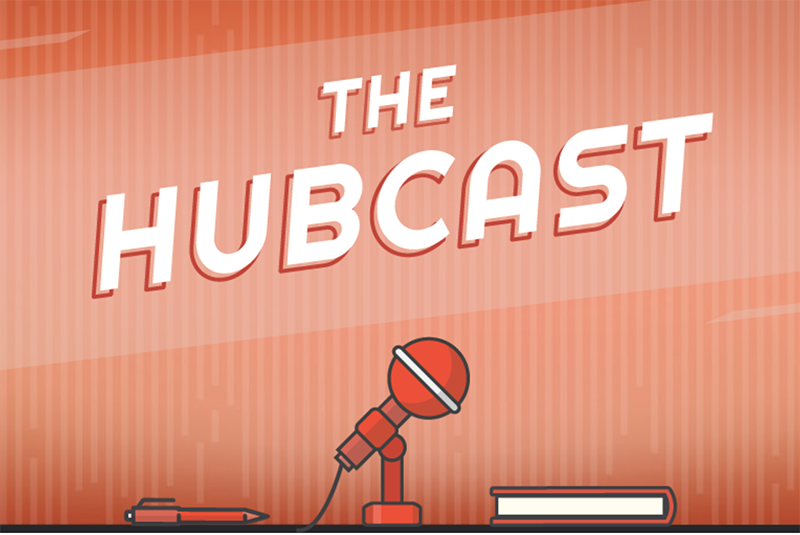 Once a month, you can get exclusive Hubcast listener content right in your inbox.
We are dedicated to pushing our HubSpot & inbound educations and conversations to the next level. If you are interested, just head over to the main Hubcast page sign up today to stay in the loop.
Tweet of The Week
Contextual conversation allows data collection easy, gradual and organic!
#hubspotmasterclass

— Jacqueline Payne (@JacquelineTCCS) March 13, 2018
Are you keeping up with HubSpot Master Classes?

What are HubSpot master classes?
Master Classes are live virtual events featuring your favorite Inbound Professors and their guest industry experts.
Learn advanced techniques and topics that build on the frameworks you've learned in our certification courses.
Watch them all. Binge Here
Question Of The Week
Self-education - Expertise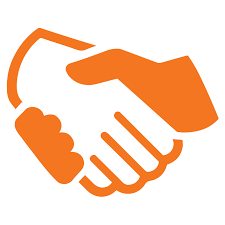 How many certifications do you currently have? What is or do you have a roadmap to get all of them?
Why or why not? Email me gthomas@impactplus.com.
Until Next Time
Are you listening to the Hubcast with your favorite podcast app? Please leave us a rating or review on iTunes so other awesome HubSpotters can find our show.
Watching the Hubcast? Make sure you subscribe to our YouTube channel and to stay up to date even faster by hitting that bell.
Until next time this is Carina Duffy & George B Thomas saying to you, go out into the world and do some HAPPY HUBSPOTTING!
Free Assessment:
How does your sales & marketing measure up?
Take this free, 5-minute assessment and learn what you can start doing today to boost traffic, leads, and sales.