Hubcast 175: Snippet Filters, Native Shopify Integration, & Oh - More Product Updates!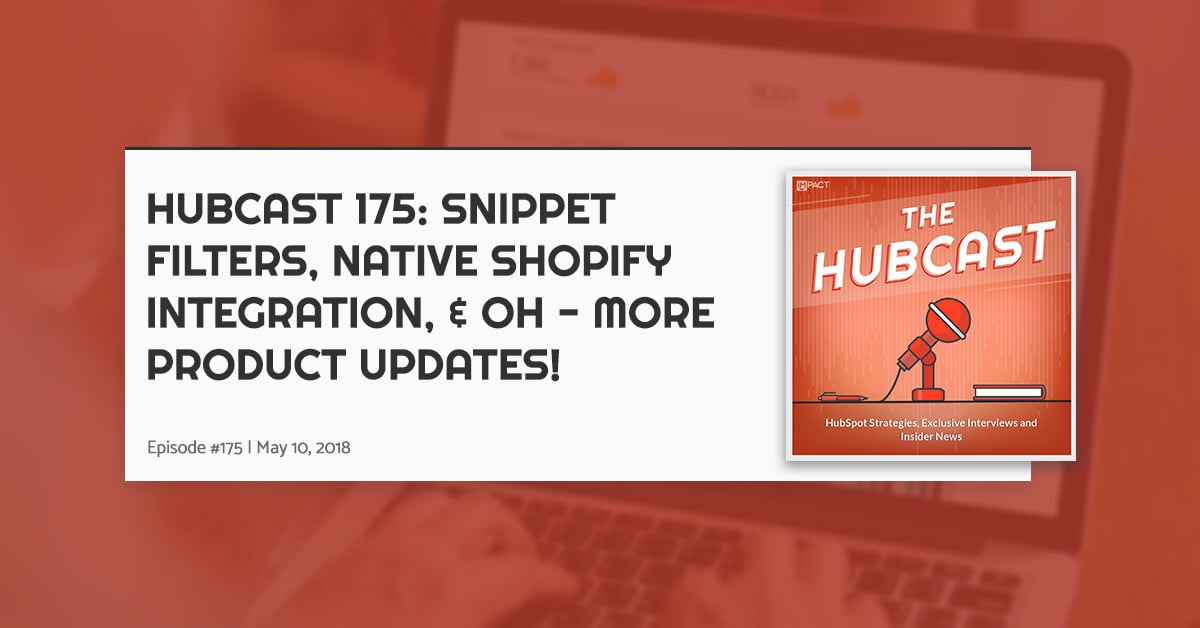 This episode of the Hubcast is brought to you by our friends at Digital Marketer.
Also, what's going on with INBOUND Speakers?
Last year, they announced the first wave of breakouts and all of the keynotes and spotlights on April 14, and they still have only announced six speakers total. What's up with that?
NOTE: The day after we recorded this episode, INBOUND released the speakers list! Do you think maybe their ears were burning??

Property of the Week
First Conversion
The first form a contact submitted.
What could you use this property for?
Lead intelligence for your salespeople: did this person engage with us first via a piece of content, or from a contact form?
Reporting on what content gives you the best return on investment
Super segmented lead nurturing
Great properties to use in tandem with First Conversion: First Page Seen (see: Hubcast 173), Number of Form Submissions, and Recent Conversion.
HubSpot Wish List
"We have a number of team members and the new Snippets tool in HubSpot Sales Pro looks nice. My only concern is that it could get out of control. Would it be possible to do something similar to how you have filters on templates?
As I create a snippet there would be an option to share with the team or make it private." - AJFenlason
This Episode's Sponsor: Digital Marketer
This week's Hubcast is brought to you by Digital Marketer.
DigitalMarketer is the premier online community for digital marketing professionals. It's a place where you can learn how to market like a pro, connect with industry experts, and get the strategies and tools you need to grow and scale your business to new heights.
With tens of thousands of customers in 68 countries around the globe, we've become one of the world's most trusted voices sharing the best of what works in digital marketing.
Learn More About DM's Partner Program Here
HubSpot Updates
New Navigation Coming to HubSpot
You're always looking for ways to move faster, get more done, and get more out of each day. So, HubSpot has designed a new navigation that will help you do all that and more.
And for those of you who have used it so far, what do you think??
Redesigned Email Post-Send Screen
The post-send details screen of the email tool has been redesigned to put the most important metrics for email marketers right at their fingertips. My favorite part: they now have clickmaps!
[Heads Up] What to Expect with HubSpot and the Upcoming Gmail UI Changes
What is it? As you receive the new Gmail UI, you will also see some small but helpful changes to the HubSpot Google Chrome extension. TLDR: they fixed a bunch of bugs!
In other news - let us know what you think about the new Gmail UI if you're using it! (spoiler alert: I LOVE it.)
[Now Live] Content Strategy Progress Bar
The strategy tool now includes a progress bar, so you can see exactly what next steps you should take to complete your topics. This tool is super simple, and now the progress bar makes it even simpler.
[Now Live] Meetings Module now in the Marketplace
The latest module to be added to the Marketplace is a meetings module, which will allow site visitors to quickly and easily book meetings with your sales team directly from your website.
[Now Live] HubSpot for Shopify (Ecomm Integration)
The HubSpot-built Shopify integration is now live and available for all users to connect.
This integration is free for users with HubSpot and Shopify and was built to supercharge growth for eCommerce businesses using Shopify.
Marketing customers who have access to email and workflows will get advanced functionality, however, the integration does work for all instances of HubSpot.
Just syncing data and contacts from Shopify to the HubSpot free CRM helps create a unified view of your business.
For way too long, eCommerce companies have avoided HubSpot like the plague because there's been so little native support and functionality for platforms like Shopify.
The ability to now do marketing automation around your eCommerce site is going to change the game for HubSpot users in this space!
[In Beta] Conversations, the newest feature of HubSpot CRM
Conversations is now in beta. The collaborative inbox brings all your different channels like email and live chat, into a single view for teams.
Check out this demo for a feature-by-feature overview. We'll be talking about this a WHOLE lot more as these features go live!
[Heads Up] We're Changing the Name of the HubSpot Owner Property
"We're changing the name of the HubSpot Owner property to reflect the type of record the user actually owns.
For example, HubSpot Owner on your HubSpot contacts will become "Contact Owner," "HubSpot Owner" on companies will become "Company Owner," and so on."
If you don't know about this - you haven't been using your HubSpot portal because they have put this warning message EVERYWHERE.
[Heads Up] Unified "Do-No-Harm" Tracking Across All Ads in HubSpot
HubSpot will now use the same tracking parameters across all ad networks they support.
For AdWords, they will also merge their parameters with any existing parameters in your account or campaign-level tracking templates. For Facebook, they will (continue to) merge their parameters with any existing parameters at the ad level.
[Heads Up] We're Sunsetting Xing
As of May 31, HubSpot's social tools will no longer support Xing. If you still have a connected account, you will see the following in-app banner within the social tool. Learn More
[HubSpot Connect] - Workplace by Facebook Integration
What does this integration partner do? Workplace by Facebook is a space for teams to share ideas, brainstorm, and achieve more together.
More than just a collaboration tool, Workplace connects organizations of every size to familiar features like chat and groups, as well as integrates with the business tools people use every day to get work done.
Until Next Time
If you're listening on iTunes - head on over and leave us a review!
Until next time. this is Carina Duffy & Marcus Sheridan saying to you, go out into the world and do some happy HubSpotting!
Free Assessment:
How does your sales & marketing measure up?
Take this free, 5-minute assessment and learn what you can start doing today to boost traffic, leads, and sales.