Hubcast 179: Chatbots, Personas, & A Special Guest!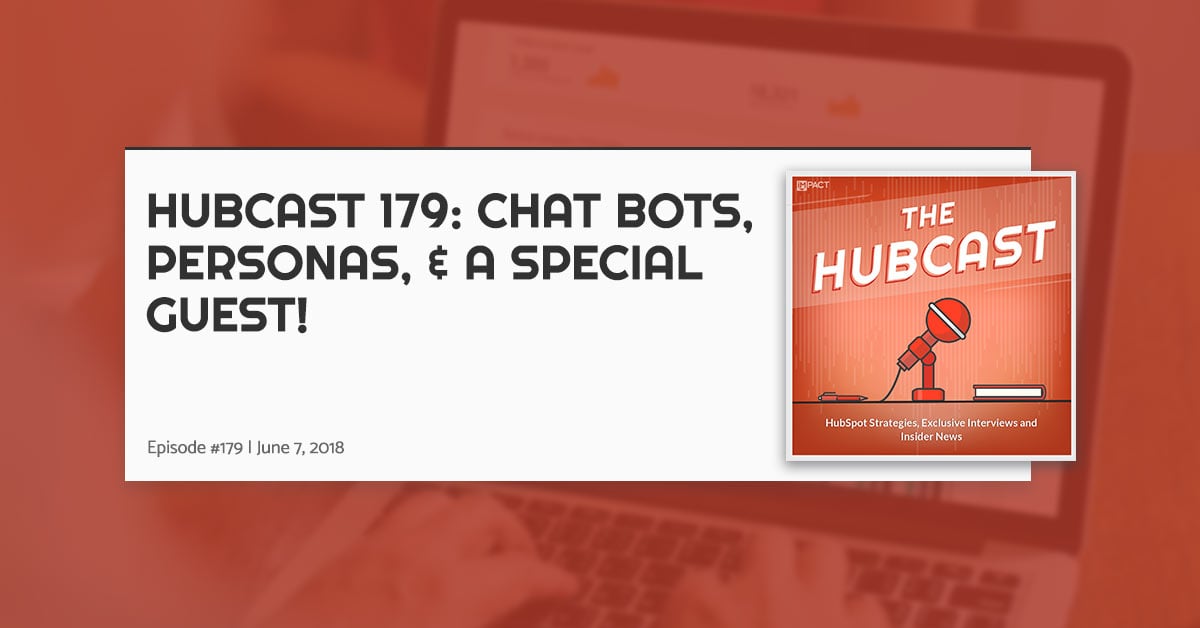 Our guest host today is the already Hubcast-famous Stephanie Casstevens!
This episode of the Hubcast is brought to you by our friends at DigitalMarketer.
I had an outrageously awesome day at HubSpot this week. Here are some things I took away: (you're just going to have to listen to episode to find out what they were…)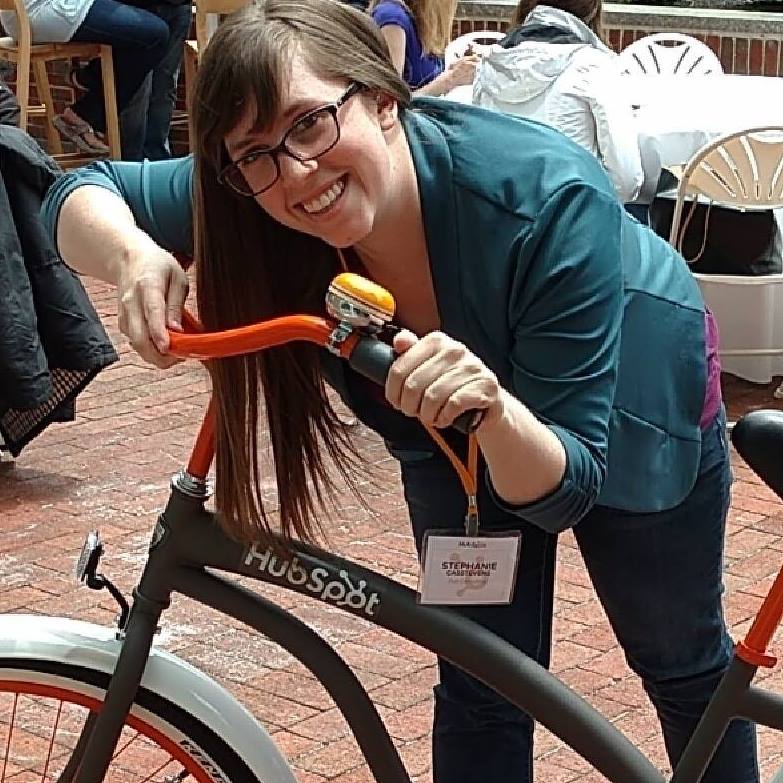 This episode we start things off with Stephanie's INBOUND Breakout Session sneak peak! Topic: 5 Steps to Future-Proof Your Marketing Skills Against the Rise of the Robots (It's time to let go of the fear of the future and embrace it.)
Property of the Week: Sales Enablement Series
In our sales enablement series, we'll be focusing on properties that will help your sales team sell better!
Persona
"The contact's persona." What a definition!
If you've been doing inbound seriously, or have done anything with HubSpot Academy, you probably already know what a persona is. So why is it our property of the week?
Because while a lot of people create personas, and even add their personas to HubSpot, for many that are the end of their persona work.
A few awesome ways to use the Persona property in HubSpot: use Forms to mark your personas; mark personas with hidden form fields; mark personas based on various website actions. Once you have personas actually being tracked, oh the places you'll go! Segmented lead nurturing, segmented sales sequences, assigning leads to the right salesperson, oh my!
And as promised, here's some info for those of you who haven't ever created Buyer Personas!
HubSpot Wish List
From ron_kagan with 144 upvotes:
I want a pony

"Hi,

I want a pony.

I discussed this after my initial request to sync with Salesforce had been resolved excellently by HubSpot Technical Support. So, since that was done to my satisfaction, I asked for a pony. I was told that I cut out a bit and to please repeat what I said, so, I restated my request and was told, unfortunately, that that cannot be done.

I was then told that it would be "so awesome if I could make a pony gallop across your screen right now." I agree. I said I would file this as a ticket in HubSpot Ideas. So I am.

I think that it would largely be agreed that we work pretty hard and that we deserve ponies.

If you agree, pleaseee share this with your teammates and vote this up. We want ponies. We each deserve a pony. We demand ponies. Give us our ponies."
Just kidding. Here's the real one:
Allow attachments received in emails to log to CRM

"When logging emails to CRM, allow the attachments to be placed into or linked with the Deal or Contact." - roarkjanis
This Episode's Sponsor: DigitalMarketer
This week's Hubcast is brought to you by DigitalMarketer. I recently interviewed Justin Rondeau, DM's Director of Marketing, you can watch the full video below.
To give you a little taste of how awesome it is, this is Justin's job description on LinkedIn: "We do the hard hard work so you can learn from our wins and our losses." Um, yes, please!
HubSpot Updates
[HubSpot Connect] - SEMrush Integration
"SEMrush is a product that enables you to perform competitive intelligence for online marketing using your HubSpot data.
With SEMrush, you can transfer keywords you have been tracking in HubSpot into SEMrush for position tracking. Track a website's daily rankings for a custom set of target keywords for any location and any device type (mobile phone, tablet, or desktop)."
And if you're not sold on SEMrush, here are some other alternatives to the keywords tool.
[Now Live] Lead Ad Automation
"When creating or editing a Facebook lead ad within HubSpot, you'll now have access to a number of new options. When creating a new lead ad, you'll proceed through a wizard which includes a guided setup flow, and most importantly, the ability to automate follow up tasks for the leads that submit on your lead ads. You can also access these automation options by editing an existing lead ad."
[Now Live] Competitor Streams, Powered by Rival IQ
"Marketing Hub Enterprise customers now can track their competitors in social using a new integration with Rival IQ. This integration gives marketers insight into what top competitors are up to on social, and the engagement within their social presence."
[Now Live] Set a Default Dashboard & Manage your Dashboards
"You can now set a default dashboard in HubSpot so you are brought to the most relevant screen when clicking the sprocket logo in the new navigation. All reporting add-on users will also be able to manage their dashboards from the new dashboard manager."
[Now Live] Restore Deleted Contacts, Companies, and Deals with Recycle Bin in HubSpot CRM
"Now live is the ability to restore deleted contacts, companies, and deals from a recycle bin in your HubSpot CRM within 90 days of the original deletion."
Until Next Time
If you're listening on iTunes - head on over and leave us a review! We love hearing your feedback, so feel free to leave some in the comments, or shoot me an email at cduffy[AT]impactplus.com!
Until next time. This is Carina Duffy & Stephanie Casstevens saying to you, go out into the world and do some happy HubSpotting!
Free Assessment:
How does your sales & marketing measure up?
Take this free, 5-minute assessment and learn what you can start doing today to boost traffic, leads, and sales.