Hubcast 180: Reporting, Video Culture, & Contacts Without Email Addresses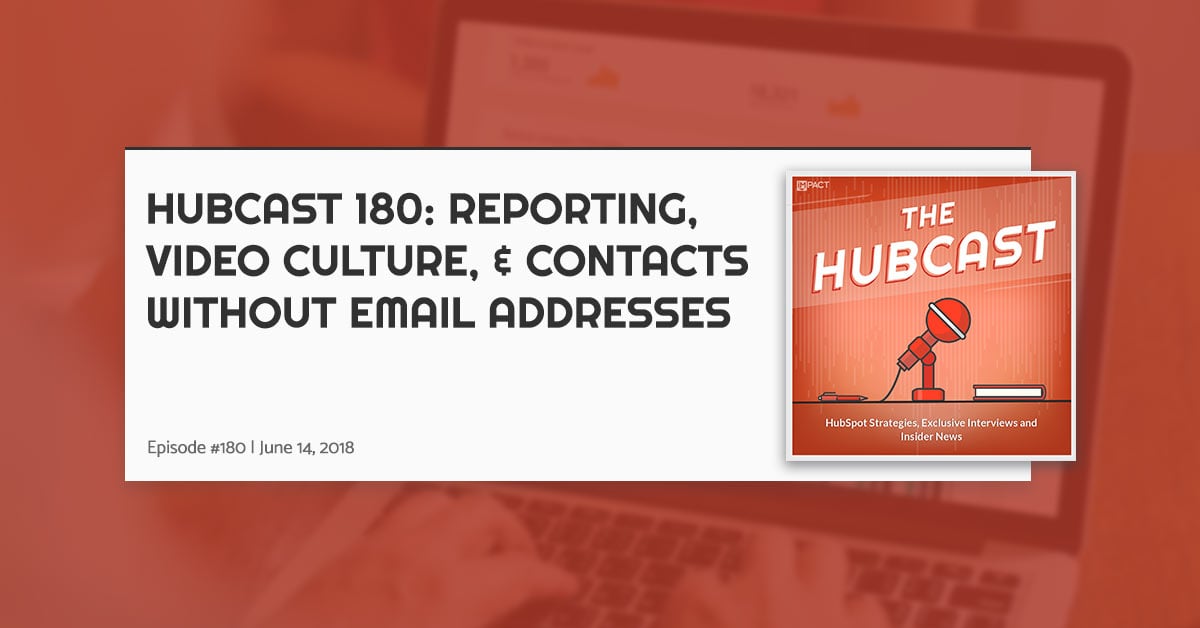 This episode of the Hubcast is brought to you by our HubSpot Intensive Training (HIT) Workshops.
Need a little HubSpot Therapy?
We've got you covered.
A few INBOUND breakouts we think will be interesting:
Mari Smith - Facebook Video Marketing: How to Optimize Results Using VOD and Live Broadcasts
Note: Mari teamed up with IMPACT to present an AWESOME webinar on this earlier this week. You can get the recording here.
Andrew Tarvin (Humor that Works) - Funny to Money: The Science of Selling with Humor
Property of the Week:
Days to Close
"The days that elapsed from when a contact was created until they closed as a customer. This is set automatically by HubSpot and can be used for segmentation and reporting."
Why is this property useful? Reporting, reporting, reporting!
Actually, let's talk about reporting.
You know what's weird?
A lot of people purchase HubSpot because of its reporting capabilities, but many of them never get to a place where they're actually able to report on the important stuff.
What's On Marcus' Mind
If publishers like the Washington Post are finally catching on to video, don't ya think it's time your business starts thinking the same way???
Read the Think With Google Article on the Washington Post's Pivot to Video
Micah Gelman, Director of Video:
"It might seem surprising, but video is still a novel thing for many publishers. That's especially true for legacy publishers that come from a long, rich tradition of print, like the Washington Post.

But last year, we realized we needed to do more in such a critical part of our storytelling.

Our audience wants to experience and engage with stories, and we have a lot of stories where the best way of doing that is through video."
(Go where your audience is):
"The audiences are definitely different across all the platforms.

For example, we see YouTube as a great place to reach a younger audience that might not come directly to our homepage.

To put some numbers on that point: Over half of our watch time on YouTube comes from 18 to 34-year-olds, but less than 20% of our watch time on washingtonpost.com does."
We're also seeing the same from major magazine publishers like Good Housekeeping, Elle, etc:
Read About Hearst UK's New Video Strategy
Hearst UK has a video editor for Good Housekeeping and Cosmopolitan, and since last year, it has hired an additional three video editors for a centralized video team.
Investing more time and energy in creating original video led to a refocus on distributing on Hearst's own platforms.
This Episode's Sponsor: HIT Workshops
Many organizations who make an initial investment in HubSpot think that it's going to do the work for them, and that's just not true.
In our HIT Workshops, we not only walk you through how to use individual tools but coach you through how to apply them to your real life business needs and goals.
HubSpot Updates
[In Beta] Create Contacts from a Form Submission without an Email Address
"If your contacts primarily communicate through a channel other than email, you now have the option to create contacts from a form submission without an email address."
*Be careful! This can lead to duplicate contact issues!
[Now Live] A new way of Associating contacts, companies, and deals together on Mobile
"We have rethought how our mobile apps handle associations between contacts, companies, and deals. Both our iOS and Android apps can:
Add or remove a contact, company, or deal to any record

Associate existing deals to a contact or company record"
Until Next Time
If you're listening on iTunes - head on over and leave us a review! We love hearing your feedback, so feel free to leave some in the comments, or shoot me an email at cduffy[AT]impactplus.com!
Until next time, this is Carina Duffy & Marcus Sheridan saying to you, go out into the world and do some happy HubSpotting!
Free Assessment:
How does your sales & marketing measure up?
Take this free, 5-minute assessment and learn what you can start doing today to boost traffic, leads, and sales.