Hubcast 182: Podcast Lounge at INBOUND, Company Properties, & Partner Directory Updates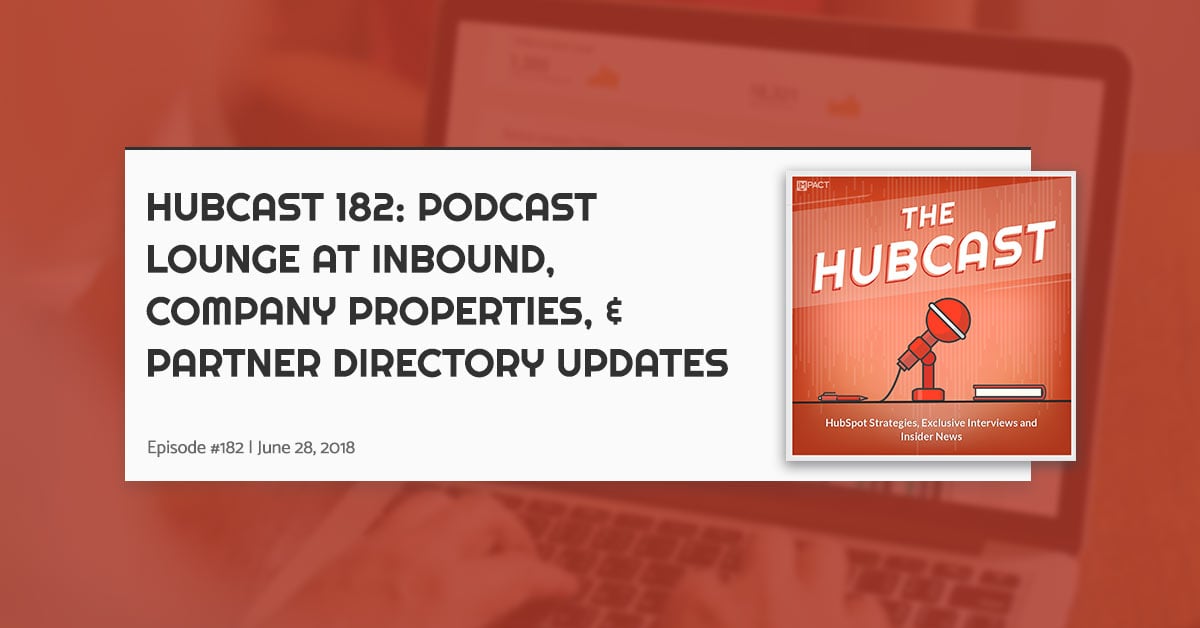 This episode of the Hubcast is brought to you by DreamDesigner.
We've got some exciting news about #INBOUND18 - we'll be recording live at the Podcast Lounge! More info on that in the coming weeks.
PS - wondering if we're doing a fireside chat this year? We are too! Shoot Carina an email and let us know if that's something you look forward to each year, or if you'd rather just attend the live recording!
And speaking of INBOUND, Marcus has some thoughts on the spotlight speakers we discussed on last week's episode.
Property of the Week: Company Property Series
Annual Revenue*
"The actual or estimated annual revenue of the company.
*If you provide a company's website domain name, HubSpot will attempt to automatically populate the properties marked with an asterisk (*) with the best information the internet has to offer. Learn more about HubSpot Insights here."
If your business only works with companies of a certain size, revenue is a common qualifier.
Use HubSpot Insights to help you qualify, prioritize, or disqualify prospects based on their company's annual revenue.
It will also be interesting to see if GDPR has any affect on HubSpot Insights...
What's on Marcus' Mind
Vidyard! Marcus is all fired up about these guys.
Listen to the ep and find out why.
HubSpot Wishlist: Associate One Contact to Multiple Companies
"Think business consultant or sales broker - We'd like to be able to have one contact associated with multiple companies in Sales CRM." - DBowers3
I've been working with a client who has contacts who either own multiple companies, or work for multiple companies, but there's no way to associate a single contact with multiple companies.
This Episode's Sponsor: DreamDesigner
I recently interviewed Nathan Butcher from DreamDesigner, and he laid out his vision for how DreamDesigner could help a lot of businesses who have small des/dev budgets. Here's a bit of that:
HubSpot Updates
[Partner News] The agency directory opens up to all agencies
"Starting June 26, the HubSpot Agency Directory will allow qualified agencies that are not part of the HubSpot Partner Program to list their services in the directory.
You will find updated copy and CTAs on the directory that reflects this change.
We think this is an exciting and positive update for anyone currently listed in the directory, and we wanted to explain our reasons for making this decision below."
TLDR -- HubSpot wants to give their users access to agencies and businesses outside of the partner network.
Agencies will have to have the Inbound Certification, and will be listed at the bottom of the directory with untiered partners.
Ultimately, I think the play is to get the Partner Directory to rank higher and bring in traffic from generic search terms, ultimately driving more traffic to their partners.
(Shoutout to Kyle Bento for his input on this!)
Until Next Time
If you're listening on iTunes - head on over and leave us a review!
We love hearing your feedback, so feel free to leave some in the comments, or shoot me an email at cduffy@impactplus.com!
Until next time, rhis is Carina Duffy & Marcus Sheridan saying to you, go out into the world and do some happy HubSpotting!
Free Assessment:
How does your sales & marketing measure up?
Take this free, 5-minute assessment and learn what you can start doing today to boost traffic, leads, and sales.