Marketing Budgets for 2019, New Importing Features, & #TheyMadeAnotherOneFree (Hubcast 205)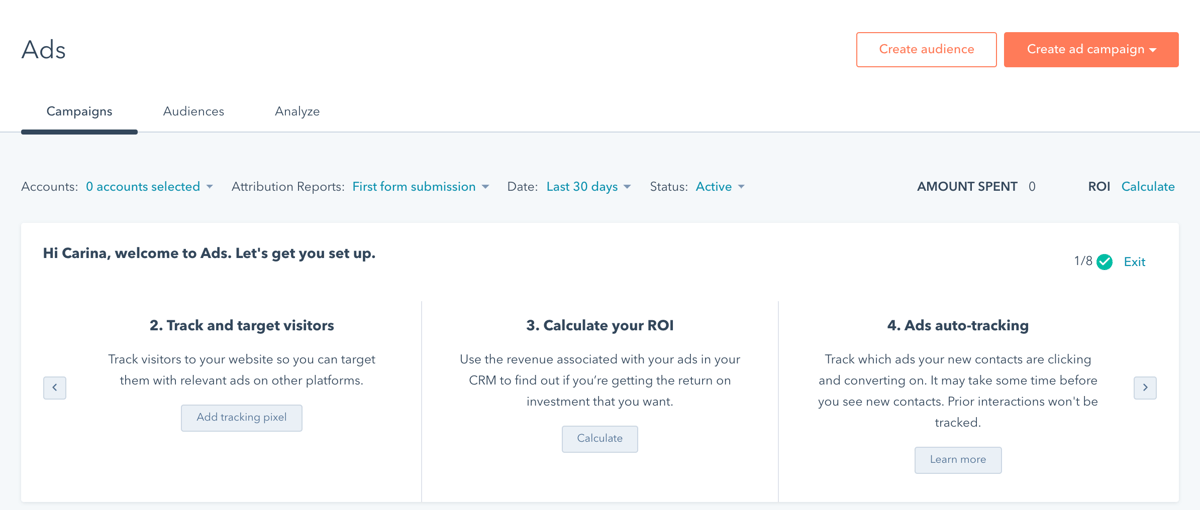 This episode of the Hubcast is brought to you by Aircall.
Okay, I'm not going lie - did #makeitfree work? First custom reporting trickles down to Pro and Enterprise, now ads are trickling into the hub from the Ads add-on??
Why HubSpot changed their stance on advertising.
Property of the Week: Let's Take a Step Back
Contact vs. Company vs. Deal vs. Ticket
If you're relatively new to HubSpot, and relatively new to CRMs, database management and the like, even the concept of properties can be a bit confusing.
Let's take some time to break it down.
What's on Marcus' Mind
Let's take a few minutes to talk about this Forbes article on what trends marketing departments should be budgeting for in 2019, and whether we give them the thumbs up or thumbs down.
HubSpot Wishlist: Create "Time in Lifecycle stage" report
"I would like to create a custom report where I can see how much time my contacts spend in each stage of their Contact Lifecycle. I am looking for something much like the "time in deal stage" available for deals.
I know that HubSpot has the "became a lead date," "became an opportunity," and "became a customer date" properties, but I can't seem to get any good report using these."
We talked about hidden reporting properties for deals like "Time in Deal Stage X" - we need this for lifecycle stages!
Shoutout to Jeppe for posing this in IMPACT Elite and HS Agency Partners FB groups!
This Episode's Sponsor: Aircall
Aircall makes voice more valuable by integrating with your critical business tools and providing insights into every conversation.
It empowers teams with a phone system specifically built for modern businesses. With zero hardware to manage, dozens of integration options to explore, and the ability to add local numbers in more than 40 countries, Aircall is a powerful communication tool that can be fully set up in minutes.
In addition, Aircall's HubSpot Integration enables agents, sales reps, and marketers to streamline their call workflows, increase productivity, and track your customers through the whole customer journey from marketing, to sales, and success.
Learn more at Aircall.io or start a 7-day free trial at https://aircall.io/signup/
HubSpot Updates
3 New Features That Will Make Importing into HubSpot CRM Better Than Ever
1. Multi-file Associations Import
"When managing records in any CRM, objects don't exist in a vacuum -- they're connected.
Having John Smith as a contact in your database is great, and having his company (Acmecorp) on file is great too. Have a sales opportunity at Acmecorp? Even better. But the power of CRM doesn't truly come to life until the connections between those three things are made.
Associating records to each other enables you to unlock the power of their shared context; see all the interactions between Acmecorp contacts and your company on a single timeline, run deal reports based on original contact source, and more."
2. Single-file Multi Object Import
"All of the magic of a multi-file associate import, but done with one file. That means you can import your data however works best for your company."
3. Import Your Notes
"Along with the first two updates, you will now have the ability to import notes to your HubSpot CRM that are associated with contacts, companies, deals, or tickets. Notes imports will include the note body and note timestamp -- which gives you accurate historical context into all of your CRM objects. (All notes imports must be completed as association imports with other files for which they are associated with.)"
NOTE: "The above updates are currently rolling out to select HubSpot users. Within a few weeks, these features will be available to all HubSpot users and available in all languages supported by HubSpot."
Ads Functionality Now Available in Marketing Hub
"Customers with Marketing Hub Professional and Enterprise subscriptions now have access to new functionality:
ROI and lead reporting for Facebook and Google ads managed within their HubSpot account

Targeting any segment of their database by linking any HubSpot list and Facebook or Google ad audience

Easily integrating ads into the rest of their marketing strategy."
Learn More and to see limits of Pro and Enterprise vs. the Ads Add-on.
Until Next Time
If you're listening on iTunes - head on over and leave us a review! We love hearing your feedback, so feel free to leave some in the comments, or shoot me an email at cduffy@impactplus.com!
Until next time. This is Carina Duffy & Marcus Sheridan saying to you, go out into the world and do some happy HubSpotting!
Free Assessment:
How does your sales & marketing measure up?
Take this free, 5-minute assessment and learn what you can start doing today to boost traffic, leads, and sales.