Hubcast 68: Zendesk HubSpot Integration, Lead Scoring Strategy, & Content Managers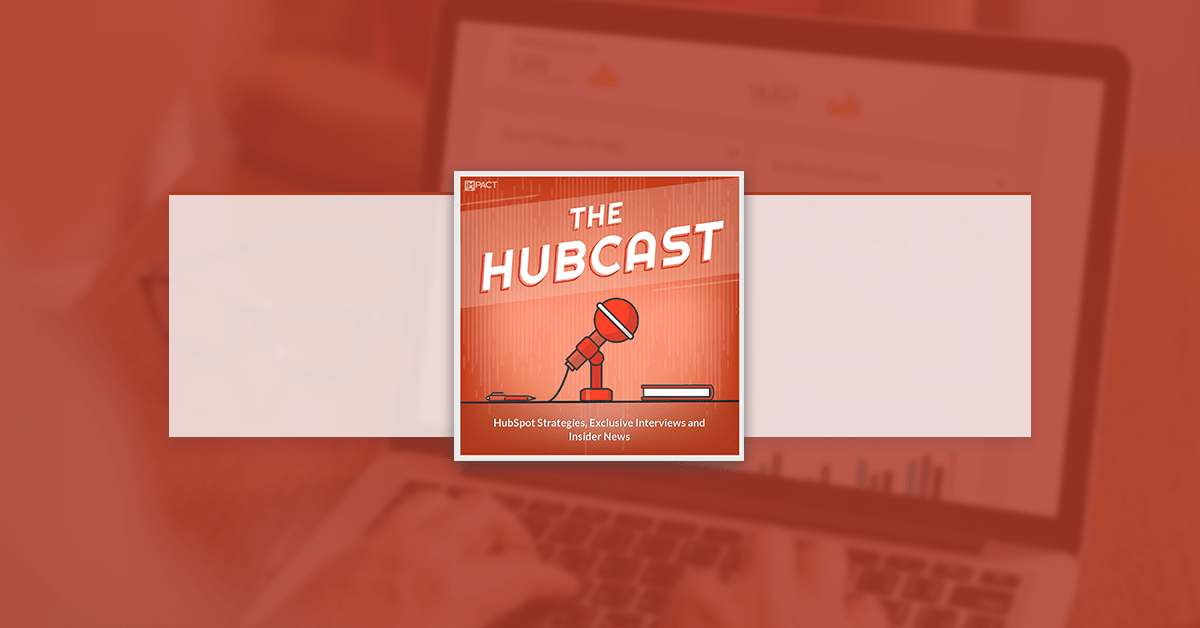 Welcome back to The Hubcast, folks: A weekly podcast all about HubSpot news, tips, and tricks. Please also note the extensive show notes below, including some new HubSpot video tutorials created by George Thomas.
Join the IMPACT coaches for a deep dive on a new topic every month in our free virtual event series.
HubSpot Strategy
Lead Scoring:
Determine your scoring criteria
Company

Location

Business type/industry

Revenue

Number of employees

Lead source

Title/job role

Level of responsibility
Focus on Positive & Negative Criteria for each area.
Determine your scoring thresholds
You may think numbers are numbers and what you want is what you want… but, you need to give yourself a padding around your "Perfect Lead Score". So if you have been saying it's once they get to 50 points.. maybe the conversation should be when they hit somewhere in the range of 45 to 55.
Automate
Whatever you can!
MQLS, SQLS, Deal Stages, Communications and so on.
HubSpot Agency Spotlight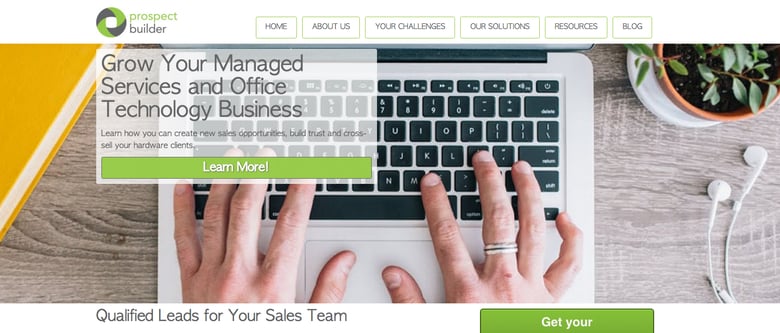 Agency Name: Prospect Builder
Website: https://www.prospectbuilder.net/
Reason for the spotlight: Love that they are so niche. Copy dealers and managed services… The hubcast always talks about the riches are in the niches. It is super nice to see someone out there walking the walk.
Also love that they are a young agency building a remote team.
Want to learn more about Prospect Builder? Listen to this Inbound Agency Journey podcast: How to Grow a Niche Inbound Agency with Lindsay Kelley
Lindsay Kelley
Chief Marketing Strategist
HubSpot Updates
Unite sales, services and marketing with our Zendesk & Zopim integration
Zendesk is the leading cloud based customer service and support ticket platform. Zopim (by Zendesk) is live chat software that allows you to support customers in real time.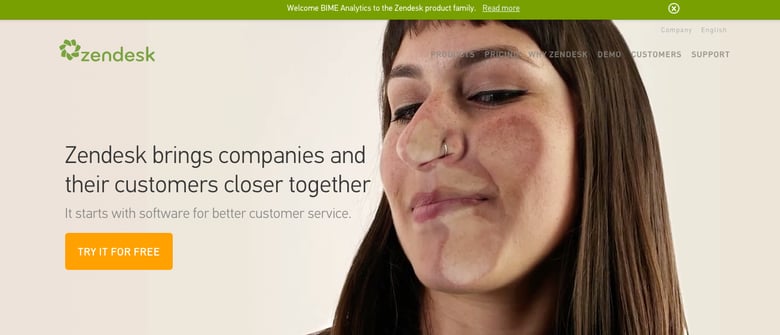 How does Zendesk integrate with HubSpot?
The Zendesk for HubSpot integration automatically syncs Zendesk events with the HubSpot Sales and Marketing tools.
Monitor contacts or Zendesk activities from the CRM or contact timeline

Add events for any ticket submission, resolution or satisfaction rating in just a few clicks.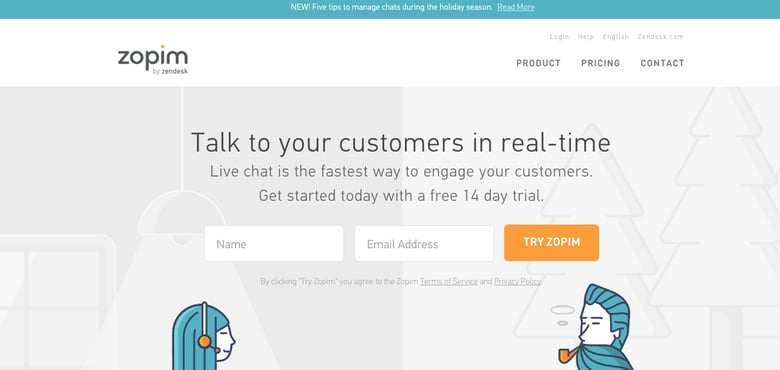 The Zopim integrations brings even more power and context to HubSpot CRM.
Automatically sync your customers' Zopim activity to their HubSpot contacts, so you have the full picture for how your support team and customers are interacting.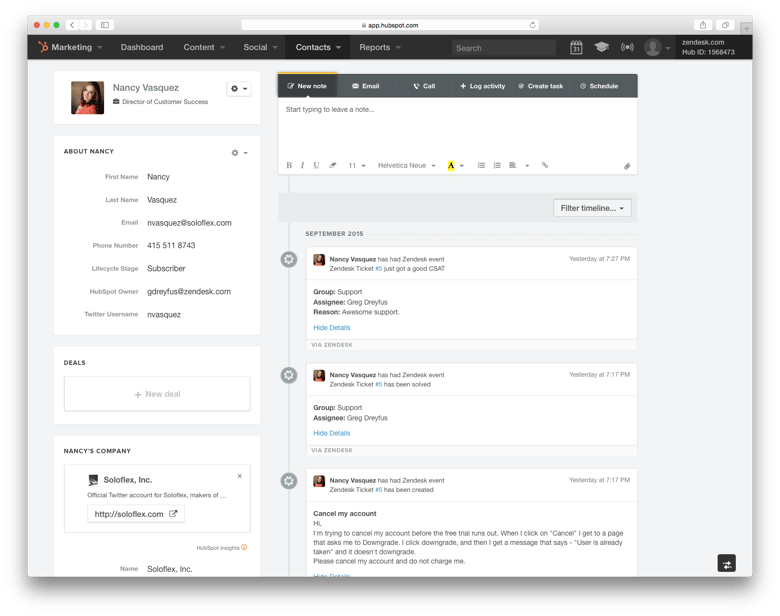 Who gets it:
HubSpot customers also using Zendesk or Zopim
Date Available to Customers:
How might Marketing and Sales use this?
Your customers don't think about your business in terms of their lifecycle stage. And as such they expect a cohesive experience whether they are talking to sales, support, or getting an email from marketing. Sharing information through your CRM, Marketing tools, and support tools gives you a unified view of your customers.
Marketing and Sales will love this information.
Sales can now review account issues before jumping on an upsell call.

Marketing can delight customers by triggering workflows based on help-desk tickets.
Integration pages:
HubSpot Wish List
"Pin" a note to the top of a contact or company timeline
Sometimes important notes get lost - we'd like to be able to pin an important note at the top of a customer's timeline.
Thanks!
Skyview Team
Cool HubSpot Tweets
80-90% of all blog traffic comes from 10-20% of the posts you publish. #InboundLearning pic.twitter.com/RM2w8FR8SX

— Darin Berntson - Doc (@iGoByDoc) October 27, 2015
HubSpot Question of the Week
What is the best way to find and… How much should you pay a content manager?
Where else can you find the Hubcast Podcast?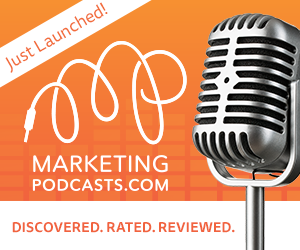 Join the IMPACT coaches for a deep dive on a new topic every month in our free virtual event series.
Register Here
Join the IMPACT coaches for a deep dive on a new topic every month in our free virtual event series.
Published on November 12, 2015